We use affiliate links. If you buy something through the links on this page, we may earn a commission at no cost to you. Learn more.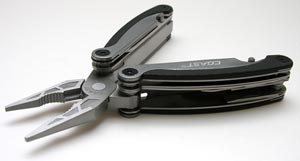 I keep a multi-tool in the glove box of my vehicle, one in the tool drawer of Gadgeteer HQ and another in the junk drawer in my kitchen. Why so many multi-tools? Because they provide several functions in one handy package, that would otherwise take up a lot more space. Today I want to show you the Coast C5795 11 Function Multi-Tool Deluxe that was sent to me by LightsandKnives.com.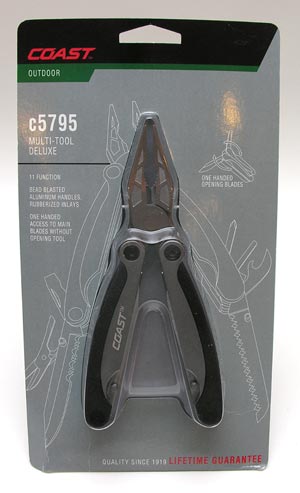 The C5795 is an 11 function multi-tool that is made of 440C stainless steel, has 4 snap out tools and 2 fold out blades.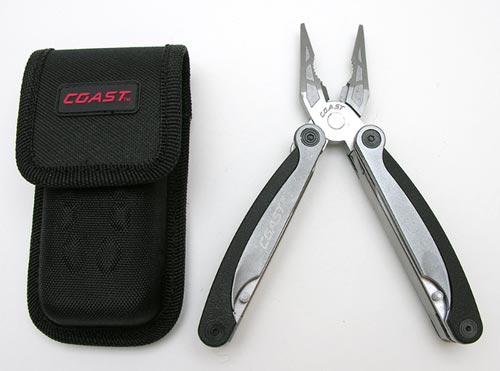 A very nice rigid canvas belt case with a Velcro flap is included with the tool.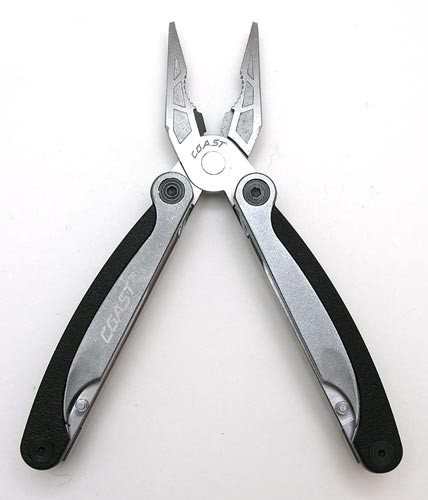 When fully opened, the C5795 is six inches long. The handles are spring loaded and will automatically spring out as you see here.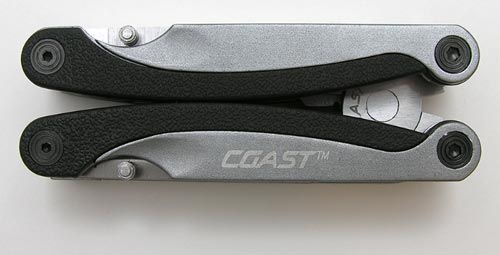 When folded closed, the multi-tool is 4 long by 1.375 wide.

The thickness of the C5795 is 1 inch, which is pretty thick for a tool that you need to grasp in your hand in order to use it. Comparing it with two of my favorite mulit-tools, the Gerber MP800 and the SOG S63 EOD PowerLock, it definitely felt less comfortable gripped in my hand.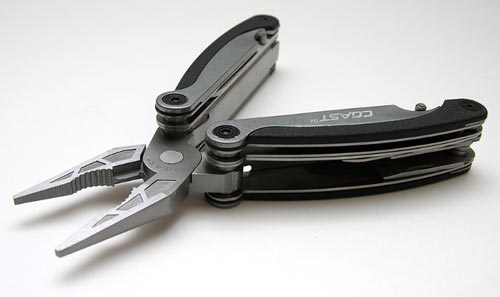 This tool does have plastic grips, but they aren't soft and the edges aren't rounded enough to be comfortable in hand. I have soft girly hands, so I may just be a wimp, but I would guess that even someone with callused hands would not find the grips on this tool to be optimal after several minutes of use.
Let's take a look at the 11 functions that the C5795 provides.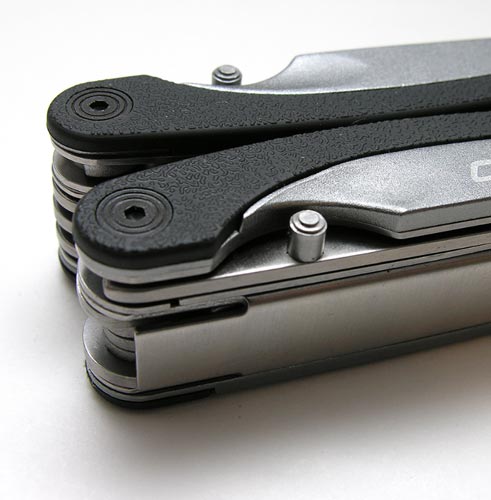 There is a one hand accessible blade housed in each grip that can be extended without unfolding the tool. A small knob at the base of each blade can be swiveled out with your thumb.

When fully extended, the blade will lock in place.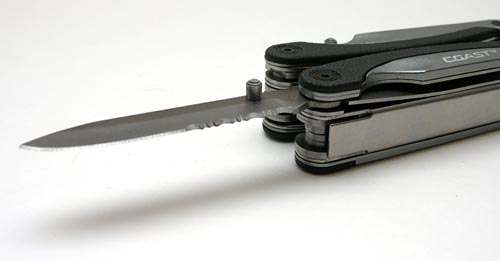 To fold the blade back into the handle, you have to depress the latch, which is located at the base of the blade. You can see it in the image above, it's sorta popped up.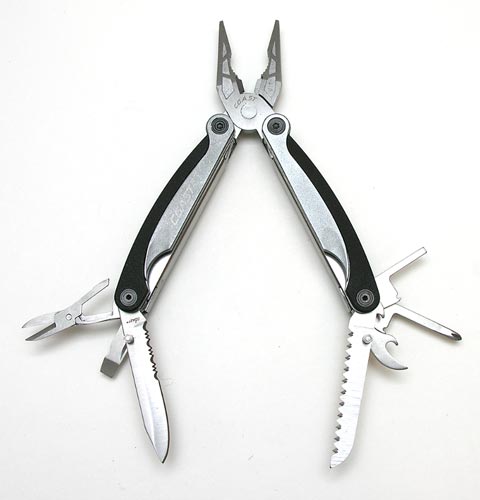 Here we see the two blades – a knife with a serrated section, and a saw blade. The other tools that are housed in the grips include a small pair of scissors, flat screwdriver tip, bottle opener, Phillips screwdriver tip and a small flathead screw driver. Of course there's also a set of needle nose pliers, with built in wire cutters.
The C5795 is ruggedly constructed and feels like it could stand up to some significant abuse. The blades and tools feel sturdy as well.
Because of the uncomfortable hand grips, the C5795 11 Function Multi-Tool from Coast isn't going join the list of my favorite multi-tools anytime soon. But with a price tag of $29.00, and a decent selection of basic tools, I can't get too down on it.
Price: $29.00
Pros:
Price
Knife and saw blade accessible even when tool is folded
Cons:
Grip thickness makes the tool uncomfortable in hand