We use affiliate links. If you buy something through the links on this page, we may earn a commission at no cost to you. Learn more.

HP and Microsoft Windows Live have chosen The Gadgeteer along with 49 other great sites, to be part of their HP Magic Giveaway contest. Each site is giving away a huge prize package that includes 4 computers, a media receiver, a printer and software (detailed list below). Most people don't need 4 computers, so the winner is heavily encouraged to share the magic with their family, friends or those less fortunate.
Now it's time to put your creativity cap on and enter our contest…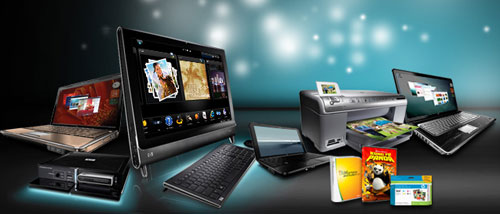 You knew that you were going to have to do a little work for my contest, right? Don't worry though, it should be fun work…
How to enter – Read carefully
1. Create a completely original piece of gadget inspired techie artwork that includes the word gadgeteer somewhere in it in a clever way. The artwork can be a painting, a drawing, a sculpture, a carving, whatever you might consider to be art. The sky is the limit, but please be as creative as possible (Tip: Something made from physical objects is preferred over a photoshopped image).
2. Take one digital picture of your artwork. Make sure the image is at least 1024×768 resolution. Images smaller than 1024×768 will be disqualified.
3. Email your image to [email protected]
4. In the subject line of the email type: HP Magic Giveaway
5. In the body of the email type a short description of your artwork. By short, I mean 10 sentences or less.
6. I will be putting all the entries up on my flickr stream, so you'll all be able to enjoy them and see your competition.
Rules and Restrictions
1. This contest is open to anyone on the planet except for family and friends of myself and regular contributors to this site.
2. Enter as often as you like, but each entry must be a completely different piece of artwork.
3. Email your entries to me by 12/08/08 Noon EST.
4. A winner will be chosen by me and announced sometime later in the day on 12/08/08.
Contest Tips
1. Be creative! Although you are free to create your artwork digitally, I'll probably be more likely to choose something that has been created out of physical objects or done without the aid of a computer / photoshop.
2. Be really creative!
3. Impress me with your creativity!
The Prizes that you can win!
Hardware
HP TouchSmart IQ816 PC
HP HDX 18 series Premium Notebook PC

HP MediaSmart Connect

HP Pavilion dv4 series Entertainment Notebook PC (with Windows Live)

HP Mini 1000 (with XP)
Accessories
HP Photosmart C6380 Wireless AIO (printer)
HP 564 Photo Value Pak
Software
Microsoft Windows Vista Ultimate/Home Premium or Microsoft Windows XP pre-installed on all units (Mini 1000 runs XP)
Microsoft Office Home and Student Edition 2007 (Student-Teacher Edition) – 1 DVD with 3 licenses

Microsoft Windows Live
Corel VideoStudio X2
Entertainment
Kung Fu Panda (2 widescreen DVDs; 1 widescreen Blu-ray disc)
Total value: >US$6000