We use affiliate links. If you buy something through the links on this page, we may earn a commission at no cost to you. Learn more.
Mobile Edge carries a nice selection of gear and laptop bags for both men and women. They recently sent me their Mini Messenger, which I've been using for a few days now to see how well it performs as an everyday bag for this gadgeteer. Let's see how it stood up…
For quite a while now, my favorite style of gear bag has been the messenger style. I've been carrying the Timbuk2 Laptop Messenger since the beginning of the year. I love this style for two main reasons. Reason number one: The flap can easily flop back and remain open. I typically leave mine open on my desk while I'm at work, or in the passenger seat of my car while I'm driving. Reason number two: Messenger bags usually have a large cavity for storage. I like pockets as much as the next person, but for the most part, I want a big open area that I can stuff large items into if needed – which I often do. I like the convenience of being able to carry the daily mail, newspaper and any packages that might have been delivered to my day job.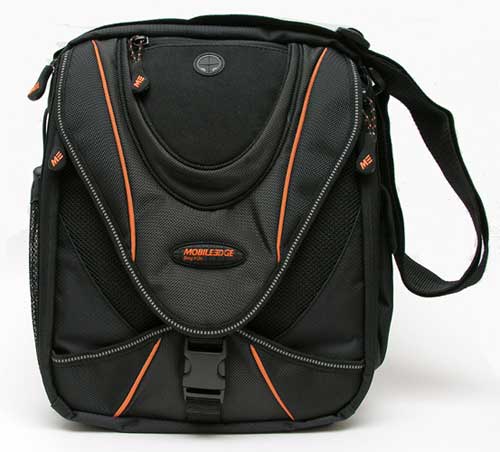 This bag is made of heavy-duty 1680D Ballistic Nylon and is available in four color styles, that include Black with Orange piping, Black with Pink piping, Black with Red front and Black with Silver front. I was sent the Black with Orange.
Right away I realized that the Mobile Edge Mini Messenger was not really a true messenger style bag – not that there is a definition carved in stone somewhere out there… This bag is more vertical than horizontal, with a long flap that is held closed by a pinch plastic clip.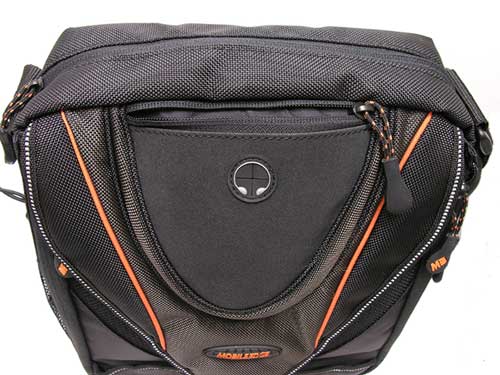 There is a zippered U shaped pocket build into the front flap. This pocket has a pass-through port for earbuds, so that you can store your iPod, iPhone or other music player inside and still listen to tunes as you walk around.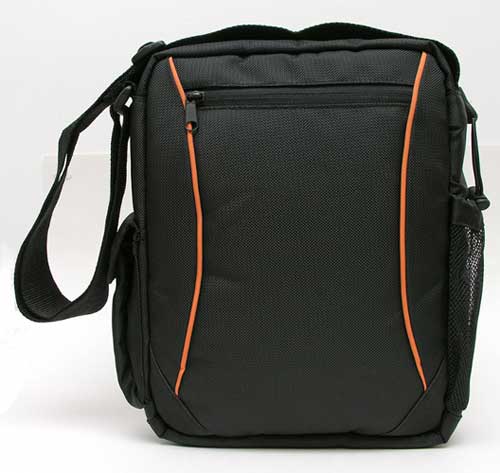 On the back side of the bag, there is a flat zippered pocket that is 6 inches wide by 10 inches deep. You'll also notice the adjustable shoulder strap. This strap can't be removed / replaced and does not have a padded shoulder pad attached to it. No grab handle either…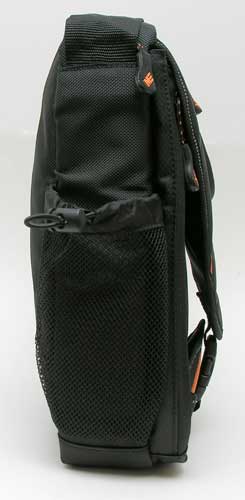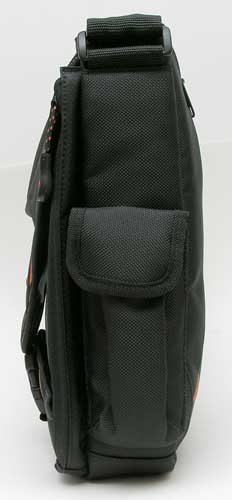 On one side of the Mini Messenger, you'll find a mesh drawstring pouch pocket. Most of the time people put water bottles in mesh pockets like the one on this bag. The only problem is that it's too small for a regular sized water bottle to fit in it. On the other side of the bag is a 3 x 6 inch velcro flapped pocket.
I do like that this bag can stand up on it's own even when filled with gear.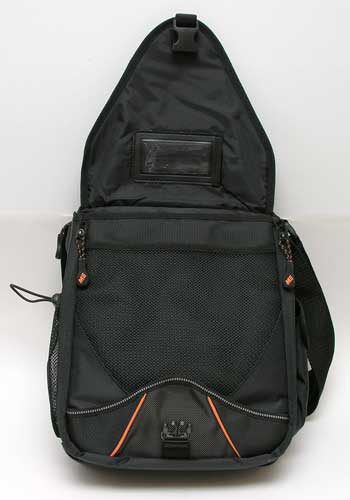 When you unsnap the front flap and lift it, you'll find a plastic windowed ID pocket and a deep open topped mesh pocket.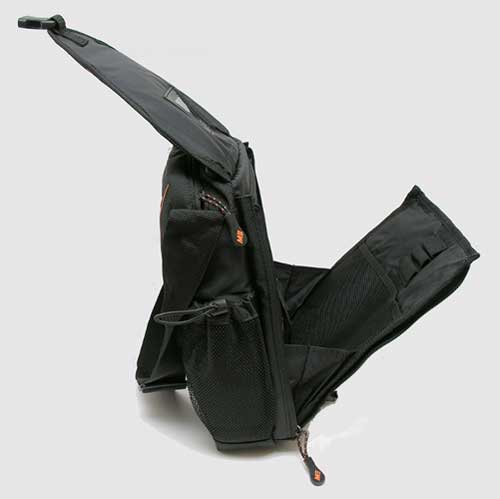 The front part of this bag can unzip to reveal a collection of pockets and slots.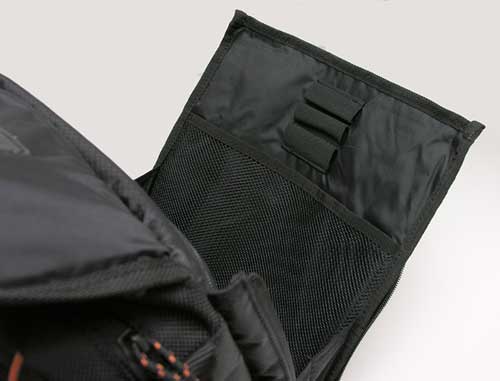 The outside section has 3 elastic slots for pens and pencils. Below the slots is a 9 inch wide by 7 inch deep open topped mesh pocket.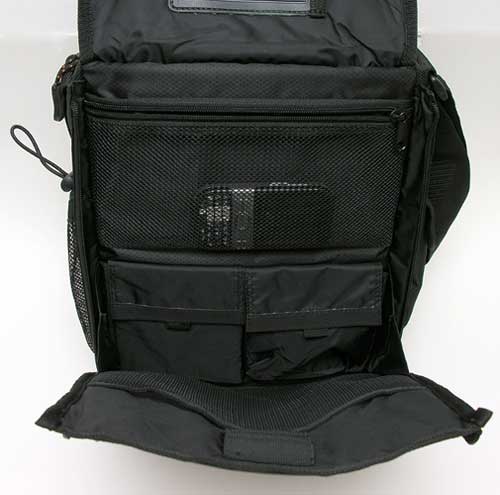 Opposite that area is another see thru mesh pocket. This one is 9 inches wide by 5 inches deep, zippered and more flat than the others. You can see my Centro through the mesh.
Below the mesh pocket are two velcro tabbed 4 inch wide by 5 inch deep pockets.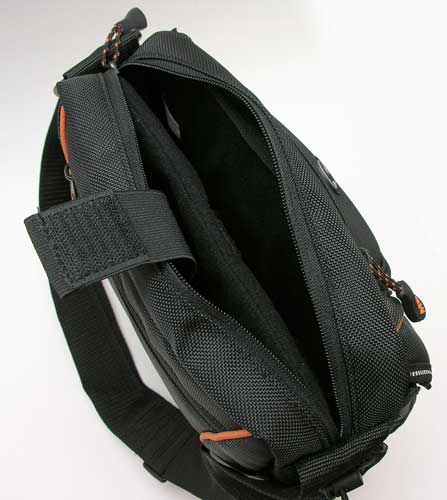 The main zippered compartment for this messenger bag is divided into two sections. Both sections are padded and are lined with soft Nylex fuzzy material. The back section can accommodate a 12.5″ L x 11.5″ H x 2″ W laptop and has a velcro tab to hold it closed.
I found this main section to be too small for my everyday use, but it would work fine as a travel bag or a purse substitute. I do wish that the interior was a lighter color as it's hard to see any loose items at the bottom.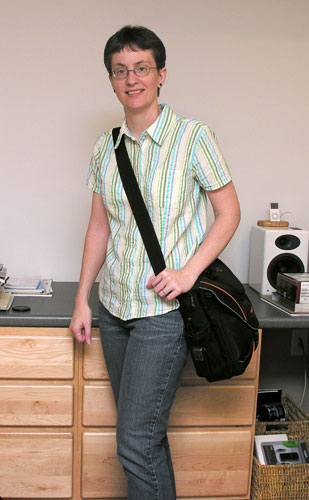 To give you an idea of the size of this bag, here I am wearing it. I'm about 5'6″ tall. Even when stuffed full of gear, the bag was comfortable to carry bandolier style as I'm wearing it here.
The materials and workmanship on this bag can't be faulted. It's a nice looking bag that can hold its fair share of gear and even a small notebook. Make the water bottle holder bigger, the interior a lighter color, add a grab handle and you would have a very worth little travel bag. I won't call it a messenger bag though ;o)
Product Information
Price:
49.99
Manufacturer:
Mobile Edge
Pros:

Good number of pockets and storage sections
Padded laptop area
Base is wide enough to allow the bag to stand on its own

Cons:

Black lining makes it hard to see items at bottom of the bag
Water bottle pouch too small to hold a regular sized water bottle
No grab handle