We use affiliate links. If you buy something through the links on this page, we may earn a commission at no cost to you. Learn more.
Landline phones seem to be slowly going the way of the dinosaur now that people are using their mobile phones and VOIP in their place. Companies that manufacture and sell analog phones are adding new features to make their products more enticing and to bridge the analog to digital gap. The ip8300 infoPhone from Vtech is just such a product. It's an analog phone with a twist. It connects to your Yahoo! account for instant messaging and more…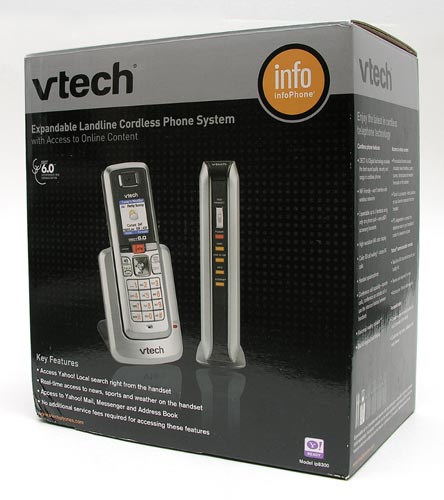 Hardware Specifications
DECT 6.0 Digital technology
Expandable up to 5 handsets using only one phone jack
High resolution 64K color display
60 name and number phonebook directory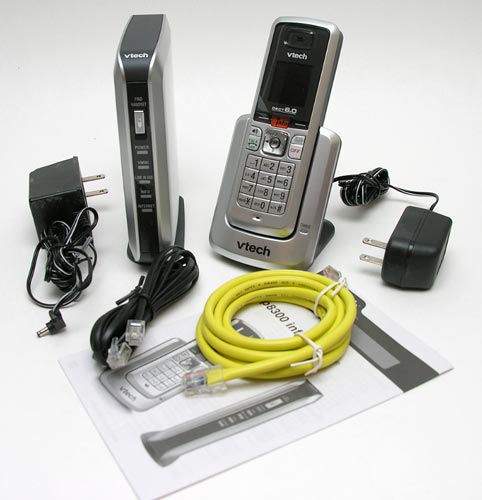 Package Contents
Handset
Handset cradle
Base station
AC adapters for handset cradle and base station
Ethernet cable
Phone cable
Quick start guide

I was very intrigued by the infoPhone when Vtech first contacted me about it. I am a chat junkie and have Adium, my favorite instant message client running all the time when I'm at home. I thought it would be great to be able to receive instant messages from my Yahoo! buddies when I wasn't sitting in front of my computer in the office, but in front of the TV in the other room.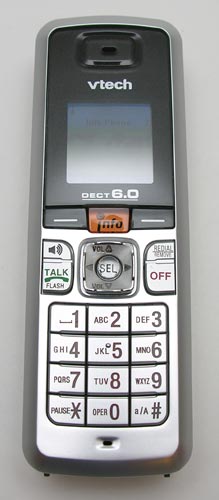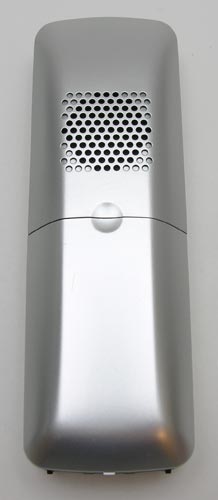 The handset is compact (~ 5 x 2 x 1 inch) and has an attractive design, with a 1.5 inch color display and backlit keys. It's comfortable to hold and feels solid.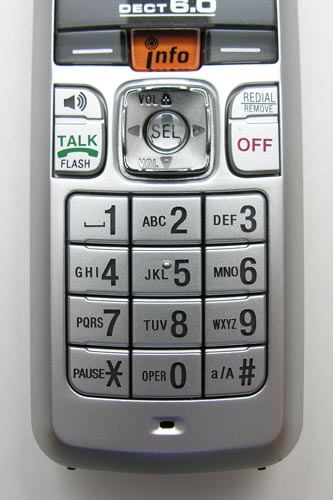 There are no buttons or switches on the sides of the handset, they are all located on the face. This includes a regular numeric keypad which generous sized keys and a collection of seven other physical buttons. Some of these buttons such as the middle navkey, can be pressed in different directions.
The infoPhone comes with a small cradle that the handset charges in and then a separate base station that has to be connected to an existing LAN (Ethernet) port and your phone line.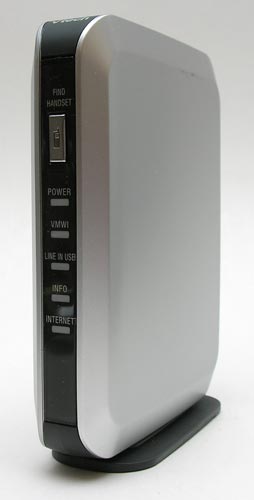 Both the handset cradle and the base station require AC adapters. I would have much rather have seen Vtech use one unit with the base station and charging features built in, instead of two separate units. I don't like having to use two AC adapters as it just seems wrong in this 'going green' environment that we find ourselves in these days. I also don't like the fact that you have to plug the base station into a LAN port. This will require that users have a broadband Internet connection, such as cable or DSL, and a broadband router or a switch with an extra open port in order to use the Yahoo! features that this phone provides. I think a better route would have been to make the base station WiFi. All that said, setting up the phone and base station is easy. Just connect an Ethernet cable, phone line, AC adapters and you're ready to go.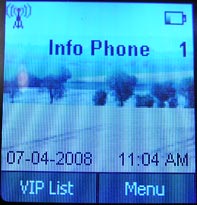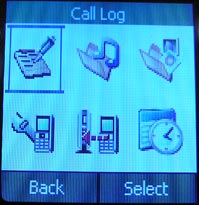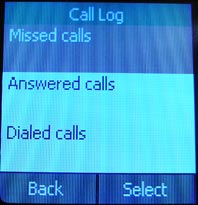 The handset interface will be familiar to people that also have simple mobile phones as it has the same type of layout with two buttons on the bottom of the display that match two physical buttons on the handset. The home screen is very simple in that it has a wallpaper (you have the ability to change this with several others) and shows the current date and time.
The two buttons at the bottom of the display map to your VIP List and Menu. The VIP List is just your internal phone book that you can add numbers to as people call you, or manually. The Menu allows you to view your call log, change the ring tone, wallpaper, date and other settings.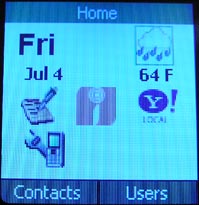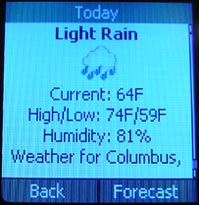 To use the Yahoo! features on this phone, you press the Orange Info button above the navkey. This brings up a menu with five icons that include Weather, Yahoo! Local Search, Channels, Call History and Settings. Call History and Settings are just links into the menu off the main Home screen. Weather, Yahoo! Local Search and Channels are the features that require the base station to be connected to your LAN for internet access. Without that connection, you won't see those icons and will see an error on the handset screen.
The Weather icon shows you a representation of the current weather conditions. As you can see, when I took this picture, it was 64 degrees and raining. Clicking the icon will give you more info about the weather and you can even get a 3-Day forecast.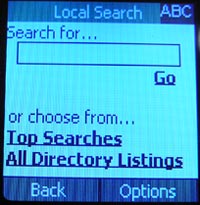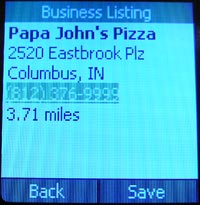 Yahoo! Local Search will allow you to search on a business name and find matching listings for that search criteria. You can then click on the phone link to make a call to that business. You can also save looked up numbers to your internal phone book. Unfortunately, you can't use the search to look up non-business numbers. Another problem I ran into has to do with the internal phonebook. Ask you can see in the image above for the Papa John's Pizza listing, the number is area code + phone number. The problem is, that for me, I need to dial a 1 in front of the area code because even though I live in Columbus, Indiana, to call that number is long distance for me. I have to go in and manually edit the saved number to add a 1.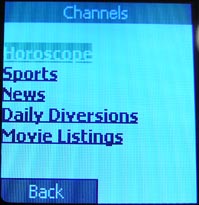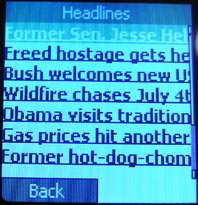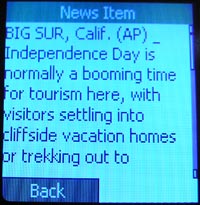 In addition to Weather and Yahoo! Local Search, there are also Channels. Channels include Horoscopes, Sports news, AP news Headlines, Daily Diversions (word of the day, quote of the day, etc.) and movie listings. You can turn these different channels on and off by activating your phone through the infophone.com web portal. This is something that you have to do in order to use Yahoo! mail and instant messaging.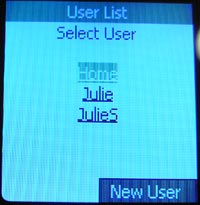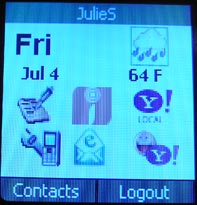 You can setup different users on the phone. Users link to different Yahoo! accounts. You use the web portal to set things up and in the portal, you can turn channels on and off and enable / disable email and chat. Once the users are setup, when you login to your account through the handset, two more icons will show up on the info Home screen. One for email and one for chat.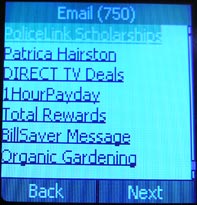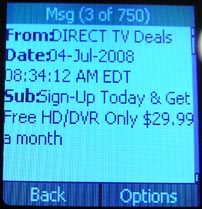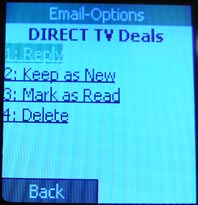 If you go into email, you'll be presented with a subject list of messages. You can then read a specific message by clicking on it. You then have the option to reply, keep and unread, mark as read or delete. For some reason, you do not have the ability to compose a new message from scratch, you can only reply to existing messages.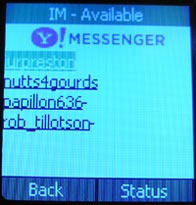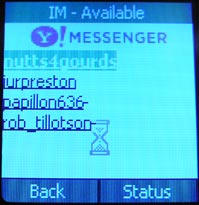 The main reason I wanted to review this phone was for the Yahoo! instant messaging feature. Once you're logged in, you can see the status of your buddies. There will be an -idle message next to their name if they are idle, etc. When you receive a message from one of your buddies, their name will be changed to bold type and move to the top of the buddy list. That is the only notification that you'll see if you have a new message. There are no beeps, the display does not wake up, nothing. This was very disappointing to me.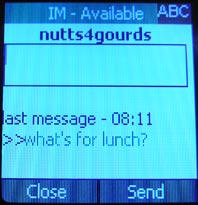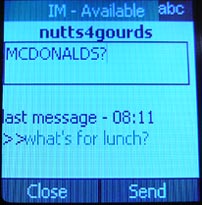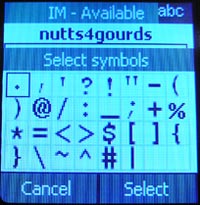 Writing and responding to messages is about the same as doing so on a mobile phone. You use your key pad to enter letters by pressing the buttons an number of times to get the specific letter that you want. For example, to enter the letter C, you'd need to press the 2 key three times. Unfortunately, there isn't a predictive text feature with this phone. It's also annoying that text is in all capital letters by default. You can easy toggle to lowercase by pressing the # key, but the next message that you want to type in, gets changed right back to uppercase. Punctuation symbols have to be selected from a popup list.
Other than the special Yahoo! features, the ip8300 infoPhone has some other abilities. It is expandable, you can add additional handsets for $49.95 each. When you have more than one handset, you can conference an outside call between them, use the handsets as an intercom and transfer calls between handsets. You can choose a ring tone just for intercom calls. There's also a voicemail waiting indicator if you have that feature through your phone company.
All things considered, I'd have to say that I've not been very impressed with this phone. Although setup is very easy, the first time I tried the Yahoo! chat features, none of my buddies showed up and it didn't appear that I was even connected. At the time, email and the other internet features worked fine, but chat did not. I later came to learn through one of the Vtech product engineers, that sometimes Yahoo! decides to change the way they authenticate how users login to chat. While Vtech is supposed to be partnered with Yahoo! for this product, sometimes these changes aren't communicated in a timely manner, so Vtech can't update quickly. As a result, the chat feature won't work. Then today while I was snapping screen shots, I tried to do some more testing with the email feature and was greeted with a "Service not available, Please try again" message. Even when email works, not being able to compose a new message through the handset seems odd. Not that I'd really want to write a whole email using that keypad though…
The price of $129.95 seems really expensive for a phone that does not even have an answering machine built into it. I think the price would be acceptable if it had an answering machine, WiFi instead of hardwire Ethernet, one cradle/base station, one AC adapter and some type of real instant message notification. As is, I can't recommend the Vtech ip8300 infoPhone.
Product Information
Price:
129.95
Manufacturer:
VTech
Requirements:

Computer with web browser for setup only
High speed Internet/broadband connection
Broadband router with available LAN port

Pros:

Easy to setup
Easy to use buttons and menus

Cons:

Expensive
Base station and charging cradle require 2 AC adapters
No instant message notification
No answering machine built in