We use affiliate links. If you buy something through the links on this page, we may earn a commission at no cost to you. Learn more.
Seems like the number of Bluetooth devices increases weekly. BlueAnt
has created several noteworthy additions to the mix. The Z9
earpiece and Supertooth
Light handsfree carkit are well designed and thought out. They are both simple, easy
to use, and produce a very nice call/conversation experience.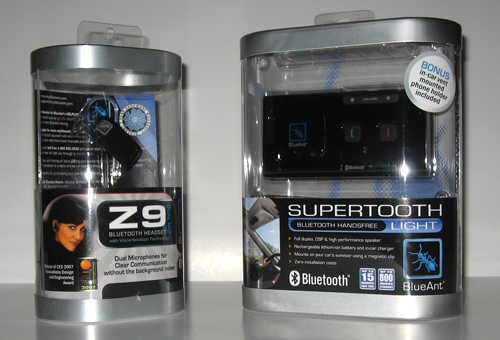 BlueAnt Z9 Bluetooth Headset
The BlueAnt Z9 bluetooth earpiece is relatively small and lightweight compared
to most bluetooth headsets available today. I would compare it to Apple's
Bluetooth
earpiece in terms of size, weight, comfort, and ease of use. The overall
call clarity is slightly better than Apple's headset.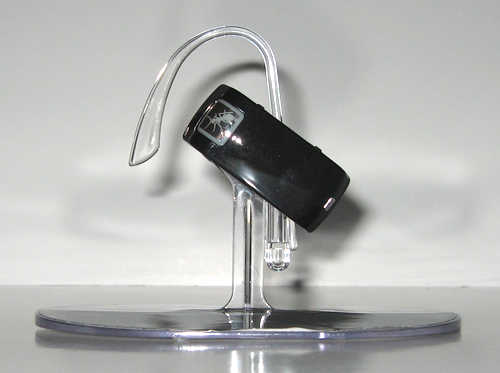 BlueAnt's Z9 has a simplistic design with clean lines and three well placed
buttons. The headset has a single multi-function button (MFB) that controls
most of the functionality. And while it only has three buttons, the Z9 is as
feature rich as many of the other bluetooth devices currently out on the market.
That being said, you will need to study the manual to learn how to activate
some of its more complex functions. But that should not intimidate you, the
device is extremely intuitive to use.
Functions
Power On/Off
Answer/End Calls
Reject Calls
Voice Dialing (If phone supports)
Disconnect/Transfer
Mute/Unmute
Call Waiting
Conference Call
Disable/Enable LED Indicator
Voice Isolation
'On-the-fly' Phone Switching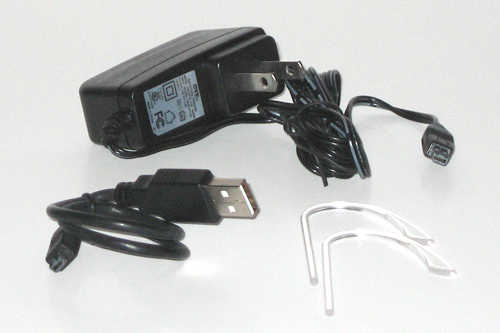 Package Contents
BlueAnt Z9 Headset
3 Translucent Ear Hooks
Mini USB Cable
AC Adaptor
Quick Start Guide
User Manual
Warranty Card
Hardware Specifications
| | |
| --- | --- |
| Compliance: | Bluetooth v2.0 |
| Bluetooth Profiles: | CSR BC03MM, RoHS/WEEE Compliant |
| Range: | Up to 10 meters |
| Battery type | 3.7V Lithium Polymer battery |
| Talk Time | Up to 5.5 Hours |
| Stand-By time | 200hrs. |
| Charge Time | 2-3 hrs |
| Weight | 10 grams w/o ear-hook or 11 grams with |
| Dimensions | 41 x 17.5 x 11.2 (mm) |
| Warranty | 2 years replacement |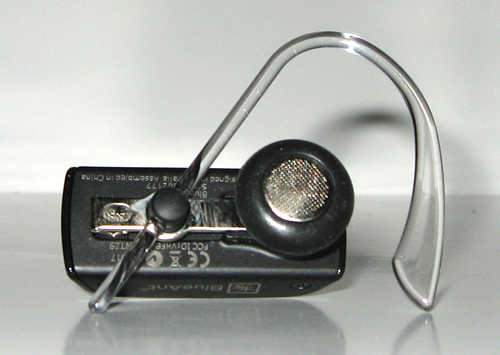 The Z9 speaker fits nicely into my ear while the clear earhook wraps comfortably
around it. The earhook can be adjusted for maximum comfort/best fit.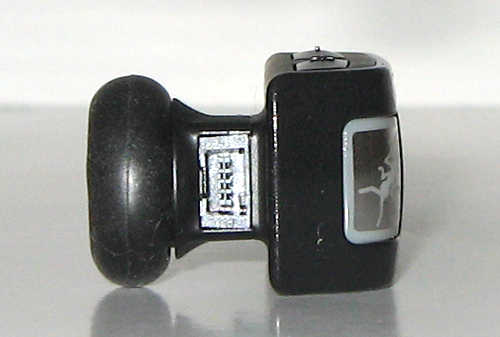 The only thing on the back of the earpiece is the charging/data port. The device
can be charged via a wall plug or mini USB data cable. The data cable also enables
you to update the firmware.

The front of the earpiece has the dual microphones.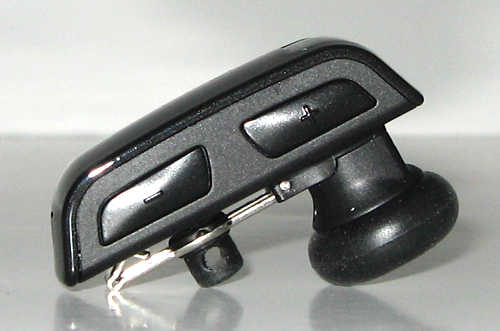 The top of the earpiece has the volume control buttons. They are well-placed, large and easy to find and push.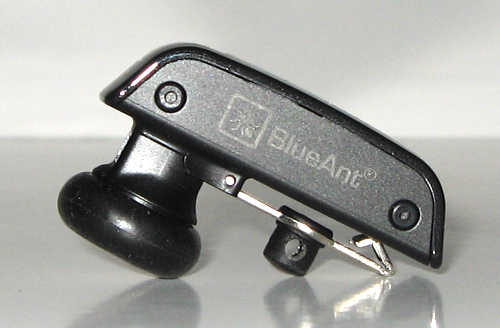 The bottom of the headset is void of anything other than the BlueAnt name and logo. BlueAnt engineered a clip for attaching the earpiece to your shirt or cuff, when not in use.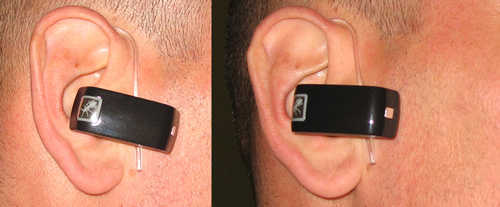 The clear translucent ear hook holds the earpiece securely in the
ear and against the side of your face. BlueAnt has integrated an effective
noise isolation technology that improves call clarity when activated, suppressing extraneous noise and eliminating echo. Although you do sacrifice some audio quality when the noise isolation technology is on 'Max', I've rarely found the need to turn go beyond the 'Standard' noise isolation setting. Switching between the two modes is accomplished by pressing the multifunction key during a call.
Overall, I like the BlueAnt Z9 earpiece and use it as often as I use my iPhone
bluetooth headset. As I stated above, it is surprisingly comfortable, easy to
use, and produces great call clarity.
Price: MSRP $129.99 (but can be found on the internet between $60-$70)
BlueAnt Supertooth Light Bluetooth Handsfree Carkit
If your car does not have built-in bluetooth connectivity or
you do not like wearing an earpiece, the next best option is a handsfree carkit.
The Supertooth Light by BlueAnt is an excellent Bluetooth
handsfree carkit to consider. And while it is not the sleekest or slimmest
or most function rich carkit on the market, it is very well engineered, easy
to use, and its call quality is superb. I find myself using it instead of a
bluetooth earpiece more and more.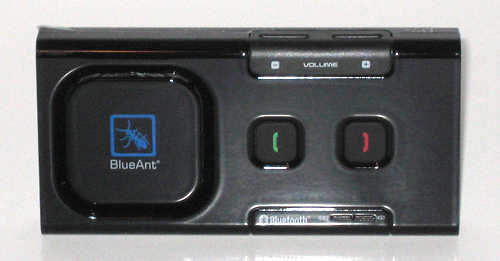 Like the Z9, the Supertooth Light has a pretty basic design that definitely gets the job done. The high performance speaker
takes up nearly fifty percent of the device. The green answer button is dead-center
and red end button is on the right. The volume buttons are on the top of the device.
All of the buttons are easy to locate and use. There are two status LED's on the bottom.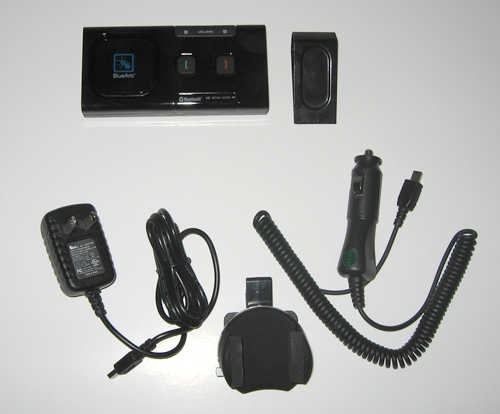 Package Contents
Bluetooth Light
Metal visor clip
Wall charger
Car charger
Vent mount phone holder
User manual
Hardware Specifications
| | |
| --- | --- |
| Compliance: | Bluetooth 1.2 |
| Bluetooth Profiles: | Supports headset & handsfree profiles with automatic detection |
| Operating Range: | Up to 10 meters |
| Frequency: | 2.4 GHz |
| Talk Time: | Up to 15 hours |
| Stand-by time: | Up to 800 hours |
| Charging Time: | 3 hours |
| Battery Type: | Rechargeable Lithium Ion |
| Dimensions: | 0.716" x 2.37" x 4.8" (18.2 x 60.2 x 122 mm) |
| Weight: | 115 g |
| Warranty: | 2 years |
Features
Full Duplex
Full DSP Noise Cancellation / Echo Cancellation using CVC
Digital Volume Control
Voice Dialing (if phone supports)
Last Call Redial
Reject Incoming Call
Can also be charged directly from a PC via USB Cable (not included)
The Supertooth charges via a standard USB connector. which is ideal for me. I can charge my Blackberry and handsfree carkit with the same car charger. The rechargeable lithium-ion battery lasts an extremely long time between charges. According to BlueAnt, it has 15 hours of talk-time and/or over 30 DAYS in standby.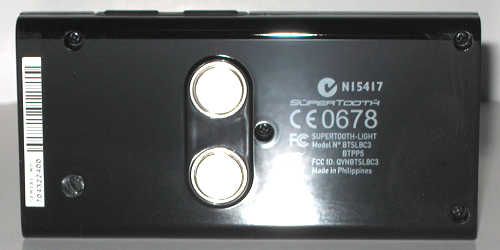 Installation is a snap, simply slide the metal clip onto your sun-visor and the
Supertooth will attach itself to the clip via two strong magnets on the back of the
device. This allows you to easily remove the Supertooth to charge or change
vehicles (it would have been nice if BlueAnt had included an extra clip). The Supertooth Light has bluetooth 1.2, capable of pairing with up to five devices simultaneously, but like most bluetooth devices, can only be connected to one at a time.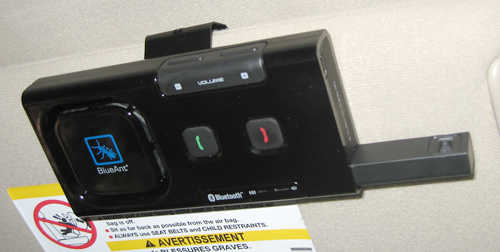 To turn the Supertooth Light on and automatically connect to your cellphone, all
you have to do is extend the built-in microphone. This is done by pushing it in
a bit and its spring loaded design slides the mic out and keeps it in place. Turning it off works the same way, push the mic back into the device until it locks in the closed/off position.
I highly recommend both BlueAnt devices. The Z9 earpiece and Supertooth Light handsfree carkit are well made, integrate quality audio electronics, easy to use, and, most importantly, provide an excellent call experience.
Price: MSRP $99.99 (but can be found on the internet between $60-$70)
Product Information
Price:
Manufacturer:
BlueAnt
Pros:

Z9:
Quality construction
Small form-factor
Clear, crisp call quality
Bluetooth 2.0
Dual microphones
Great noise canceling technology
Able to upgrade firmware
Supertooth Light:
Well made
Simple, easy to use design
Excellent battery life
Great call quality
Lightweight
Highly transportable

Cons:

Z9:
None
Supertooth Light:
Should automatically reconnect when cellphone gets back in range/car