We use affiliate links. If you buy something through the links on this page, we may earn a commission at no cost to you. Learn more.
In the two years since I reviewed the Sanyo VPC-HD1 camcorder, I've been using it as my main method of capturing video. I love it for its size and ease of use, but have always been disappointed at its low light performance. Since I don't include a video spot in all the reviews I do, I just kept putting up with the Sanyo instead of replacing it. That changed recently when the folks at Samsung invited me to review their SC-HMX10C Progressive HD camcorder. I've been using this camera for several weeks now, so let's take a closer look….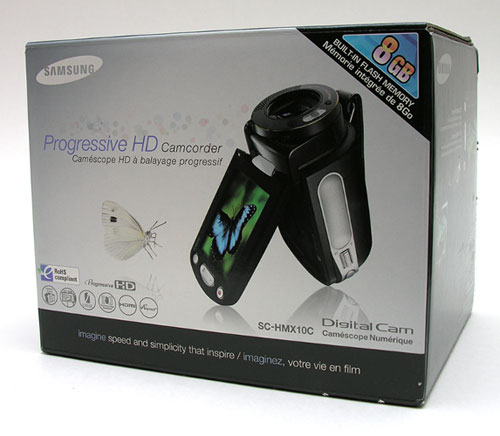 Hardware Specifications
Image Sensor
Sensor type – CMOS
Sensor size – 1/4.5″
Number of pixels – 1.56 M
Lens
F Value – F1.86-2.3
Optical Zoom – 10x
Digital Zoom – 20x
Filter Diameter – 30mm
Display
2.7″ Touchscreen LCD
Number of pixels – 230 K
Video
Signal – NTSC
Recording Format – H.264, MP4
Resolution – HD: 1280×720/59.94p, SD: 720×480/59.94p 720×480/59.94i (Line in mode)
Low Light Sensitivity – 15 lux
Photo / Still Image
Format – JPEG
Resolution – 1440 x 1080, VGA (640 x 480)
Memory
8gb built in
SDHC / MMCPlus memory card slot
Interface
PC – USB 2.0
Video – Composite, Component, HDMI
Audio – Earphone jack
Power
Battery – 7.4V 850mAh Lithium Polymer
Size
Dimensions – 2.42 x 2.66 x 4.63 inches
Weight – 0.7lb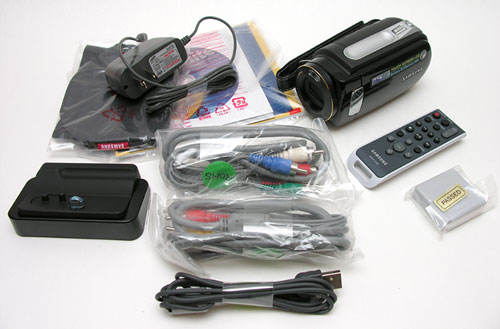 Package Contents
SC-HMX10C camcorder
Battery pack
AC power adapter
Multi-AV cable
Component cable
HDMI cable
USB cable
User manual
Quick start guide
CR2025 remote battery
Remote control
Cradle
Software CD
Carrying pouch
If you pay much attention at all about video formats and terms, the word progressive, is probably familiar to you. It is a scanning method. A video frame is made up of many lines of video that are scanned onto a television screen so closely that they appear to be a solid picture. The scanning method can be either interlaced or progressive. Interlaced scanning (also used in today's analog TVs), indicated by an "i" in the video format, fills in the odd number lines (1,3,5,7…) and then fills in the even number lines (2,4,6,8…) until the frame is complete. Progressive scanning, "p" fills in each line consecutively until the frame is complete, like a computer display. So, basically speaking, progressive is good. :o)
Hardware Tour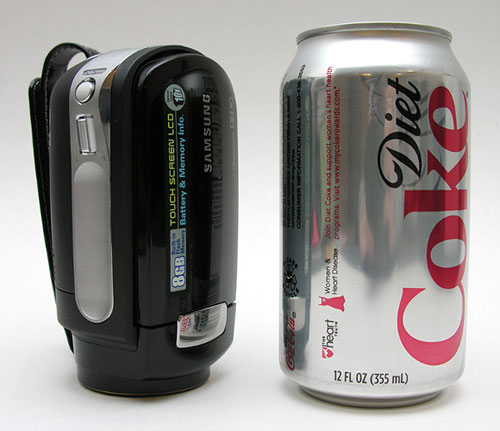 The SC-HMX10C has a small compact design that I really like. As you can see here, it's about the same size as a can of Diet Coke. It won't take up a lot of space in your gear bag.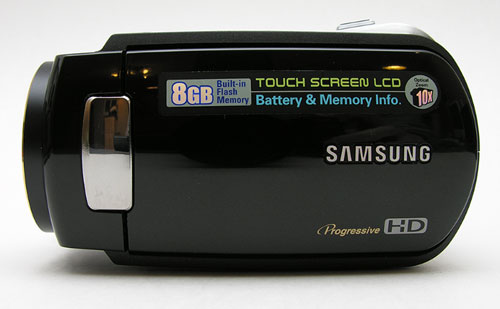 The body is made of plastic, with both shiny and matte areas. Most of the case is Black, with some Silver accents here and there. It is solid and feels very well made.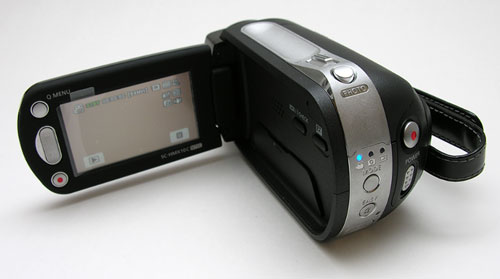 The entire Left side of the camera flips open to reveal the 2.7 inch LCD display, which has the ability to swivel 180 degrees counter clockwise and 90 degrees clockwise. It's important to note that this camera does not have an optical viewfinder. All of your framing will be done using the LCD display.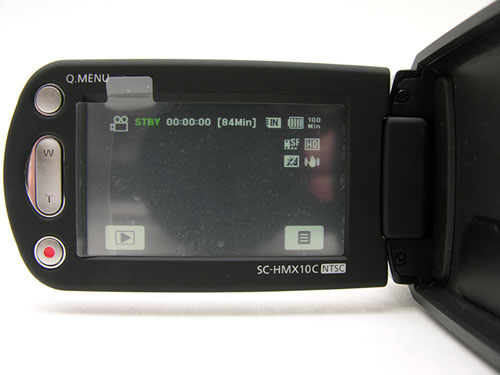 There are three buttons along the outside edge of the display. The top button launches the Q.Menu, which is a quick collection of frequently needed options. More about that later in the review. Below the Q.Menu button is a zoom button and a record button. There is a second set of zoom and record buttons elsewhere on the camera body. I actually prefer using the ones on the display as they are more comfortable for me to operate.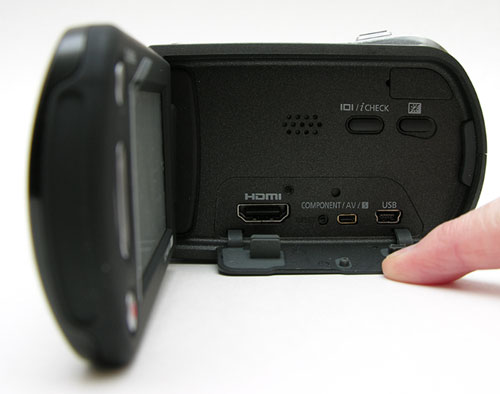 Opening the LCD display also reveals a collection of buttons and ports. The display / iCheck button has two functions. Pressing it will toggle the status info on the display on and off. Pressing and holding it, will bring up the battery and memory capacity status screen. Next to the iCheck button is the LCD enhancer button. Pressing this button will toggle brightness on and off for the display. Turning the brightness on helps you see the display when you're outside in bright sunlight. It also helps to see details in darker images. This button will have no effect on your recordings, it's just there to help you see them.
Below the buttons is a door that when flipped down, gives you access to an HDMI port, Component/AV/S port, USB port and a reset switch. I don't like the location of the USB port and wish it was on the outside of the camera instead of behind the LCD and flip down door. I have found it a little awkward to access the port when I needed to connect the camera to a computer to transfer video.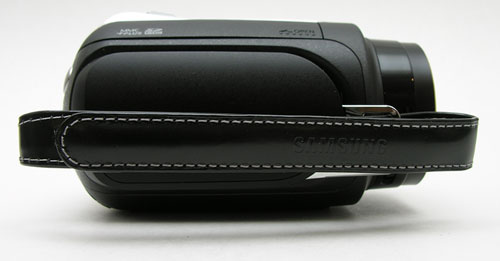 If we turn the camera around to view the opposite side, we find the leather (it smells like leather…) hand strap. This strap can be loosened or tightened to adjust for various hand sizes.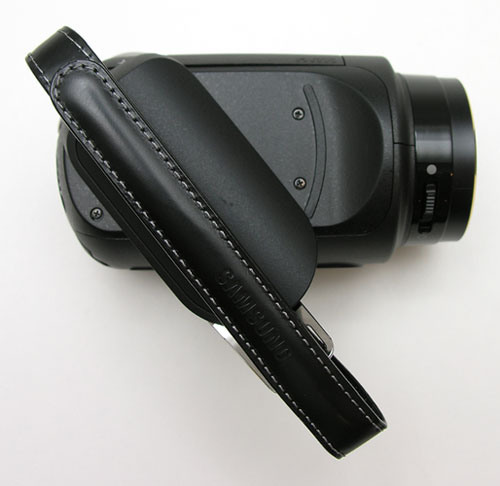 It can also swivel approximately 160 degrees.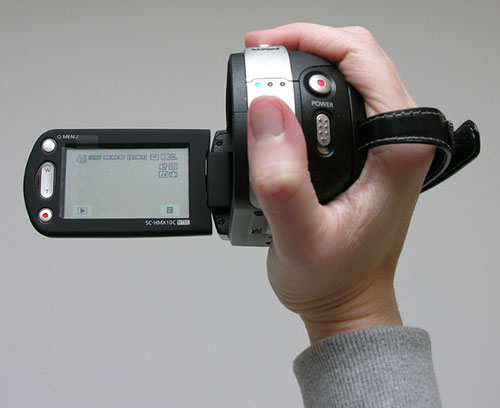 At first, gripping the camera and using the main controls with my thumb and index finger felt uncomfortable to me. No matter how I adjusted the strap, I had problems easily reaching the record button with my thumb. I did eventually get used to it, but for the most part I prefer to use the buttons on the open LCD display to control zoom and record.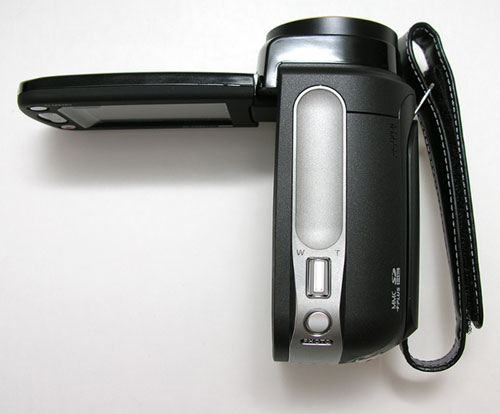 The top of the camera has an indentation for your fingers to rest when you're gripping the camera. Towards the back of the camera is the zoom lever and photo button. The photo button will allow you to snap a picture when you're in photo mode.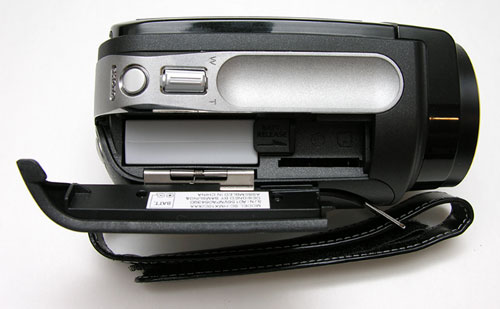 Next to the finger group is a hidden door that slides open to reveal the battery compartment and SD card slot. The 850 mAh battery can power this camera for approximately 80 minutes of continuous recording without using the zoom.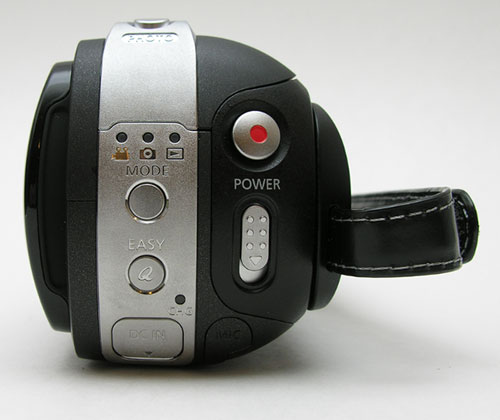 On the back end of the SC-HMX10C, there is a Mode button, Easy Q button, Record button, Power switch, DC in port and Microphone port. The Mode button allows you to switch from movie mode, to photo and play mode. Each time you press the button, it cycles to the next mode. A small Blue LED above the button shows you which mode you are currently in. Pressing the Easy Q button in movie or photo mode sets all the main settings (focus, exposure, white balance, anti-shake and shutter) to auto mode. It's just a way for beginners to easily record video without having to worry about various settings. The Power switch is a sliding switch. Slide it down for a sec to turn the camera on, do it again to power down. The Record button should be self-explanatory. The DC in port allows you to plug the included AC adapter in to charge the battery, if you don't want to use the docking cradle.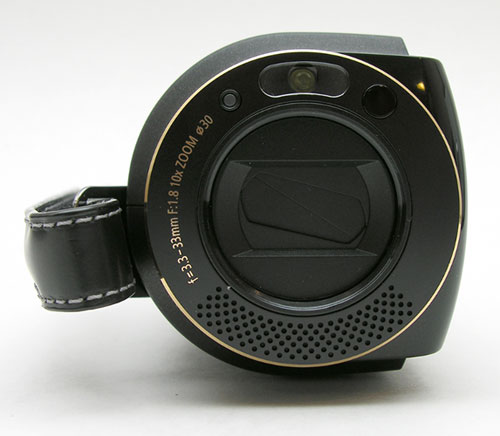 Flip the camera around to look at the front and you'll find the lens and built-in microphone. Above the lens is an LED recording indicator that glows Red while you're capturing video. Next to it is an LED light and the sensor for the remote.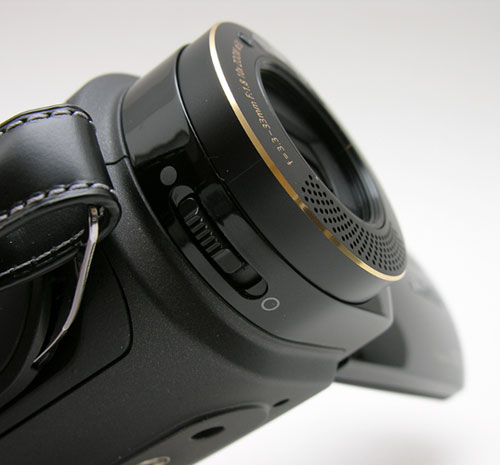 On the side of the lens is a the lens cover open / close slider switch. I found that the location of this switch to be a bit awkward as the hand strap is in the way. I think it would be better if this switch were either on top or on the bottom of the lens. Better yet, open the lens automatically whenever you power up the camera. I keep finding that I've accidently left the cover open.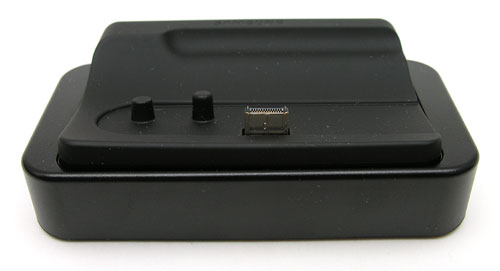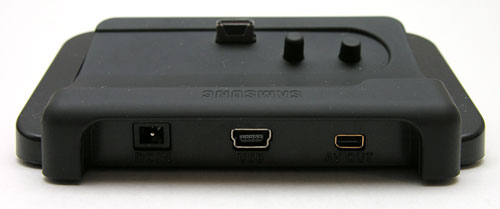 A docking cradle is included with this camera. This dock can be used to charge the batteries along with transferring video to a computer via the USB port. There's also an AV port, that you you can use to connect it to a TV to view video.
User Interface
One of my main measures when I'm testing a product for a review, is something I like to call, the newbie test. Can a complete newbie to a product pick it up and use it without reading a manual or even a quick start guide? If they can, then the product passes the newbie test. I'm happy to say that the Samsung SC-HMX10C camcorder passes the newbie test with flying colors. The interface for this camera is very user friendly, because it's touch driven. You don't have to figure out, which buttons scroll a menu, or which button selects an item. You just touch the screen. I love it!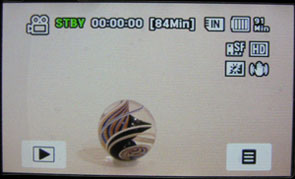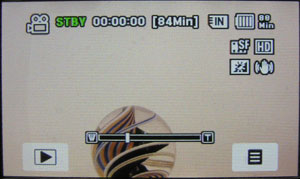 When you power on the camera, by default it will be in movie mode. From here, you do three things. You can press the record button to start capturing video. When you are capturing video, you will see various indicators on the display that show features that you have turned on and other status information such as how much recording time you have left, and battery capacity. You'll also see a zoom indicator when you use the zoom buttons.
In addition to recording, you can press the Play button in the lower Left corner to go into Play mode. Or you can press the Menu button in the lower right corner to bring up the settings menus.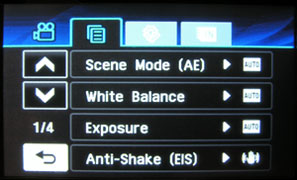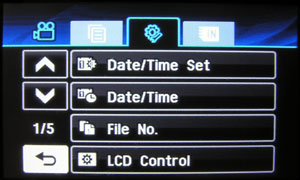 Navigating through the menus is very easy, using the touch screen. The buttons that you press are large enough that even people with big fingers, should be able to comfortably move around and change various settings. I'm not going to include screen shots for all the various settings available to you, but some important ones include:
Scene Mode – Auto, Sports, Portrait, Spotlight, Beach/Snow
White Balance – Auto, Manual
Exposure – Auto, Manual
Anti-shake – On / Off
Digital effects – Off, Black & White, Sepia, Negative, Art
Focus – Auto, Manual
Shutter – Auto, Manual
Tele Macro – Off, On
Quality – HD Superfine, HD Fine, HD Normal, SD Standard, SD Economy
Windcut – On, Off
Backlight – On, Off
Fader – On, Off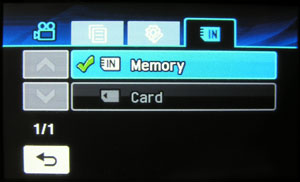 The Memory menu allows you to switch between using an SD card or using the internal 8GB of memory.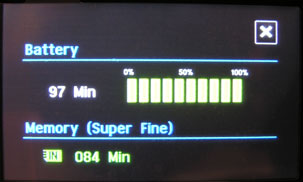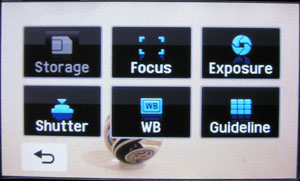 If you remember earlier in the review, I mentioned an iCheck button and a Q.Menu button. Pressing and holding the iCheck button will bring up the display you see above on the Left. It gives you a quick battery and memory capacity check. You can see this same info when you're in recording mode, but this way it is larger and easier to read.
Pressing the Q.Menu button will bring up the display you see above on the Right. It would be cool if these options were customizable, but as it is, you have the ability to quickly modify storage, focus, exposure, shutter, white balance and guideline settings.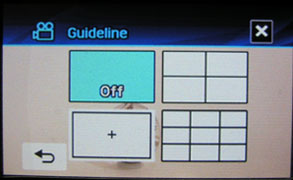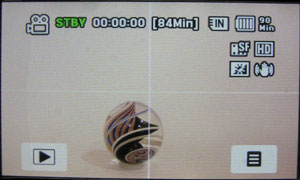 The guideline feature is a useful shot framing tool. You can turn on turn lines on the display to view it in quadrants or with a center point.
Now let's look at the Play mode. You can get in this mode by either pressing the mode button on the back end of the camera, or by pressing the Play icon on the button Left corner of the display.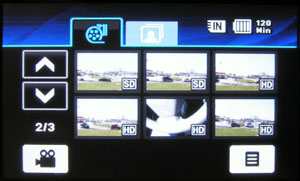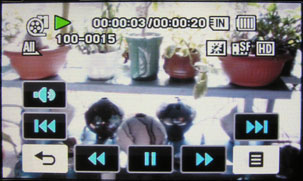 Video clips are shown as thumbnail images that you can tap on to play. Once the videos are playing you have a normal set of playback tools at your disposal.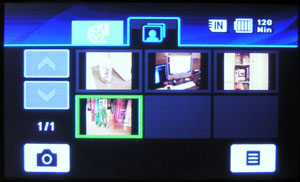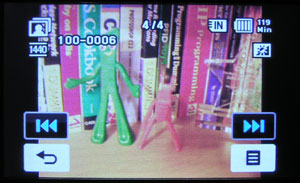 Image playback mode is similar to the movie playback mode. Images are shown as thumbnails, that you can tap on to see the full images.
Capturing Video and Photos
The SC-HMX10C has 8GB of flash memory built into the device. Flash memory is nicer in my opinion than a hard drive as you won't have to worry about spinning disk noise creeping into your videos. 8GB can go a long ways. Check it out…
Movie Recording Times
HD Superfine – approx. 88 minutes
HD Fine – approx. 118 minutes
HD Normal – approx. 177 minutes
SD Standard – approx. 266 minutes
SD Economy – approx. 533 minutes
Photos
2048×1536 – approx. 7627 images
1440×1080 – approx. 15439 images
640×480 – approx. 78121 images
Captured video is saved as a .MP4 file using the H.264 codec. I was able to copy the files directly from the camera using USB or the SD card to my Mac. These files all played perfectly under OS X 10.5 using Quicktime and did not require any conversion. I had more trouble on a PC running Windows XP. Files would only play for 1-2 seconds before freezing the Quicktime player. If I tried to play them through Media Player, only the sound would play. The manual instructs you to use the supplied software to view the files (CyberLink). I did not test this software. I also tested playing videos through my TV by connecting the camera using the included composite cable. It worked great.
I'm not a video professional. Videos that I capture will either end up on my YouTube channel or as 'see it in action' clips in my reviews. So it doesn't take a lot to impress me… Now for some sample video and photos. These samples were copied straight from the camera and have not be modified in anyway.
Video Samples:
These videos probably will not play smoothly in your browser until they are entirely downloaded due to the high bit rate.
HD Superfine (1280×720, 17sec, 25.1mb)
Click thumbnail to play video
HD Fine (1280×720, 18sec, 17.3mb)
Click thumbnail to play video
HD Normal (1280×720, 18sec, 12.2mb)
Click thumbnail to play video
SD Standard (720×480, 17sec, 4.4mb)
Click thumbnail to play video
SD Economy (720×480, 19sec, 4.5mb)
Click thumbnail to play video
I know my video samples aren't all that exciting, but they give you an idea of what this camcorder can do. I'm happy with the results both shooting outdoors and indoors. It does a much better job than the Sanyo in both locales.
Zoom With Stabilization Off (1280×720, 11sec, 18.9mb)
Click thumbnail to play video
Zoom With Stabilization On (1280×720, 13sec, 21.8mb)
Click thumbnail to play video
I couldn't tell a whole lot of difference with image stabilization on or off. As you can see, the video looks really shaky either way. I attribute most of this to the fact that I'm zooming all the way in and any small movement will be significantly magnified. BTW: the gas station price board does not blink.
Backlight Off (1280×720, 21sec, 36.5mb)
Click thumbnail to play video
Backlight On (1280×720, 27sec, 45.6mb)
Click thumbnail to play video
The backlight feature is pretty nifty for those times when you are shooting into the light. It makes the resulting video a bit soft and fuzzy, but it sure makes a difference if the only way you can shoot is into the light. I wish I would have known about this feature before I shot this video where my subject was in front of a big picture window.
Still Image Samples: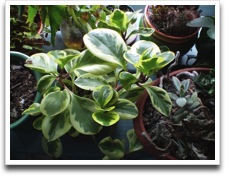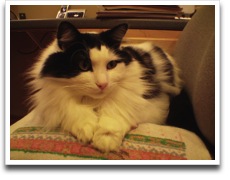 Click thumbnail to see full-size image
I am not all that impressed with the image taking capability of this camcorder. As you can see from the image of my cat Max, the auto white balance setting isn't too accurate. Since I wouldn't use this camcorder as my main camera to take pictures, the deficiencies in this area don't really bother me.
Conclusion
For the non-professional point and shoot video enthusiast, the Samsung SC-HMX10C is a wonderfully compact and easy to use camcorder. Besides the built in 8GB of memory and the touch screen interface, this camera takes great video both indoors and out. After using it for several weeks, I didn't find much to complain about and I have a feeling that it's going to be my main video camera for quite a awhile.
Product Information
Price:
799.0
Manufacturer:
Samsung
Pros:

Easy to use
Touch screen interface
8GB built in memory
Good video
Backlight feature

Cons:

Image stabilization doesn't seem that great
Playing video on a PC requires included software