We use affiliate links. If you buy something through the links on this page, we may earn a commission at no cost to you. Learn more.
Are you looking for a really compact digital video camera that does even more than record video? How about one that can also take still pictures (ok, that's not revolutionary in a camcorder), read ebooks, play MP3 music, take voice notes, and even play games. The Klegg Electronics V1803 has all of those features. Let's see how well it performs.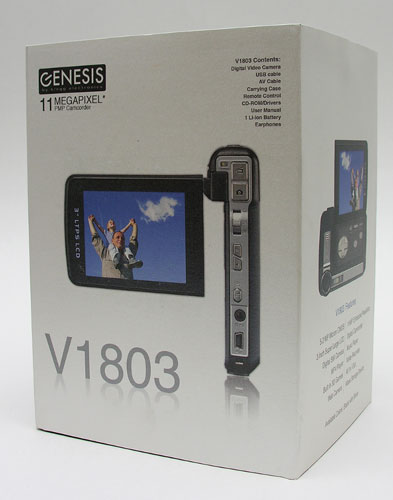 Hardware Specifications
Image Sensor: 5.2 M CMOS(Micron)Sensor(Interpolated up to 11 mega Pixels)
Lens: F3.0 (f=6.0mm)
Focus Range: Macro: center 20cm; Portrait: 70cm~140cm; Normal: 140cm~infinite
Digital Zoom: 8x
Monitor: 3″ LTPS LCD(4:3)
Storage Media: Built-in 64MB Memory, SD/MMC Card Slot support
Movie Resolution: VGA 640×480 / QVGA 320×240, 30fps
Image Resolution: High: 3840 x 2880; Standard: 2592 x 1944; Low: 1600 x 1200
File Format: JPEG, AVI, WAV, MP3
Dimensions: 3.74″(L)x2.79″(W)x1.34″(H)
PC Interface: Mini USB2.0/TV in/TV out/Earphone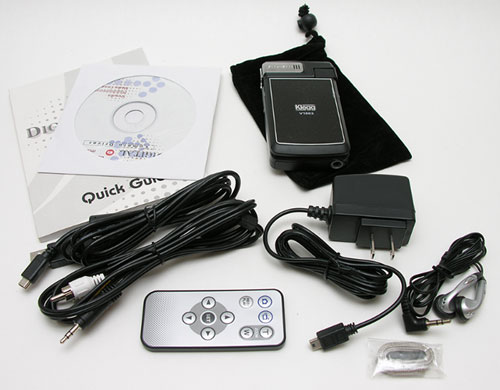 Package Contents
V1803 digital camcorder
Battery
Carrying pouch
Quick Guide
Software CD
AC Adapter
USB cable
A/V cable
Remote control
Earphones
Hardware Tour
In my opinion, the V1803 is the perfect size for a video camera. It's so small and compact that it can easily go with you everywhere. I love the Samsung SC-HMX10C, but when I saw the V1803, I wanted to love it even more, if only for the size.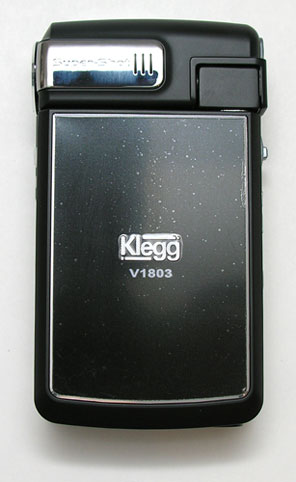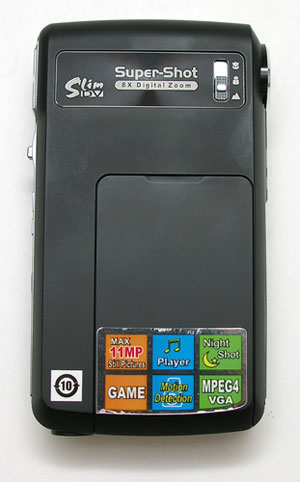 The V1803 is made of Black and Silver plastic. In hand, it's pretty light weight, but solid. The front side has a small speaker built into the top chrome area. Below that is the lift up LCD display. On the back side of the camera, you'll find a small Macro switch and battery cover.

The main set of user controls include (from Left to Right) a movie shutter button, picture shutter button, Zoom / OK button, Right and Left buttons, Record / Play button, AV Out / Earphone jack and a USB 2.0 port.

On the opposite side, you'll find the Lens and IR receiver for the included remote.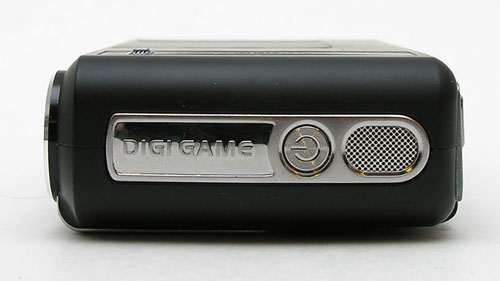 On the top surface, you'll find the power button and microphone. Once the device is initially powered on, opening the display will bring the camera out of standby mode for quick action.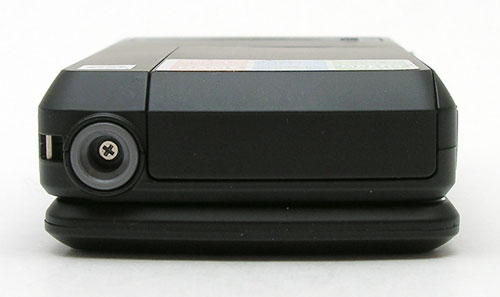 A tripod screw mount is built into the bottom edge.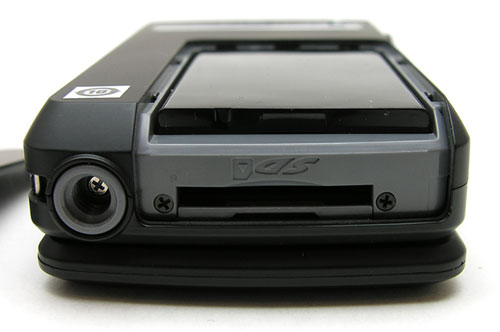 Popping off the battery cover reveals the battery and the built in SD card slot. The camera does have a very small amount of built in memory (~22mb), that you can save movies and pictures to.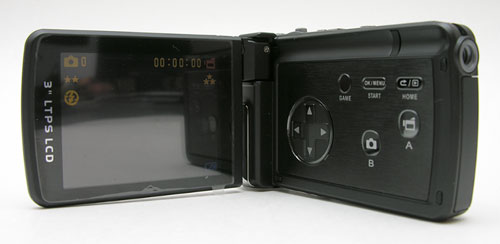 The displays flips open to reveal a 3 inch color LCD and more user controls.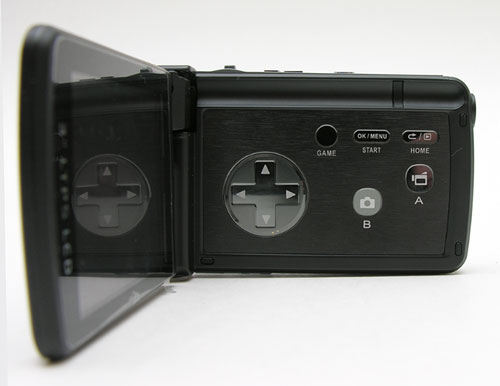 What's this? It looks like a Gameboy controller… That's exactly what it is as there are quite a few games built into this device. More about that feature in a bit.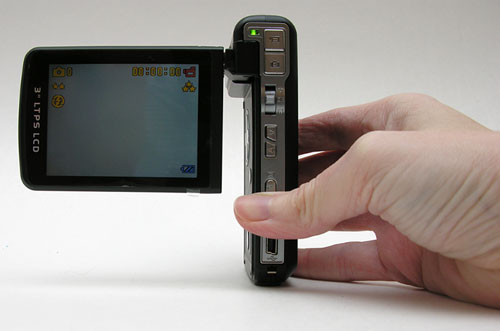 The display rotates into an orientation that allows you to easily capture video. Holding the camera and manipulating the zoom and record buttons with your thumb is comfortable and intuitive.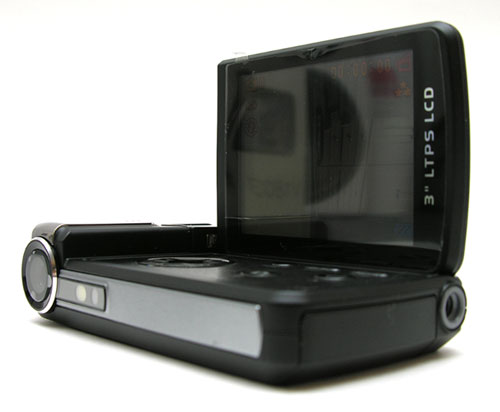 The display can also open in a clamshell orientation that makes it easier to view video, play games, etc.
User Interface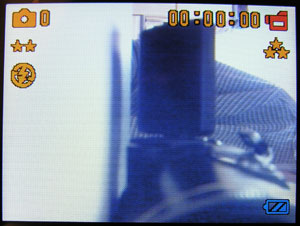 When the camera is powered on, various information is displayed on the LCD. In both Movie and Photo mode, you will see how many images have been snapped, what resolution the images will be captured at (the stars), the status of the flash, resolution for capturing video and how many minutes of video have been recorded. The display is large and bright and easy to view in all but really bright sunlight.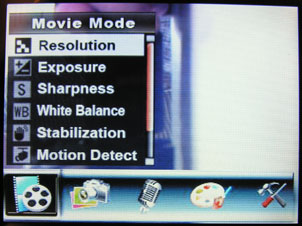 Access to various settings happens when you press the Menu button. Navigating the menus is accomplished by pressing the gamepad navpad.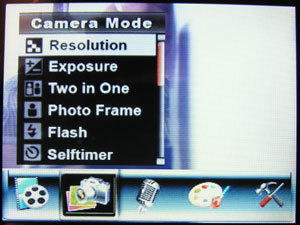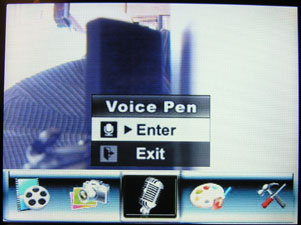 There are menus for movie settings, still image settings, Voice Pen (voice recorder), Digital effects and overall settings.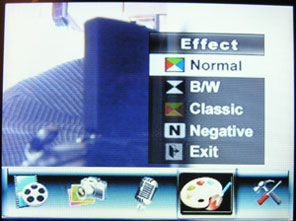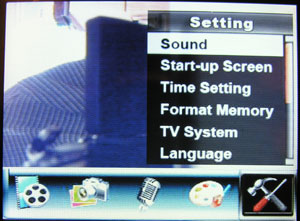 Navigating and changing settings is easy. The interface is not difficult to understand and use even without reading the quick start guide.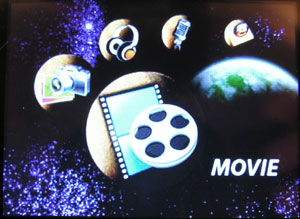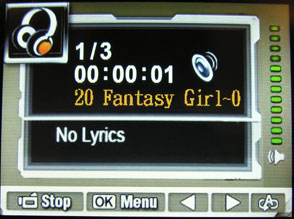 Press the Play button gives you the ability to play stored movies, pictures, MP3 files, voice recorder files and even ebooks (.txt) files.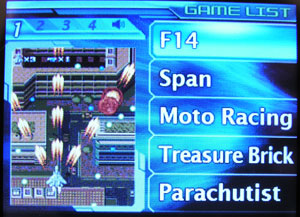 Pressing the Game button brings up the built in games player. I was surprised at just how many games are loaded on this device. There are 20 of them, ranging from Tetris, Breakout, and racing games, to Mario style jumpers and maze games. In my opinion, more effort was put into this area of the device than to the other areas…
Capturing Images and Video
The box says that the V1803 is an 11 megapixel camera. The thing is that there's a * next to that line. If you look closer, you find out that the camera is really only 5 megapixels that is interpolated up to 11. This fact is made clear when you look at the still images and video that the camera and camcorder captures.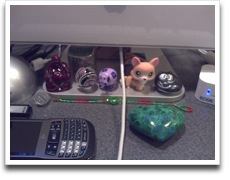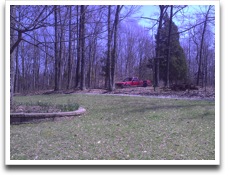 Click thumbnail to see full-size image
As you can see, still image quality is pretty poor.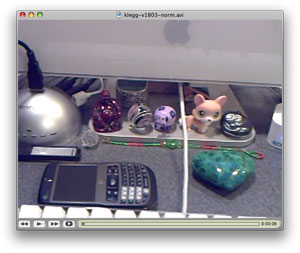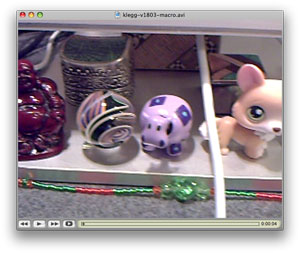 Click thumbnail to download .AVI video
Unfortunately, video quality isn't any better. Very jaggy, with artifacts. And if that wasn't bad enough, you might notice something else about those sample clips – there's no audio. I don't know if this is intentional, or a defect in the sample camera that was sent to me. I have an email to the folks at Klegg and will update the review with any information I receive. The thing is, voice recording works just fine… and music playback works too. So sound does work… just not in video capture mode. I noticed another odd behavior where the zoom stopped working while I was trying to record video. But when I would stop recording, it would work again. Go figure…
Conclusion
The V1803 from Klegg Electronics could be a great little digital camera. It's the perfect size, that's for sure. It's just too bad that it is trying to be a jack of all trades and it ends up being a master of none. As it stands, I would be more likely to recommend this device as a small game player, than for it's intended purpose of a camcorder. If you're looking for a compact digital video camera, this one isn't it.
Camera can be found at Amazon.com and other online retailers.
Product Information
Price:
170.0
Manufacturer:
Klegg Electronics
Pros:

Compact size
Large LCD display
Easy to use interface
Built in games and voice recorder

Cons:

Poor still image quality
Poor video quality
Doesn't record audio with the video
Zoom failed on occasion