We use affiliate links. If you buy something through the links on this page, we may earn a commission at no cost to you. Learn more.
Released in November of last year, the latest offering of Opera Mini, version 4, hasn't really sent shockwaves through the World of cell phones. Whilst the iPhone browser (which I think is very annoying!) has been hailed as a revolutionary success, Mini has taken the sidelines slightly, but as I have learned, this isn't really a position it deserves.
Supported by any cell phone with Java, Opera Mini is extremely compatible, and very capable of turning an ordinary phone into one with the same web browsing facilities that one might only associate with a smartphone. The use of a Java interface slows start-up to a certain extent, but after getting used to this twenty or thirty second wait for the web, it really isn't a problem.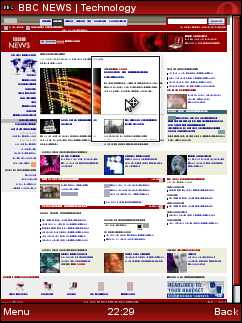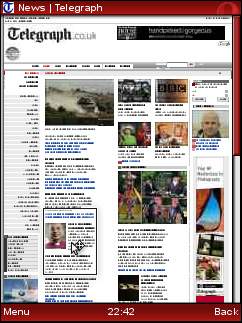 For a free piece of software, Opera is very powerful indeed. For me, top of the list is the small-screen rendering. For a long while, I have been ever so slightly fed up of having pages squashed and having chunks missing when using other mobile browsers. Mini 4 shows the user a fullscreen overview of the page and then decides a good starting point, which it suggests you zoom to. Another feature that stands out is the synchronization with a PC. The browser uses a 'mouse' for the user to choose a point to zoom to, and by giving the option to synchronize bookmarks with your main browser, Opera allows you to move between your PC and mobile device without noticing too many interface differences.
Admittedly, this new found mouse does take a little getting used to, as do some of the shortcuts, which, as they are useful, bear no resemblance to those on conventional desktop browsers…
Oh, and what's more, you can very quickly switch to the new landscape mode – very iPhone huh!
But on the subject of speed, I didn't really notice much of a difference with a conventional mobile browser, but considering that the page is being rendered to the size of your screen, the average 16 seconds or so that it takes to load BBC News site (dependent on your connection…) is pretty impressive. The Mini browser works by sending your page to the Opera servers for 'processing', before being returned to your phone compressed, and therefore as a slightly smaller file. This will inevitably bring down data charges, however if you have a data plan this isn't a problem, and at peak times, the Opera servers perform much slower.
There are the occasional niggly things that I have noticed though; the difficultly to save images, the menus are a bit annoying occasionally, and it has a fairly high crash rate. But no other browsers can offer quite what Opera Mini can, and for those reasons, I can look over these problems to a certain extent!
But overall, a real success… The browser was nice and easy to use, had a quick installation, and the compatibility with such a wide range of handsets is a real bonus. It is worth pointing out that the interface is greatly improved if you learn your shortcuts! :o)
And as for the desktop, I'm still a Firefox boy at heart…
Product Information
Price:
Manufacturer:
Opera
Requirements:

A mobile device with Java
WAP/GPRS/3G Internet Access

Pros:

Free!
Easy to use, simple interface
Compatibility
No more squashed up pages!

Cons:

Can be slow at times
Slow start-up
A few annoying little problems...