We use affiliate links. If you buy something through the links on this page, we may earn a commission at no cost to you. Learn more.
Shopping for a speaker system for your iPod can be a daunting task. There are so many different brands and styles on the market, that it can be very difficult to make a decision. If you are looking for a one piece system that can also interface with your TV to display slide shows and videos, Blue Raven's Maestro 1070 is worth checking out.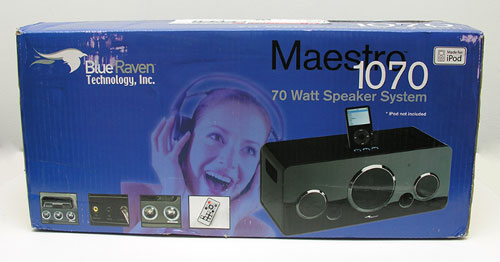 Hardware Specifications
70 Watts
2.1 Channel
3.5mm Aux input jack
Video out for displaying slide shows and videos on a TV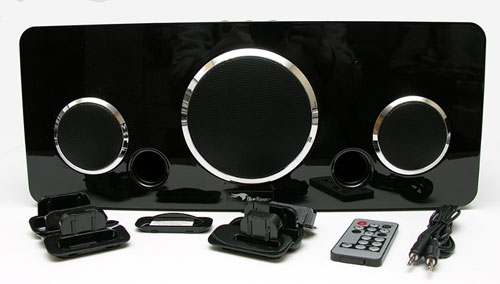 Package Contents
Maestro 1070 Speaker system
6 Dock adapters
Auxiliary cable
16 key remote
Remember Apple's iPod HiFi speaker system? They apparently don't sell it any longer… The Maestro 1070 is similar to that system. It has a footprint of 17.75 wide x 7.5 deep x 7.25 tall inches and is available in either Black or White versions. I was sent one in gloss Black to review.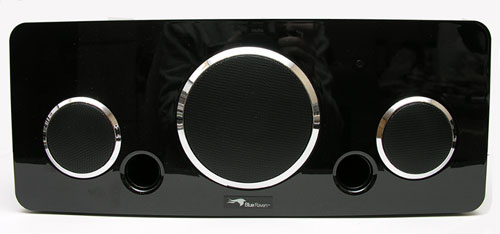 There's something to be said for the simplicity of a one piece speaker system. No wires / cables to route is always a good thing in my mind.
I like the style of the Maestro 1070; very simple and classic looking. It should blend well in most rooms regardless of interior design style.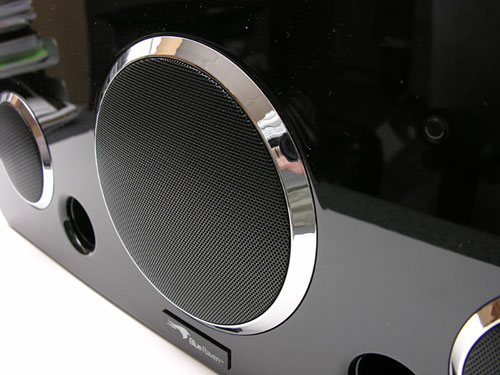 In addition to the small Blue Raven logo tag, the only eye catching elements on the face of the speaker system, are the chrome rings around the metal mesh speaker covers.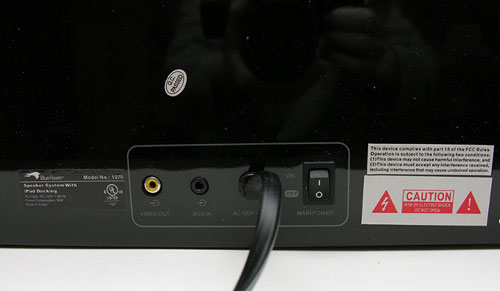 Looking at the back of the system, you'll find that it is equally simplistic. Besides the power cords, all you see are a power switch, Auxiliary input jack and a Video out jack. An auxiliary audio cable is included with the system if you wish to connect an audio device other than an iPod. If you want to try out the video out feature, you'll need to obtain your own video cable though. Bummer.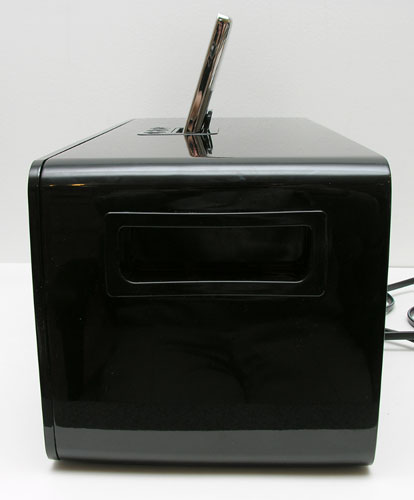 From the side, you will notice convenient hand holds built into the case. Since this speaker system is quite hefty, these grips come in pretty handy when you need to relocate the system.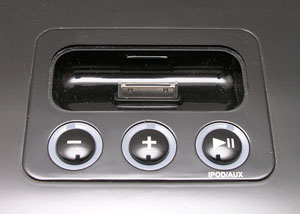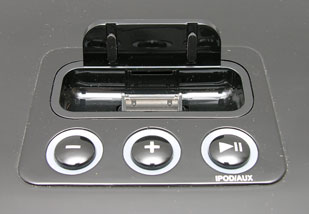 On the top surface of the Maestro is the built in universal dock for your iPod. Six different adapters are included for various sized iPods. As long as your iPod has the universal docking connector on the bottom, you're good to go. The adapters just make the fit more secure.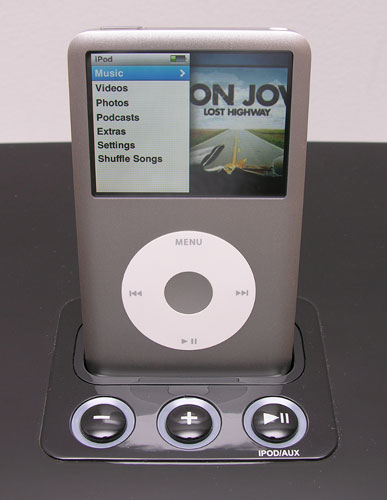 Here you see that I'm testing this system with my 160gb iPod classic. Three buttons located below the dock give you control of the volume levels and play/pause.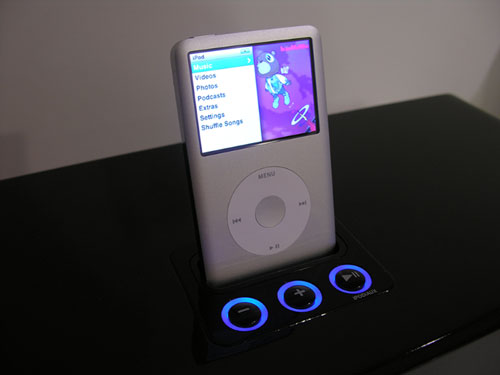 When the speaker system is powered up, Blue LEDs encircle each button. The LEDs dim when the system is in standby mode.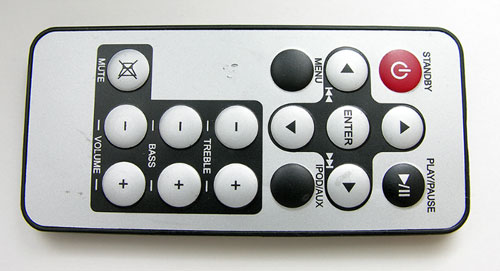 A 16 key wireless (InfraRed) remote is also included so that you can control the speaker from across the room. There are buttons for standby, volume, bass, treble and even buttons to navigate the menus. Of course, if you're across the room, you'll probably have trouble reading the iPod's display…
The sound quality that the Maestro 1070 provides is very good. I wasn't sure how well a one piece speaker system would work, but I have been very impressed. Music is clear and rich, with good treble and bass. You can adjust the treble and bass to your liking by using the wireless remote. The default settings sound just fine to me though.
This system is supposed to also allow you to connect it to your TV to show photo slide shows and videos from your iPod. A cable is not included, so you're on your own to buy one. I had a regular old 3-way Red/White/Yellow A/V cable laying around and hooked it up the Yellow lead between the Maestro and my TV. For some reason though, I was unable to get it to display my photos or videos. The iPod classic kept saying to connect the video device. Not sure why it would not work, but I was unable to test this feature, so your mileage my vary here.
As far as using the Blue Raven Maestro 1070 iPod speaker system to fill a room with music, this product has no problems doing that. It looks great and sounds great. If you're looking for a one piece system, this one should be on your list of potential buys.
Product Information
Price:
199.95
Manufacturer:
Blue Raven
Retailer:
Blue Raven
Pros:

Great sound
Video out capability

Cons: