We use affiliate links. If you buy something through the links on this page, we may earn a commission at no cost to you. Learn more.
I'm wondering how many of you were crazy enough to get up early and go shopping today? Me? No way! I didn't drag myself out of bed until almost 9am ;o) My preferred method of shopping is in my pajamas in front of my iMac! If you share my lazy shopping style, here is a Black Friday (Pink Friday) story for you…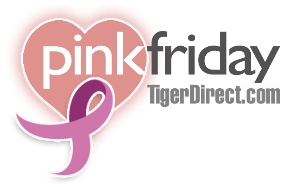 TigerDirect.com Changes Black Friday to Pink Friday
Making the Busiest Shopping Day the Most Charitable
Miami – November 19, 2007 – TigerDirect.com, a leading retailer of consumer electronics and technology products, is changing Black Friday to "Pink Friday" in an effort to make the busiest shopping day of the holiday season their most charitable day as well. The Pink Friday drive starts on the day traditionally known Black Friday, November 23rd, and runs through December 31, 2007. TigerDirect expects to donate more than a quarter million dollars from total sales and donations to the Susan G. Komen for the Cure for the fight against breast cancer.
TigerDirect.com always offers amazing deals, and Pink Friday will be no exception. TigerDirect will donate a minimum of $100,000 to the Susan G. Komen for the Cure and customers will have the opportunity to donate $1, $5, $10 or $20 to their purchase as a donation in their name.
"We at TigerDirect.com see Pink Friday as a way to make a difference," said Gilbert Fiorentino, CEO of TigerDirect. "Not only will we be offering outrageous deals, but we will be contributing to a world-wide, life changing effort with Komen that makes a difference every day."
The color pink represents more than just breast cancer awareness. It symbolizes the promise between two sisters to find a cure for this deadly disease. That promise started the Susan G. Komen for the Cure and ignited the passion of millions to create a world without breast cancer. In recognition of this, all products and items sold on TigerDirect.com and will be shipped in specially designed pink boxes and the pink ribbon will be promoted on all catalogs, newspaper advertisements, web banner advertising, store signs and incorporated into the TigerDirect.com logo.
During Pink Friday, TigerDirect will feature a live webcast from 6 a.m. EST to midnight EST featuring product reviews, Q&A with audience, How-to tips and more. The Pink Friday drive will take place on TigerDirect.com and at TigerDirect retail stores located in Miami, Orlando Park, IL, Naperville, IL, Hoffman Estates, IL, Raleigh, NC and Durham, NC.
This year, close to 35,000 fewer women are expected to be diagnosed with invasive breast cancer, according to data presented by the American Cancer Society (ACS). The decrease is attributed to earlier detection through screening, increased awareness, and improved treatments.