We use affiliate links. If you buy something through the links on this page, we may earn a commission at no cost to you. Learn more.
Plantronics is one of the most active communication products manufacturers in the market today. One of their latest Bluetooth headsets is the Voyager 520. They were kind enough to send one to me to review. Let's take a look.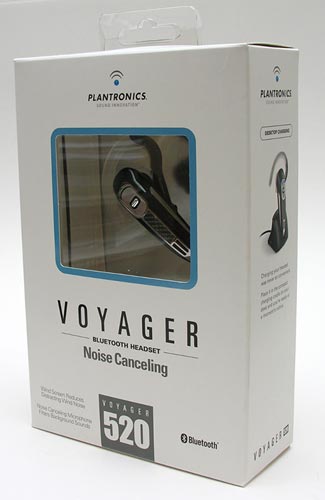 Hardware Specs
Weight: 1 oz
Bluetooth version: 2.0
Battery Type: Rechargeable

Talk time: up to 8 hours
Standby time: up to 180 hrs
Range: Up to 33 ft (10 meters)
Charging time: 2 hours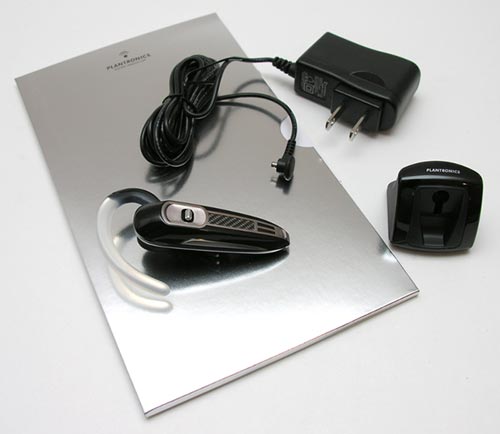 Package Contents
Headset
AC charger
Desktop charging cradle
USB charge cable
User's Guide
The Voyager 520 is quite a bit larger than Plantronic's Discovery 665 headset that I had the opportunity to review this past summer. It does have the same basic shape and style though.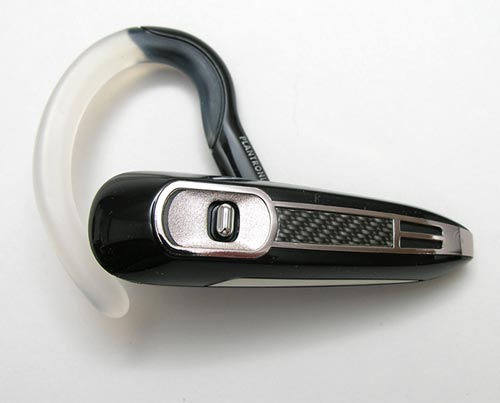 Never miss one of our posts again. Sent MON, WED, and FRI with the latest gadget reviews and news!
Made of shiny Black plastic with accents in Silver and a bit of faux Carbon Fiber, the 520 has a slightly flashy look to it. The outside surface has one multifunction button that controls all the features of this headset. You can press this button in as well as pivoting it Left and Right. More about how it works a bit later.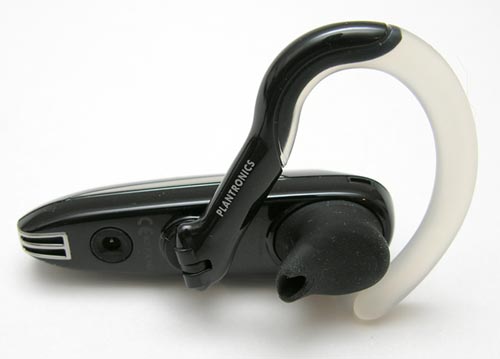 Turning the headset over reveals (from Left to Right) the microphone, the power port, the ear hook and the ear tip.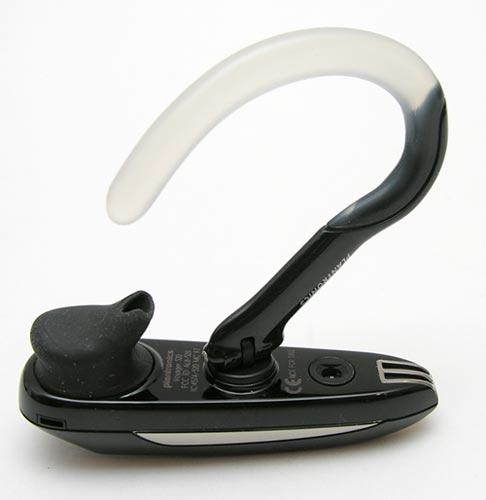 Unlike the Discovery 665 headset, the earhook on the Voyager 520 is not removable. It is somewhat adjustable though. It can rotate and flip so that you can wear this headset on either ear. That's the only way it can be adjusted though. Even though it is soft and flexible, you can't mold the hook to the shape of your ear. You also can't change / replace the actual eartip. The eartip is made of soft rubber, but it is large and can't pivot.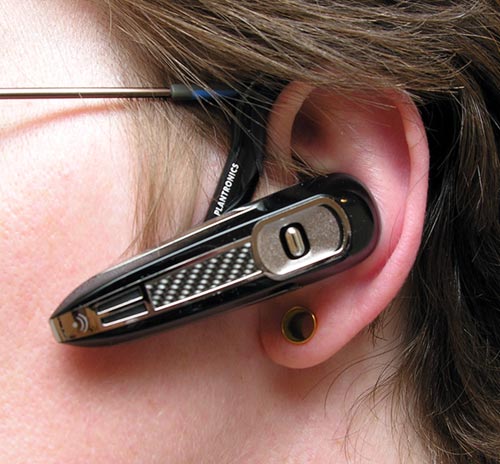 I found the headset to be a little uncomfortable after extended use due to the eartip being a bit too large for my ear. I'm confused why Plantronics decided to go with this type of non-customizable eartip. The 665 came with a couple sizes… Just keep that in mind if you have small ears.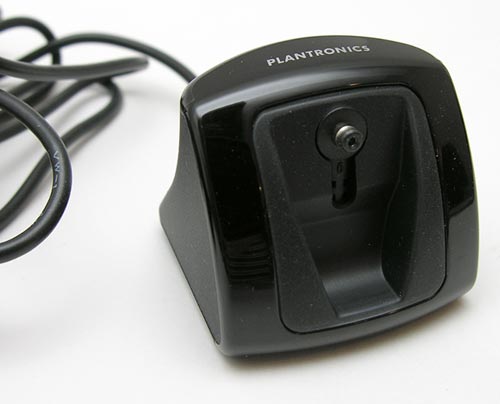 I do like the little desk charger that comes with this headset. You don't have to use the little plastic cradle if you don't want to, but if you do, it comes apart and you can insert the cable and reassemble.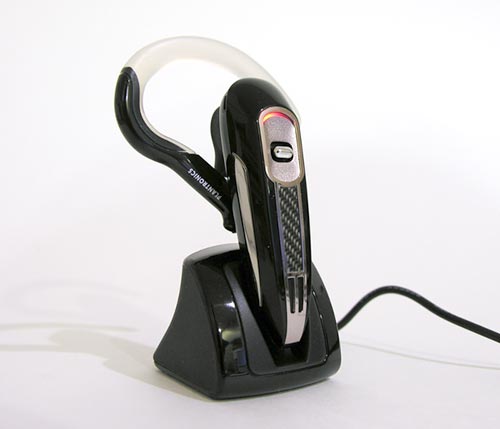 When assembled, you just snap the headset into the cradle to charge. While charging, the status LED will glow Red. Once charging is complete (approximately 2hrs for a full charge), the LED will turn off.
Initially pairing this headset with your phone is a snap due to Plantronic's new QuickPair technology. The first time you turn on this headset, it will automatically go into pairing mode for 10 minutes. Once paired successfully, the headset stays on for instant use. It's really easy and I had no problem pairing it with my iPhone.
The Voyager 520 also upports multipoint technology that allows you to toggle between two different Bluetooth audio devices. You can use the headset with two different mobile phones… even at the same time! You can be talking with the 520 on one phone and answer a call on another phone. Pretty cool. Not that most normal people (I'm not including myself in that category) probably have two mobile phones, but if you do, you're all set.
Usage of the 520 is extremely simple as there is only one control button for all features. Pressing the button in answers calls and ends calls. Double clicking the button redials the last number. Holding the button in will toggle power. The control button can also be pressed Left and Right. This action will adjust volume levels up and down. I really like this one button control design. The button is super easy to find with your finger and you don't have to remember which button to press to activate a feature. This one feature makes this headset a winner in my book.
One feature that the 520 has that I don't believe I've found on other Bluetooth headsets is a missed call indicator. The main LED will flash Purple every 10 seconds for a missed call. That's a pretty nice feature to have for phones that don't have their own missed call feature built in.
Ok, time for the sound tests! Below are two audio clips of the Voyager 520 headset in action. This will give you an idea of what it sounds like to receive a call from someone using this headset. I used the free voicemail / fax service from K7.net for these tests. I signed up for a free account, got a phone number and called it using an Apple iPhone while using the 520 headset. The resulting voicemails are then emailed to you. Pretty nifty! At test time, the phone had full signal strength. Click to listen.
Driving Test (148k .WAV file)
Inside Test (364k .WAV file)
Outside Test (304k .WAV file)
The volume level with this headset is outstanding. You should have no problems hearing someone on the other side of your conversation. It's built in noise-canceling and wind screen feature, seem to do pretty well too. The noise reduction isn't as powerful as Aliph's Jawbone headset, but it's fine for normal use such as traffic noises.
When I asked others how I sounded talking with this headset, they had no complaints and said that they could hear me clearly and loudly.
The Voyager 520 from Plantronics is a quality Bluetooth headset that has a great feature set while remaining easy to use. The only issue I have is the fit and comfort issue. Everyone's ears are different, so this is a subjective thing that I can't nitpick too much. That said, if you want a Bluetooth headset that you can control with one button, this one is for you.
Product Information
Price:
99.95
Manufacturer:
Plantronics
Retailer:
Plantronics
Pros:

One control button for all features
Ability to pair with 2 devices at once
Includes a desk cradle

Cons:

Eartips not replaceable
Earhook can't be removed or molded to your ear