We use affiliate links. If you buy something through the links on this page, we may earn a commission at no cost to you. Learn more.
Paranoia seems to be the norm when it comes to security these days, especially computer security. I know that I have probably 30 password variations that I use for 50-80 different sites and systems, making password management essential. What if there was a different way?
One alternative is the use of a biometric security mechanism. Biometric, sounds like something from a spy movie but in fact it is just a technique to uniquely recognize individuals based on one or more intrinsic physical characteristics. Fingerprints & iris recognition are probably the ones that are most common.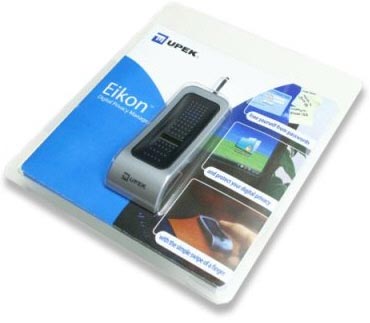 This review covers UPEK's Eikon Digital Privacy Manager, a USB peripheral fingerprint reader. UPEK, Inc. is a leader in fingerprint biometric security solutions and their Eikon Digital Privacy Manager garnered the 2007 CES Best of Innovations Award. Let's see what this biometric security solution has to offer.
Features/Specifications
Measurements: 1¼ inches wide and less than 3¼ inches long
Sleek design
Non-skid surface
Blue LED that blinks to indicate when the user should swipe their finger
Protector Suite QL software is requires Windows XP or Vista operating systems
Respond to Windows Vista User Account Control (UAC)
Logon to Windows
Lock and unlock the PC
Switch between Windows user accounts
Protect sensitive files by encrypting them
Launch favorite applications by assigning specific fingers for each one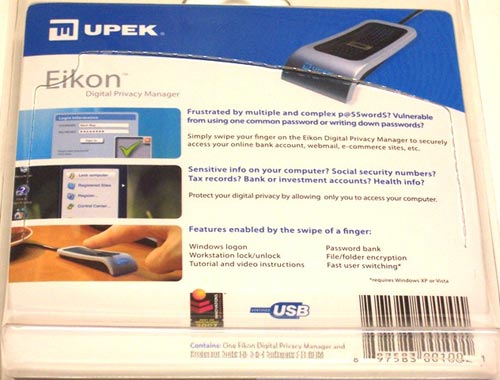 In the Box
Eikon Digital Privacy Manager
Protector Suite QL 5.6.2 software CD
Start-Up Guide

UPEK has integrated biometric hardware and software into millions of the leading laptops. Now the Eikon Digital Privacy Manager leverages that same technology and makes it available to PC users by simply plugging the fingerprint reader into an available USB port and installing the Protector Suite QL software.
The sleek design of the device, along with the use of black and silver color makes a nice first impression. The small size, slightly larger than a stick of gum, and light weight increase the initial appeal.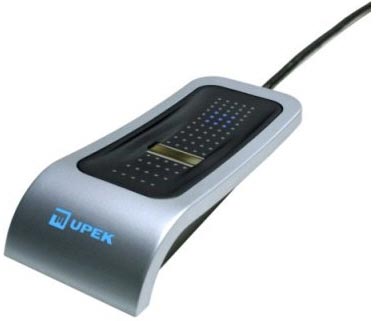 Set-up is very simple and easy to complete. Insert the software CD into the CD-ROM drive, follow the software installation dialogues boxes and restart your computer, then plug the EIkon Digital Privacy Manager into your USB port to complete.
During the software installation, you have the option to store the fingerprints on the device or your hard drive. The negative of selecting the device is that you are restricted to 21 fingerprints. I honestly do not think this is much of a negative, 21 is a lot of fingerprints.

Whichever option you select, your fingerprint image is not stored on your computer. Instead UPEK utilizes a mathematical data-based representation which they call an "encrypted template" that is stored in the Eikon Digital Privacy Manager. This template cannot be used to reproduce the fingerprint image.
The software installation process includes nice tips and graphics to assist users. Here is an example on how to swipe your fingerprint.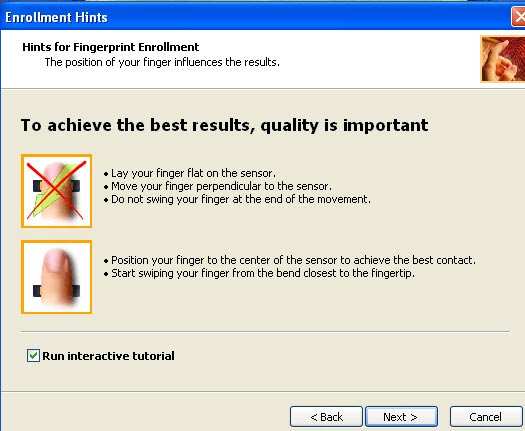 Plus it makes you practice and we all know that practice does make perfect. Here you see and example that was 50% successful and had to take the test again.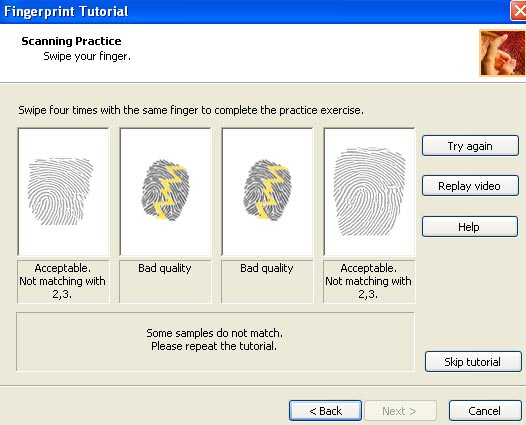 Now here is a match on all four attempts.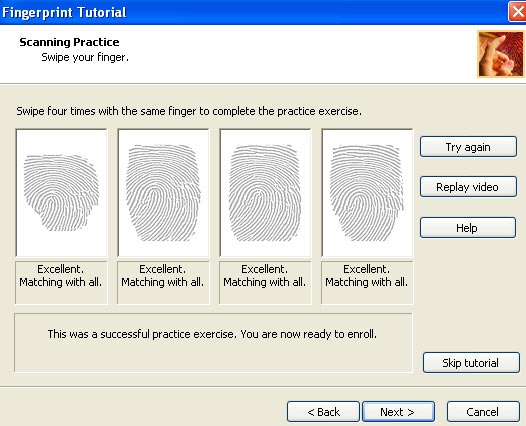 I like the fact that the Protector Suite QL software accepts any finger you want. So if you are a left or right-handed, this device will easily adapt to your preference. You select which fingers you want to swipe and it captures the data. Here you can see I selected and swiped my right index finger, but if you wanted you could swipe and store all ten digits.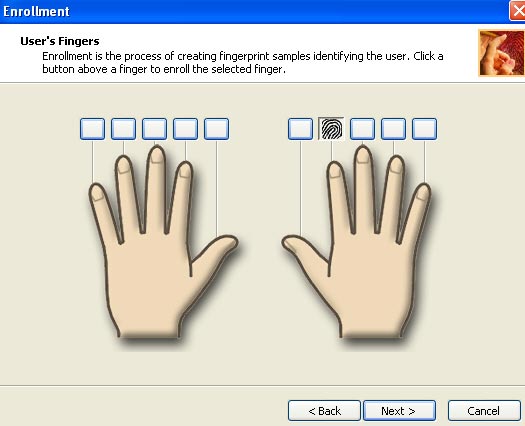 The software does recommend that you register more than one print just in case of injury. Sounds painful.
When I think of biometric security, the first question that comes to mind is, "what happens if the device stops working". UPEK thinks about this and provides you a back-up mechanism.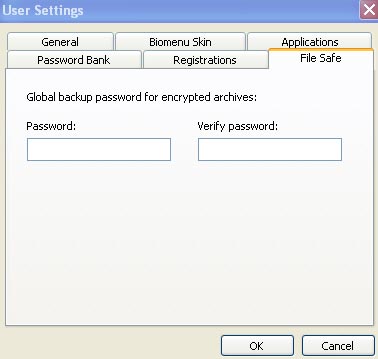 So if you use the Eikon Digital Privacy Manager to access a file folder where you keep your financial information or maybe your collection of passwords and suddenly it stops working, you can use a password as a backdoor access.
The device also allows users to swipe their finger to access password-restricted web sites. The site information, including required password, is stored under the Password Bank tab of the menu.
One cool use of the device, that is not really security related, is using your fingerprints to launch applications. I used my right middle finger to start up Internet Explorer and it worked every time. If you have enrolled all your fingers, you can have ten applications literally at your fingertips.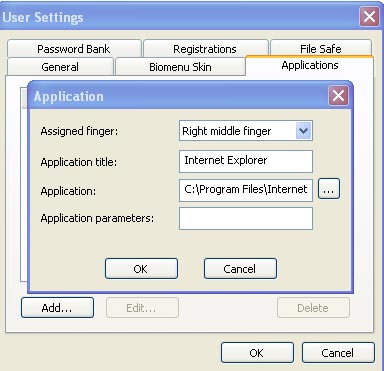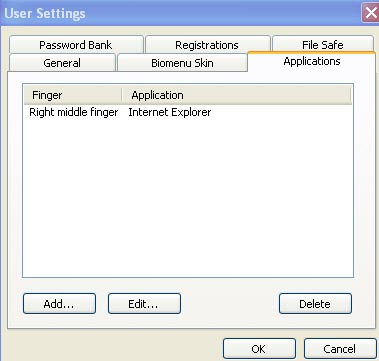 UPEK is currently previewing a version of the Protector Suite QL software for Mac users. The download appears to be free on their site. So if the device sounds like something you would be interested in and you are a Mac user, you are in luck.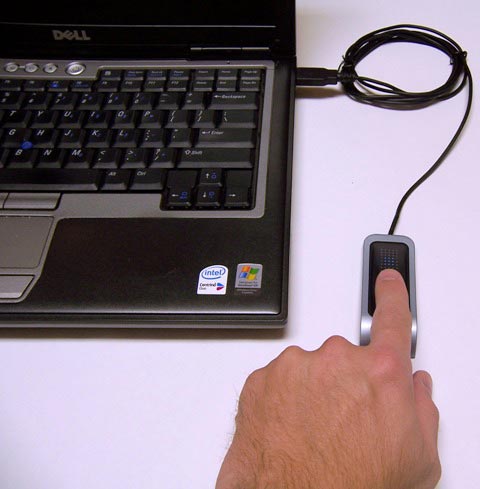 Overall I found UPEK's Eikon Digital Privacy Manager a nice solution to the ever-growing password problems. The design, ease of use and functionality (access password protected sites, logon, lock/unlock, encrypt file folders, launch application and switch users) make it a worthy addition to your PC security.
Product Information
Price:
39.99
Manufacturer:
UPEK
Retailer:
UPEK
Pros:

Software installation includes tips, graphics and tutorials that with practice exercises
Sleek design and size
Back-up password mechanism if the device stops working
No actual fingerprints are stored. Mathematical representations of prints instead
Ability to use fingerprints to launch applications

Cons:

Pain to get it out of its packaging