We use affiliate links. If you buy something through the links on this page, we may earn a commission at no cost to you. Learn more.
One of my favorite MS-DOS applications was a program called InfoSelect. InfoSelect gave me a functionally endless stack of small note cards and a great search tool. Make a note, any kind- contacts information, scheduling details, grocery list, books to find, phone messages, etc.- and InfoSelect would store it for you, and find it in a heartbeat. To sweeten the pot, you could create reusable forms, color-code things, and much more. It was sweet.
In the Palm World, Memos does this to a very small extent, but has limits on note sizes, numbers of categories, and so on, plus the Global Search is a bit slow.
Enter ScrapBook from Slow Cooked Software. For $15, you get a program that can keep a nearly endless supply of notes of many types, organized how you want them, and combines it with a powerful search tool so you can locate any note in an instant, and imports/exports to Memos with just a few clicks.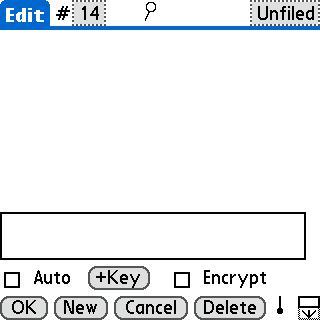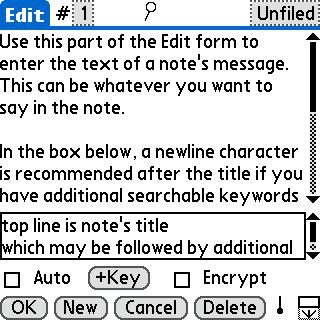 ["ScrapBook" Opening Screen, and With a Memo Showing]
Each note gives you a window for the note proper, and a 'keyword window'. The top line of this window is the note's title and you can add additional keywords on other lines. The program even includes an autofill that helps you generate keywords based on previously used terms. You can encrypt the notes (and search them while encrypted), and file them in unlimited folders and sub-folders- as deeply nested as you would want to go.
The search function can go by keywords or look for strings of text in the main body. I found partial phone numbers buried in my notes almost instantly. I was mildly disappointed that the search string was not highlighted in the results, but it was still crazy fast.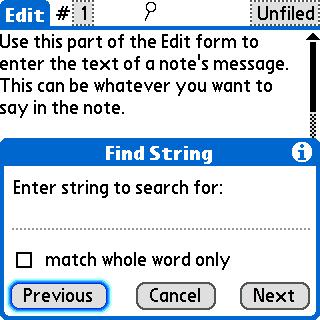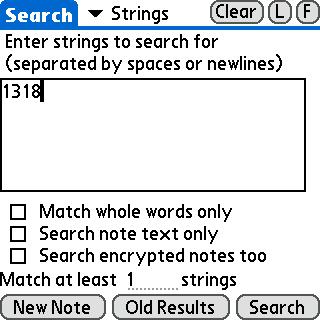 [The Two Search Windows- within a memo, and over all memos]
Is it as sweet as my old InfoSelect? Close… really close. Some things that miss a bit include:
– The keyword/title window is near the bottom of the screen (which feels odd)
– It does not use colors at all, which has the benefit of using fewer resources and being easily compatible with several Palm models, but would really enhance the program
– Probably also related to compatibility- it does not use the full screen or rotation options of the Tx and related Palms. With the on-screen buttons and keyword window, the main text memo window ends up rather small. This is my biggest 'real' gripe.
– The screen layout is a bit clunky- it does not quite capture the 'Zen' of the typical Palm program simplicity and transparency
– The program suffers from a common problem many small powerful programs share- the documentation somehow makes things seem harder than they really are.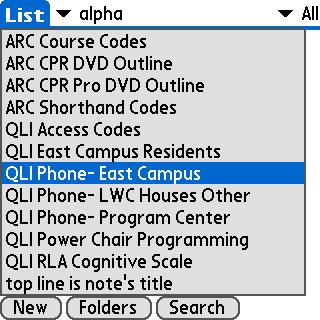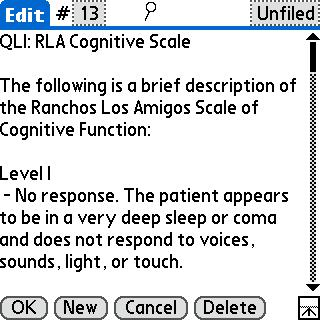 [ScrapBook's Memo List, and a view of the Memo Window maximized]
I can get a lot of Memo replacements, from freeware to the Palm version of InfoSelect for $69.95 (and even at that price, it does not use color or look as cool as the old MS-DOS version did). Of all those I have tried, I like the combination of power and flexibility that ScrapBook offers while taking up under 150K in memory (not including the actual memos).
So, why would I use this program over the free and built-in Memo? After all, I can save all sorts of info in Memo and search for it quickly with Find's global searches. ScrapBook offers better organization of the memos- categories, sub-categories, etc. ScrapBook offers encryption and integrates it into the search feature. ScrapBook's search is not tied up going through Docs to Go or the other programs that can slow it down.
ScrapBook also allows you to use your Palm in a new way. In much the same way as some day-planner systems use lots of small notes that are captured during the day, then sorted and organized later, ScrapBook would let you capture small bits of data all day. A few keystrokes and it is organized, and a few more keystrokes and it is recaptured.
It may not be pretty, but it is good. In the right hands, this is a true powerhouse program!
Product Information
Price:
15.0
Manufacturer:
Slow-Cooked Software
Requirements:

Palm OS version 3.5 or higher
Requires 124kb of RAM for the program + additional RAM for user data

Pros:

Small size
Works as advertised
Fast searches

Cons: