Let me start off by saying the Techlasers Infiniti 125mW Green Laser is NOT a toy. Most of your "run of the mill" laser pointers are rated at less than 5 mW (milliwatts) of output. This one weighs in at a hefty 125 mW. What does that mean? It means this baby will burn – literally. More on that later…
Hardware Specs
Average Output Power: 125mW – 135mW
Wavelength: 532nm (Green)
Dimensions: 13mm x 150mm (.5″ x 6″)
Power Supply: 2 * AAA Batteries
Switch: Push Button
Duty Cycle: 100% – 100sec
Operation Mode: CW
Transverse Mode: TEM00
Beam Diameter: 1.2mm @ Aperture
Beam Divergence: <1.2 mRad
Operating Temperature: 15 – 35 C (59-95 F)
Diode MTTF: 5,000 hours
Warranty Period: 3 Months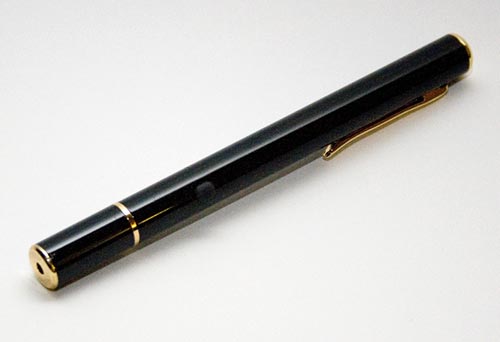 When I opened the package, I knew right away that this device was not for kids. The instruction manual states, "We highly recommend wearing laser safety goggles when operating this laser unit." They weren't exaggerating. I aimed the laser at my ceiling and the green dot was so bright it hurt my eyes. My laser safety goggles are on their way.
The pointer is well built and has a nice hefty feel. The metal casing is gloss-black with gold colored accents. The clip is very sturdy and holds tightly on to my shirt pocket.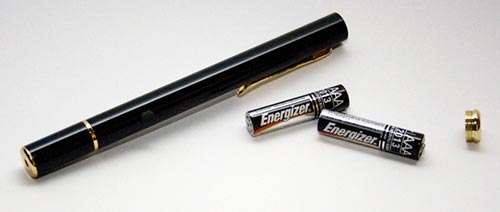 The pointer takes 2 AAA batteries, which is a huge bonus. Most laser pointers I've ever had take 3 or more tiny (and expensive) button batteries that never last very long. I've been playing with this unit for a couple weeks now and I'm still on my initial set of batteries (!)
The first thing that strikes you when you fire this up is that the beam is visible in daylight. It's not extremely bright, but you can definitely see it reflecting off of dust particles in the air. At night, or in a darkened room, it is quite visible. The beam is very narrow, much more narrow than it appears in the photographs.
[Warning! Do not aim lasers at aircraft lest you find yourself in jail like this guy.]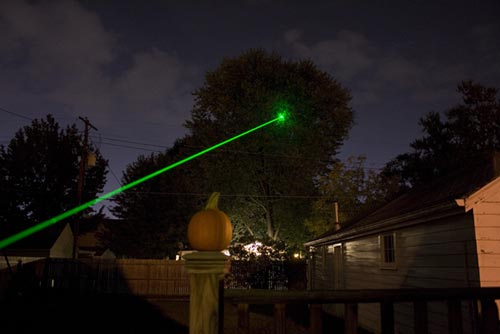 The next thing that strikes you is how far the beam travels. Marketing materials claim the beam can travel for 36 miles. Although I haven't been able to test that claim, I can tell you when aiming up into the night sky, it appears you can hit the stars. In fact, stargazers love green lasers and use them frequently to point out specific stars to others. I took some photographs of the beam while aiming into the sky, but the pictures don't seem to accurately capture the distance. In the bottom picture, I was hitting the clouds.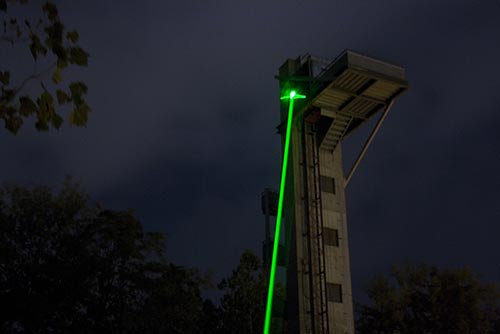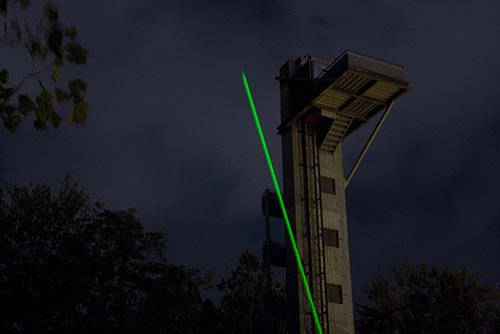 So, why would anybody want such a gadget? Because it is truly geek chic. Remember when I said it will burn? This laser can pop balloons from a distance of several feet, maybe more (black balloons work best). It can cut electrical tape, light matches, and melt rubber and some plastics. The bottom of my shoe has several tiny holes in it from where I've demonstrated its power. I don't recommend this laser as a presentation pointer as your audience would get a headache after about 3 seconds. But if you're looking for the ultimate accessory for your pocket protector, this one is for you.
Product Information
Price:
289.0
Manufacturer:
Techlasers
Retailer:
Techlasers
Pros:

Bright beam that you can even see in daylight
Uses regular AAA batteries
Powerful

Cons:

Expensive
Can be dangerous