We use affiliate links. If you buy something through the links on this page, we may earn a commission at no cost to you. Learn more.
Earlier this year, Audioengine was
kind enough to send me a pair of their wonderful
A5
speakers to review. These speakers have turned out to be a favorite of mine
and still occupy space on my desk at Gadgeteer headquarters. Now Audioengine
have created another set of speakers for people that don't want to devote as
much desktop space and money in order to own a great sounding pair of speakers.
The A2's work great with both PCs, Macs and other audio devices. Let's take a
closer look.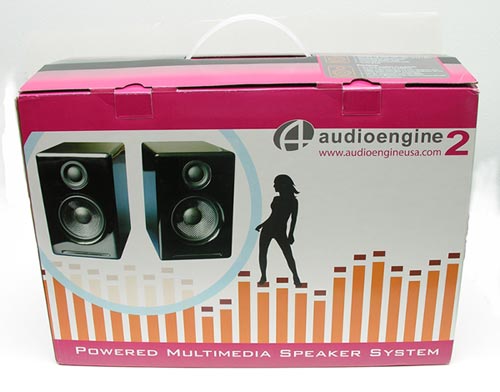 Hardware Specifications
2 audio inputs (RCA and mini-jack)
60W total peak power
Frequency response 65Hz-22kHz
Built-in power amps (left speaker)
2.75in
Kevlar woofers for super low end
20mm
Silk tweeters for smooth highs
High-quality speaker connectors
Auto-sleep power-saving mode
Hand-built 18mm thick MDF cabinets with high-gloss polyurethane finish
Video-shielded

Dimensions: 6.00 x 4.00 x 5.25 inches
Weight: 3.55lbs (Left), 3.18lbs (Right)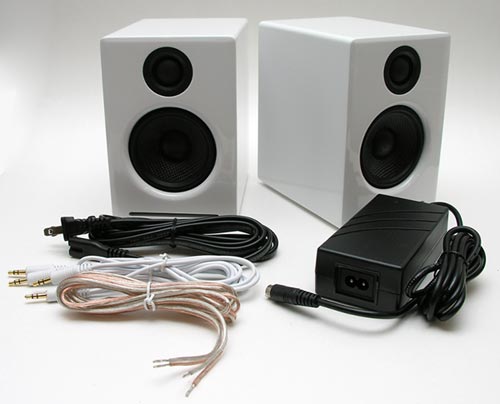 Package Contents
AC Power supply
Speaker cable (16AWG), 2 meters (~6.5 feet)
1/8″ mini-jack audio cable, 2 meters (~6.5 feet)
1/8″" mini-jack audio cable, 20cm (~8 inches)
Drawstring power supply bag
Drawstring cable bag
Drawstring speaker bags (2)
Setup Guide
Upon unboxing the A2's, I was immediately struck by the size of these new
speakers as compared to the A5's.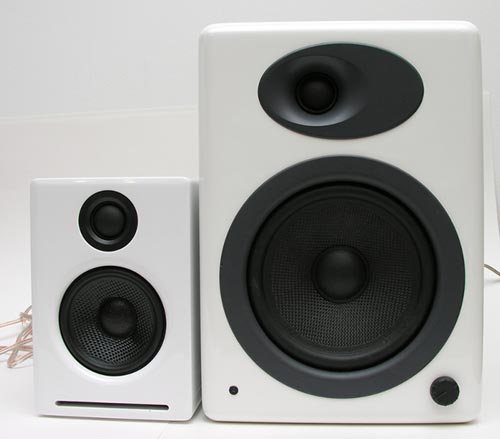 They are almost a quarter of the size. Very cute, it's like a baby with its
daddy. The A2's have been constructed similarly to the A5's, which means they
don't look and feel like a pair of $50 speakers that you can pick up at Target
or CompUSA. These little guys are high quality speakers in a small package. 
Audioengine designs and manufactures their own tweeters, woofers, and many
other critical components that comprise their speakers. They are not "box built"
speakers with off the shelf parts, but entirely custom designed to their own
specifications. What they don't fabricate directly in their factory, they have
custom made (parts such as toroidal transformers,
magnets, and wiring harnesses, for example). The cabinets, drivers, bass port
designs, and amplifiers are all tuned together for each Audioengine model.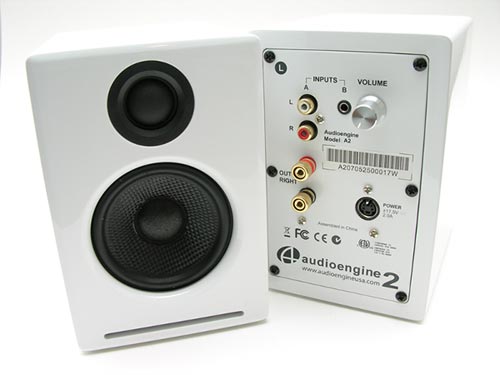 Available in either Black or White, I was sent a pair of White A2's. The Left
and Right speaker look identical from the front, but when you turn them around,
you will find that the Left speaker houses all the extra connections and
electronics.
The A2's have two audio inputs. One set of RCA Left and Right jacks, and another
input that is a single 1/8" mini stereo jack. Typically, you would use the RCA
jacks to connect this set to your computer, TV or stereo. The 1/8" mini jack
allows you to easily connect your iPod or other audio device. All of my testing
with the A2's was done with my
iPod classic
connected through an older iPod dock.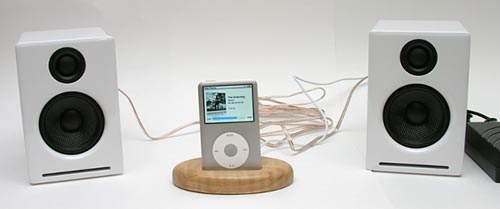 I was flabbergasted (I don't think I've ever used that word in a review
before…) the first time I heard these speakers in action. Wow! They sound very
much like the A5's, which means that they sound great! I won't say that they
sound exactly like the A5's, because they don't. They lack a little bit of the
crispness / treble that the A5's have. But the bass is amazing and they are truly head and shoulders
better sounding than other desktop speakers that I've owned in the past.
When you crank up the volume, air puffs out of the horizontal vent that is
located at the bottom of each speaker. The volume level that these little guys
can go up to is very surprising. I think they can go to eleven, but they
rattle my windows before I even turn them up half way! :o)  Speaking of volume though,
that's where my only true criticism of these speakers lies. I don't like the
fact that the combination power and volume knob is located on the back of the
speakers. I really wish this was on the front as it would make access so much
more convenient. There's also the fact that there isn't any type of power status
indicator. The A5's have an LED on the front; the A2's do not.
Disregarding my gripe about the volume knob location, I have found the
Audioengine A2 speakers to be an affordable alternative to the bigger A5 set. At
$200, these probably won't be a spur of the moment purchase for anyone, but if you want
a wonderful sounding pair of speakers that don't require a large portion of your desktop real estate, then the A2's might be a good choice for you.
Product Information
Price:
199.0
Manufacturer:
Audioengine
Retailer:
Audioengine
Pros:

Great sound from a small package
Two audio inputs

Cons:

No power indicator LED
Power / volume controls are located on the back of the speaker