We use affiliate links. If you buy something through the links on this page, we may earn a commission at no cost to you. Learn more.
I've always been the kind of person that doesn't want something if everyone else has one just like it. I like to be different ;o) As such, I tend to seek out companies that offer custom products. Skooba Design (formerly RoadWired.com) has a new product that allows YOU the ability to customize it. It's their D.I.Y. Skin laptop sleeve / tote. Available in four sizes, this skin comes in a blank canvas version that you can decorate with paints, markers, needlework etc.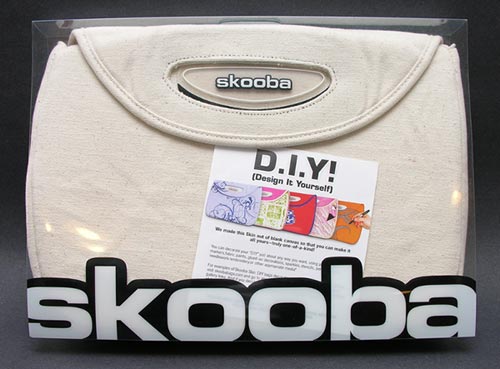 The Skooba skin is available in several materials including Corduroy, Vinyl, Ballistic Nylon, Suede and Blank canvas. It also comes in four sizes including:
Micro: holds laptops up to 12.25″L x 8.75″H x 1.25″W
Small: holds laptops up to 13.25″L x 9.75″H x 1.5″W
Medium: holds laptops up to 14.25″L x 10.5″H x 1.75″W
Large: holds laptops up to 16.25″L x 11.75″H x 2″W
I was sent the Micro blank canvas version to review.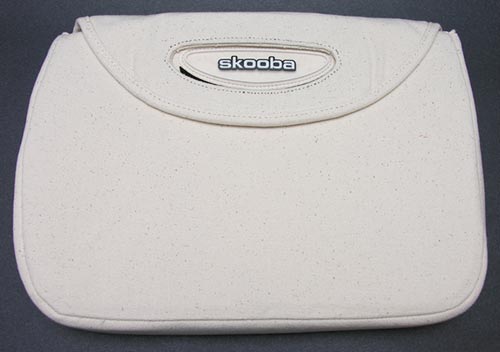 This skin is a simple one pocket sleeve designed to protect your laptop. As you will notice, the blank version of this sleeve is indeed blank. The only 'decoration' that it has is a rubber Skooba logo patch sewn into the front. The material is a slightly rough raw canvas.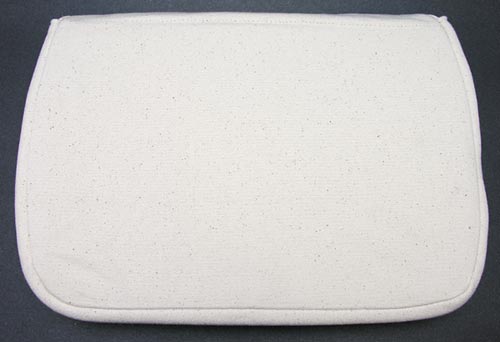 The back of the skin is equally blank.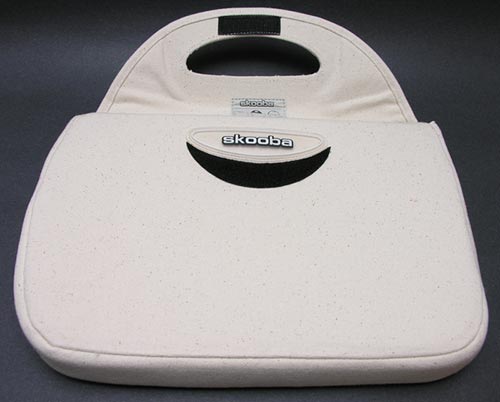 Lift up the Velcro flap to use this skin as a laptop sleeve.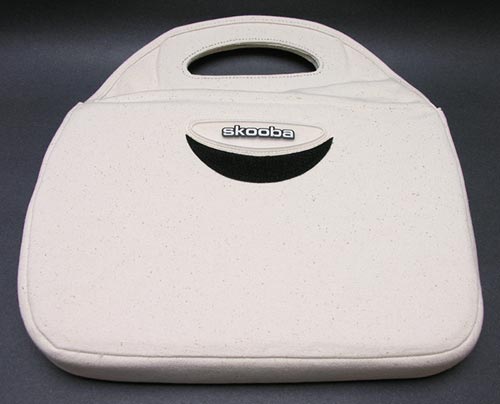 The skin can convert from a laptop sleeve into a laptop tote by flipping up both flaps. This way, you can carry it using the open handles.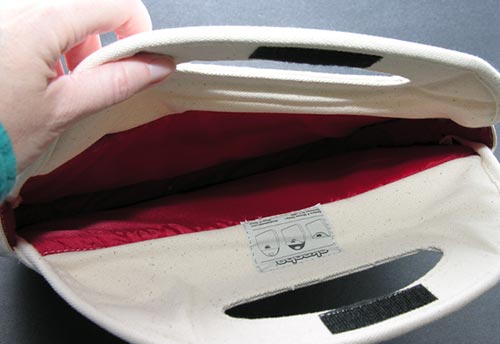 The interior of the DIY skin is lined in a Red satin material. The front, back and sides are all padded to protect your laptop from everyday abuse.
There's not much else to say about the Skooba skin as far as its features. It's a very simple product. But you can turn it into a work of art if you are so inclined.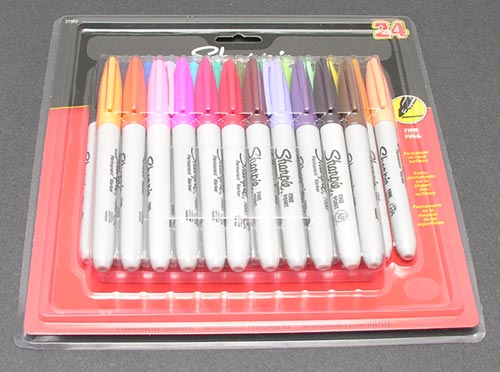 I don't paint and don't really sew, so I decided to go with permanent markers as I was lucky enough to grab a set of 24 colored Sharpies at my local Walmart at a good price. I didn't have a plan as to what I wanted to draw on my Skooba. As a rule, I really don't plan much of anything. I just go with the flow. As an avid doodler, that wasn't too difficult for me.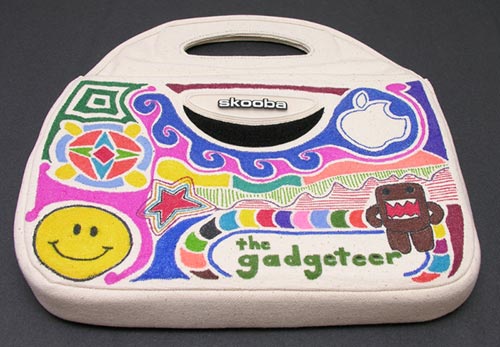 So far I've managed to complete the front of the skin. Yeah, I know it's pretty crazy and doesn't really have a theme, but that pretty much gives you some insight into my own wandering mind. Scary huh? ;o) Would you like to see how I ended up with this design?
See it in action…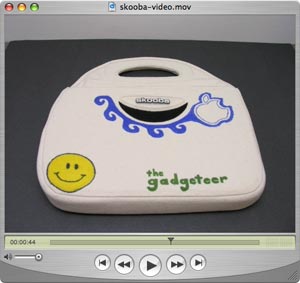 Click on image to play the QuickTime video (42sec,
4mb). The video is encoded in the H.264 codec. You will need the latest version of
Quicktime to view it.
VLC is another free viewer.

Now I just have to finish the back side and I'll be all set!
The Skooba Design DIY Skin is a useful product that will protect your laptop, while also giving your mind a creative outlet. If you like to have something that no one else in the world has, this is the product for you.
Product Information
Price:
27.95
Manufacturer:
Skooba Design
Retailer:
Skooba Design
Pros:

Blank canvas ready for paint, markets, etc.
Converts from sleeve to tote

Cons: