I am regularly out in the middle of nowhere for work or camping with the family. Being the tech-toy junkie that I am, I bring a wide range of devices with me wherever I go. The Maxpedition COLOSSUS Versipack is an ideal bag for consolidating and protecting them in the wild. The COLOSSUS is the largest bag in the Versipack series.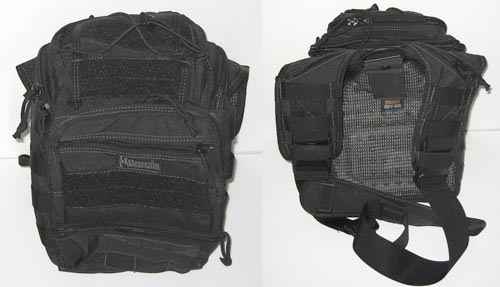 The COLOSSUS Versipack is extremely well made. The exterior of the Versipack is constructed of a heavy duty ballistic nylon material. The interior lining is nylon as well but smooth and will not impact your devices. The metal zippers are top quality and will last the lifetime of the bag. The front, back, sides and bottom are reasonably well padded while not making the Versipack too bulky.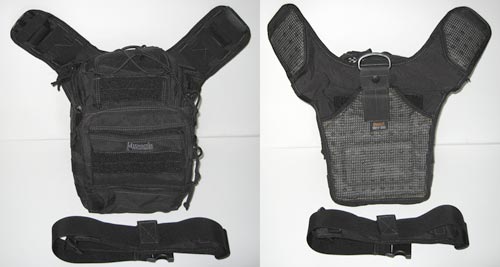 The front and top have velcro to attach a nametag or small pouch. The back has a rubbery material that decreases the amount the bag slides around your side or back. The shoulder strap is removable, a nice plus. This allows you to add the JANUS Extension Pocket to the strap giving you the ability to have a front pocket across your chest. The bag is more or less symmetric allowing for 'ambidextrous' use.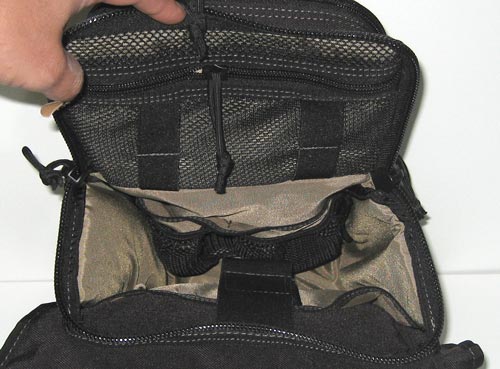 The COLOSSUS has six exterior and eight interior pockets of various shapes and sizes. The main pocket is 8" x 5" x 10" deep with front and back internal pockets. The largest of the internal pockets has a velcro closure. There is a mid-sided zippered pocket on the lid and a simple pocket with two small mesh pockets on the front of it.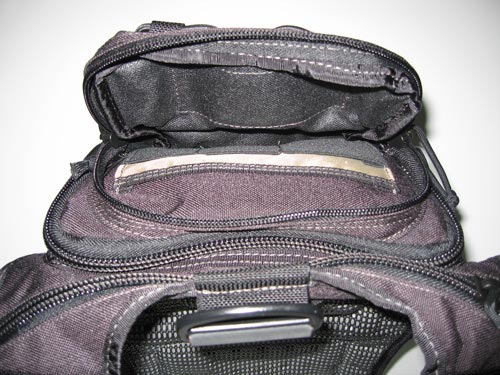 The top pocket is 6" x 5" x 1" thick with a small internal pocket that has three elastic loops.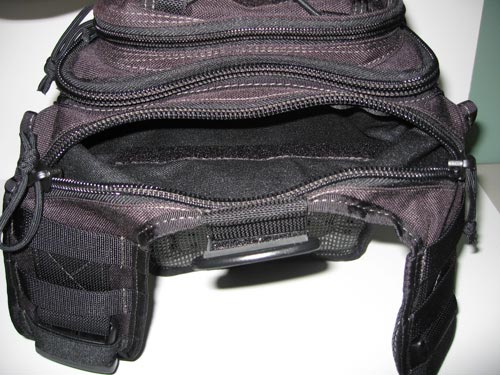 The back pocket is 9" wide x 11" deep, ideal for paperwork or a map. According to the Maxpedition website the back pocket is 'hydration compatible'.
The front pocket is 8" x 7" x 1.5" thick with three velcroed subpockets within and two zipped pockets on the exterior. There are many hard point locations to hang items on the exterior of the bag. There is also a metal field loop on the top of the back. The bag weighs 34.2 oz when empty. It is available in black, green, khaki, digital foliage camo.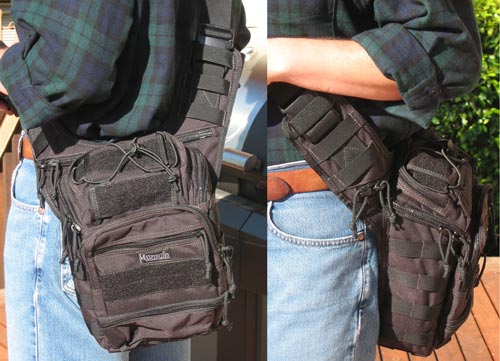 The COLOSSUS Versipack is very comfortable to wear. It hangs nicely on either side while distributing the overall weight of the bag. According to the Maxpedition website, the COLOSSUS is a "Special Project" due to its complexity and 'labor-intensive nature' and will be produced only on a limited basis.
Maxpedition lives up to its motto of 'Everyday Hard-Use Gear' in the COLOSSUS Versipack. Once again, it is very well made, extremely durable, and nicely sized. Priced at $118.99, it is a bit expensive for a mid-sized bag. But in this case, you get what you pay for.
Product Information
Price:
118.99
Manufacturer:
Maxpedition
Retailer:
Maxpedition
Pros:

High quality materials
Rugged construction
Light weight
Many pockets
Comfortable
Ambidextrous

Cons: