We use affiliate links. If you buy something through the links on this page, we may earn a commission at no cost to you. Learn more.
Well, I survived one of the most hyped days of my lifetime so far: 06/29/07 iPhone Day. Unlike a lot of lucky people, I had to work yesterday until 3:30pm. My excitement started building around noon and by the time my work day was done, I was out the door and on my way over to my local Cingular / Now AT&T store. I live in a very small town. I think the population these days is barely over 40,000. I didn't figure there would be an actual line of people waiting to buy the phone, but I was surprised…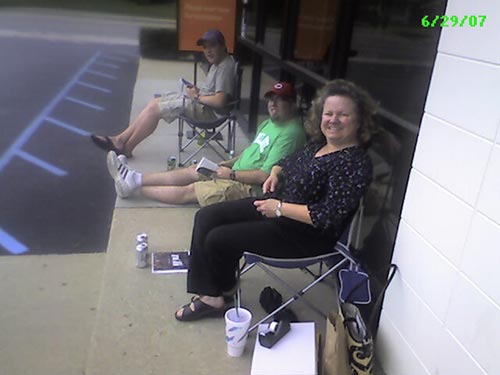 When I arrived, at 4pm, there were 4 people already situated by the door. The first person in line was a 16yr guy that had been there since 1:45pm. The guy in green in the picture above was quickly replaced by his sister (I think) to keep his place. Another guy not pictured had recently returned from Iraq, and the lady in the foreground was keeping a spot for her daughter who was working.
As each person walked up to get in line, an AT&T employee asked us which phone we were going to buy, the 4gb or 8gb. We were then given a flyer with either a 4 or 8 on it. This was our magic ticket to get into the store at 6pm ;o) She and another AT&T person kept us company until 4:30pm at which time they went in the store and locked the doors to get ready for 6pm.
During the rest of the 90 minute wait, customers kept coming to the store to try to go in to pay their bills, shop and etc, and were pretty peeved that the store was closed to them. Makes you wonder how many potential customers AT&T lost yesterday all over the country due to the iPhone…
We were also visited by a reporter and photographer for our local newspaper (The Republic) and a reporter from the BetaNews.com blog. I'm standing in the next to last picture in their post which has a caption of "iPhone lines formed even in Columbus, Indiana" ;o)
A few minutes before 6pm, an AT&T person came out and told us that the way it would work was that only 10 people would be allowed in the store at any one time. There would be a 1-1 ratio of customers to AT&T employees. We were also told that we would not be allowed to open the iPhone in the store. The phone would have to be activated offsite using a computer with net access and the latest version of iTunes. She also joked that if we got rowdy, there were security guards inside to take care of us. We all laughed, but then looked through the store windows and saw that she was actually serious. There were several ARMED (with guns!) security guards inside. Crazy!
At 6pm, I was one of the lucky first 10 people to be ushered inside the store. I had wondered what the big deal was about closing the stores down well in advance of the 6pm sales time. Well, the reason was that they had completely switched the store over to only have iPhone info/accessories/etc inside. As far as I noticed, all other phones were gone (of course, I didn't really pay THAT much attention because all my focus was on buying my new phone). I was quickly directed to a specific AT&T employee, who took my flyer, got my 8gb iPhone, asked if I was a new or existing customer, swiped my credit card, stuffed my new iPhone in a special AT&T plastic bag with a sealed top and out the door I went with my new gadget!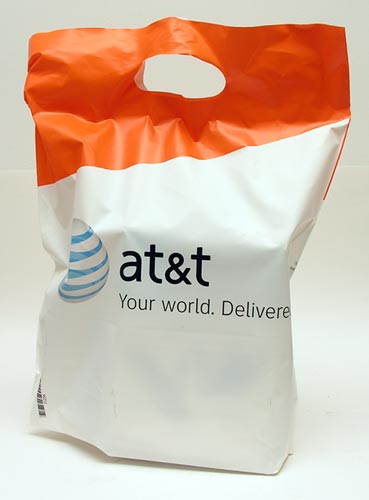 As I walked through the parking lot to my car, it suddenly dawned on me that I was completely screwed for activating my phone that night. My T1 internet connection had been down due to a storm for the past 2 days. So on the way home, I was calling AT&T MIS (managed internet services) asking them the status on my repair and getting a bit anxious that I wouldn't be able to play with my new toy as quickly as I originally thought I would be able to.
When I get home, the T1 line is still down… I start to consider that I might want to grab my Macbook Pro and head back up to town to find a free WiFi hotspot. Several phone calls, finally sitting down to eat dinner and overall tiredness vetoed going back to town. I decided to just unbox the iPhone, charge it (my usual new gadget ritual anyway) and go up in the morning to activate it.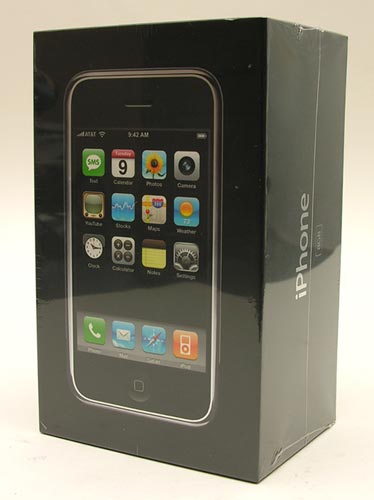 As usual, Apple is the master at packaging.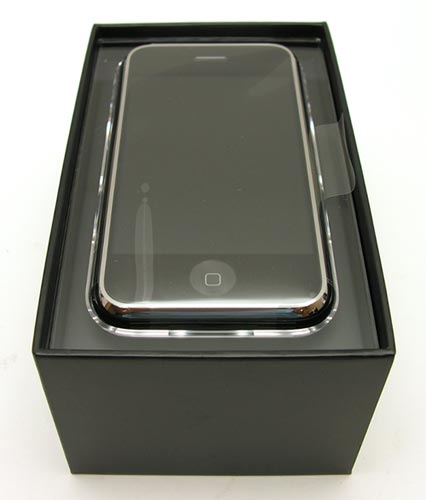 Ooooh, ahhhhhhh….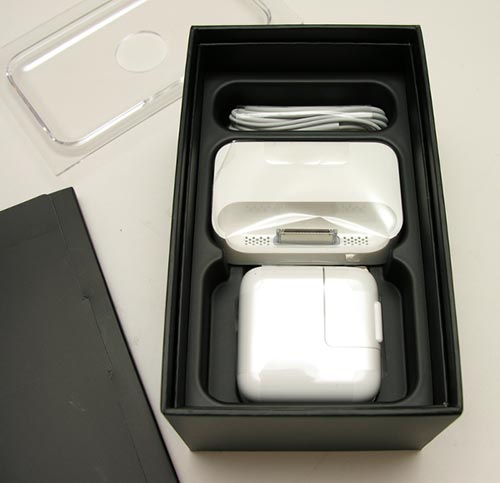 They included a dock, and a tiny AC adapter. Yay!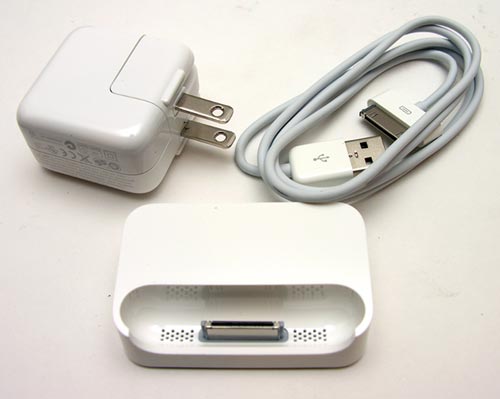 The AC adapter accepts the included USB cable. Nice!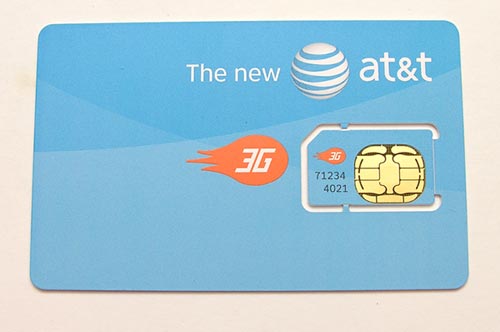 I forgot to mention that I was also given a brand new SIM card. You can't use your existing AT&T / Cingular SIM in the iPhone. At least that was what I was told… I didn't actually try it before activating.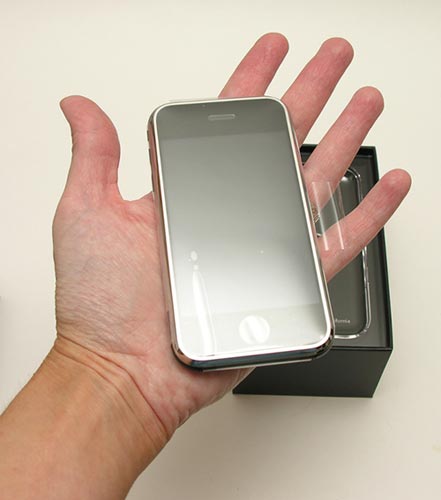 I had been worried that the size of the iPhone would be bulky. It's actually very nice.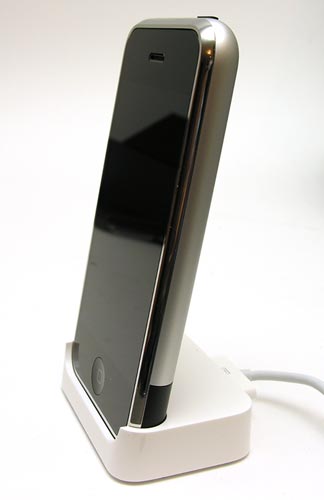 In the included dock.
After I took the pictures, I went off to bed to dream of iPhones…
I woke up early this morning and tip-toed down the stairs to my basement to check to see if the T1 line had miraculously been resurrected. It had been!!! It had come back up at 4am. Yay!
I downloaded the new version of iTunes, plugged in the iPhone and activated it without much fuss. Now comes the fun part, actually playing with it! Excuse me while I go do that… ;o) Review coming in the next couple of days. :o)