We use affiliate links. If you buy something through the links on this page, we may earn a commission at no cost to you. Learn more.
I have had a huge 65″ Mitsubishi RPTV (rear projection television) for several years now. I love having such a large screen, but having to pull it out when I need to connect various devices to the inputs on the back panel is a real chore. Then there's the fact that this TV's best input is DVI, of which there is only 1. When I recently saw XtremeMac's XtremeHD 4 to 1 HDMI Switcher, I knew I had to get one for my home theater setup.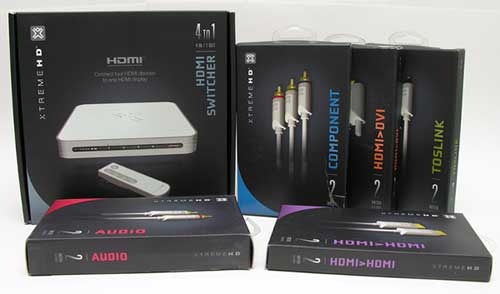 Cables sold separately
Hardware Specs
Video Amplifier Bandwidth: 1.65Gbps
Formats Supported: up to 1080p resolution
HDMI Inputs: 4(19-pin female)
HDMI Output: 1(19-pin female)
Input / Output cable length supported: 20ft
Power Consumption: 10W Max
Power Supply: 5V DC, 2A
Dimensions: 7.7″(L) x 7.7″(W) x 1.04″(H)
Weight: 1.08 lbs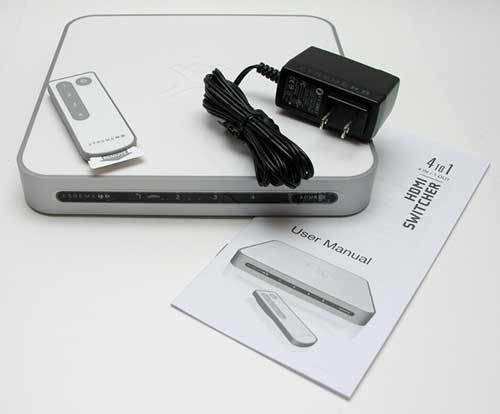 Package Contents
XtremeHD HDMI 4 to 1 Switcher
5V AC/DC Power Supply
Wireless Remote
User's Manual
The XtremeHD HDMI Switcher is a small square box with rounded corners. The edges are brushed Silver and the top is White.

The front of the device has a thin Black display strip that allows you to see which input is active. There are 4 numbers, one for each input. Whichever input is active, the number will glow White.

On the back side of the switcher, you'll find the power connector, the output connector and 4 input connectors. Now if you re-read what is included with this product, you'll realize that you have to supply all of your own HDMI cables as there are none included. Before you get too distraught, you can buy all your cables from XtremeMac too. Their prices are actually really good… 2 meter / 6.6 foot long HDMI cables are only $19.95. They were kind enough to send me a selection of their cables and I was impressed by their quality. They all have 24k gold plated contacts and over-molded strain relief rubber covered connectors.
As far as connections, the only thing I was a little less than impressed with on the switcher was the power port. It is a bit wiggly for my liking. That said, you pretty much connect it, plug in the other end and never touch it again, so I guess I'm being overly picky in that respect.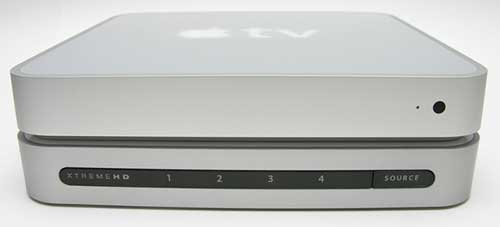 I know that there are other HDMI switcher boxes on the market, but this one is small, stylish and it also happens to work perfectly with the AppleTV as you can see in the image above.
Using this switch box to connect various HDMI devices to my TV setup is a snap (if you have enough cables…). I hooked up my DirecTV satellite box using one of XtremeMac's DVI to HDMI cables, my Mac mini with another DVI to HDMI cable, MVIX MX-760HD Wireless Media Center with a DVI to HDMI cable and the AppleTV with an HDMI to HDMI cable. Wow, all inputs filled!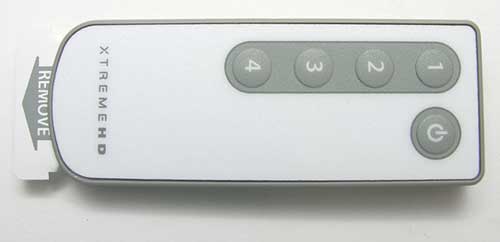 After you've connected all your devices, you just power up the TV, power up the devices and then turn on the switcher. This is done using the included remote or by holding down the Source button on the front of the switcher for 2 seconds.
To switch inputs, you just press the desired input number on the remote. Could anything be easier?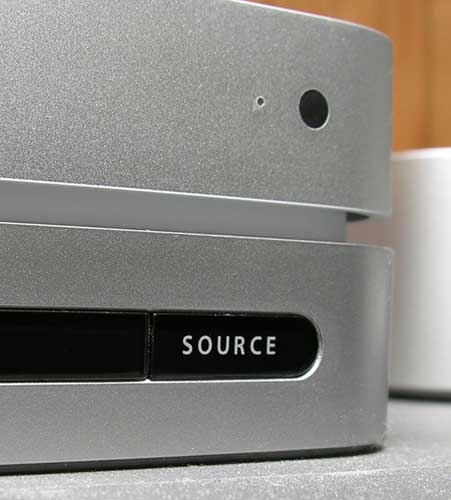 Input changing can also be accomplished by pressing the Source button on the front of the device. Each consecutive press will cycle to the next input. Switching is pretty fast. By my scientific 1-Mississippi, 2-Mississippi method of testing, it takes about 4 seconds for the switch to complete.
The XtremeHD HDMI Switcher is capable of handling resolutions up to 1080p. There isn't a way to specify what the resolution of each input is though. The video quality is great as far as my eyes are concerned. No complaints whatsoever.
I really like this switcher box. It's true that I haven't used any other products to compare it to, but the size, style, ease of use and fact that I can stack my AppleTV on top of it have totally sold me.