We use affiliate links. If you buy something through the links on this page, we may earn a commission at no cost to you. Learn more.
It's after 9pm and I've only just started packing for my vacation to Sedona, Arizona. I leave for the airport in less than 10hrs. EEP! Of course the most important part of my packing is my tech gear ;o) I'll be gone for a whole week, but I don't want to over pack. So here are the items I'm definitely bringing with me…
Oakley gear bag
Macbook Pro and AC adapter
Treo 680and USB retractable charging / sync cable
Nikon Coolpix 8800 digital camera and charger
Various CF card for camera
Brando 55 in 1 Card Reader
iPod Video
Delphi Nav200 GPS
Inka Pen
Buffalo 4gb USB stick with some TV episodes on it to watch if there's nothing on TV at night
Bright Strike 80 Lumen LED flashlight
Waterfield wallet
Eye drops
Carmex
Sunclips
A couple of metal binder clips
A stack of magazines for the plane trips back and forth
Here's a picture of all the gear ready to pack…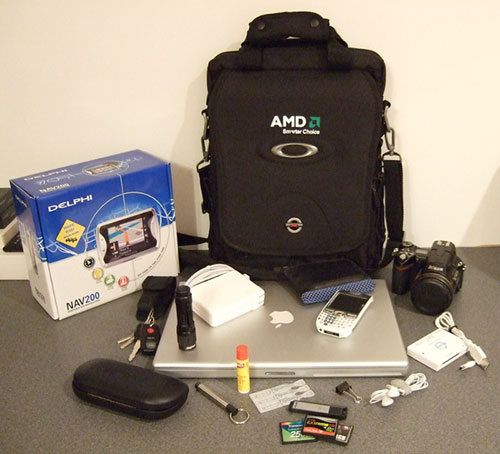 So, what do you guys pack with you when you go on a trip for a week?
Here's wishing everyone a safe holiday weekend!