We use affiliate links. If you buy something through the links on this page, we may earn a commission at no cost to you. Learn more.
Looking for a solution to stop the rattle-your-windows-snorer sleeping next to you? Do you need a Father's Day gift that also rewards your Mom? Then, you might want to take a look at Hivox' SnoreStopper. This innovative device is worn like a watch. When you start to snore, it produces a 5-second electronic impulse on your wrist, resulting in the snorer to reposition and stop snoring. The distributor claims that within 3 weeks, the SnoreStopper naturally coaches your body to snore less. To test this claim, Hivox graciously sent me a sample to review.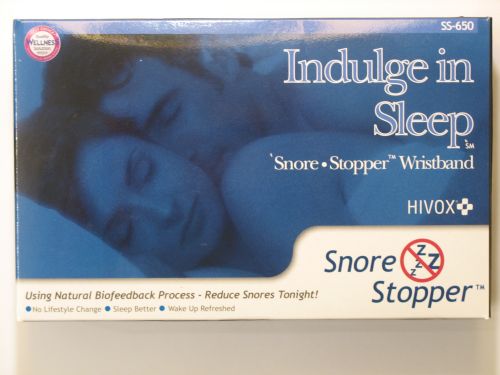 Hardware Specifications:
Asymmetrical bi-phasic square pulse
Maximum length of 22 cm for wrist belt
Temperature requirement of 50 – 104 degrees F
Not suitable for persons that have Sleep Apnea or heart problems
Not waterproof
Package contents:
SnoreStopper
Plastic Carrying Case
Two disposable alcohol cloths
Two re-usable electrode pads
Quick reference guide
User's manual
Screw driver to change 1.5V battery
When unboxing the device, it is housed in a baby blue, hard plastic case. With the box measuring at 8″ x 5″ x 2″, it seems too large for a typical nightstand. I opted to just not use the hard case.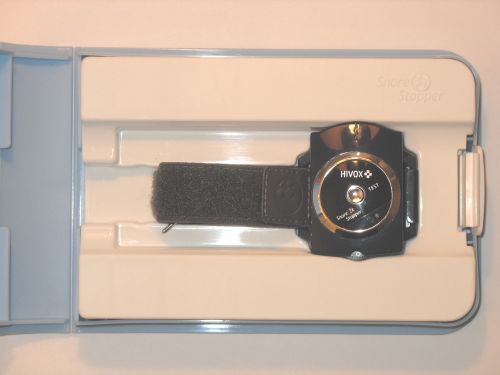 After opening the box, I looked at the device and thought it would weigh a few pounds. Surprisingly, it only weighs 1.3 ounces, the face measures to approximately 2 1/2″ x 2 1/2″ x 1/2″, and the wristband adjust up to 22 cm.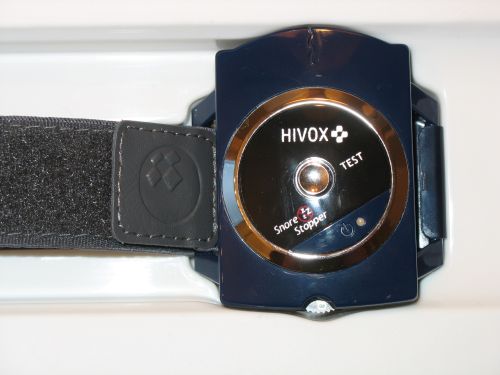 To start using the SnoreStopper, there were several steps I had to take. The first was to cleanse the back of the device and my wrist with an alcohol cloth. I then carefully attached the adhesive electrode pads onto the black rubber pads of the SnoreStopper. I emphasize carefully, since these are super sticky and can easily roll or get stuck incorrectly on the device.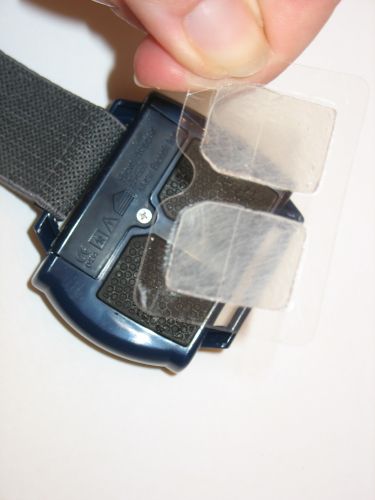 To fully adhere to the device, the adhesive needs to remain affixed for 15 minutes before placing the device on your wrist. After the allotted time, I removed the plastic backing and pressed the device firmly on my skin. I then had to hook the band onto the device.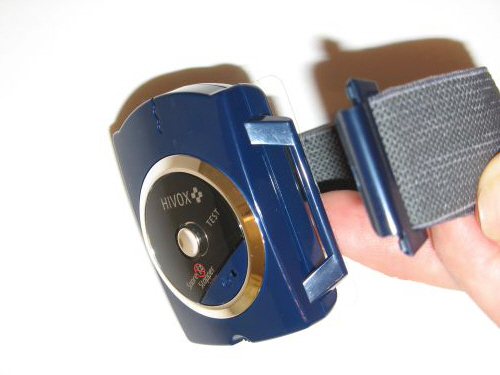 From there, I tightened the Velcro band and was ready to start testing.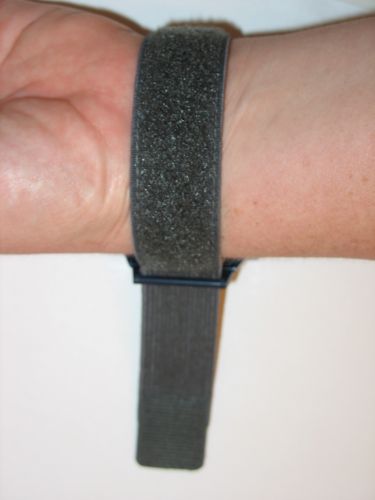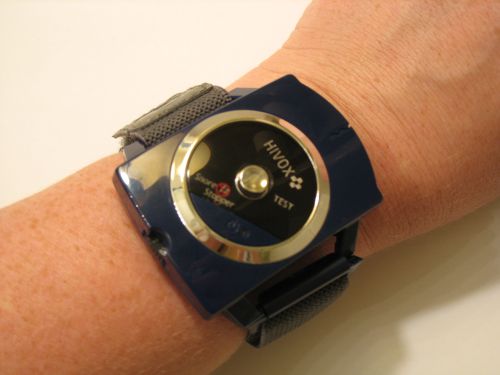 There are five intensity levels for the SnoreStopper, which are dialed on the bottom of the device. I started out at the lowest setting of 1 and began testing. Now, the impulse does not immediately go off when noises are made. It requires a set of three similar sounds to cause the impulse. To ensure the wristband has a good connection, there is a green/red light indicating the proper contact. When the green light is lit, you can press the test button three times. It immediately sends an electronic wave along the area exposed to the device.
In my case, I also felt a tingling sensation all the way up my arm and across my chest. I was initially concerned I was having a heart attack, so I immediately asked my husband to do a courtesy check. He placed the SnoreStopper on and did not feel the same sensation. I re-tried it and still found the same pulse-pounding sensation, plus the tingling up my arm. Not to give up, I solicited my neighbor to try it. I did not tell her what it was doing to me (I know, I'm sweet), yet she described the same feelings.
I contacted the distributor and they had not heard of anything like this. They thought maybe it was due to women wearing the device, since our skin is not as thick as men's are. (Hey, should I have been offended? ?). I did not want to give up and just thought maybe I was doing something that was causing this. Through a couple days of testing, I determined it was possibly one of two things. It was either due to the lotion I put on in the morning or that I was standing up with the device. When I did not moisturize my arms that morning, I did not notice the tingling sensation. When I got into bed and tested the device, the weird sensation was not there. Yeah, now that I am not having a heart attack, I can try it!
That evening, I snuggled into bed while my hubby stayed up reading. He generously sacrificed sleep to see what happens when I start snoring. (Thank you, honey!) To our surprise, I began snoring, got lightly zapped, and then rolled over in bed. What is really cool is that I was not even disturbed or woke up…nor was Ronnie for that matter! He did not hear the paint-chipping snoring.
A couple of hours into my sleep, I did lose the watch. I toss and turn a lot in bed, due to back problems. This caused the watch to get hung up on my pillow and detach. That may not normally be a big deal, except that the wristband is elastic and acted like a sling shot when it unhooked. Ouch!
Something to note is that the SnoreStopper is not for someone with Sleep Apnea or heart conditions. It also cannot be used in loud environments or you will feel the impulse. For example, I left the TV on while sleeping. When the dinosaur roars in the movie "Night at the Museum," I got zapped, yet I was not snoring. I also fell asleep, while the kids were playing near me. Two different things happened. The first was my son came over and kept pressing the shiny, silver test button. He loved that feature, since it made the device vibrate. The second was when he would start crying, he caused the electronic impulse to emit. Thanks, son!
Another observation was when the device was tucked under my blanket, my pillow, or close to my body (like the fetal position). This caused the sensor to not pick up the snoring, so it did not go off. In cases like that, I still have my trusty sidekick to give me a nudge. Because of this, I deduced it is more suited for back sleepers than side or stomach sleepers.
Overall, I think this device is a neat concept, since it uses biofeedback to naturally teach a person to stop snoring. It will keep zapping the sleeper to readjust his/her sleeping position, until they stop snoring. This in turns gives your partner and you a great night's sleep. It might be worth a try if snoring is impacting your rest.
Product Information
Price:
84.98
Manufacturer:
Hivox
Retailer:
Hivox
Requirements:

1.5V battery and a snoring subject

Pros:

Light impulse does awaken sleeper, but causes them to roll over
Although a little large, it is lightweight and rarely noticed
Electronic impulse does not hurt
Automatically shuts off after 8 hours
Has five impulse levels, allowing the user to dial the intensity
Ideal for a back sleeper that snores
Can possibly result in a goodnight's rest for your partner
Uses natural biofeedback techniques to reduce snoring frequency and volume
Promotes normal breathing while sleeping; decreases daytime problems
Natural method that's much less expensive than surgery, dental appliances or machines

Cons:

Unhooks when tossing in bed, although the adhesive holds the device onto wrist
Plastic casing seems flimsy and easy to crack
Not ideal for stomach sleeper or someone that places wrist under a pillow
Cannot just slip it on like a watch on, due to the electrode pads. If you try to put on the device like a watch, it will cause the electrode pads to roll and prevent conductivity
Not suited for someone wearing the device on the their right arm, since it is awkward attaching the device
Takes getting use to, if you do not like wearing a watch or bracelet to bed
Unusual sensations occasionally felt up the arm and across the chest
Can be set off by loud, repetitive noises over 60 decibels