We use affiliate links. If you buy something through the links on this page, we may earn a commission at no cost to you. Learn more.
I'm still using the last external hard drive that I had the opportunity to review back in July of 2005. That was the Seagate Portable USB 2.0 drive. It's been my 100gb backup drive for my desktop computer (iMac) all this time. Today I'm going to tell you about Seagate's latest portable USB drive called the FreeAgent Go.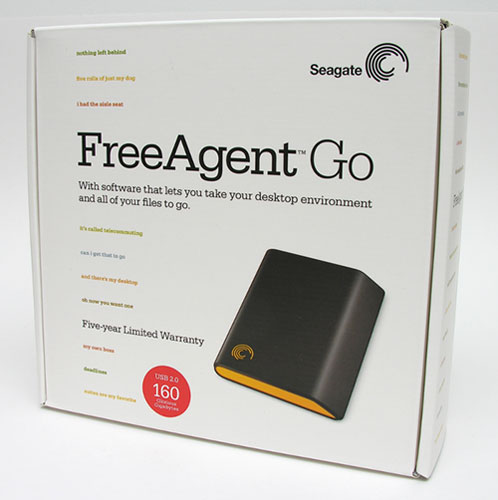 The FreeAgent is available in 80gb, 120gb and 160gb capacities. Seagate was kind enough to send me the 160gb version of this product to review.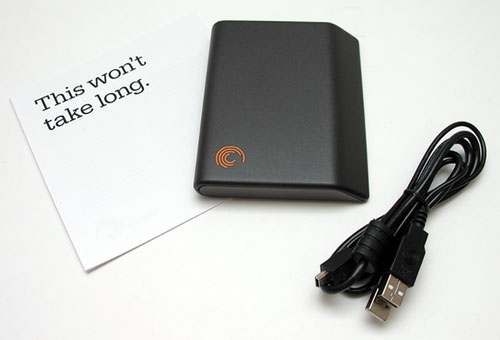 Package Contents
FreeAgent Go drive
USB cable
Quickstart fold out guide
Don't you appreciate simple products? I don't know about you, but sometimes when I unbox a new gadget and see multiple cables, manuals, CDs, etc, my eyes glaze over just a bit. The FreeAgent Go doesn't have that problem as you can see. Basically you get the drive and a special USB cable. More about that in a minute.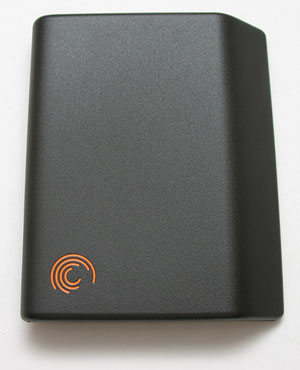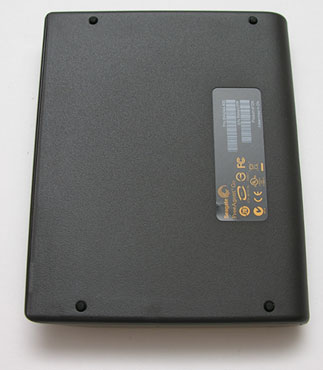 The drive is small unassuming Black plastic wedge shaped device. It is 4.00 x 4.75 x 0.50 inches in size and weighs in at 6 ounces. It lacks buttons and a display.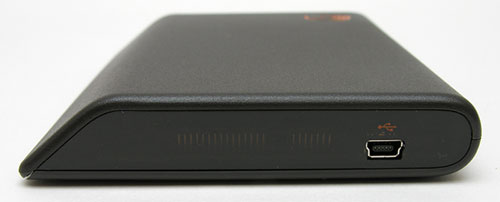 Upon first glance, the only thing that lets you know that it might be a device designed to connect to a computer is the mini USB connector on one end.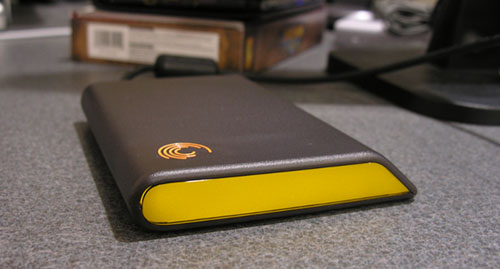 It isn't until you actually connect the FreeAgent Go with the included USB cable to your computer or laptop that you are treated to an ooh-ahh moment by way of a warm glowing Yellow LED along the front edge of the drive. It glows steady while the drive is idle, but pulses on and off while data is being transferred. Very cool.
Just don't do like I did and not pay any attention to the USB cable that ships with the FreeAgent and use another cable that you might have laying around. You need to use the special Y cable as it has two USB connectors. Both are needed to power the drive. This might be a problem if you don't have two free USB ports or the two ports are not side by side on your laptop.
If you're a Mac user like myself, you can start using this drive as soon as you plug it to your computer and reformat it. It makes an excellent portable drive as it is small, quiet, plug/play and fast (~3 seconds to copy a 57.5mb file from my Macbook Pro to the drive and ~4 seconds to copy it from the drive back to the Macbook Pro). But if you happen to be a a Windows user, the FreeAgent Go has some extra tricks in store for you…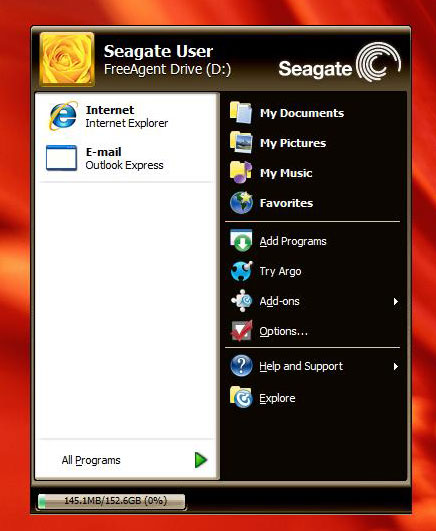 This drive has extra software already installed on it called Creedo. This software is an interface that allows you to save files and run applications directly from the drive. It's a way to transport all your important information (email, contacts, etc.) with you from one computer to another without actually needing to bring a computer along with you. As long as you have access to another Windows PC, you can plug the FreeAgent Go into it and viola, all your stuff is ready for you to access. The price of this drive along with the extra software for Windows users, makes the FreeAgent Go a great addition to any gadgeteer's gear bag.
Product Information
Price:
149.99
Manufacturer:
Seagate Technology
Requirements:

Microsoft Windows OS required to run Creedo software

Pros:

Small
Easy to use
Windows software lets you take your apps and data with you to any Windows PC

Cons:

Creedo software is Windows only