We use affiliate links. If you buy something through the links on this page, we may earn a commission at no cost to you. Learn more.
Since when does the package need to resemble what is inside? I for one wouldn't like fish-shaped sushi or a cow-shaped hamburger. So why do electronics cases have to be the same shape as the gadgets they protect? So when I saw that Speck made a toroid-shaped case for the Gen 2 iPod Shuffle, I thought it might be fun to give it a try.
Initial impressions
As I mentioned before, this product differs from the majority of iPod cases in that the case is not contoured to resemble the object inside. Instead, the TechStyle Puck is a black circular zip-up case that resembles an oversized yo-yo or a jelly donut.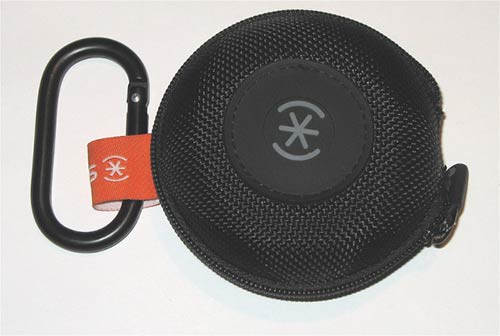 Designed to protect the 2nd Gen iPod Shuffle and a pair of earphones with a ridged EVA plastic core, the outside of the TechStyle is covered with a durable woven nylon with a cheery asterisk adorning the center. A carabiner-style clasp is also provided so that the case can be secured on your person.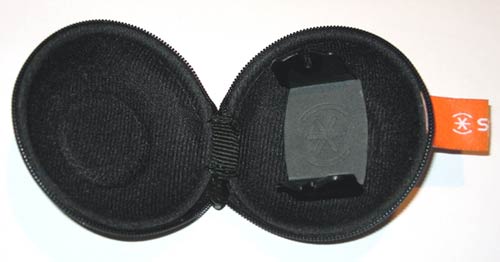 Inside the case, mounted on scratch-resistant fabric, is a clamp that holds the Shuffle in place. This clamp serves double-duty in that it also provides a place to wrap a set of earbuds around, winding them like an extension cord or garden hose.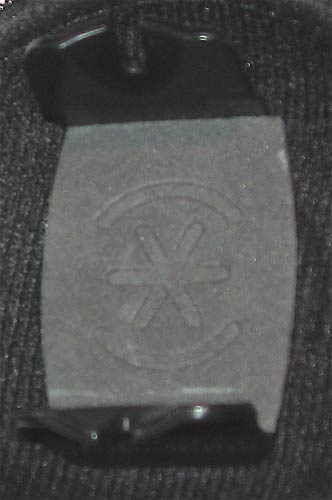 Product Testing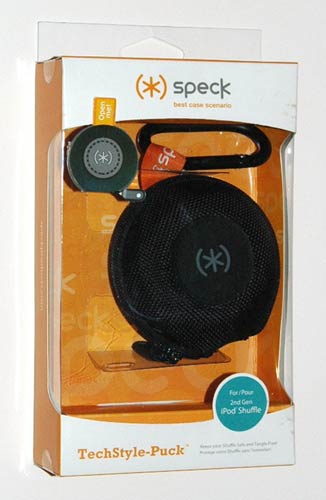 As usual with Speck's products, the packaging is easy to open and remove the case from within.
Just pop open the top flap, and slide the clear plastic "cradle" out. The TechStyle was not tethered to the cradle, so no scissors were required to cut the case free.
My first impression of the case is that it seemed awfully big for such a small device. Measuring 3.25 inches in diameter, the case is not especially large, but bigger than I imagined. I hoped it was something I could easily stow in a pants pocket.
Visually, I like the tight weave of the TechStyle's external fabric: it has a nice feel to it, it is durable without being too utilitarian and doesn't snag or show dust.The round shape disguises the contents inside, which I like as well.
The carabiner is easy to attach and detach from a belt loop. To test this feature more in depth, I enlisted the help of my father who frequently takes long walks with his dogs while listening to his Shuffle.
After several walks using the case latched to his belt, the case stayed attached to the clip without any signs of strain. However, he was personally not comfortable with the dangling free from his belt and felt it might catch something as he walked around. He thought the case would be ideal for him if it had an alternate way to strap it tightly to his belt so it would not swing around. In this case, Dad has never used a carabiner-style clip before: If you have used carabiner clips before and like using them, this is likely not a drawback.
The zip enclosure on the case has a squishy fob which makes it easy to grip.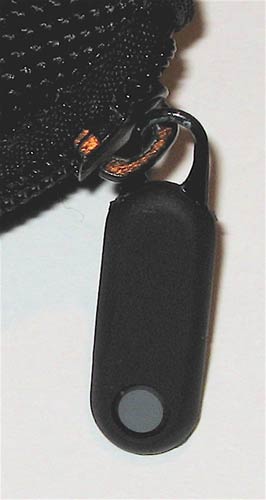 However, the first time I unzipped the case, it was very difficult to open. The zipper is rather tight but it loosened slightly with use. I have heard of several home remedies for a stiff zipper such of olive oil or soap, but I'm not quite ready to test them on something that closely holds my electronics.
The Shuffle clasp is a structural part of the case, not merely attached to the fabric, and therefore holds the iPod tightly in place. When the Shuffle is properly secured, there is an audible "snap" so that you know that you have inserted it correctly.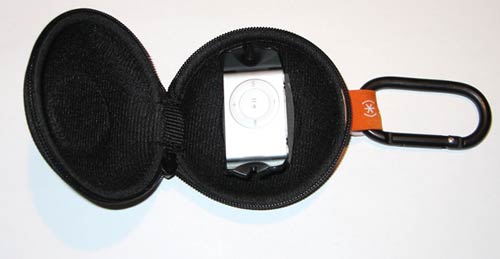 The sides of the TechStyle's clasp can be used to store a set of earbud style earphones. The large size of the case is especially helpful for accommodating a variety of ear pieces.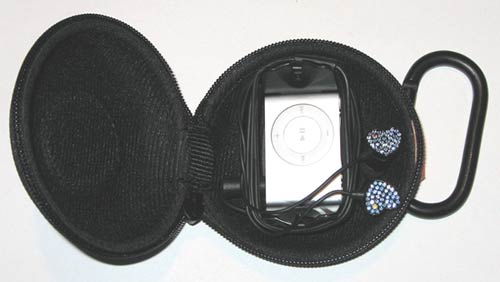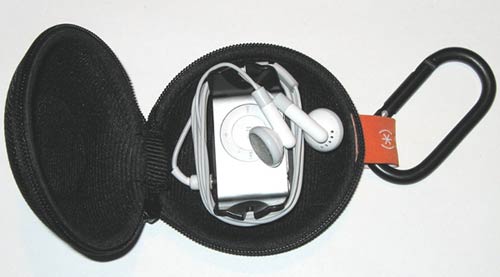 However, when using the TechStyle I discovered one slight design problem. Some headphones, such as my Elecoms, have larger mini-jack adapters which make it a tight squeeze. There are only a few millimeters of clearance from the edge of the adapter to the hinge. I consider this to be only a minor flaw because most earbuds, such as the ones included with the shuffle, do not have this problem.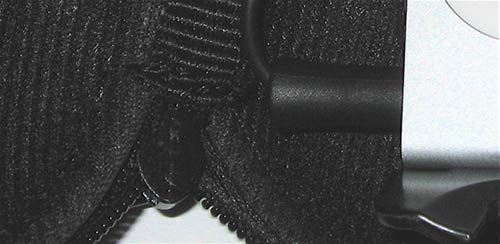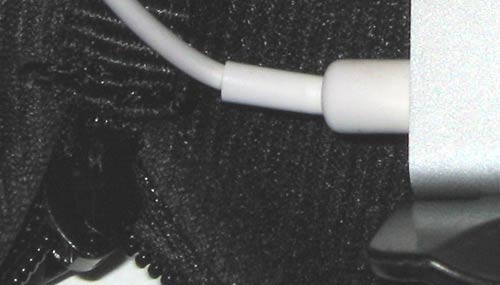 Overall, I like the TechStyle Puck. Although it's size prohibits it from it being easily put in a pants pocket, it can be tucked into a deep pocket or tethered to a belt-loop or bag. If you go through magnetic security devices often, digging earbuds out of pockets repeatedly is a nuisance. This case nicely bundles the Shuffle and earbuds into a compact package that can be put through a metal detector easily.
The crush-resistant design is perfect for "pack-it and forget-it" people (like me) who need both protection and cord management. It's a different way to protect and carry your shuffle on-the-go.
Product Information
Price:
19.95
Manufacturer:
Speck Products
Retailer:
Speck Products
Requirements:

Apple iPod shuffle 2nd gen

Pros:

Inexpensive
Stores earbuds tangle-free

Cons:

Bulky
May not fit some earbuds