We use affiliate links. If you buy something through the links on this page, we may earn a commission at no cost to you. Learn more.
Are you in the market for a goofy gift for a friend at the office or a geeky kid? Or would you just like to decorate your own computer space with something a little offbeat? If you answered YES to either of these questions, then take a look at a new line of LED lights called Moppels.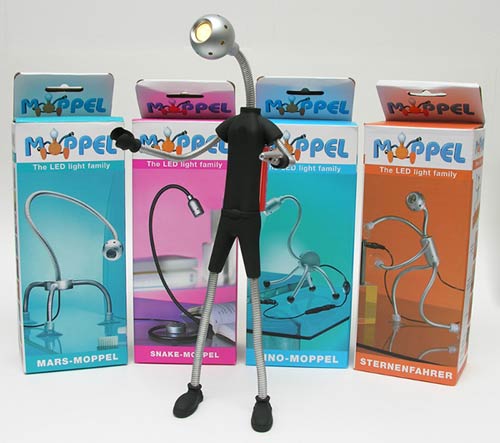 Made in Germany, these bendable, pose-able figures offer a little light to any space while also adding some amusement. Moppels are available in 10 different models including:
Mars Moppel – Tri-ped space creature
Snake Moppel – Looks like ummmm… a snake
Dino Moppel – 4 legged dinosaur shaped creature
Sternenfahrer Moppel – Means star diver in German
Block Man Genius – Human figure
Block Man Space – Another human figure
Genius Moppel – Yet another human figure
Helper Moppel – One more human figure
Original Moppel – Like the dino but only 3 legs
Space Moppel – Oh look, another human shaped figure
The kind folks at Discount LED Lights and Knives were kind enough to send me 5 different Moppels to try out.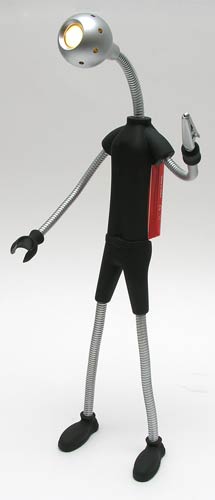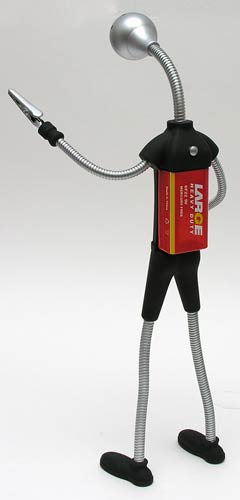 Above you see the Block Man Space Moppel. He stands 12 inches tall and has an LED lamp head at the end of a bendable neck. The lamp runs on 1 9V battery (included) that snaps into the back of the Moppel. A small metal button in the middle of his back turns the lamp on and off. The LED isn't extremely bright, but I could imagine a kid using it as a flashlight.
There are also two bendable metal legs and arms for appendages. At the end of one arm there is a 'claw' that can hold a pen or pencil. At the end of the other arm is a spring loaded clip that can hold a note.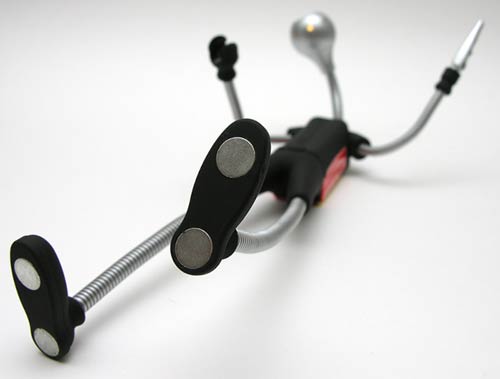 Never miss one of our posts again. Sent MON, WED, and FRI with the latest gadget reviews and news!
The bottom of the Block Man's feet have 2 magnets embedded into each shoe.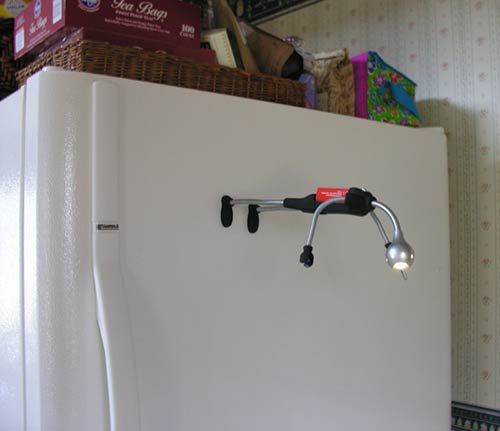 The magnets are strong enough to allow the Moppel to hang out on my refrigerator without falling off.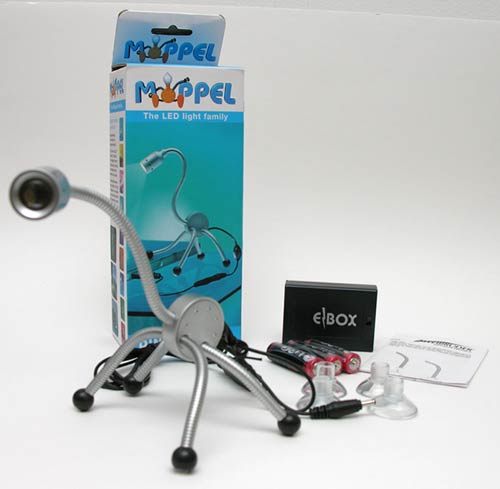 The other Moppels come with various power solutions. The Dino comes with a plastic battery box that holds 3 AA batteries (included) and also comes with a USB cable. The battery box has a small On/Off switch, but when you power the Moppel with the USB cable, the only way to turn off the LED is to unplug it. Some of the other Moppels include a 12V car charger cable.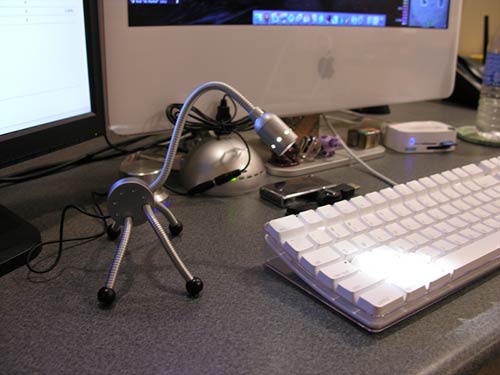 The Dino (and some of the other models) have magnets in their feet and also come with suction cups that fit over their feet, so that they can stick to slick surfaces.
Again, the Moppels don't really put out a LOT of light, so paying $25 for them might seem inflated. They are fun to have hanging around your desk for novelty sake though.