We use affiliate links. If you buy something through the links on this page, we may earn a commission at no cost to you. Learn more.
Continuing with my weekly mobile phone mini-reviews, my latest 2 day phone stint has been with the i-mate JAQ3. I received this device directly from i-mate after attending the Mobius Boston event last fall.
This Windows Mobile 5.0 for Pocket PC device appears to have a lot going for it
given its impressive feature set. The JAQ3 is a quad band phone with WiFi
802.11b/g, Bluetooth, built-in 2.0 mega pixel camera, jog dial, MicroSD card
slot and a thumb keyboard.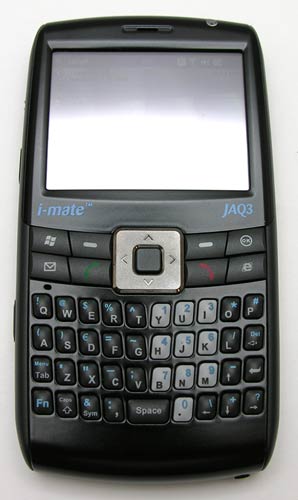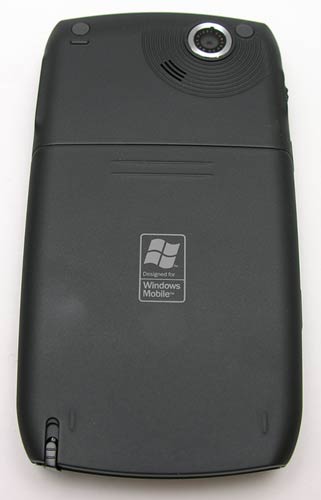 It looks nice enough with its Black casing. The front is made of shiny plastic
(I don't think it's metal…) and the back has a nice grippy rubberized coating.
My biggest issue with the JAQ3 is its size. This device is HUGE.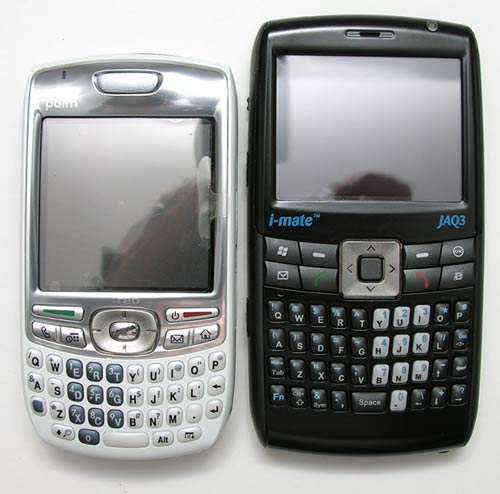 Here you see it with my
Treo 680.
The Treo is chunky for a phone, so as you can see, the JAQ3 is somewhat wider
and taller.

The JAQ3 is thinner than the Treo though.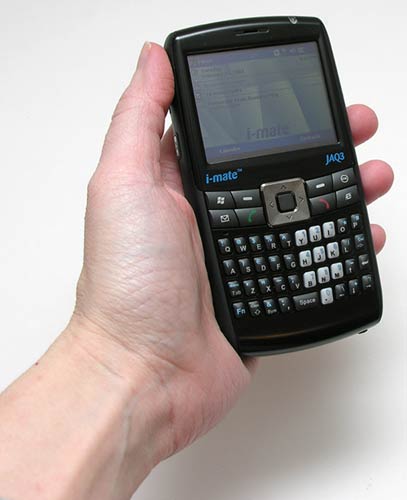 In hand it feels like you're holding an old school PDA up to your ear instead of
a phone. This device isn't as pocketable as most phones I have used in the past.
It sticks out of the top of my back jeans pocket and side cargo pocket.
The JAQ3 is solid and does pass the Gadgeteer creak test with passing marks. It
feels like a suitably rugged device that should withstand every day usage abuse.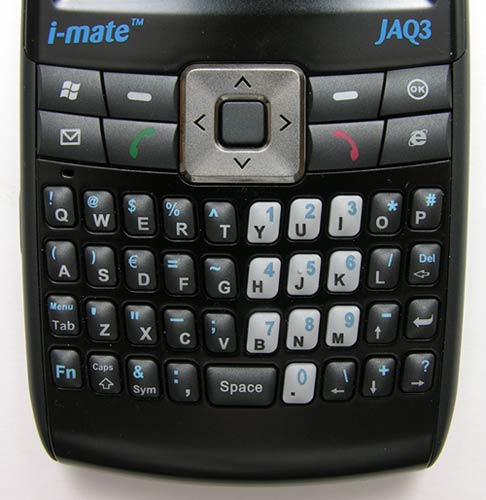 The built in keyboard is quite nice. The keys are large and domed for ease
of use. I actually would say that this keyboard rivals the Palm Treo keyboards.
Each key has very good tactile feedback and is also backlit. The backlight isn't
super bright, but it should do an excellent job in very low light. The layout is
a bit different than what I've been used to with the Treo. The number pad and
punctuation keys are located in different areas. That's not a real complaint
though as it's always a bit of an adjustment to migrate to a different phone
after being acclimated to another one.
One odd thing I noticed is that you can't specify any keys other than the power
button on the right side to power on the device when it is in 'sleep' mode. I
could have missed a setting, but I tried to find one without success. Even the
Quick Start guide and User Manual lacks a mention of such a setting / feature.
As such, if you want to make a call when the phone is asleep (the screen is not
on and active), you have to first press the power button and then start the
call. If someone knows a way around this problem, please let me know…
The screen on this device is 2.4", with a resolution of 320 x 240 (wide aspect). I found it to be bright, easy to
read and responsive to stylus use. The built in camera is so so. Like most
mobile phones, snapshots are not very crisp.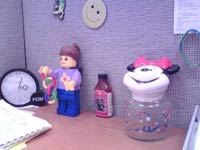 Click thumbnail to see full-size image
This phone ships with a handsfree / stereo earbud set. But if you want to listen to audio files via your own favorite earbuds, you will need a 2.5mm -> 3.5mm adapter. You can however use a set of Bluetooth headphones as the JAQ3 has the A2DP (Advanced Audio Distribution Profile) for stereo sound through BT. I tested BlueTake's i-PHONO mini BT450Rx stereo earphones with the JAQ3 and they worked great.
The 1200mAh rechargeable battery does a mediocre job powering this device.
You'll need to charge it at the end of every day if you make a few calls, surf a
bit and play a game or two. The nice thing is that the battery can be charged
using a standard USB mini cable. This seems to becoming the trend for all newer phones, which is a good thing in my opinion.
Call performance with the JAQ3 is ummmm… how can I put this…. crappy. Ok, let me back up. When you can make phone calls, the audio quality on both sides of the conversation is fine. The problem lies in the fact that the reception is pretty dismal. Actually, it's worse than dismal given the fact that on multiple occasions, I checked the signal strength of the JAQ3 and noted that it was 2-3 bars, called the JAQ3 from an analog phone, and received voicemail as if the phone was powered off. In order to remedy this situation, I would have to reset the phone. I'm not sure what's going on there, but it happened several times on different days. I've also noticed that when the signal strength was low that I would try to call a number and it would say that it was dialing and sit on that status screen until I ended the call that never actually was connected. Just some things that make you go hmmmmmmmmm…..
The i-mate JAQ3 is priced around $599.99. I can hear my wallet screaming! At that price I would expect it to perform substantially better than it does. As such, it's going up for give away here next week. :o)