We use affiliate links. If you buy something through the links on this page, we may earn a commission at no cost to you. Learn more.
What kind of mobile phone person are you? Smartphone or feature phone? I'm the type of person that likes to take a vacation from smartphones once in awhile and use a feature phone instead. My current vacation in feature phone land has been with the Sony Ericsson w810i. This is a great little candy bar form factor GSM phone that goes easily from pocket to hand.
The main features of the w810i are: GSM quad band with EDGE, built in mp3 player features with dedicated hardware buttons, Memory Stick PRO Duo slot (512mb card included) and a 2 megapixel camera with an LED flash.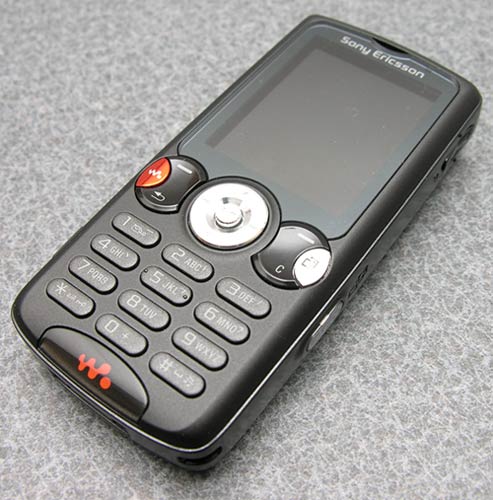 I love the size of this phone. It fits perfectly in my hand and has a good weight to it. It doesn't quite pass my patent pending gadgeteer creak test though. Squeezing this phone causes it to emit slight squeaks, and cracks.
On the front you find the keypad (no QWERTY keyboard here folks), color display and function buttons. Navigating menus with the buttons on this phone is easy and intuitive. They all have excellent tactile feedback which is a plus.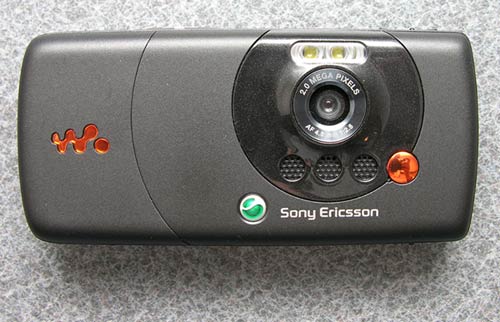 If you flip the phone over, you will see the built in 2mp camera lens and LED flash. This little phone does a better than average job capturing images. Especially macro shots. Have you ever been in a book store and needed to copy down some info from a book or magazine really fast? This phone can capture info in a quick snap. Nice!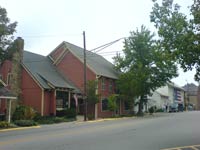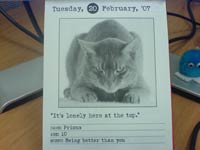 Click on thumbnails to view full-size images
Never miss one of our posts again. Sent MON, WED, and FRI with the latest gadget reviews and news!
It will also capture video snips if you are so inclined.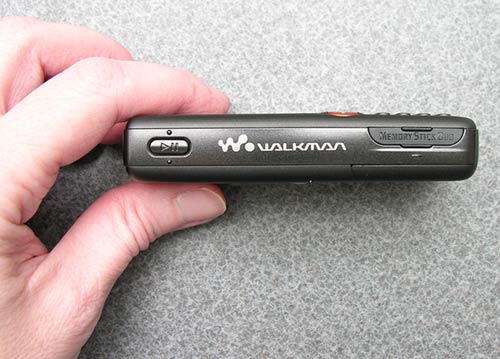 As you can see, it's pretty small (100 x 46 x 19.5 mm).
During my short but exclusive use of this phone, I used it to listen to tunes, snap some pictures, surf, play a few games, send text messages and make calls.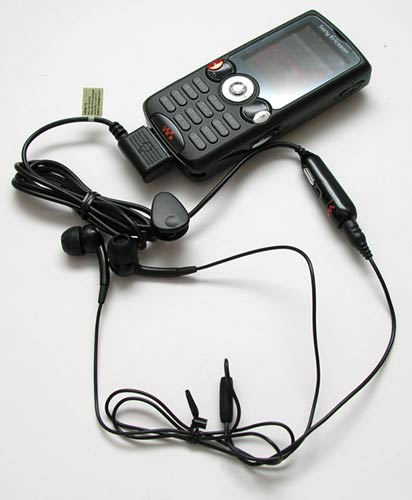 Listening to tunes is enjoyable with the w810i. It has a simple interface and the audio quality is great. The downside is that you can't just plug in your fave set of earbuds. You have to use the proprietary adapter included with the phone. This adapter plugs into the bottom of the phone and then you can use the included Sony earbuds or your own faves, by plugging into the 3.5mm socket in the adapter.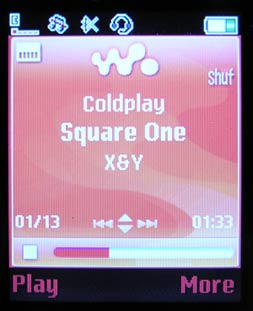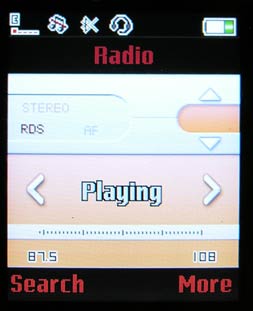 The w810i has a built in FM radio that is cool because it has RDS built in. RDS stands for Radio Data System. If the radio station supports it, you'll see song title and artist information displayed on the screen. The picture above (Right) isn't the best example to demonstrate this feature because it only captured the word 'Playing'. Because of the small display, only one word shows at a time. It says something like: Now Playing Every Breath You Take by the Police. The picture above on the Left is the interface for the MP3 player.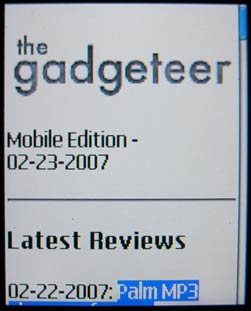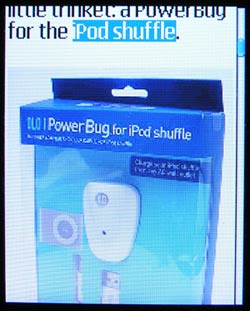 Surfing with this phone is less than enjoyable on anything but mobile formatted web sites. That's not surprising due to the small size of the display. Using EDGE, surfing speed was acceptable, but I wouldn't want to depend on this phone as my only method of accessing web content. It's fine for a quick read while standing in check-out line at the grocery store though.
The w810i comes with a couple games. A Tetris style game (QuadraPop) and another game called Johnny Crash. They are both simple games but still fun. It also comes with a very addictive (at least to me) program called Music DJ. With this program you can string little song snips together to form your own song. That song can then be used as a ring-tone. I think I spent an hour one morning goofing around with this app. Fun :o) Check out my masterpiece ring-tone below.
Gadgeteer Ring-tone
Click to download and play. Midi file 32k
Sending text messages or entering any type of data into this phone is painful without a QWERTY keyboard. Yeah, I know I'm spoiled by smartphones… But T9 is torture for me ;o)
What about how well the w810i performs as a phone? I found reception to be on par with other phones I've tested on the Cingular network (850mhz band). It is maybe a little worse than the HTC S620 that I took a look at last week. Call clarity seems fine. Volume levels while in a call are also fine. I had no issues with battery life either.
I like most everything about this phone and it's hard to find much to fault with it. It has a lot of fun features built in and does a good job as a phone. If you're a feature phone type of person, the Sony Ericsson w810i might be one that you would enjoy using.