We use affiliate links. If you buy something through the links on this page, we may earn a commission at no cost to you. Learn more.
Name: Livy Lee
Location: Singapore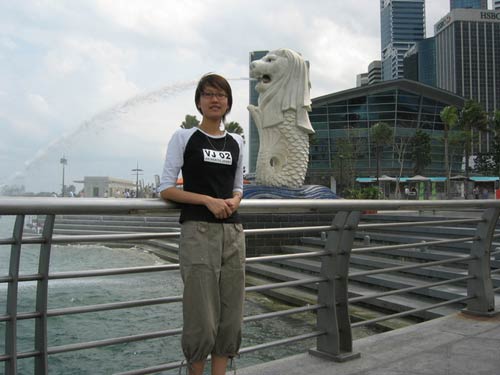 Hi, I am Livy from Singapore. I am a female gadget lover and none of my female friends share the same interests with me.
I started buying electronic stuffs in year 2003 November, I got myself a brand new Tungsten T3 and at that time it was the latest model by PalmOne. Since then, I entered the fantastic world of Palm. I started to shop for other accessories for my Tungsten T3, such as a wireless keyboard, a Palm PowerToGo, a Krusell leathercase, etc. But these were not enough, after a month, I rushed out to buy another hot Pocket PC of that year, an iPaq h2210 (aka h2215) to experience a different operating system.
Later, out of curiosity, I bought myself some OS4 Palm devices to play with the DA utilities and Hacks, as we all know, these little DAs were more usable in Palm OS4 than OS5 devices. When I saw some good offerings, I would BUY (and regret later). This is a list of PDAs that I had owned previously:
– Two Tungsten T3
– iPaq h2210
– Sony CLIE SJ30
– Sony CLIE TJ37
– Sony CLIE TG50
– Handspring Treo90
– Tapwave Zodiac 2 (128MB)
– Two Tungsten C
– Tungsten T2
– Sony CLIE SJ33
– Palm m500
– Handspring Treo180

– HandEra 330
– Zire 71
– Acer s10 (Palm OS4)
– Asus MyPal A716
– PalmOne Treo600
– Acer n30 (PPC)
– Two Treo650
– Dell X50v
Currently, I have only Treo 650 (my everyday device), Tungsten C, Acer n30 PPC and Acer s10 monochrome palm. I felt so guilty to own many PDAs so I sold off the rest. For my Treo 650, I am using Seidio Silicone case, Seidio 2400mAh battery, Seidio 2-in-1 headset and a Brando workshop sync-charge cable.
Besides my love for PDAs (mainly Palm), I like Apple computer. I am using a 20-inch iMac (2.16GHz, Intel Core 2 Duo) as my primary desktop computer. With this, I have a 300 gb 3.5″ portable hard disk to store music albums and hook it up to a Squeezebox 3. I also own 12-inch iBook (1.3GHz) with 80gb hard disk installed, a 14-inch Toshiba Satellite 2400 laptop that I used mainly in school, together with a 30gb portable hard disk (an original hard disk extracted from my iBook) full of music mainly encoded in FLAC and ALAC.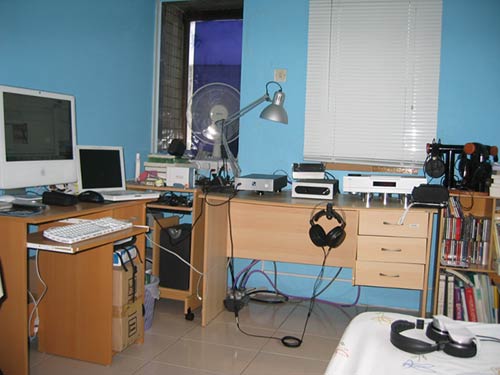 Another gadget that I am obsessed with is headphone. I use my headphones to listen music everyday and it is always by my side with few full-sized headphones at home and some in-ear-monitors on the go. I started off this hobby not long ago in July 2005, with a Little Dot II budget tube amplifier, a Sennheiser HD650 and a budget NAD C521BEE CD Player. Since then, I am hooked and changed my interest from PDA over to headphones. The upgraditis bugs bite me very hard:
Headphones I had owned and gone are:
– Grado GS1000 (Statement series)
– Sennheiser HD650
– Beyerdynamic DT880 (pre-2006)
– DT990 (current flagship) Grado SR-60
– Alessandro MS2i
– Audio Technica ATH-CM5
– ATH-FC7
– Shure E4C
– Etymotics ER6i
The headphone amplifiers that I had owned and gone:
– Little Dot II
– Aperhead 47 (A47)
– Original Master
– HeadRoom Total Bithead (2005)
– Emmeline SR-71
– Minified PINT
– Xiangsheng 708B
– EarMax Pro
The sources I had owned and gone:
– NAD C521 BEE
– 3rd gen 15gb iPod
– 1st gen 1gb iPod shuffle
– Panasonic SX-280
– Cyrus CD7
So what are my current possession in this head-fi hobby? Below is the list:
Headphone inventory:
– Grado PS-1 (professional series)
– Grado RS-1 (Reference series)
– Alessandro MS-Pro (Music series Pro)
– Audio Technica ATH-W5000 "Raffinato" (made from high quality Japanese Ebony wood, Shimma-kokutan)
– Sennheiser HD600 (stock cable)
– AKG K501
– Koss KSC-75
– Sennheiser MX500
– Etymotics ER-4S
– Shure E5C
– Westone ES2 (custom in-ear-monitor)
Headphone amplifier
– PS Audio GCHA
– Corda HA-2 MKII
– PA2V2
Sources inventory
– CEC TL51XR CDP (as my transport)
– Bel Canto DAC3 (DAC/Preamp)
– Slim devices Squeezebox 3 (network music player)
– Consonance 1.1 CDP (seldom use)
– 4th gen 20gb iPod
– Panasonic SL-CT720 Portable CDP
Tweaks, Interconnects, and Power-related
– DH Jumbo cones
– Solid Tech Feet of Silence
– Blacksand violet Z1 power cords
– PS Audio Duet Power Center
– Kimber Silver Streaks
– Zu Oxyfuel
I also own a multimedia Aego M speakers for evening music listening, sometime I just want to sit back and relax. Now currently eyeing on the Bel canto M300 mono blocks and the AVI Duo loudspeakers. Sorry about my wallet 🙁
Besides these PDAs, apple computers and headphones, I also love my Sony PSP (black). This is my everyday gadget on the go.
A friend of mine had made this comment on me: "You are the only person I know who has changes gadgets so regularly, be it guy or gal…", so, got some idea now? =)
At last, I would like to take this opportunity to thank the people involved in The Gadgeteer, for keeping up the good work. This is the Best Gadget website I have seen with good reviews and news. I enjoy reading them, thank you!

Read other featured gadgeteer stories, and send in YOUR story / pictures
for posting! If your story is posted, you'll receive a Gadgeteer Tshirt.