We use affiliate links. If you buy something through the links on this page, we may earn a commission at no cost to you. Learn more.
Canvas, Cordura, Leather, Silk?
No, there is nothing wrong with your RSS feed, you are reading a review on silk gear bag. Yes, it is indeed possible to have a practical bag made of silk.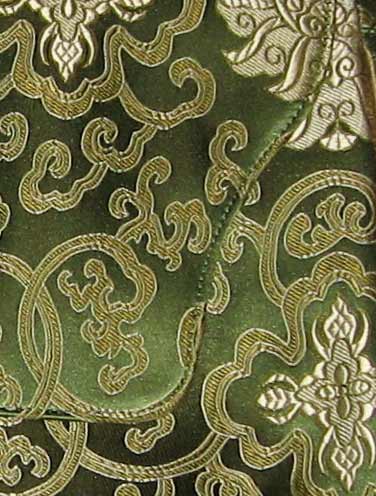 Initial impressions
I relish coming home to see a package sitting at my door, and the day that my Abbi New York Jade bag arrived was especially exciting for me. I love Chinese silk brocade, and testing out a gear bag made from this elegant material piqued my interest.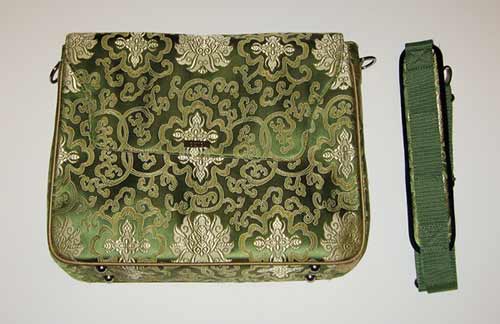 Swaddled in a protective dust bag, the Jade is a rare hybrid of luxury and practicality. Medium in size, the dimensions of the bag are 15.5″x12.7″x3.9″. This will accommodate most 15″ laptops, including my 15″ MacBook Pro.
The exterior of this messenger style bag is made of a pale green silk brocade, accented by a bright pink satin interior.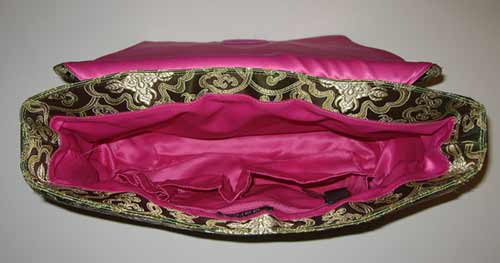 On the exterior of the bag there is one large pocket that runs along the length of the rear. This pocket is shallow in depth, which makes it perfect for a magazine or a small folder of papers.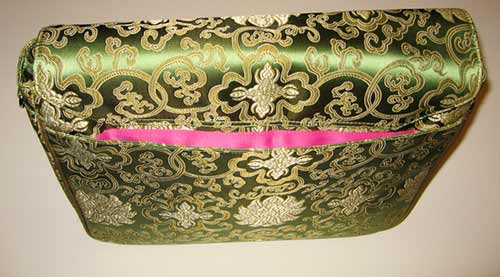 The bottom of the bag is protected from snags and stains by four metal feet.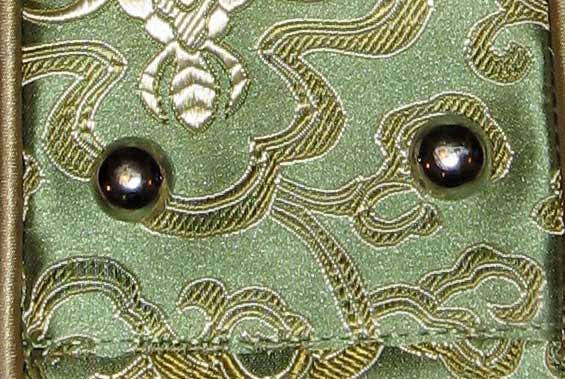 Between the external and internal fabric layers is a thin cushion of Duraflex padding, which is dense yet light. There is similar padding on the matching arm strap.
The interior fabric is snag-resistant and not too slippery. The interior has several loops for pens and 3 pockets, one large catch-all pocket, one medium pocket suitable for an iPod or PDA, and one flat zippered pocket with a loop to prevent the metal zipper from scratching anything in the main compartment.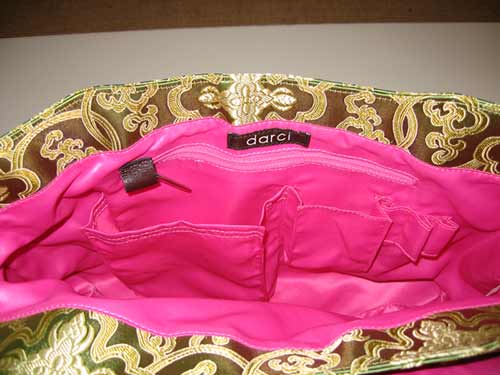 Product Testing
Since I'm a bit clumsy and it is winter here in Pittsburgh, I decided that I should Scotch Guard the outside of the bag before carrying it on a regular basis. This kind of fabric treatment is an inexpensive way to protect all kinds of clothing and accessories. The brocade was colorfast and did not run or discolor after application. I did not apply the treatment on the inside of the bag, since I never carry liquids inside my bags.
I carried the Jade every day during my month of testing and it is very light and comfortable. The matching arm strap is adjustable and removable and has slip-resistant padding which distributes weight across the whole shoulder.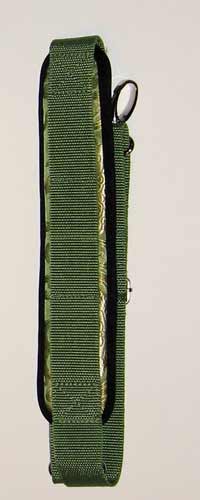 The construction of the Jade is exceptional for its price range. Even after carrying several very heavy (>50 pounds) loads, the seams showed no sign of distress.
The design of the internal pockets makes it very easy to locate items, like a ringing cell phone, one-handed while carrying the bag. The silk brocade was remarkably durable– no signs of snags or tears.
There are two design issues that I noticed while testing.
First, the Jade does not have a dedicated laptop compartment. I like to separate my computer from the papers and other things in the main compartment, so I used my Tucano sleeve on my MBP as well. This added bulk, but helped me organize and protect everything in the main compartment better.
Second, the front flap is secured by velcro. This caught on all sorts of things. A simple magnetic snap would be better.
Overall, I liked the Jade and carried it everyday, even when I didn't bring my laptop. I received many complements on it wherever I went. The simple design makes it versatile enough to use every day.
Product Information
Price:
89.95
Manufacturer:
Abbi New York
Retailer:
Abbi New York
Pros:

Comfortable to carry
Removable shoulder strap
Accommodates laptops up to 15.4"
Reasonably priced

Cons:

No dedicated laptop compartment
Velcro latch