We use affiliate links. If you buy something through the links on this page, we may earn a commission at no cost to you. Learn more.
Light therapy devices seem to be gaining in popularity these days. Having just reviewed the Litebook Elite, I was happy to take a look at the Verilux HappyLite Ultra Mini – a similar product. Unlike the Litebook, the HappyLite is not really a travel device as it does not have a rechargeable battery. It is better suited to remaining plugged in and on your desk.
Package Contents
Verilux HappyLite Mini Ultra lamp
Diffuser
Bulb
Instruction booklet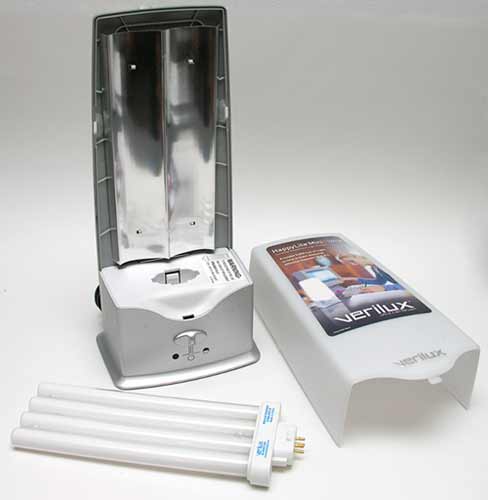 This light therapy device stands 12 inches high x 5 inches wide and 3.5 inches deep and is designed to provide light that has the same wave length has natural sunlight, but minus harmful UV rays. Exposure to the HappyLite for 15-60 minutes a day can help
alleviate symptoms of S.A.D. (Seasonal Affective Disorder) that effect as many as 14 million people in the US.
If you are not familiar with S.A.D., here is some info from
Wikipedia:
"Seasonal affective disorder, or SAD, also known as winter depression is
an affective, or mood, disorder. Most SAD sufferers experience normal mental
health throughout most of the year, but experience depressive symptoms in the
winter or summer. SAD is rare, if existent at all, in the tropics, but is
measurably present at latitudes north of 30°N, or south of 30°S.
Seasonal mood variations are believed to be related mostly to light, not
temperature. For this reason, SAD is prevalent even in mid-latitude places with
mild winters, such as Seattle and Vancouver. People who live in the Arctic
region are especially susceptible due to the effects of polar nights. Prolonged
periods of overcast weather can also exacerbate SAD."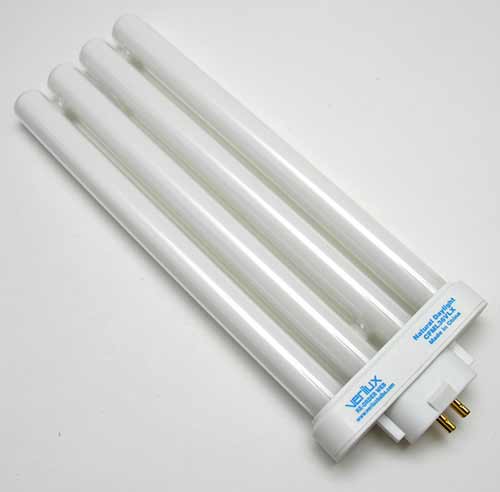 The included 10,000 hour 36W bulb has Trucolite Phosphor Technology and delivers 5000 LUX
of light. What does that mean? It means the bulb is bright and should last for
approximately 54 years if you use the HappyLite for 30 minutes a day every day.
Replacement bulbs will set you back $24.95.
Installing the bulb is a snap… literally. Just orient it correctly and snap it
in place. Simple.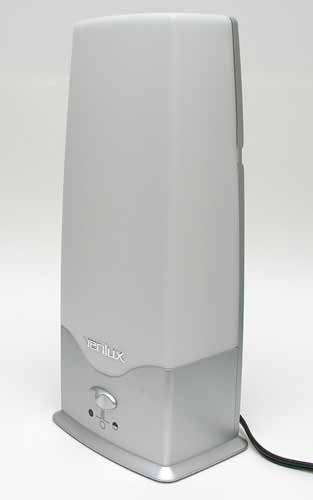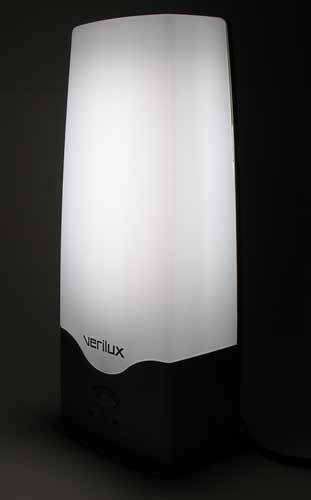 Install the plastic diffuser, and plug the cord into a free outlet and you're
all set to enjoy your HappyLite Ultra Mini.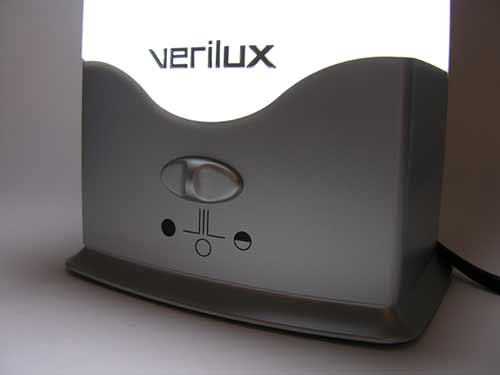 The only switch on this lamp is located near the base. The switch has 3
settings. Off, full bright and half bright.
I was a little worried that the bulbs in this lamp might flicker or buzz since
they are not LEDs like the Litebook uses. I'm happy to report that the HappyLite
has none of these problems. Also, when you turn it on, it lights up instantly,
unlike the fluorescent bulbs I'm used to.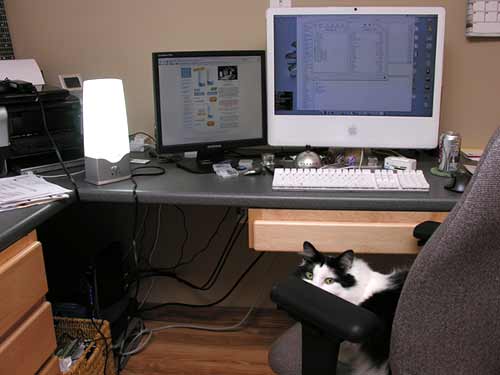 It's best to place the lamp at least 12-20 inches or so from your face. You also
want to place it at an angle so that you're not looking directly into the lamp.
You can see how I have it set it up in the picture above.
If I compare the light output from the HappyLite with that of the Litebook, I
find that I prefer the HappyLite. This is mainly because the light isn't as
sharp as the Litebook. It feels more even and soft. The Litebook has the
advantage though because it is more portable, has a rechargeable battery and
most importantly, it has a built in timer. But then the HappyLite is less
expensive. You can actually buy 2 HappyLites (one for each side of your face…)
for less than the price of one Litebook.
Some people might not believe that light therapy is really all that helpful, but so far during my review of the HappyLite and the Litebook, I have found that using these devices gives me a little more energy and focus in the morning. And who couldn't use a little more of that?
3 year warranty, 30 day money back guarantee. $139.90 for a set of 2.