We use affiliate links. If you buy something through the links on this page, we may earn a commission at no cost to you. Learn more.
Monday
Before we get into the report for the day, I wanted to answer a question about the gear I brought with me on the trip. I am a light packer. Probably too light. I almost always find myself wishing I had remembered to bring along X or Y.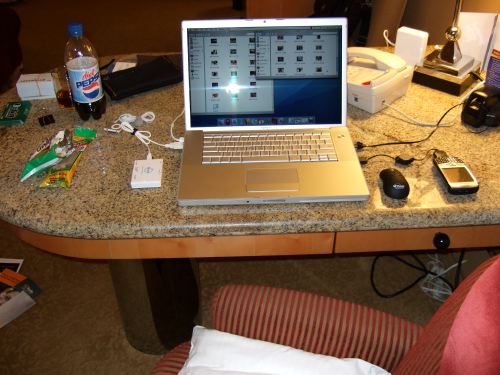 For this trip I bought:
My brand new 15″ MacBook Pro with glossy screen
ThinkOutside Bluetooth mouse
Treo 750v
Seidio retractable charge / sync cable for the Treo
Brand new Fujifilm Finepix F30 digital camera
Brando 55 in 1 card reader
2nd gen iPod Shuffle
Yup, that's it and that's all. Oh wait, I forgot to mention that I am carrying all my electronic stuff in a freebie gear bag that I guess was sent to me because I'm on the press list for CES. A couple weeks before the event it showed up in the mail with a card that says enjoy CES. It has AMD silkscreened on the front, but it's actually a Vertical 2.0 bag from Oakley. It's a really nice gear bag and has replaced my old faithful Sundog vertical bag that I've been toting around when I travel. The best part is that my new Macbook Pro fits in it perfectly! :o)
I want to digress for just a few more sentences… I was reminded yesterday why I can never fully love Windows Mobile. My plane lands. I turn the phone back on in my Treo 750v. I notice it does not set the current time. I double check that I have the option for it to set the time with regards to the current network. I press the reset button. No luck. I have to go in and manually set the time. When I do this, it warns me that my appointments will change to match the new time zone. Fine, that's what I want them to do. But guess what? the appointment times DON'T change. So now all my CES mtg times are all screwed up and I have to go in and fix them by hand. Can you say ARGH!?
And now back to the show… With a quick shower, and an equally quick gobble of a trailmix nutbar (because when I called for room service, they told me breakfast was backed up for 90mins – ack), I was out the door and down to the lobby to wait on the free shuttle service to the convention center. The wait was only a few minutes, so within no time at all I was dropped off at the South Hall. My first destination was to the Press Room to get my badge holder and free press gear bag.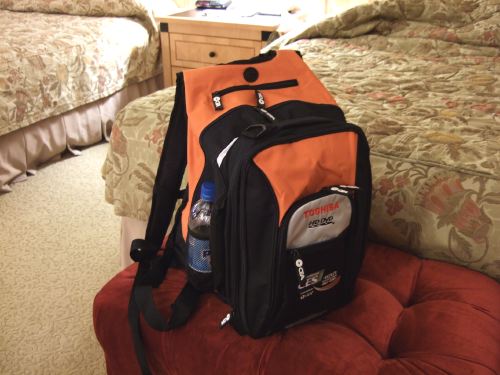 This year it is an Orange backpack. The cool thing about it is that the front part unzips to create a smaller horizontal shoulder bag. Nifty.
I then proceeded into the sea of people heading for the South Hall. Like all of the halls in this convention center, they are massive in size. When you first walk through the doorway, you know you'll never see everything there is to see there. It's even hard to decide which way to tackle it. Start from the Right? Left? Straight down the middle? I don't even remember how I decided to start browsing, but the first product I saw was a unique one!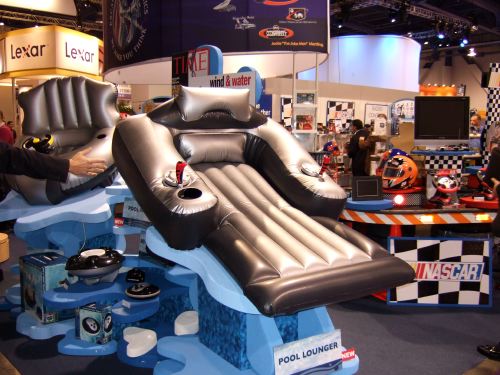 A motorized inflatable pool lounger from Excalibur Electronics.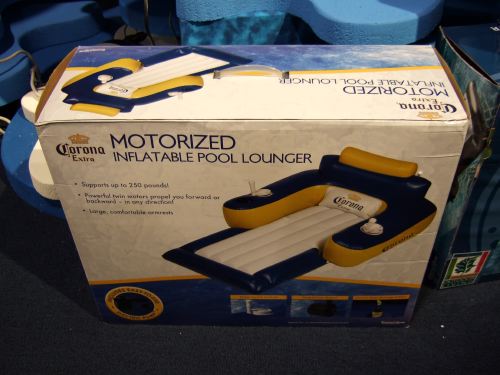 You know you want one! ;o)
Next booth that caught my eye (now I kinda wish it hadn't…) was for Eton.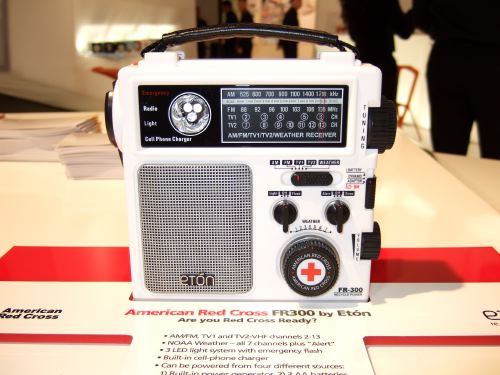 They had a whole line of retro (at least they look retro to me) looking radios with built in hand cranks. Here you see the FR300, which is an AM/FM/TV and NOAA weather radio. It also has an LED flashlight on the front and can charge your cellphone. You never need to worry that you have charged batteries because the hand crank will provide power. The folks at the booth even gave me one to take with me.
And then it happened… I turned around to start browsing again and stepped off their booth platform that was raised by about 3 inches off the floor and turned my ankle. Can you say OUCHY? :o( But in true Julie style, I just kept right on walking with nary a whimper… although it did hurt like a $#%@. What a way to start the day!
As long as I kept walking, my ankle was tender, but sturdy. So I kept going…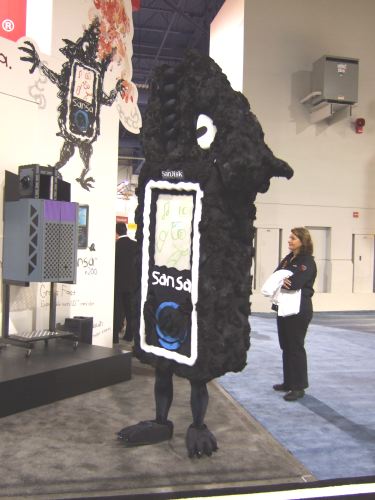 How would you like this person's job? I'm not quite sure what the heck it is supposed to be, but I just had to get a picture anyway ;o)
The show room floors were littered with companies displaying Bluetooth headsets in all manner of sizes and styles. The one you see below looked much sexier in person.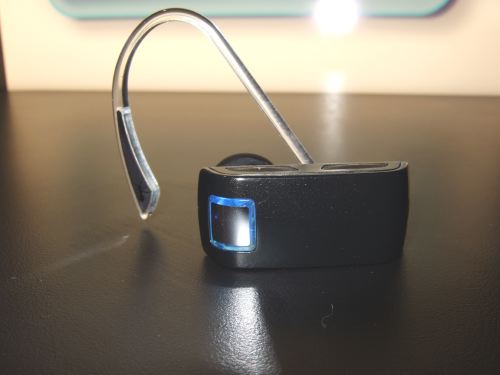 This headset is from an Australian company called BlueAnt. It's the Z9 and it's is the winner of this year's CES 2007 Innovations Design and Engineering Award. It has 2 microphones and 2 ring tones to differentiate between known and unknown callers. It's not available yet, but will be in March.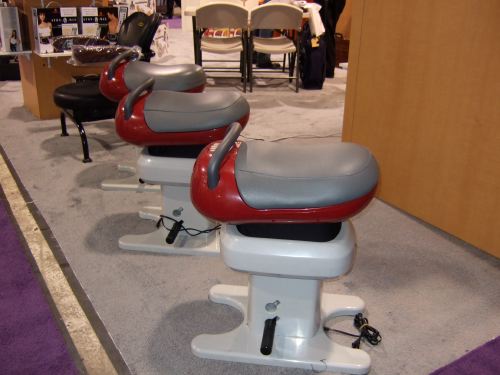 The product you see in the image above caught my attention next. Wouldn't it have yours? I had no idea what it was. Maybe a automatic bucking bull for kids? The booth was pretty much void of pamphlets and booth droids, so I took at look at one of their other products to find a website address or company name, which I think is Strong Idea. The website by that same name doesn't appear to be the same company… So if anyone can tell me what this product is, I'd be happy to hear about it. :o)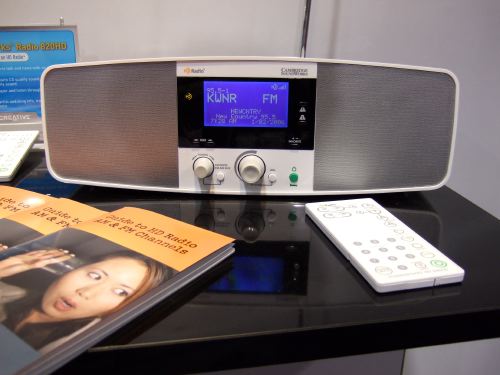 Next up were some tabletop HD radios. I've been interested in learning more about HD radio. I'm not sure there are many stations in my area that I could pick up though.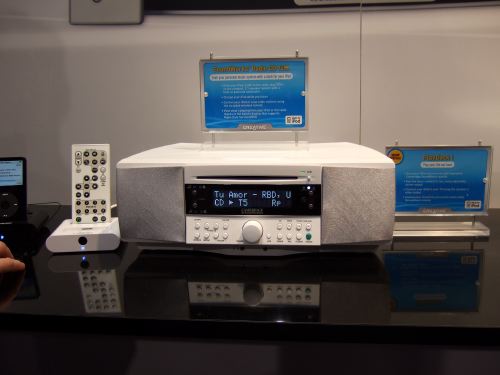 These particular radios were from Cambridge Soundworks.
Moving right along, I ran into the massive Creative booth area. They had stations setup with their popular ZEN audio players, and they were also showing off this new larger format media player that you see below: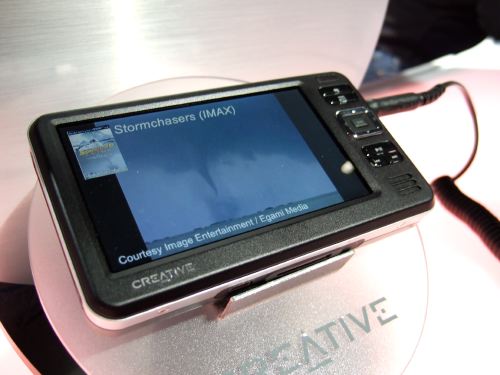 This is the ZEN Vision W. Pretty. Pretty big. How many of you out there have a media player this size that you use all the time? Personally, it's a bit too large for me to want to carry around. Very nice display though. Hey Mark, they are playing your fave show! :o)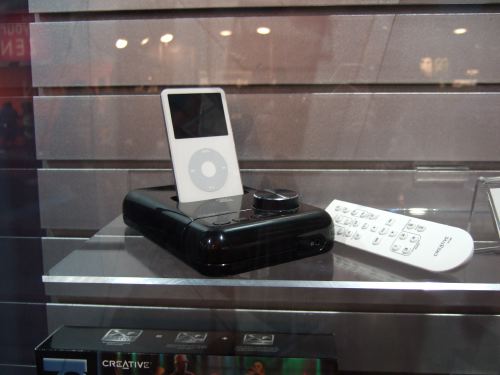 Check this out… In a Creative display case, there is an iPod! Creative is actually creating iPod accessories. It's part of their X-Fi solutions. They way I understand it, X-Fi puts part of the sine wave back into compressed music to make it sound better. The dock you see above plays the music from your iPod, but makes it sound a whole lot better.
Now it's time for a couple pretty showroom floor pix!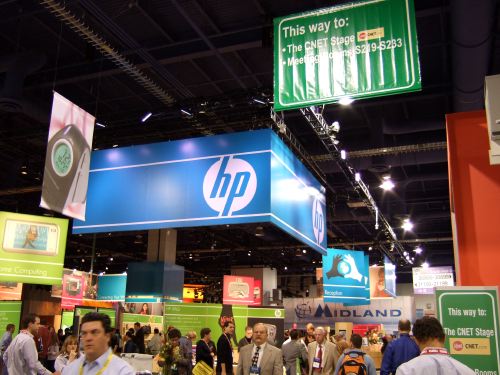 People, people everywhere!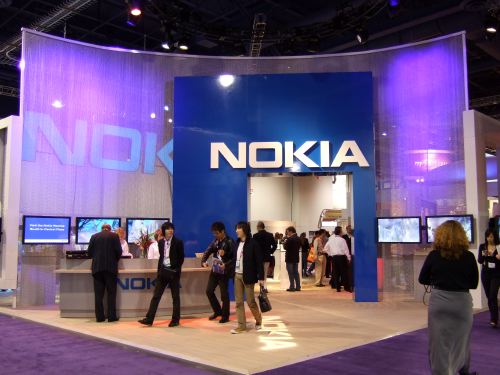 Mmmmm Purple! Let's go see what Nokia has to show off, shall we?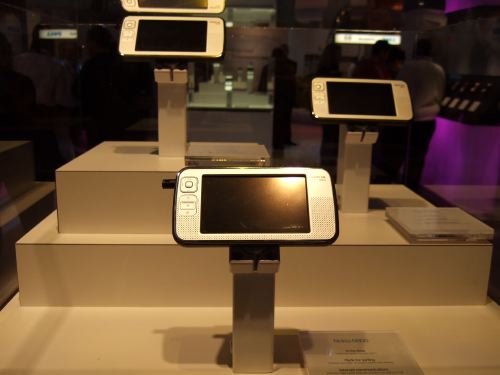 It's their new wireless tablet, the N800. It looks a whole lot nicer than the 770, that's for sure. I wish it was also a quad band phone though. At least it can use Bluetooth phone as a modem.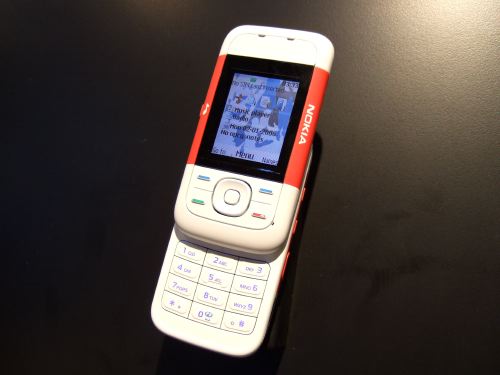 This little tri-band slider music phone (5200) was pretty fun to play with. Until I can have 80gb built into my phone, I probably will never use my phone to play music. I'd also be afraid that I'd run the batteries down listening to tunes all day and not have enough juice left to make necessary calls.
Anyone out there into treasure hunting? Ok, time for a Julie moment… My new fave TV show is Cash and Treasures on the Travel channel. If you haven't seen it, check it out. I have a metal detector, but it's got to be at least 20yrs old… The Garrett booth was showing a new model that is very inexpensive, but has features that some higher models have.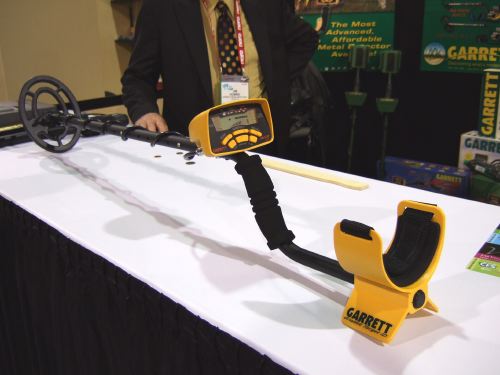 The Ace 150 sells for $179.95. I have an itch to buy one of these, book a trip to Florida and spend a week combing beaches :o)
The next booth I stopped at was Otterbox's booth. We've reviewed some of their products before (stay tuned later this week for Meredyth's review of their new Treo case…). Their latest case to be available soon is for the Blackberry.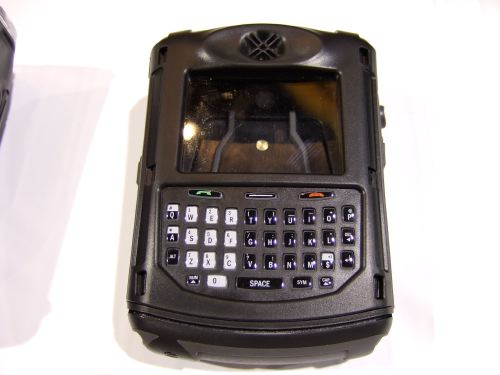 This case is built like a tank!
Speaking of a tank, look at this thing! It's the VersaLaser. You may have seen their ads in PC Magazine before.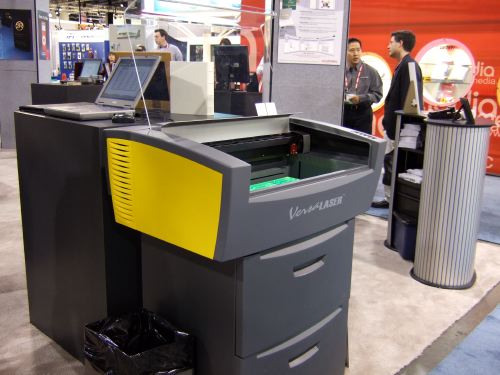 This is a big 'printer' that prints and cuts with a laser. And it can print on just about anything.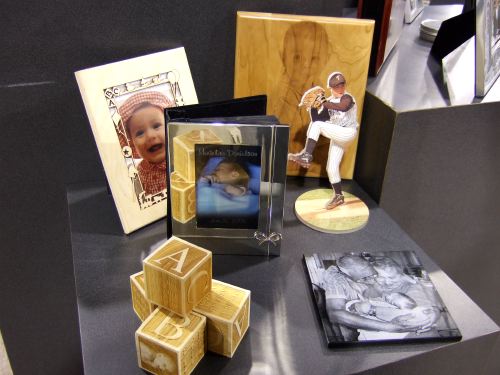 The blocks above are wooden with carved out printed letters. The black and white image next to them on the right is a marble tile that has had a picture carved into its surface. Very cool! Too bad it's very expensive. But if you have almost 10k, you too can print on anything!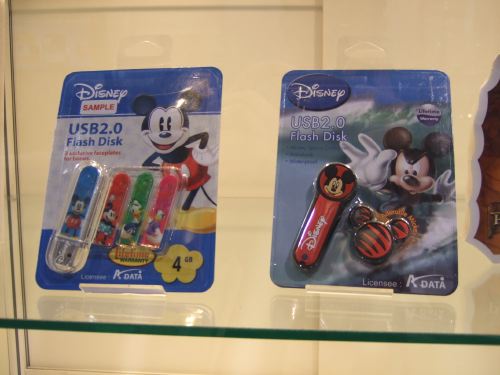 Like mobile phone accessories, ipod accessories and large TVs, there were lots of flash drives floating around. I couldn't help but smile at these Disney branded drives. Too bad they weren't giving them away. I would have scored major points with my boss at my day job as she's a big Mickey fan. :o)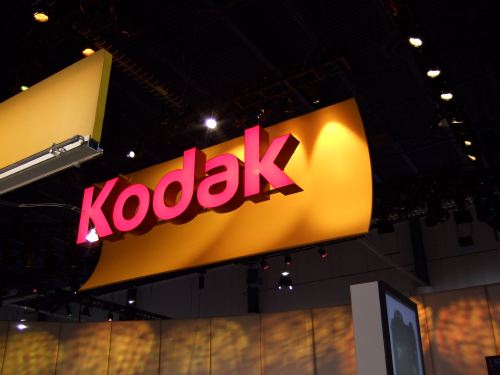 Speaking of large TVs and other types of displays, they were absolutely everywhere when I moved from the South Hall to the Central Hall. The Kodak booth had their whole back wall mounted with digital photo frames.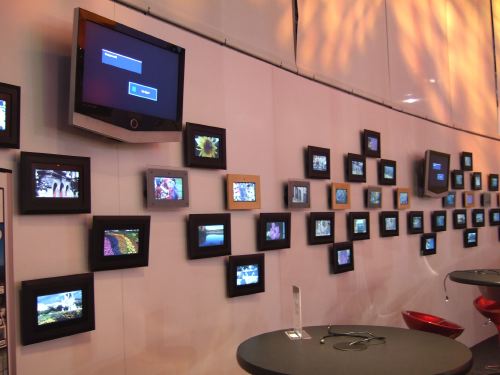 You know, I never have decorated my remodeled home office. Maybe I should use digital frames…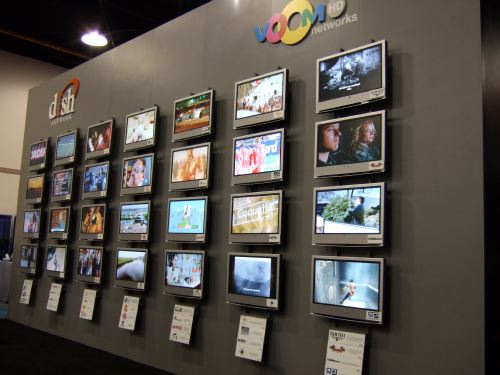 Or LCD TVs!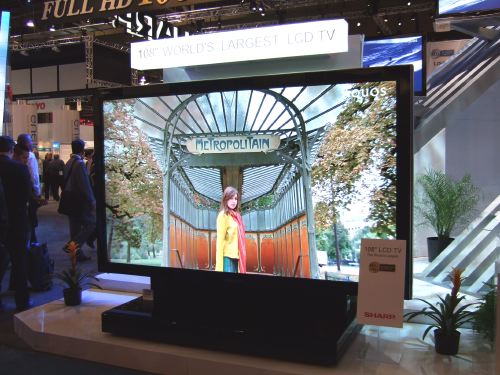 Or better yet, the world's largest LCD TV. At 108″, this TV from Sharp was beyond yummy!
You know what else is yummy? Free lunches! As a member of the press, we receive coupons for a free lunch every day of the show. So at 11:30, I took my hungry little bod over to the press area to stand in line for the free grub. In previous years, we were fed a nice hot lunch. This year it was a cold boxed lunch. The one I picked up had a turkey and cheese sub, an apple, some kind of crumbly dessert bar and potato salad. It wasn't anything to rave about, but it was free and it gave me the chance to sit down and recharge for a bit. I also had a nice conversation with a guy about Tivo and Netflix. You know I've never tried Netflix, but I think I just might sign up soon. Is it just me, or have the premium movie channels on DirecTV been really lame lately?
After lunch, I continued my tour of the Central Hall. I made a stop at the Sanyo booth to check out their handheld camcorders.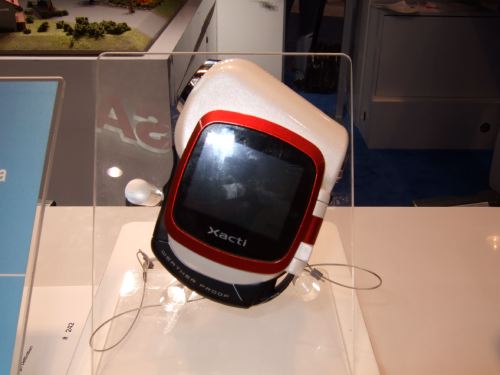 Their new little VPC-CA6 Xacti is weather proof and can support 4GB SDHC memory cards.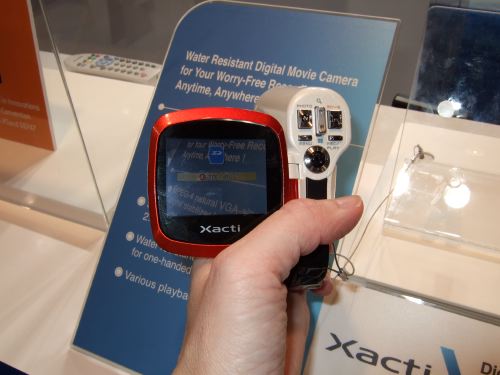 It's even more compact that then Xacti VPC-HD1 that I reviewed earlier this year.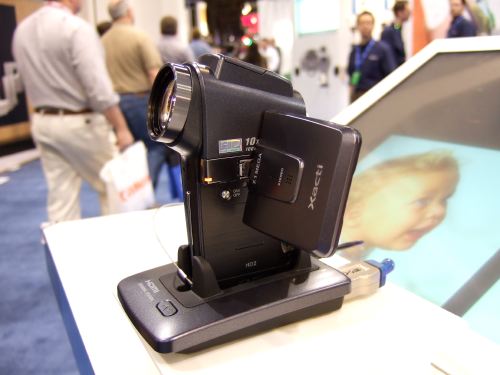 Speaking of which, here's their new model of the HD1. The HD2. I need to find out if the HD2 is any better with regards to shooting in low light (indoors). If it is, I'm definitely upgrading to it. I love my little HD1.
At this point my ankle was starting to bother me, so I decided to get a taxi back to the hotel, work on this article and rest up before party #2: ShowStoppers.
After I got back to my hotel room, I kicked off my shoes, and started sorting through all the things I had stuffed into the freebie press backpack.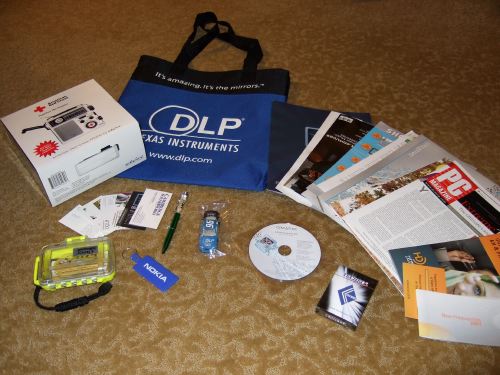 Here's the loot from my travels through the North and Central Halls (I'm not completely done with the Central Hall). I'm being pretty picky with which booths I'm stopping at this year, so my accumulation of loot will probably end up being less than previous years.
After a couple hours working on this article, chatting, emailing and making phone calls, I decided to order in some food. Mmmmmm, scrambled eggs, hashbrowns and wheat toast. My missing breakfast from this morning ;o) Hey what's up with the fact that you can't seem to find a Diet Coke in this town? It's all Pepsi, all the time. Phooey.
A quick look at the time told me that I better make way over to the Wynn for ShowStoppers.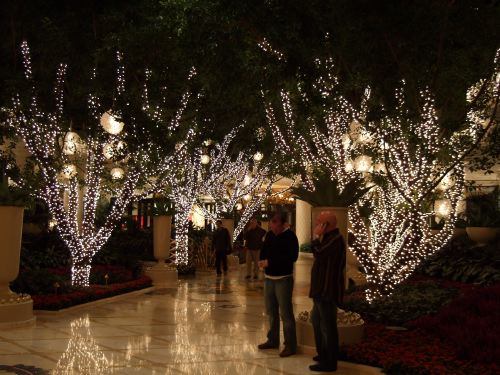 Love their lobby….
After a long hike to the back of the building where the ballrooms were located, I finally found the party and quickly grabbed my name badge and headed to the entrance.
As soon as I walked though the door, a guy grabbed me, asked if I had my phone with me and when I said yes, he grabbed it and put a furry Koala bear Fun Friends case on it (see last picture in this article). Hahaha, does anyone really use these types of cases with their phones? Come on, fess up? Someone has to be buying these things, but I wanna know who?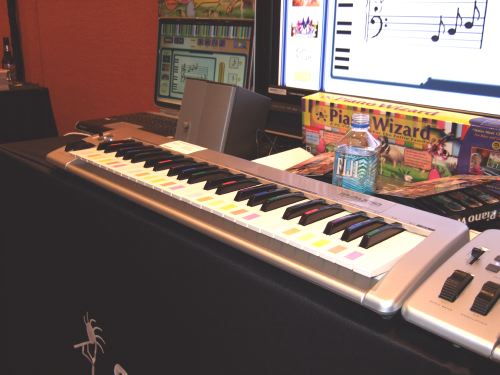 Want to learn to play piano? I was given a demo of Piano Wizard; a software / hardware package that uses color and a video game concept to help teach kids how to play the piano without learning musical notation first. The software works with a Mac too!
Remember WowWee, the company that bought you RoboSapien?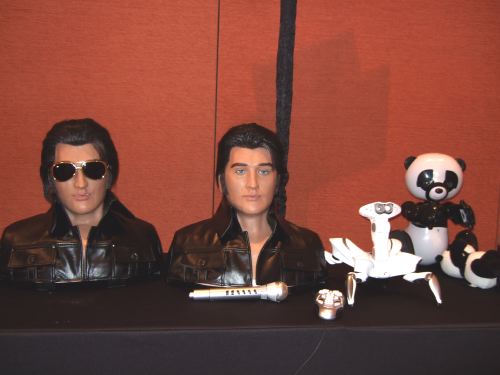 Their latest product is an Elvis head. No, I'm not kidding. I'm not sure who would actually want an animated, singing Elvis head, but if you're such a person, you must be really happy right now! ;o)
There seemed to be more software / service type displays at ShowStoppers. I walked by most of them because we don't really focus on that sort of thing at The Gadgeteer…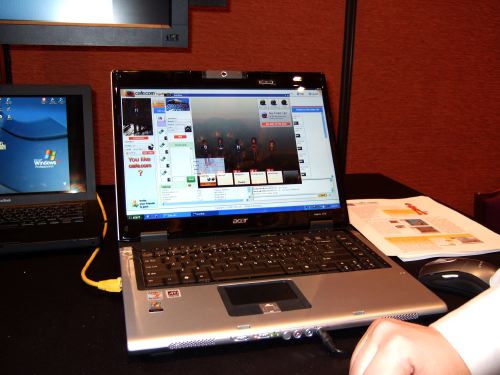 That said, I did stop at Boonty's booth which was demoing a new FREE social gaming site at Cafe.com. The games looked liked they might be fun, and hey, they are free!
The folks from HobbyTron were there with the PicooZ and some other R/C controlled gadgets.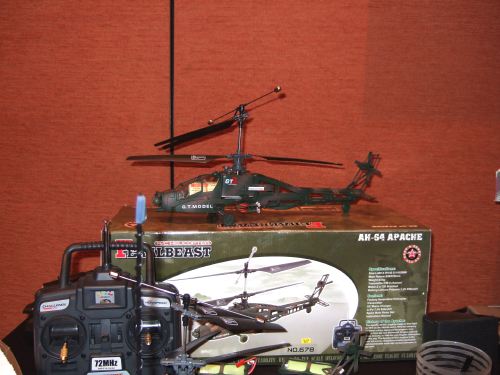 Oh boy, look at their new helicopter. Yes, it's much bigger than the PicooZ, but still very cool.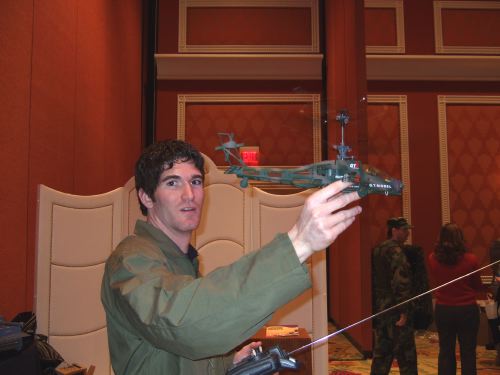 This particular model can go up/down, forward/backwards, and left/right. I asked them to give me a demo and they happily complied.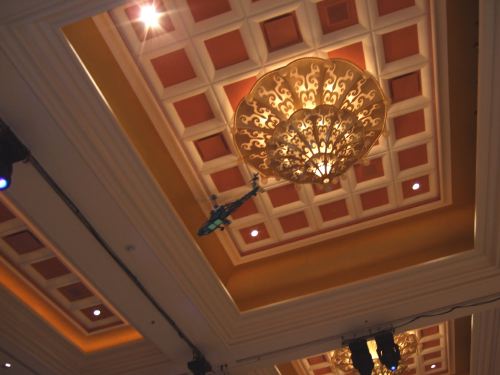 Up, up and away! This looks like a fun toy. They said they would send me a sample to review after the show.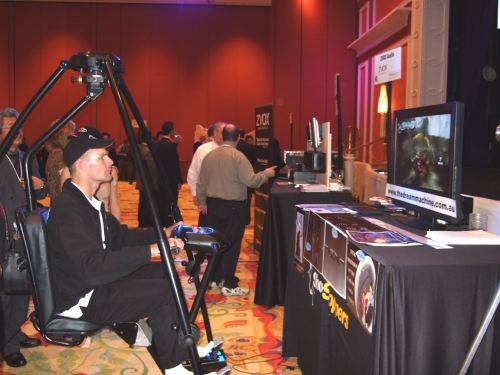 Get a load of this product. At first I thought it was some sort of exercise device. But how many geeks exercise? ;o) It's for video games. It's called the Dream Machine Simcon and apparently it gives you a whole new sense of realism while you play games. Two problems though… 1. Where do you put it when you're not playing games? 2. The price: $1399. Ouchy!
And now let's go from games to music…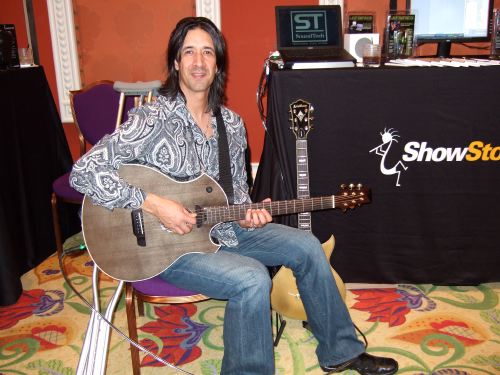 The next booth was demoing the LightSnake. This is a USB -> Guitar cable that makes it super easy to record your music to a PC/Mac. With the cable, you don't need a pre-amp.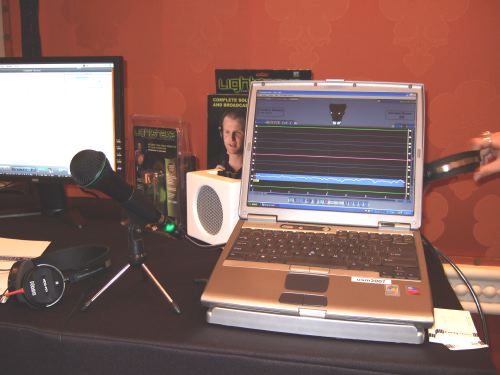 They were also showing a new Podcasting kit as well.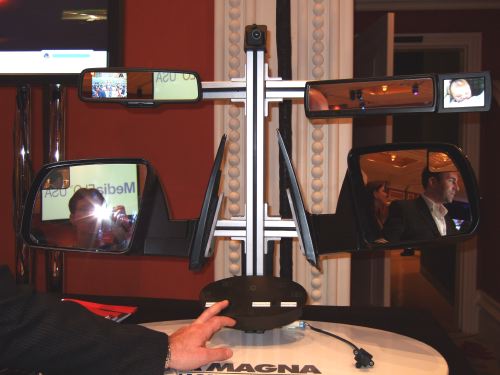 If you have problems with blind spots in your vehicle, or want to see what's going on in the backseat or behind your car, then these products from Magna were pretty interesting.
I especially liked the slide out video mirrors like the one on the top right.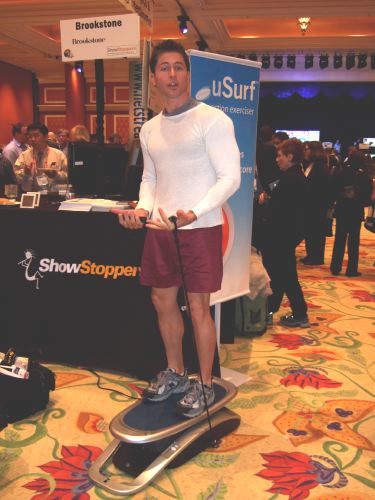 Oh look, here's an actual exercise device for geeks…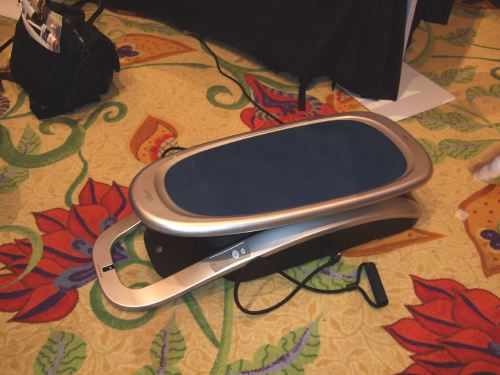 It's the uSurf from Brookstone. It's a motorized 'surf' board that you can use to do all kinds of exercises. When you plug it in, it will start to move in different directions, so you have to tighten your core muscles to keep your balance.
That's a rundown of the more interesting products that I saw today at both the main CES show and ShowStoppers.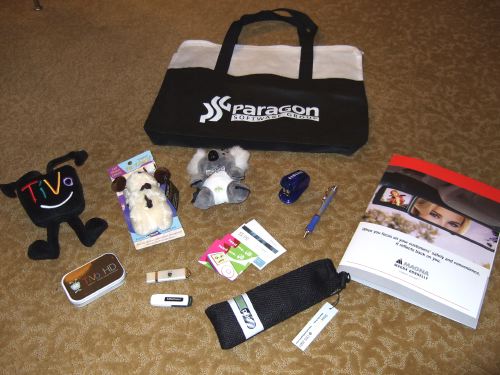 I came back to my room with a nice collection of swag. I love the little Tivo guy. :o)
Tomorrow is my last day here in Vegas, so check back to read my final installment!