We use affiliate links. If you buy something through the links on this page, we may earn a commission at no cost to you. Learn more.
A good flashlight for the ordinary person is like most tools, only appreciated when needed. If you're anything like me, you probably don't use a flashlight every day. Or even once a week. But when the need arises, you're always happy to have a reliable one at hand. I'm happy to tell you about the TM-303X; a small robust little light from Nuwai, which is available in Black and Titanium finishes.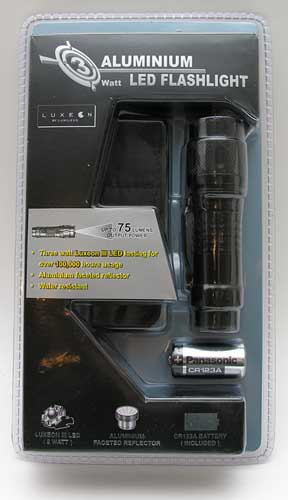 Flashlight Specs
Light type: LED
Bulb: Luxeon 3W LED (up to 75 lumens)
Lens: Polycarbonate
Reflector: Aluminum faceted
Beam type: Spot
Case type: Anodized aluminum
Powered by: 1 x CR123A Lithium 3V cell
Water resistant?: Yes
Size: 3.85 x 1.10in (94 x 28mm)
Weight (with batteries): 2oz (70g)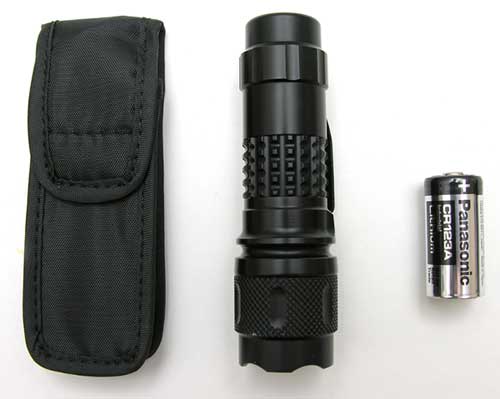 Included with this torch is a small nylon belt case and 1 CR123A 3V Lithium battery.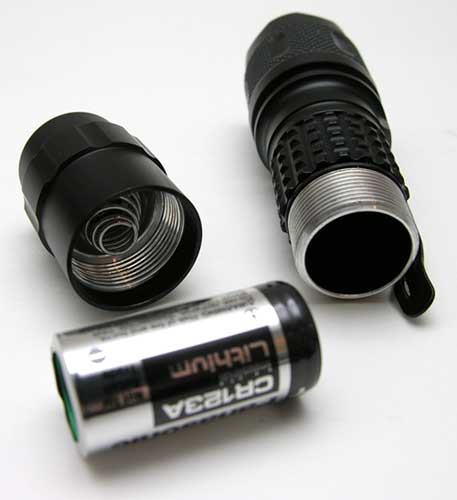 The end cap unscrews to reveal the battery chamber.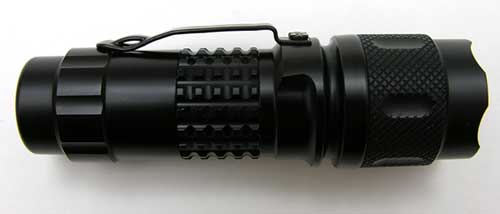 The TM-303X is a nice compact sized rugged flashlight. Total length is less than 4 inches. It can easily fit in any gear bag, purse or cargo pant pocket. It is comfortable in hand given the nice weight and knurled grip on both the middle barrel and lens area. These ridges help keep the light securely in hand. A metal clip attached by 2 small screws provides a convenient method of clipping the light to a pocket or cap visor. There is also a small eyelet in the clip if you would like to attach a thin wrist strap.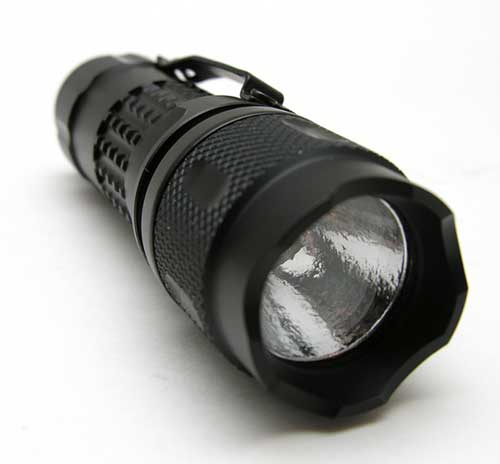 This is an LED flashlight that uses 1 3 watt bulb that is advertised to last for over 100,000 hours of use.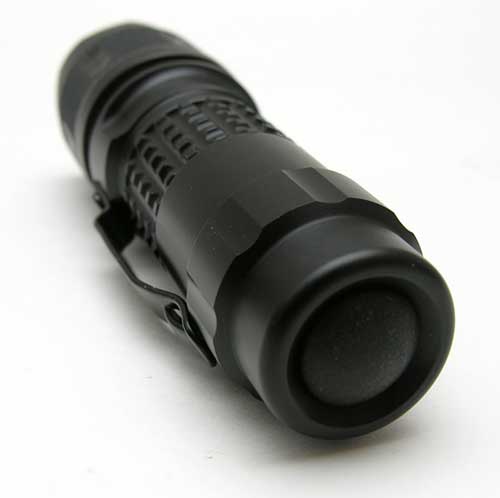 A rubber click switch is located on the end cap. This light has just two settings: on and off.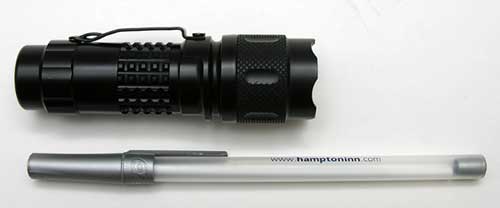 In use, I found the beam from this torch to be bright and white.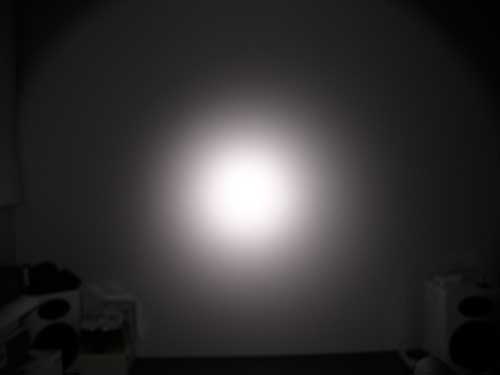 The image above was taken from approximately 5.5ft. The beam it throws is a nice width which makes this a good light to use to illuminate your path while walking in the dark. I also found it to be really useful for lighting up the back of a computer under a desk. Whatever your use, the TM-303X from Nuwai makes a great little torch.
The TM-303X is available directly through Nuwai (in UK) for £34.95. You can also find them here in the US through various retailers on line for around $35.00.