We use affiliate links. If you buy something through the links on this page, we may earn a commission at no cost to you. Learn more.
Three years ago I had the opportunity to review the SLIMP3 Network MP3 Player from Slim Devices. Back then, the SLIMP3 was one of the first devices on the market that allowed you to stream audio files from your computer, to another part of the house. Let's see how their original product has evolved in the past few years into a smaller, more robust device that is called the Squeezebox.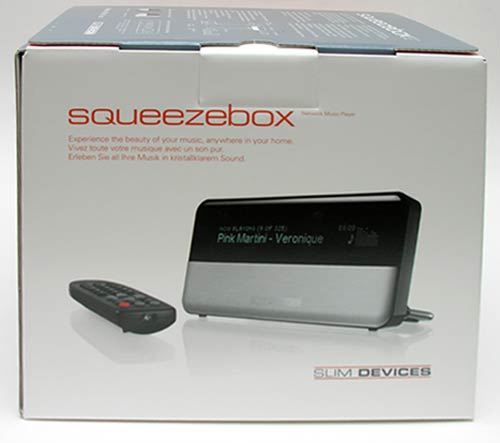 Hardware Specs
250 MHz 8-way multithreaded RISC processor
Flash upgradeable firmware
Audio formats: MPEG 1/2, layers 2/3, for both VBR and fixed data rates up to 320Kbps (the maximum for MP3), FLAC, WMA (CBR and VBR), as well as uncompressed AIFF and WAV audio
Dimensions: 7.6″W x 3.7″H x 3.1″D (192mm x 93mm x 80mm) including stand
Wireless Interface:
802.11g wireless networking
Throughput up to 54Mbps, high speed PCI interface to radio module
Dual antennas for improved range and throughput
Supports all 802.11b and 802.11g access points
Internal antennas: planar inverted-F antenna
Supports both WPA Personal, WPA2-AES and 64/128-bit WEP encryption
Ethernet Interface:
Available on both Wireless and Wired models
True 100Mbps throughput
Shielded CAT5 RJ-45 connector
Connects to any 100Mbps or 10Mbps network
Auto-detects full duplex and half duplex modes
Automatic receive polarity correction
Maximum cable length: 100 meters (328 feet)

Audio outputs (general):
Digital and analog outputs
All RCA connectors are gold-plated
Volume control is provided for all outputs
Multiple outputs may be used at the same time

Analog RCA outputs:
High fidelity Burr-Brown 24-bit DAC
Two dedicated linear power regulators for DAC and line-out stages
Full 6.0Vpp line-level signals
Signal-to-noise ratio: over 100dB
Total harmonic distortion: less than -93.5dB (0.002%)
Digital S/PDIF outputs:
Optical and coax digital connections
Dedicated high-precision crystal oscillators (no PLL, no resampling)
Standard IEC-958 (S/PDIF) encoding
Optical connector: TOSLINK 660nm
Coax connector: RCA, 500mVpp into 75 ohms
Sample rates: 44.1Khz, 48Khz
Audio format: linear PCM, 16 or 24 bits per sample
Intrinsic jitter: less than 50ps (standard deviation)
Headphone output:
Standard 1/8″ jack also functions as an IR blaster
Minimum headphone impedance: 16 ohms
Total harmonic distortion: less than 0.03%
Left/right crosstalk attenuation: 92dB
Package Contents
Squeezebox Network Music Player
AC Power adaptor (appropriate plug by region)
User's manual
SlimServer software (requires download)
Custom infrared remote, 2 AAA batteries included
6-foot gold plated RCA patch cord
Polishing cloth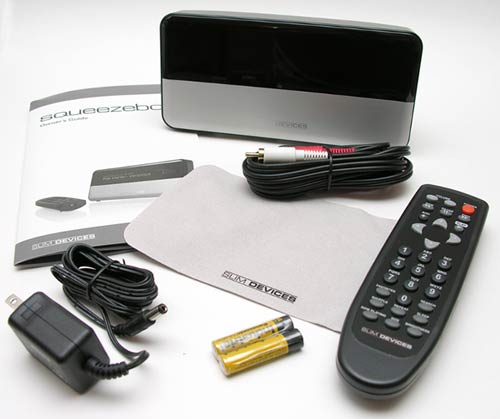 Everything you need to get the Squeezebox up and running is included in the box except for an Ethernet cable. A cable would be needed if you intended to connect to a wired network instead of via WiFi. The model I am reviewing can do both, but a wired-only model is available for about $50 less.
Hardware Design
Front
The over all design of the Squeezebox is sleek and contemporary. There are no buttons switches or other moving parts to detract from the style of this smooth shiny compact device.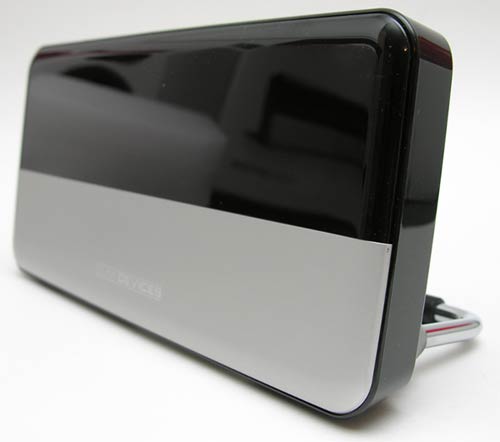 Available in either a Black or White version, I received the Squeezebox in Black. The front face is flat and divided into a Silver/grey base and the large LCD display.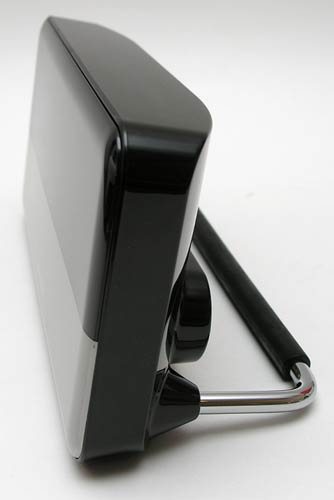 Due to the shiny surface, it will attract fingerprints and dust. That's probably why the folks at Slim Devices decided to include a polishing cloth. That said, you shouldn't get too many fingerprints on this device, because you won't be touching it after you get it setup.
Back
On the back of the Squeezebox, you will find the various connections for 1/8″ Stereo mini-jack (standard headphone jack connector), Left / Right RCA speaker jack, Digital Optical Output, Digital Coax Output, Ethernet and Power.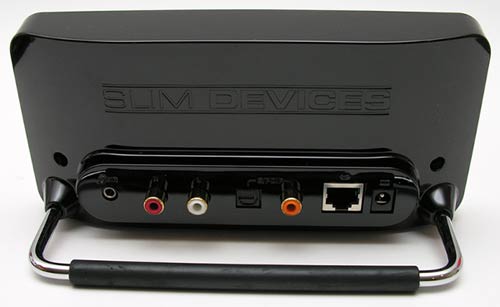 This device is made really well and has a high quality look / feel to it. It will blend in perfectly with your other stereo components.
Software
Before you can start using the Squeezebox, you have to do three steps. The first step is to collect all your audio files in one location on your computer. They can either be in one directory, or in a series of subdirectories. If you happen to be an iTunes user, you don't have to do anything. The next step is to install the server on your PC, Mac or Linux computer. This software is obtained by downloading it directly from the Slim Devices website. Installation is a snap.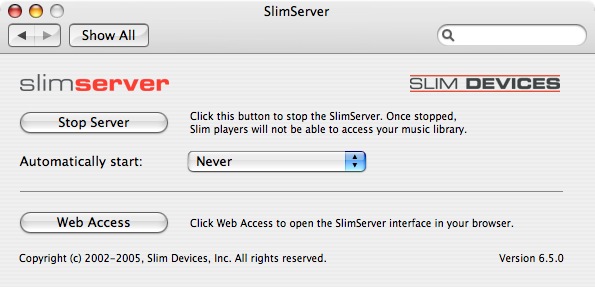 Above is a screenshot of the server for Mac OS X. As you can see, it doesn't look too complicated to use. Basically, you start or stop the server and can set it to automatically start when ever the computer is booted, someone logs in, or never.
After you have the server installed on your computer, you can launch the interface. It's from this page that you can create playlists, search for songs, artists, albums, etc. and control what is playing on the Squeezebox.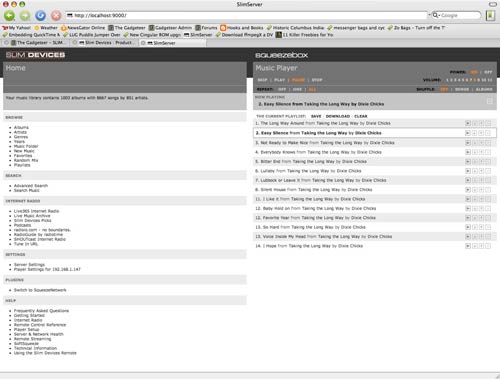 Click to see full sized screenshot
The first time you launch the page, it will start scanning your computer for your audio files and create an index of all your music.
The last thing you have to do is connect the Squeezebox to power and a set of speakers.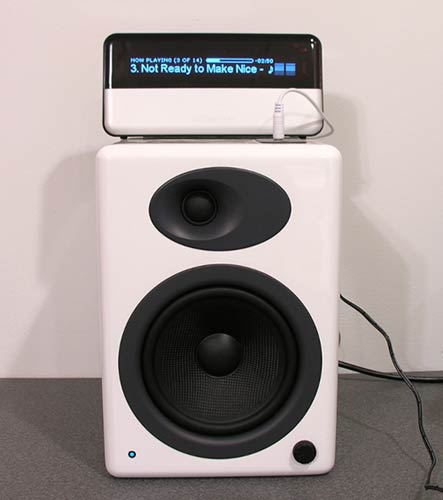 I tested the Squeezebox by hooking it up to my AudioEngine 5 speaker system through the 1/8″ audio input jack on top. RCA cables are included so that you can connect to an existing stereo system if you so desire.
As soon as you connect to power, the Squeezebox will turn on and display the Slim Devices logo and immediately go into setup mode. Setup is easy as messages on the LCD guide you through each step. Interaction is accomplished using the included IR remote.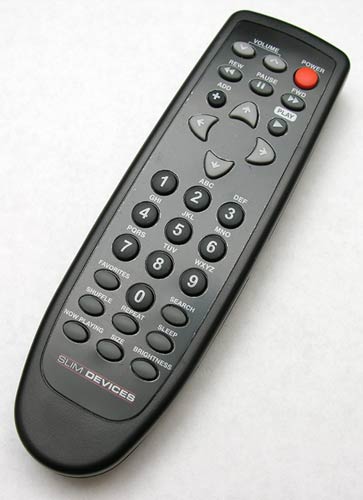 If I'm not mistaken, this is the same remote included with their original SLIMP3 product. It's a nice remote with actual buttons instead of membrane keys.
The Squeezebox easily found my WiFi network and connected within a couple of seconds. The whole setup process takes less than 10 minutes if you have broadband (for the server install download). Once connected, you can use the web interface to start playing music.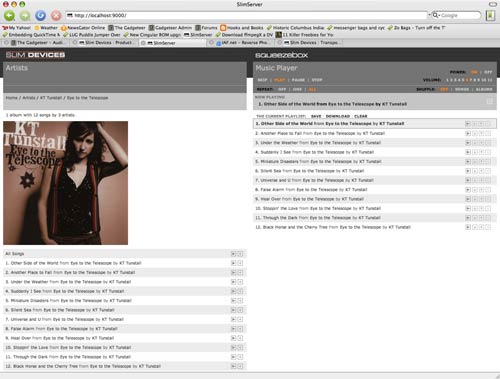 Click to see full sized screenshot
The web interface is really easy to use. It even displays album art if you happen to have it. It will also allow you to adjust volume levels and even power off the Squeezebox directly from the webpage. Of course you can also use it to search for music and create playlists. But if you have your Squeezebox in another room, you'll need a way to do these same activities away from the web interface. That's where the IR remote really comes in handy.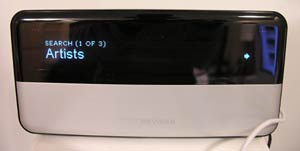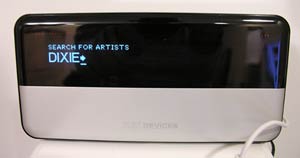 Using the remote, you can search for music by song, album, artist, etc. Once you decide how you want to search, then you type a word to search on by using the phone style keypad on the remote, like you would text messaging with your cellphone. As you can see above, I've typed out the word DIXIE. Then you can use the Right arrow key to have it search for all artists with that word in their name.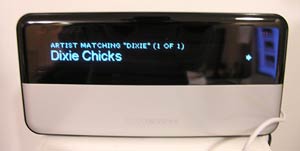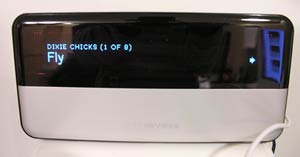 My search comes up with 1 hit: Dixie Chicks. Then if that's the one I want, I can press the Right arrow and it will show me all the albums that this artist has. You can see that I like the Dixie Chicks, because I have 8 albums. If I wanted to listen to Fly, I could just press the Play button to play all the songs in that album, or I could press the right arrow and pick a specific song. Using the Up / Down buttons, I can scroll through other albums.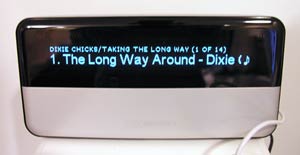 When I find something I want to listen to, I can just press Play and the music will begin playing. Sound quality is great. But of course, it all depends on what you have the Squeezebox attached to.
If you get tired of your own music library, you can also listen to Internet Radio broadcasts and Podcasts. The web server interface shows lists of stations and podcasts that you can click on to listen to. Pretty fun!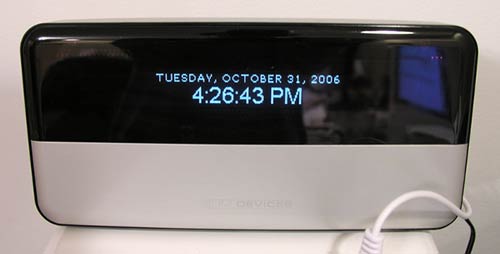 When you press the power button on the web page or IR remote, the Squeezebox will stop playing tunes and will go into clock mode. If you don't want or need an extra clock in the room, you can either turn the brightness level to Black, or configure the device to be an RSS feed ticker with your favorite sites.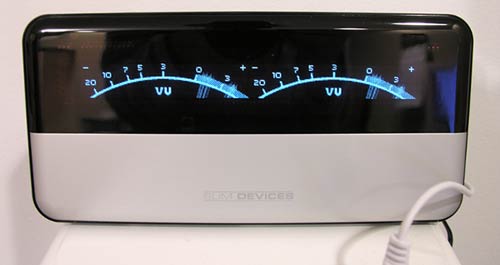 There are several screensavers available during music playback too. The one above is an Analog meter.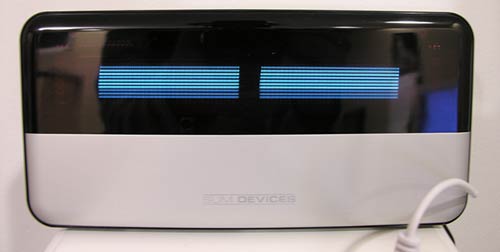 There's also a digital vu meter screensaver (shown above). It's kinda lame though. The one I like best is called Spectrum Analyzer. Unfortunately I was unable to get a good screenshot of it in action.
During my testing, there is only one problem that I ran into that may be a big issue for some people… Protected AAC file playback is not supported. That means, if you have music that you've purchased from the iTunes music store, you'll not be able to stream them to the Squeezebox. For me, this isn't that big of a deal because I only have a handful of songs that I've purchased. But I can see how it could be a major issue for some people.
The Squeezebox from Slim Devices is a very convenient and stylish way to stream your music collection from one part of your house to the other with minimal setup. Learning to use this device is both simple and fun, making it my favorite device for this type of task.
Product Information
Price:
299.0
Manufacturer:
Slim Devices
Retailer:
Slim Devices
Requirements:

Windows XP/2000/NT, Mac OS X 10.3.5 or later, Linux/BSD/Solaris: Perl 5.8.3 or later
256MB Ram and 20MB hard disk space
Ethernet or wireless network

Pros:

Simple to setup
Easy to navigate with IR remote
Wireless or wired Ethernet hookups

Cons:

Music purchased from the iTunes music store will not stream through this device