We use affiliate links. If you buy something through the links on this page, we may earn a commission at no cost to you. Learn more.
The folks at Guard ID Systems have sent me a USB gadget called the ID Vault. This flash drive looking device uses Smart Card technology to keep your user IDs and passwords for websites safe from hackers, phishers, spyware keystroke loggers and more.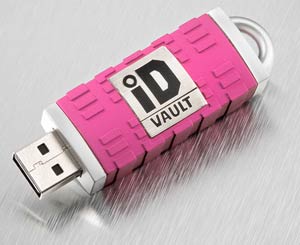 What do you all think of gadgets like these? Are they for paranoid people, or smart people? How many of you out there use such a device or wish you had one to try?
Unfortunately I was unable to personally test the ID Vault because I use a Mac and it's compatible with Windows XP only. If one of you would like to try it and let us all know your experiences, send me an email and I'll pick one of you to send it to.