We use affiliate links. If you buy something through the links on this page, we may earn a commission at no cost to you. Learn more.
Just how geeky are you? Do you happen to have a laser pointer in your gadget bag or drawer? Ok, give yourself 5 geek points. Do you use this pointer for tasks other than pointing out mundane details during presentations at your day job? Give yourself 5 more geek points. Do you pester your cat by shining the laser on the floor beside it, to get him to chase the tiny point of light like some type of alien rodent? Ok, no points for that, because that's just mean ;o) Can your laser beam its dot up to 38 miles and burn holes in black trash bags? I didn't think so… I win!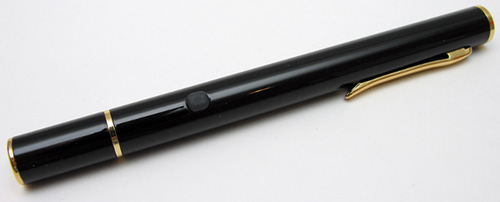 The Nexus 95mW Green laser from Wicked Lasers is not your ordinary laser pointer. Oh no, this bad boy is a geek's dream. It's like owning Luke Skywalker's light saber. Only smaller…
Hardware Specs
Range: 38 Miles
Output power: 95mW CLASS 3B
Operation voltage: 3V
Output model: CW
Average loop: Dimensions: Ø13×143mm
Laser lifetime: 3000-5000 hours
Battery lifetime: 2 Hours
Crystal efficiency: Excellent
Beam divergence: Duty cycle: 100 seconds on / 10 seconds off
I haven't had a lot of experience with lasers. Yes, I've played with the cheap $20 keychain variety, but that's about the extent of it. So when the folks at Wicked Lasers asked if I'd be interested in writing a review, I really didn't think it would be that big of a deal. I mean how hard would it be to write a review that said something like: "It's a laser. You press a button, a little dot of light beams out of one end. Boring! The End." Boy was I mistaken….

The package arrived. I opened the box, removed the bigger and heavier than expected pointer. Pressed the small rubber button on the barrel and nothing happens. Hmmmm, no batteries. I'm confused that the warning sticker is stuck over the part of the barrel that you unscrew to insert the batteries, so I pull it off. I then discover that it won't unscrew. Hmmmmm… An instruction sheet for an obvious laser newbie would have been welcome at this point.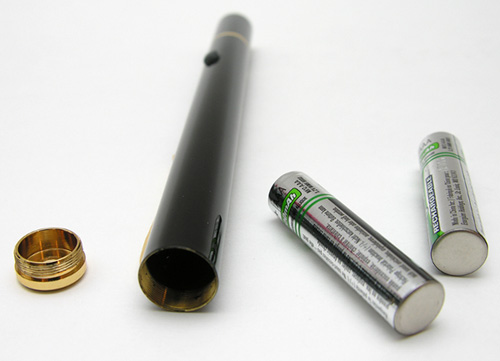 Never miss one of our posts again. Sent MON, WED, and FRI with the latest gadget reviews and news!
I finally realize that the top cap unscrews to allow for battery insertion. Duh… The Nexus 95mW is powered by 2 AAA batteries. This is a real plus. Most cheapo laser pointers are powered by expensive hearing aid sized batteries that can be hard to come by. You can find AAA's everywhere.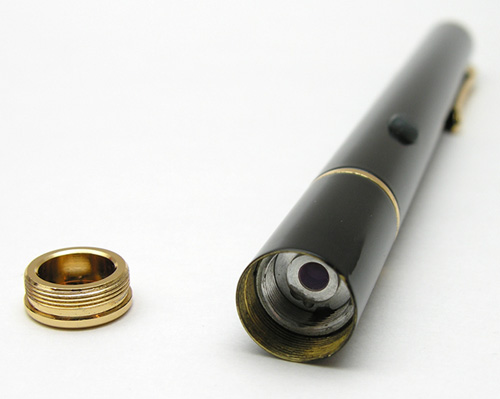 The end cap also unscrews. This is the end where the laser beam shines through.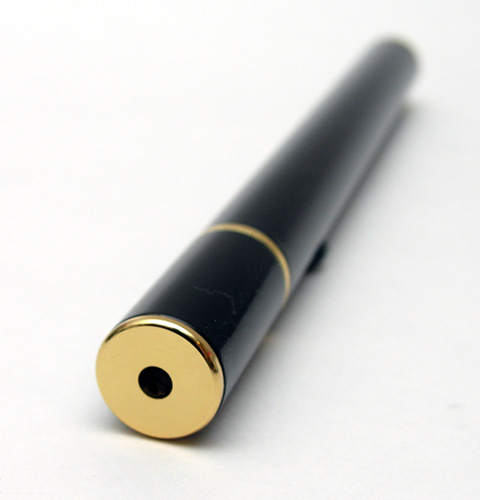 The Nexus weighs in (with batteries installed) at 3 oz. The barrel is made of what appears to be brass with a shiny Black painted exterior. A heavy brass clip allows you to clip it to a shirt / suit pocket.
Ok, enough chit chat. What happens when you press the button?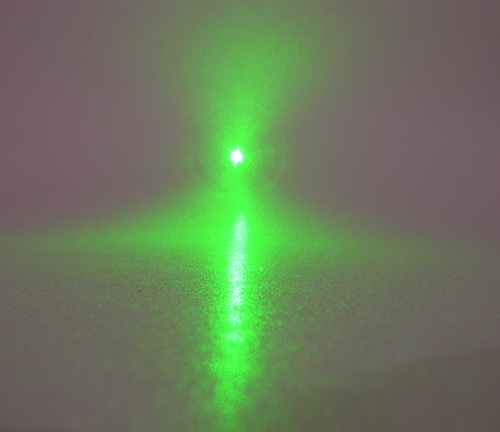 Well, you get a big, bright Green ball of light! Compared to a cheapy Red laser pointer, the Nexus light point seems 2 or 3 times as bright and at least 2 times bigger in diameter. At this point I shouldn't have to tell you (but you know I'm going to anyway…) that you should never shine a laser pointer into your or someone else's eye. And as powerful as the Nexus is, you shouldn't stare at the beam for any length of time.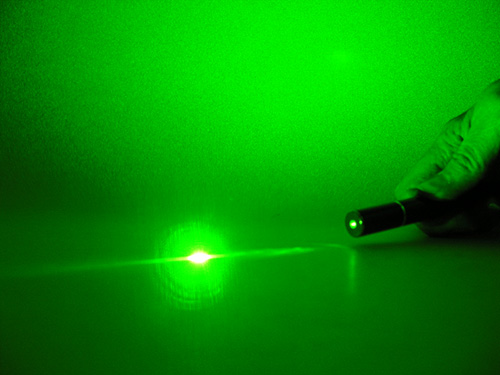 The light is so bright, that it can even be used as a flash light in a dark room!
While the brightness and green color are impressive, I almost had a geek fit when I tried the laser outside one day. I walked out my front door and shined the beam across the road, field and into the woods 100's of feet away and could still see the dot of light as it hit trees. WOW! I came back inside and looked up the specs on the Wicked Laser website and it was then that I learned that this model has a range of 38 miles! No, I didn't test the range ;o)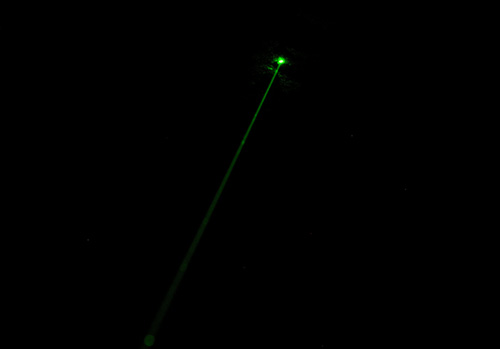 Then I tried it outside in the dark and couldn't believe my eyes when I could see the actual beam of light shining from the barrel to the dot of light beyond. Yes, I had to perform a few Luke Skywalker type moves, along with light saber noises. Zurrrrrrrr…. Hummmmmmm….. Wurrrrrrrrr… Ok, I'll stop now.
You can actually point the Nexus up into the night sky and point out specific stars! It's really very cool.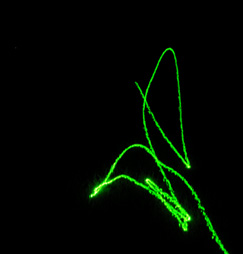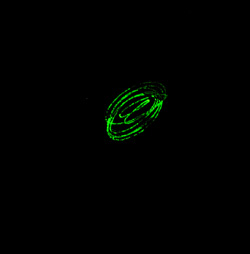 Weird pictures can be captured by moving the laser when you take a long exposure picture.
Other geeky activities can include burning holes in black trash bags, cutting black electrical tape, popping balloons and lighting matches. I also tried to terrorize my cat Max with it, but he didn't even acknowledge it when I shined it on the carpet in front of him. I later learned that cats might not be able to see the color Green. I believe this to be true because when I tried to do the same thing with a Red laser, he at least perked up and looked at it for a few seconds. Another common sense warning: never shine a laser into your pet's eyes. They are much more sensitive than ours.
If you're a geek, you'll agree that the Nexus 95mW is extremely cool. But is it $369.99 worth of cool? That is a lot of money to spend for a presentation pointer and in my opinion, corporate Joes should just stick with the cheap $20 pointers from Radio Shack or Walmart. But I can see the Nexus being a really handy tool for people that need the ability to point at objects quite far away. People like astronomers, star gazers, construction workers, hunters, police officers, etc. For these people, the Nexus from Wicked Lasers is a precision tool and worth the price. If the price tag of the Nexus scares you, Wicked Lasers sells lesser powered models at more affordable prices. Conversely, you can go wacko and buy their $3499.99 Blue laser! And if you don't want to buy at all, at least check out their video snippet archive of user submitted clips.
May the force be with you.
Product Information
Price:
369.99
Manufacturer:
Wicked Lasers
Retailer:
Wicked Lasers
Pros:

Has a range of 38 miles!
Bright
Can see the beam in the dark

Cons: