We use affiliate links. If you buy something through the links on this page, we may earn a commission at no cost to you. Learn more.
The contest is closed for submissions.
I'll be selecting the 1st place winner, but you can help me with 2nd place! Go watch the entries and send me the video # and name of the person you want to win 2nd place. I'll announce the winner on 10/20.

---
Here are all the submissions thus far! Get your entry in before 10/16! Click here for contest details.
To view these videos, you will need the latest version of
Quicktime.
VLC is another free viewer.
---
1. Stefan Schwarz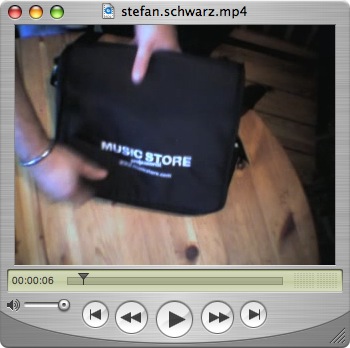 Click on image to play the QuickTime video (1min 26sec,
4.5mb).
The items i've got out of my bag in the same order as on the video are:
1. HP Compaq nc 6200 Notebook (Pentium M 1.6 Ghz, 1GB Ram, 40 GB HDD)
and Power Supply
2. Microsoft Wireless Notebook Laser Mouse 6000
3. My self made pen, i made this pen some years ago out of aluminum and
stainless steel
4. My Leatherman Wave Multitool – I'll never leave home without it
5. 40 GB, 2.5″ external HDD, USB 2.0
6. My Kodak z650 digi cam with 6 mp and 10x optical zoom, 1GB sd card
7. not on the video because it's made with it, my daily and most
important companion, my Sony Ericsson W900 mobile walkman phone with 1GB
memory, 2MP digi cam.
---
2. Richard Goodwin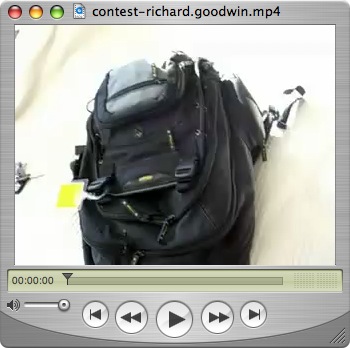 Click on image to play the QuickTime video (4min 33sec,
9.3mb).
---
3. Mark Broden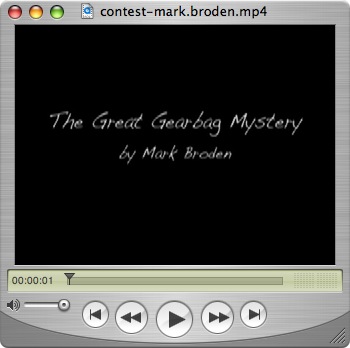 Click on image to play the QuickTime video (1min 59sec,
3.89mb).
---
4. Richard Schulte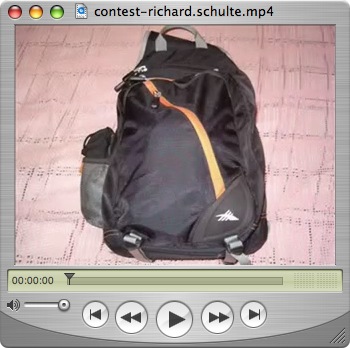 Click on image to play the QuickTime video (1min 1sec,
1.86mb).
For reference, here is quick list of the major items in my daily gear bag:
HP NC6120 Laptop – Windows XP Pro w/ SP2
HP hx2750 Pocket PC – WM2003 SE
Tapwave Zodiac 1 – Palm OS 5.2T
Sharp Zaurus C860 – Linux pdaXrom
Alienware MP3 player
Motorola ROKR E1 iTunes phone
2 4GB Toshiba Microdrives, 512MB and 128MB CF cards
PCMCIA Type II CF adapter
SD Type II CF adapter
Multiple SD/MMC cards
Palm One SD WiFi card
AC Chargers for Zodiac, C860, and hx2750
HP Car charger hx2750
HP Thumb Keyboard for hx2750
3.5mm RCA earbuds
2.5mm Handsfree mic and earbuds for ROKR
USB data cables for Alienware, hx2750, ROKR
Tool pouch w/ Gerber Sliding Multitool, Inova X5 LED Flashlight, Multitip screwdriver, miniature drivers
Plus the usual paperwork, data CD's, etc.
---
5. Mark Rosengarten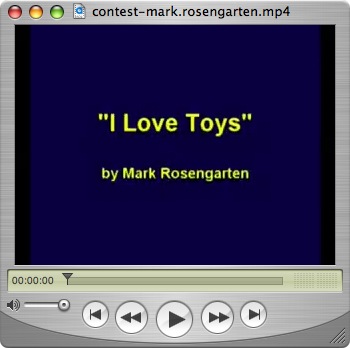 Click on image to play the QuickTime video (3min 37sec,
7.20mb).
All in an Ellington Europa Field Bag
1: At Work:
Treo 650 in a generic flip case
iPod Nano 4 GB in a silicone case
Koss earbuds
Sanyo Xacti C6 digital camcorder and spare battery
Heroic Presenter (from TigerDirect) and USB receiver
Fujitsu P1510D tablet PC
3 pens, one pencil and a notepad
2: At Play:
Treo 650 in a generic flip case
iPod Nano 4 GB in a silicone case
Koss earbuds
Sanyo Xacti C6 digital camcorder and spare battery
Sony ICD-MX20VTP digital voice recorder with stereo mics
Canon SD700 IS digital camera
Kestrel 4000 pocket weather station
Nokia 770 internet tablet
Garmin GPSMAP 60cs
Radio Shack weather radio
Nintendo DS Lite
Boxwave USB recharger (takes 4 AA batteries)
Airborne cold preventer
pill case
Trident bubblegum
3 pens, one pencil
---
6. Issac Bentley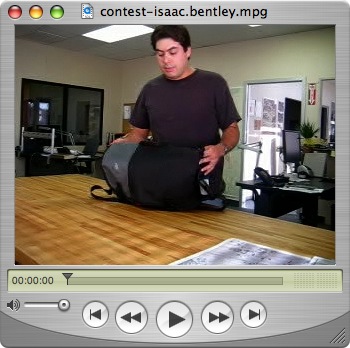 Click on image to play the QuickTime video (1min 45sec,
3.5mb).
---
7. David Chao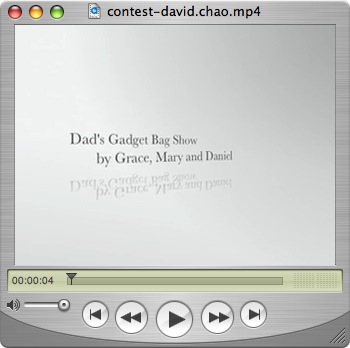 Click on image to play the QuickTime video (3min 32sec,
7.2mb).
In the Maxpedition Gadget Bag:
Nikon Coolpix Camera
Motorola Q
Motorola Razr
Motorola Bluetooth Headset 850
Swiss Army Pocket Knife
Eyeglass Repair Kit
Micro glass cloth
Levenger Notepad
Pen
60MB USB Memory Stick
Suntan Lotion
First Aid Kit
Rudy Project Glasses and Case
For Business Travel Tumi Briefcase:
15 inch MacBook Pro
Moto Charger
EVDO Express Card WWAN card
Sony Noise Canceling headphones
---
8. Torsten Kathke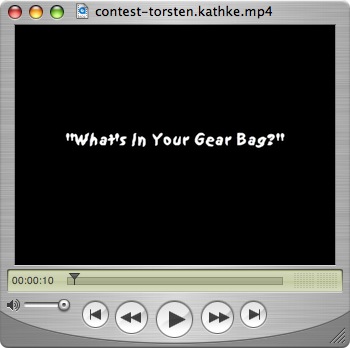 Click on image to play the QuickTime video (4min 57sec,
9.8mb).
---
9. Carl Brooks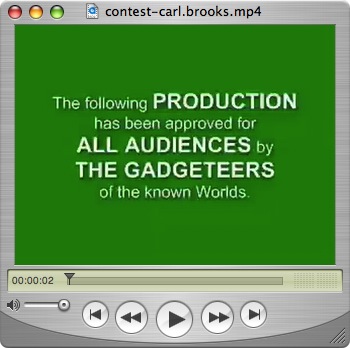 Click on image to play the QuickTime video (4min 59sec,
10.1mb).
Here is what is in my bag:
1 HP Tablet PC tc4200 with Power cord and Mouse
1 4.5 MP Digital Camera with Rechargeable Batteries
1 60GB USB Drive with Power cord
1 Sprint Wireless Card
1 Card Reader (Support all card types)
1 Professional Lapel Microphone
1 Wired Headset (Microphone and speaker headset combo)
1 Bluetooth Wireless Headset
1 Treo 650 Smartphone
1 Extra Battery for Treo
1 Extra Battery for Tablet PC
1 Extra Stylus for Tablet PC
1 CD Case with Technet Plus DVDs

1 CD Case with CD Training for Various IT Certifications
1 Creative Zen Nano Plus 512MB MP3 Player with FM Radio
1 512MB Thumb drive
Mutlitple USB Cables
Magazines from Technet and WindowsITPro
---
10. Judy Hauser
See slideshow here.
---
11. Simone Cicali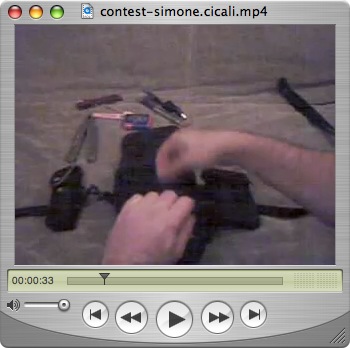 Click on image to play the QuickTime video (3min 11sec,
6.4mb).
First come out my victorinox with the toolset and a nail filer -ahem-
then, in order, from the front, elastic netted pockets:
retractable hotsync USB cable for the Palm T3
blue – black pen – pencil wiritng tool
sugar (again, ahem!)
a mignon perfume sprayer filled with cleaning alcool
a tin mint can with USB-to-cellphone and some audio adapters
a paper notepad
two cleaning towels
retractable earphones
from the side zip:
the charging cable for the USB battery extender and a usb to cellphone
unadapted charging cable
again from the front pocket, my phone
from the big pocket:
Victorinox cybertool
220V AC to USB charger with an USB retractable cable
micro USB Hub
Pen tool, with screwdrivers, filer, cutters, wod saw, hole puncher, i really
don't know how many tools in it.
a foldable keyboard for my Tungsten
from the third holster, my Tungsten T3 with a self-made SD holder on the lid
and a Proporta SD holder
Again, inside the big pocket:
a mirror
another pentool (screwdrivers and jumper selector)
USB-SD adapter
a russian army knife – two pieces, spoon/knife + fork/screwdriver
a torch / lighter combo
a car socket 12v to USB adapter
a tiny caliber
the Trust USB battery extender
a collapsible set of mini screwdrivers
and, from the back of the bag, you never know…. 🙂
---
12. Calvin Wong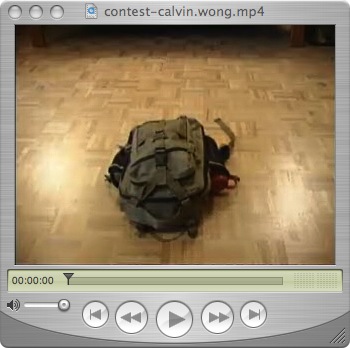 Click on image to play the QuickTime video (1min 39sec,
9.1mb).
---
13. Caleb Runyon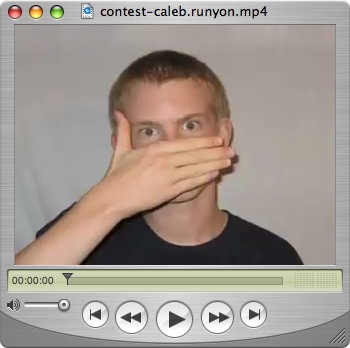 Click on image to play the QuickTime video (2min 06sec,
4.2mb).
My gearbag is a black L.L Bean backpack. The items therein are as follows:
palmOne Tungsten E2 and slim leather case
palmOne universal wireless keyboard
Canon PowerShot A540 digital camera (6MP, 4x optical zoom)
Assorted SD and MMC memory cards (for digital camera and PDA)
SD and MMC card reader (USB)
PNY Technologies Attaché flash drive (1G, USB 2.0)
Generic Headphones
Assorted USB and AV cables (for digital camera and PDA)
Audio cassette adapter (for playing mp3s over my car stereo)
palmOne vehicle power charger
Rayovac I-C3 15 minute battery charger (for AA and AAA batteries)
germ-X hand sanitizer (NEVER LEAVE HOME WITHOUT IT!)
---
14. Jason Nichol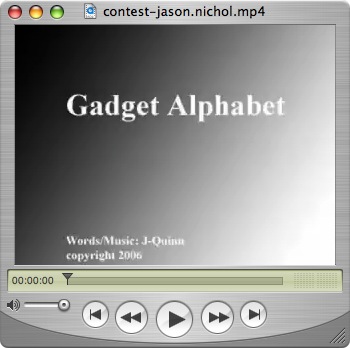 Click on image to play the QuickTime video (4min 43sec,
11mb).
As seen on video
Apple iPod 20gb 3G
Seiko Air Pro Watch
Bell Cigarette Charger
Belkin Cassette Auto Adapter
Buck Whittaker Knife
Lexar 1gb CF Card
JBL Creature Speakers
D-Link Wireless Router
Destinator1 GPS Software
Camera Batteries
Fuji Finepix 2800 Digital Camera
Griffin iTrip
HP Ipaq hx4700
Sony MDR-D22 Egg Headphones
Monster iSplitter
Innopocket Magnesium PDA Case
Journey's Unlimited Bag
Klik (full fat)
Lexar 1gb SD Card
Lowepro Camera Case
Sony 5gb Microdrive
Multitool
Nike "Epic" Backpack
NSD Powerball
Oakley Biner
Pentax Optio X Digital Camera
Motorola Razr
Rechargeable Batteries
Syson 512mb CF GPS
Victorinox Swiss Card
Gerber Knife
Toshiba M70-ZJ3 Laptop
USB Cable
Akron Vent Mount
Weiner from Safeway
Tumi Wheeled Laptop Case
Tripod
Gravis Airline Bag
Michael Graves Slim Laptop Case
Microsoft Notebook Mouse
Triple Five Soul Bag
Robosapien
Song lyrics:
Gimme an A for my Apple, the little apple of my eye
And A is also for my Air Pro, the watch that gives me more than time
B is for my Bell Cig Charger, it's also for my Belkin Cassette Adapter
I also got a Buck, ha, no not a deer, this one's shiny and sharp, ohhh dear
C…F Card that is, let's not forget my Creature Speakis
Alright, back to tha blues
Gimme a D for my D-Link it sends signals thru the air
And when I'm lost in a city, Destinator gets me there.
E is for the extra batteries….that's it!
F is for my Fuji Digicam
G and I are travellin as were Griffin iTrippin
HP leads my Ipaq into the court hearing
Got a pair of headphones that silence everything
Oooooo, it gets a little scary, got a Monster in my bag, also got an Innopocket protects my scandalous Ipaq
My Journey's pack is always loaded, with all the gadgets that I have
Always got a can of Klik in my bag, gotta love the side effects of canned meat instead
Instead if my Lexar or a Lowepro bag
Or what about microdrive or a multi-tool instead (holds it and cough)
Gotta ergo Nike backpack and a Powerball indeed, no not a lottery ticket silly
Rollin with my buddy Oakley, gotta use that caribeen…er
P's a lonely place for Pentax, currently shooting me
Always have a quarter, like mommy told me
R brings us Razr and some recharge batteries.
S is a Syson GPS indeed, a swiss card and a sharp knife leads us to T
Toshiba leads my gadgets in size and memory
I'm getting a hankerin for the blues in G
The USB is quite ingenious, it powers almost anything
V is for my Akron Vent Mount, my GPS is lost without this thing.
Gotta a wiener named Frank in the sack, ya never know when a BBQ breaks out in the back.
X is for the xtra stuff that wouldn't fit, under their respective alphabet
We got a Tumi wheely bag, a tripod and a Gravis airliner. Also got a Laptop case and a notebook mouse a little sack for odds and sods and a freakin robot.
Y is for the Yummy Eats, the yummy eats I like keep. I like to keep my tummy happy, so I feed it yummy eats.
Well my friends there's only one letter left…
Z is for the Zzzzzzz's that I need to get, goodday, goodnight my friends, it's time for me to leave.
I really hope you've enjoyed my gadgetry. Let me leave you with a though or two, hell, maybe 3, take care, wash your hands and comb your hair.
Gadgets will change, so will your hair….
---
15. Robert Gentile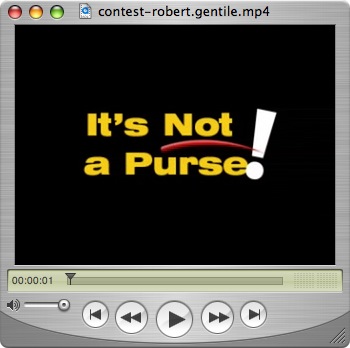 Click on image to play the QuickTime video (1min 36sec,
3.2mb).
---
16. Rico Bicol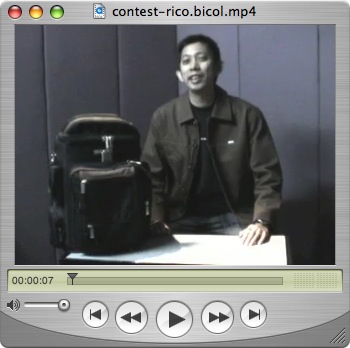 Click on image to play the QuickTime video (5min,
10.1mb).
MY GEAR LIST
1. M-Audio Gear Bag with RoadWired Lock
2. Compaq Laptop Computer
3. Digidesign MBox Digital Audio Interface
4. Shure KSM32 Large Diaphragm Condenser Microphone
5. Audio Technica ATH M40Fs Studio Headphones
6. Palm Tungsten T3 with 1GB MMC & Brando Leather case
7. Apple 3G 40 GB iPod
8. Sony DSC T9 6MP Digital Camera with 2GB Memory Stick Pro Duo
9. Multi function Pen
10. USB Flash Drive
11. USB iLok
12. RoadWired Retractable Telephone Cable
13. Nokia 6630 3G Mobile Phone
14. Cleaner and Cleaning Cloth, Various Audio Adapters
15. Maxtor One Touch II 100 GB USB External Drive
16. RoadWired Cable Case
---
17. Nate S.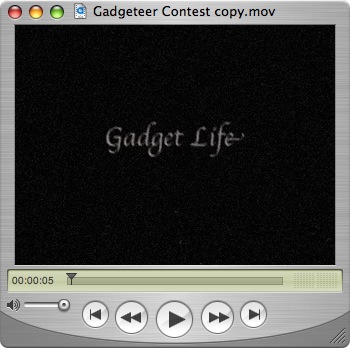 Click on image to play uTube video (4min 47sec).