We use affiliate links. If you buy something through the links on this page, we may earn a commission at no cost to you. Learn more.
Here's something for those of you that like to goof around with
cube toys when you should be working. You KNOW who you are!
Acrobots from our friends in the UK at CrazyAboutGadgets.com
come in singles or 3-packs. These are little people shaped thingies
with magnetic feet and hands. You can pose their bodies, and stack
them on the included metal base. Good for many hours of fun fidgeting.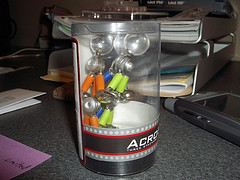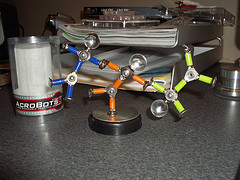 Send me some
pictures of your favorite cube toys or all the little doodads you
have on your desk at work / home and I'll post them for all to see!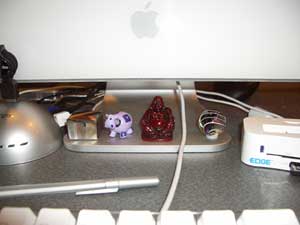 Here's mine. Left to Right: Metal box with inlaid stones, bobble head purple cow that I bought in Scotland 3 yrs ago, $3 wooden Buddha that I bought in China Town in NYC 2 weeks ago, handmade (not by me) glass marble that I bought in Nashville, IN a few years ago.