We use affiliate links. If you buy something through the links on this page, we may earn a commission at no cost to you. Learn more.
The first time I saw pictures of the Nokia N80 back when it was announced, I was thrilled. As soon as I saw the laundry list of
features, I knew I had to have it! I already had a Treo 650 with Sprint, but the software was sometimes buggy and Sprint worked
poorly at my house. In the middle of July, I got a chance to leave my Sprint contract without the termination fee, so I immediately opened an account with T-Mobile and ordered a new N80 from eBay.
The very impressive specifications:
2.2″ 352×416 262k (18-bit) display
Quad-band (850/900/1800/1900MHz) GSM with GPRS and EDGE
2100MHz (European and Asian only) UMTS
USB 2.0
Bluetooth 2.0
802.11g wifi
3.2MP (2048×1536) main camera with LED flash and macro
mode
0.3MP secondary camera for video calling
40MB internal flash memory and hot-swappable miniSD slot
Symbian OS 9 with S60 3rd edition
The first thing I thought when I opened up the box: It's so small! Don't let any of the stock photos fool you into thinking that this phone is large. It's much smaller than I expected. Even with the phone open, it's positively miniscule compared to my Treo.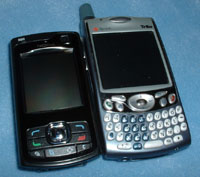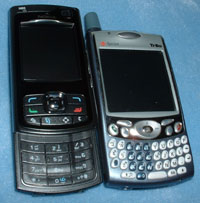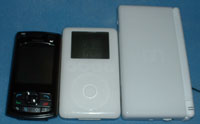 The box includes a USB 2.0 cable, 3.5″ headphone jack adapter, a European power adapter with the new smaller plug, a software CD, a folder filled with product literature and manuals, an adapter to change old style power adapters to the new size, the most tangle-prone headphone/headset assembly ever designed, and a 128MB miniSD card.
You have to put the SIM card in for the phone to be recognised by the network, and that's fairly straightforward. Right around
this point you will see that the battery is very small! More about that later. The phone will work without a SIM, but only as a PDA. The miniSD slot is tricky. The memory card is inserted with the logo facing away from the screen. My rubber door didn't want to close all the way until I fiddled with it for a while. I would have liked a proper hinged cover, like the 6680 has, much better. I'm afraid to use this one too much for fear that it will eventually not close anymore.
After all of that, you can press the power button on the top of the device. It's a little hard to press, but it's worth it once you see the screen: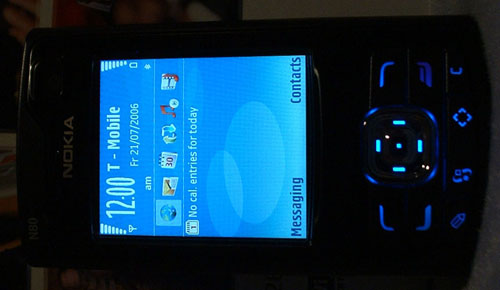 The screen is positively gorgeous. I always thought that my Treo's LCD looked good, but this display is just so incredibly crisp. Pictures vibrant and have lots of detail in the gallery application, which is fairly basic. Video clips play in RealPlayer very, very poorly… if they play at all. Half of the time, RealPlayer crashes.
Never miss one of our posts again. Sent MON, WED, and FRI with the latest gadget reviews and news!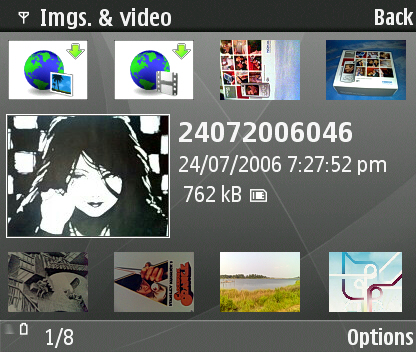 The camera application has a lot of different settings. You can see what they do in real-time.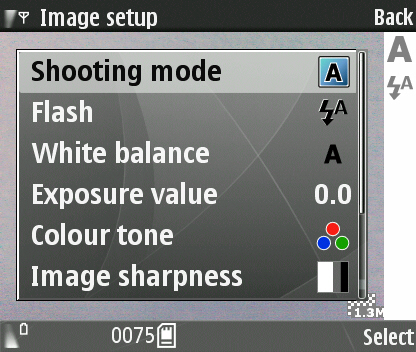 Sample pictures: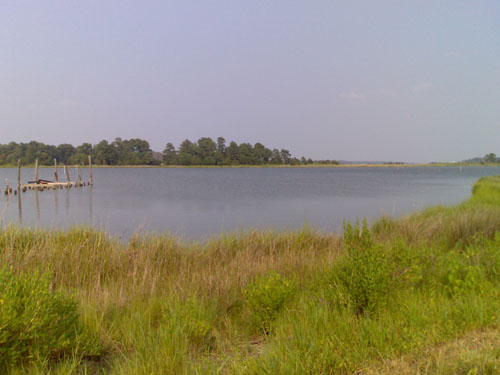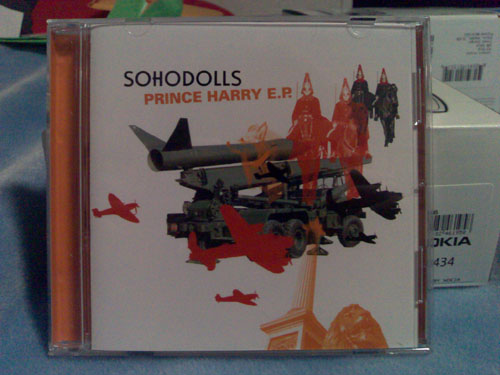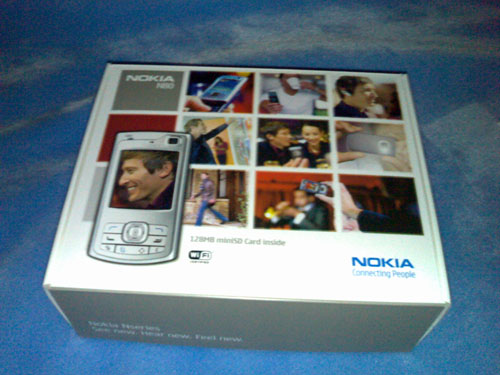 This picture was taken in the dark to show the effectiveness of the flash.
As you can see, the picture quality is much better than your run of the mill camera phone. The macro mode is definitely an
improvement over typical fixed-focus phone cameras, but I still would have liked to see true auto-focus.
The front camera is pretty good, considering it's VGA resolution. When I use the front camera in my house, there are blue and green artifacts because it's adjusting for the low light.
The best camera in the world wouldn't matter if the phone wasn't good for talking with people, though. Luckily, the N80 is an
excellent phone! You can have as many contacts as the phone has memory, and you can assign multiple numbers, a picture, and a personalized ring-tone to each contact. The reception is excellent. Calls through the main speaker are clear, and I was even able to have a conversation while the signal was at the lowest marker without words dropping out. The speakerphone is very loud and clear, and the callers don't get muffled like they did with my Treo.
Opening the slider will answer calls, and closing the slider will end a call. One thing I wondered was if you could make a call
while the slider was closed, and you can. You can either start the call while the slider is closed, or press the left soft-key and
then close the slider while you're on a call. Pretty handy, although it's easier to hold the phone when it's open.
There is a voice command program that seems pretty nice, but whenever I try to activate it, it comes up for just a moment and
then won't open again until I restart the phone. I can't get it to work at all. There's also a button on my bluetooth headset that
triggers the voice command, and that does the same thing.
My Sony Ericsson bluetooth headset seems to work well for calls, but the phone seems to want to use it to play music as well. It
will work, but it's not what it's designed for! Bluetooth is much faster than it was for my Treo or my older Sony Clie, even though
my Powerbook only came with Bluetooth 1.1. The wifi reception is also good. I have two wireless routers on opposite ends of my
house, and the N80 can detect both networks.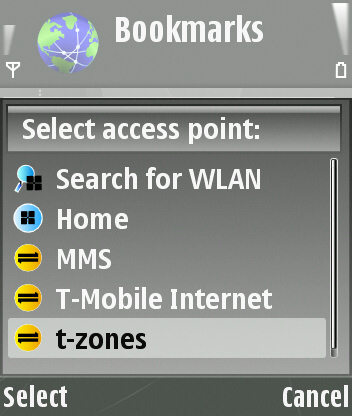 The N80 comes with two web browsers. One is an unspectacular WAP 2.0/HTML browser, and the other browser is an excellent mobile browser that's new for S60 3rd edition. This browser uses the same rendering engine as Safari, WebKit, and it does an acceptable job of shrinking content down to fit the screen; it even displays some flash content. There is also a nice little map of the entire web page that comes up when you've been scrolling for a while or when you press the '8' key. I wish that I could rotate the display while the web browser is open… I also wish that the web browser would just give you an error instead of closing suddenly when it tries to load a page that's too big! Most pages load within 4 or 5 seconds when browsing over wifi. I live in a rural area that doesn't have EDGE data yet, and GPRS download speeds are downright pokey, measuring in at about 38kbps, so it can take a while on the road. 3G service will only be found in Europe and Asia, and this phone will never work with American 3G networks.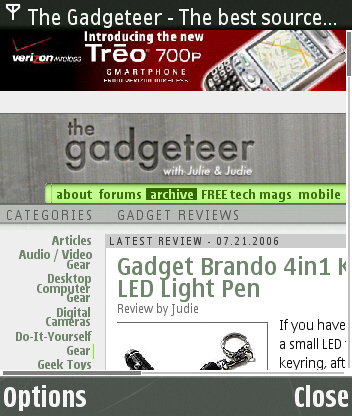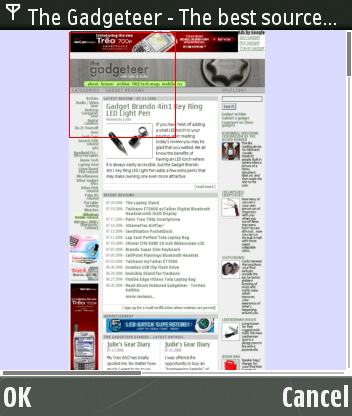 As a smart-phone, the N80 can run third party applications. While this is true in principle, old Series 60 applications won't run on the N80 or many of the other members of the N series because the new Symbian OS 9 isn't compatible with older applications for security reasons. Programs are slowly being re-released that are compatible with the updated OS, but they're hard to find. All Java applications run fine, though.
When you hold down the menu button, a list of all open applications shows up. Yes, there is actually a mobile operating system that is sensible about multitasking! You can then switch to a different program or you can press the 'c' button to close it.
There's no need for 8 menu deep program managers or carefully programmed multitasking hacks. It is very nice to
have the option of just going to a different program if your application is busy downloading something.
The audio player is pretty nice. You can play back MP3, AAC, and AAC+ files, and there's a third party program for streaming
internet radio. It lets you create playlists and view music organized by artists, albums, playlists, genres, and composers. Nokia made a big deal a while ago about how they were going to be the biggest seller of MP3 players very soon, but I don't think it's
so great. My iPod may be old, but it is an easier and better MP3 player than any mobile phone I've seen. The Nokia music player
interface is one of the better ones I've seen, but I can't imagine someone owning this phone and using it as their primary music
player. Maybe I'm just not as good as I thought about this whole convergence thing 🙂
There is also a radio tuner, but it can only be used when there's a wired headset or headphones connected because it uses the
wires as the radio antenna. Personally, I don't listen to the radio, but I'm sure lots of people like having that choice. The sound quality of the included loop-around headphone/headset thing is pretty bad, and it has so many little wires on it that I can't
even imagine the mess it would be in after living in my pocket for a while. The internal speaker is good, considering what it is. Oh, and it's extremely loud! I have no trouble hearing even the faintest of my ring-tones.
I tried to sync my N80 with my Mac right after I got it, because I already had a fully populated address book that I was not going
to put in by hand, and it didn't quite work. The Sync app on the phone didn't want anything to do with any kind of computer, and iSync said that the N80 wasn't compatible! What?, I thought, knowing that iSync has supported S60 phones for some time now. A Google search later, I was adding a string to one of iSync's configuration files. It wasn't very hard, but Apple should stay
more current about these things.
The rated battery life for this phone is 3 hours of talk time or 192 hours of standby time. I'm not really sure how realistic those
times are. I don't know of anyone that talks on their phone nonstop from the time it comes off the charger until it dies, nor do I know of anyone who uses their phone as a decorative ornament and never uses it, but the phone lasts through an average day for me with an hour of wifi/GPRS usage, 45 minutes of calls, and a bit of text messaging and taking pictures. The screen will turn off after a while, and a piercing very bright blue LED will flash to tell you that the phone is still on. I don't like this, especially when I'm trying to go to sleep. You can turn this sleep mode off, but that might drain the battery much faster.
The N80 can really do it all. Every smart-phone should have wifi, and S60 is much better than Palm OS for many little reasons.
Still, I don't think it's right for me. I miss the solid form factor of the Treo, all of the third party applications, and predictive T9 is no replacement for the thumb-board. T-Mobile just doesn't have enough coverage where I live, and that's the biggest reason why I'm going to sell this phone. For other people, this might be the perfect phone.
Product Information
Price:
599.0
Manufacturer:
Nokia
Retailer:
Nokia
Pros:

Excellent reception and call quality
Good camera quality
Bluetooth and wifi connectivity
Lots of customisation options
Small
Beautiful screen
Full-featured web browser
Powerful Symbian OS

Cons:

Expensive
Case accumulates fingerprints
The front camera quality is poor in indoor lighting
Web browser sometimes closes suddenly when it's out of memory
Not many third party applications for the new 3rd edition OS
Another blinking LED! Aaaargh!
No 2.5" headset port or included adapter