We use affiliate links. If you buy something through the links on this page, we may earn a commission at no cost to you. Learn more.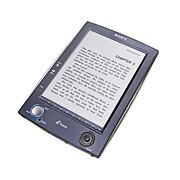 I received an email from one of Sony's PR people concerning their forthcoming Portable Reader System (PRS-500) eBook Reader device, which was first announced this past January at CES. According to this person, there has been quite a bit of confusion and misinformation floating around about this product. They would like to help dispel some of this bad information by allowing us to create an open forum where we can post our questions. An example of some of the questions that they continue to see are:
Does it have an LED screen?? (NO)
Can the screen be seen in daylight without glare? (YES)
Does it play music (YES)
Will it read my personal documents? (YES)
Is the device available for purchase now? (NO – available in early fall)
What formats does it read? (BBeB, unencrypted .pdf and MS word docs)
I've created a forum where you are free to discuss and ask questions concerning this particular product. A senior member of Sony's product team will be responding to these questions.