The Gadgeteer is supported by readers like you! If you buy something through links on our site, we may earn an affiliate commission. Thank you! Learn more.
For those of you that might have purchased the
Insignia IS-PDVD10 portable DVD based on my review last month,
you may want to also check out the Init Portable DVD Travel case that works great with it.

Rhinoskin sent me a Pink leather case for the 60gb Apple iPod video. It's not really my style, so I'd be happy to send it to the first person that emails me a Gadgeteer of the Month entry.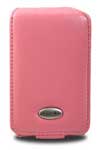 Vakadoo, another iPod accessory company sent me 3 of their 30gb iPod video cases as well. Since I have a 60gb iPod, I'm unable to try them out. So, just like with the Rhinoskin case, the first 3 people to send me a Gadgeteer of the Month entry, will receive one of these cases.