We use affiliate links. If you buy something through the links on this page, we may earn a commission at no cost to you. Learn more.
For those of you that might have purchased the
Insignia IS-PDVD10 portable DVD based on my review last month,
you may want to also check out the Init Portable DVD Travel case that works great with it.

Rhinoskin sent me a Pink leather case for the 60gb Apple iPod video. It's not really my style, so I'd be happy to send it to the first person that emails me a Gadgeteer of the Month entry.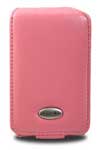 Vakadoo, another iPod accessory company sent me 3 of their 30gb iPod video cases as well. Since I have a 60gb iPod, I'm unable to try them out. So, just like with the Rhinoskin case, the first 3 people to send me a Gadgeteer of the Month entry, will receive one of these cases.