We use affiliate links. If you buy something through the links on this page, we may earn a commission at no cost to you. Learn more.
Ok boys and girls, gather round because it's time for another gear bag review! I am a total gear bag freak, so I never tire of trying new ones. The latest one to grace my shoulder is the Ducti High Voltage Messenger Bag. If you've not heard of Ducti, they are the same company that brought you the now famous duct tape wallets. The High Voltage Messenger Bag isn't made of duct tape though, it's a multi-pocketed canvas bag with an urban style.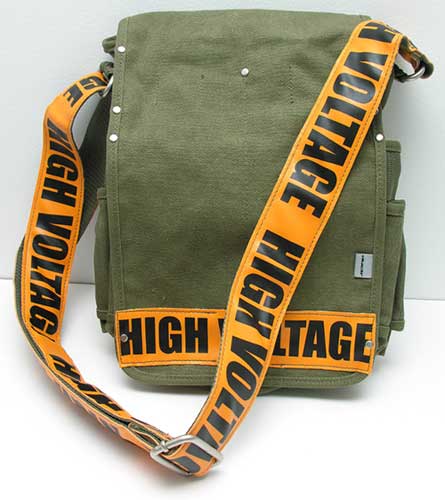 The urban styling comes from the Orange and Black shoulder strap with the words HIGH VOLTAGE emblazoned on it. It certainly is eye catching! Other versions of this bag include ones with a Yellow and Black strap with the words DO NOT CROSS POLICE LINE, and one with a Red and Black strap with the words DANGER.
The front flap of the bag has no pockets on the outside or underside, and is held closed with one snap magnet. Yay, no Velcro here! The adjustable strap is constructed of a mesh material, with a soft vinyl outer layer stitched to it with the print.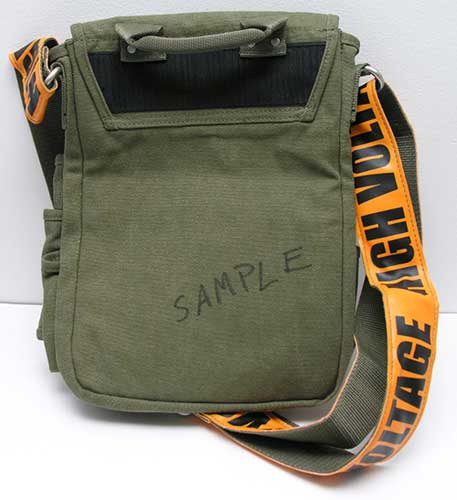 This bag has a 10″ x 13″" x 2″ inch vertical orientation and is comfortable to wear slung over one shoulder, or bandolier style. The back of the bag has a grab handle (a feature I personally want in all of my gear bags), with a large strip of Velcro directly below it. I'm unsure what the reason is to have Velcro in this area, but hey, whatever. The only problem I can foresee, is that if you would wear this bag while also wearing a soft sweater, the Velcro will most likely become attached to it.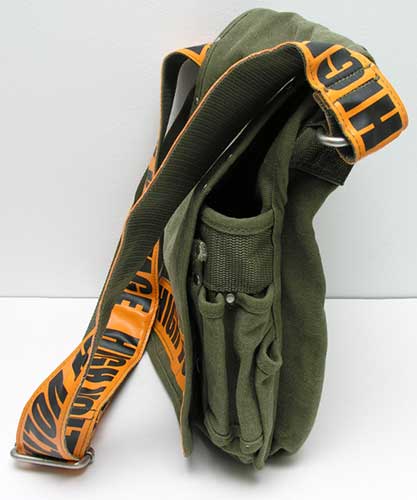 On each side there are 3 tubes (for lack of a better word). These tubes have open bottoms, which I find odd. I suppose that you could use them to carry items that have a strong clip, like a flashlight.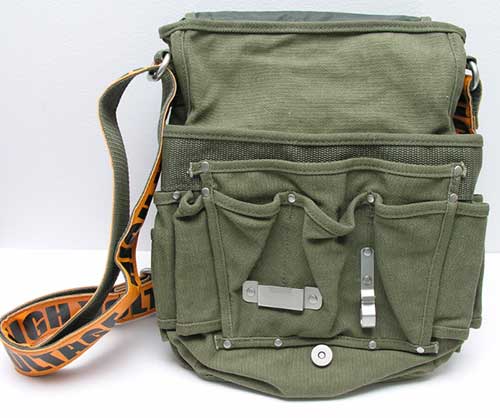 Never miss one of our posts again. Sent MON, WED, and FRI with the latest gadget reviews and news!
If you flip open the flap, you'll see the arrangement of pockets. This bag has 7 pockets not including the 6 tubes. On the outside of the outermost pocket, are 2 metal attachment points. There is a flat slot thingy, that you could maybe use to attach something with a belt clip. The other attachment point is a metal loop that you could hook your keychain on.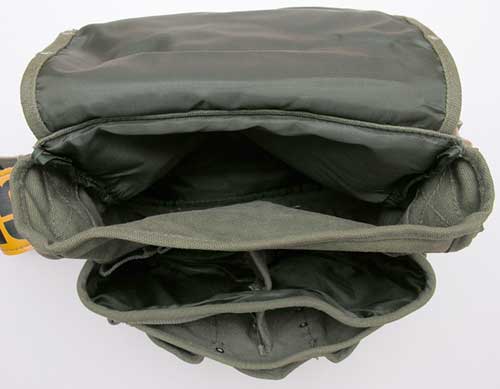 Let's take a pocket tour. The main compartment is big enough (10 x 14 inches) to hold a whole stack of full sized magazines, and even my 12″ Powerbook. Of course this bag doesn't make a very good laptop bag, given the fact that it has only very thin padding in the back wall of the main compartment. I suppose you could put your laptop into a protective sleeve first though. The flap and back wall of the main compartment are lined in nylon.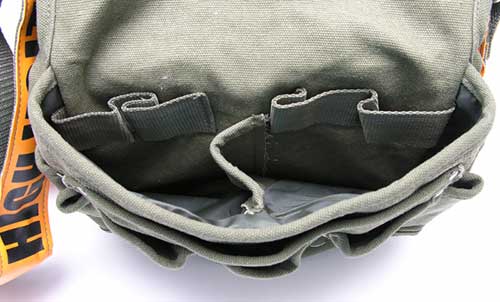 Sewn to the outside of the main compartment, is the next biggest pocket. It's actually a large pocket with a divider that separates it into two 9″ x 5″ x 2″ inch pockets. On the back wall of this cavity there are thick canvas loops. There are two loops per pocket. All I can say is that Ducti sure likes loops!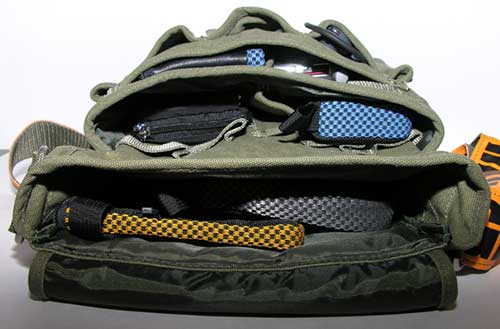 In front of that pocket is a similar pocket configuration… a smaller pocket that has been divided into 2 separate pockets that are about 4.5″ x 5.5″ x 1″ inches in size.
But wait, there's more! Three more flat pockets are located on the outer layer. The two outer pockets are 2″ x 4.5″, and the middle pocket is 3″ x 4.5″ inches.
In the picture above, I have most of my everyday carry items installed into this bag. The main compartment has my 2 Waterfield pouches. The next 2 pockets have my blood glucose monitor and a Waterfield iPod pouch. One more layer up, we have my Waterfield wallet (hmmmm, are we noticing a trend here?) in one pocket and my Treo 650 in the next. Finally in the outermost pockets I store little stuff like my Cardo Systems scala-500 Bluetooth headset.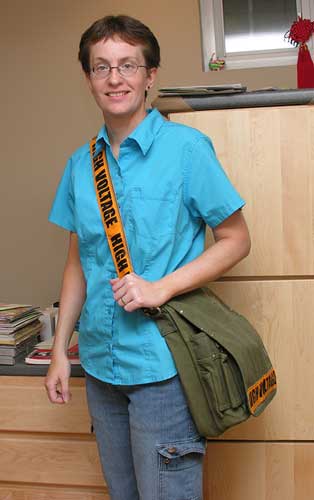 When the bag is all loaded down with gear, it is still comfortable to carry on your shoulder as I'm doing here. And even though the shoulder strap is not padded, it is comfy and doesn't seem to slip around as you walk.
The Ducti High Voltage Messenger bag is a trendy styled bag that can accommodate a good sized pile of gear, while remaining comfortable to carry around for an extended period of time. If I could improve this bag, I would add some extra padding to the main compartment, swap the loops on the sides for actual pockets, and maybe add a thin pocket for papers and magazines to the outside of the back wall.
This bag will not replace my current favorite everyday bag because it's not quite large enough for all my extra stuff. It's also not quite my style since I'm no longer a teen or even a 20 something ;o) Ducti needs to make a plain one for us old fuddy duddies :o)
Product Information
Price:
49.99
Manufacturer:
Ducti
Retailer:
FractalSpin
Pros:

7 pockets and 6 slots
Comfortable

Cons:

Slots have no bottom
Main compartment lacks padding