We use affiliate links. If you buy something through the links on this page, we may earn a commission at no cost to you. Learn more.
My search for a comfortable, easy to use, good sounding Bluetooth headset to pair with my Treo 650, may have come to a quick end. At least until something else comes along… After reviewing 4 headsets in the last few months, I recently learned about the Cardo Systems scala-500 from one of my gadget buddies at my day job (Hello Taire!). He highly recommended it, so I decided to test one out for myself.
Hardware Specs
Weight: .58 oz (16.8 g)
Bluetooth version: 1.2 Class2
BT Chip: Cambridge Silicone Radio, Cambridge, UK, (CSR)
Battery Type: Rechargeable Li-Polymer Talk time: up to 9 hours
Standby time: up to one week
Charging time: 2-4 hours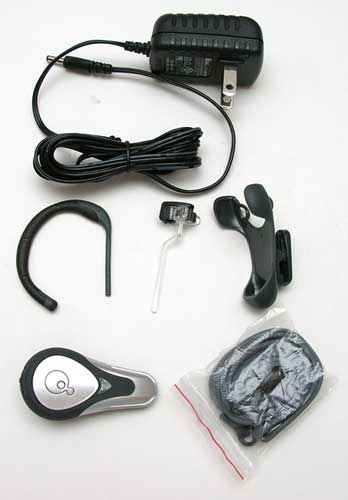 Package Contents
scala-500 headset
Ear hook
Eye/sunglasses clip
Plastic carry sleeve
Neck strap
AC Adapter (110/240V 50/60Hz)
User guide
The physical design of this headset is pretty conservative compared to some other headsets we've reviewed lately – remember the Cellpoint Flamingo headset?. For those of you that prefer a little extra pizzaz, the scala-500 is available in several other colors. Me, I'll stick with good old Grey and Silver thank you very much ;o)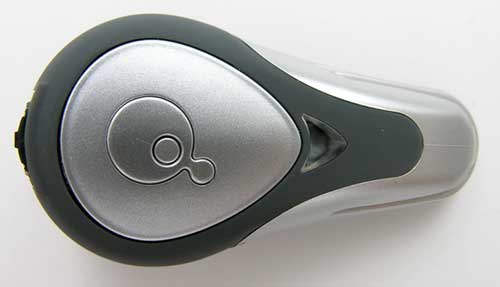 The outer face of the headset has one large button, otherwise known as the CTRL button. The design makes this button appear to have several sections. That's just the the way the plastic is
molded though, you can press pretty much anywhere on the back half of the button to activate it. The CTRL button is used to accept, initiate, reject, transfer and redial.
Never miss one of our posts again. Sent MON, WED, and FRI with the latest gadget reviews and news!
The face also has a status LED that blinks Blue when the headset is powered on and waiting for a call. It will glow Red while charging, and will alternately blink Red and Blue when in pairing
mode.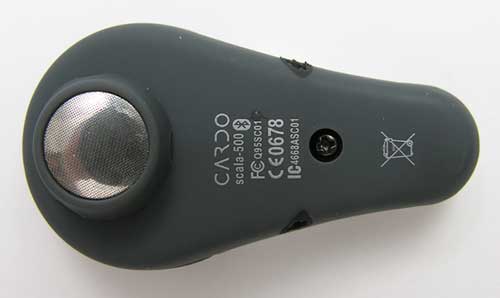 On the backside of the headset, you will find the speaker. There's nothing to cram into your ear canal with this device. The speaker rests comfortably in the outer opening of your ear.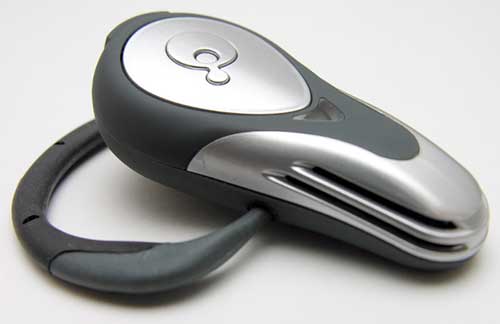 The microphone can be seen as 2 thin slots on either side of the 'beak'. That's my own technical term for the pointy part of the headset. :o) The scala-500 has been designed the microphone to be wind resistant. We'll see how well that design actually works later in the review.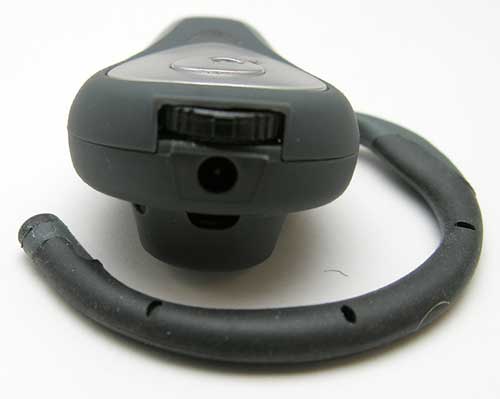 A multi-function wheel and AC power connector reside in the rear area of the headset. The MFW is identical to a jog dial on a PDA or other device. It is round in shape, with ridges and a raised button in the middle. The wheel can be pivoted up or down to adjust volume levels (13 levels, 20 db), or held in to toggle power and initiate pairing with another device. Pressing the button while in a call, will toggle the microphone on/off as a muting function. I don't really like using this button to adjust the volume. To me it feels awkward to try to access it while I am wearing the headset. I much prefer separate volume buttons.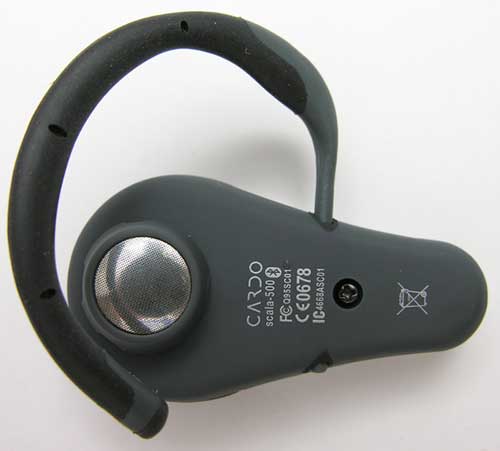 You have two options for wearing this headset. One way is to use the included rubber covered ear-hook. It can be worn on either ear and is easily adjustable. You can pivot the ear-hook back and forth horizontally, and you can bend and form the actual hook to better fit your ear.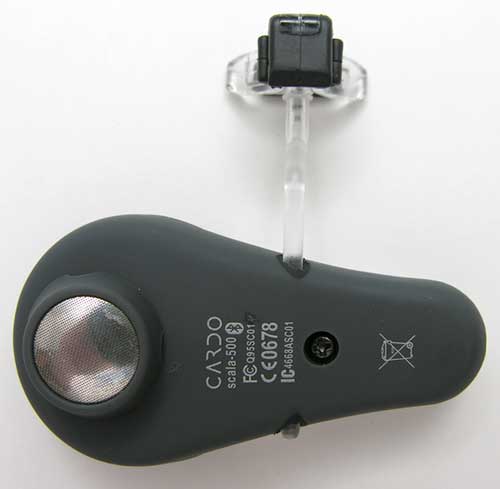 The other method for wearing this headset is by using the included eyeglass / sunglasses clip. Again, you can wear it on either side of your face by sliding the clip into the slot in the headset.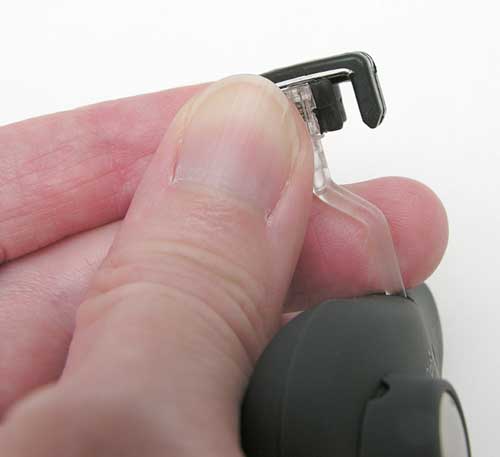 Then you just squeeze the little plastic ears on the clip and fit the rubber covered jaws over the temple of your glasses or sunglasses.
I didn't have much luck using the clip with my thin temple style glasses. The headset would only stay clipped for a few seconds, before it would swivel a bit and fall off. Glasses with wider flat
temples would probably work much better.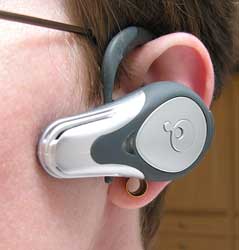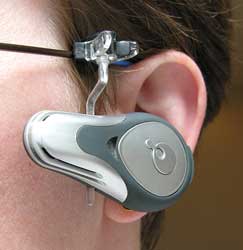 I found the ear-hook to be quite comfortable. I had no problems with it interfering with my glasses. The headset itself is quite light weight, and at times I forgot I was even wearing it. I really
like how easy and quick it is to put on and take off this headset. There's nothing worse than having a call come in and juggling with the headset to get it in your ear, before the call goes to voice mail.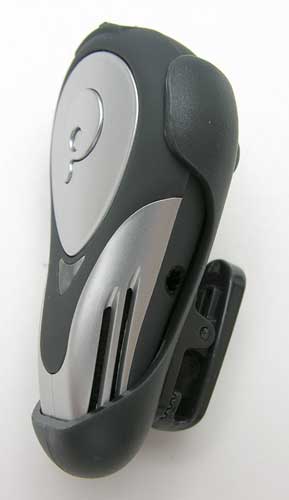 The scala-500 even comes with a little plastic holster that can clip to your belt or be worn around your neck using the included lanyard. It's a way to keep the headset close by when you don't want to actually wear it.
Time for the sound tests! Below are three audio clips of the scala-500 headset in action. This will give you an idea of what it sounds like to receive a call from someone using this headset. I used the free voicemail / fax service from K7.net for these tests. I signed up for a free account, got a phone number and called it using a Treo 650, using the headset. The resulting voice-mails are then emailed to you. Pretty nifty! These tests had the Flamingo and this headset. At test time, the phone had full signal strength. The phone was in my hand at my side during the outside test and beside me on the car seat for the driving test. Click to listen.
Inside Test (300k .WAV file)
Outside Test (204k .WAV file)
Driving Test (152k .WAV file)
The inside test displayed the same problems I've had with other headsets and the Treo 650. You can't separate the handset and headset by more than a couple of feet, without noticing static and
choppy sound.
The outside test shows that this headset does a good job of compensating when wind blows directly into the microphone. At those times, you will notice that my voice gets louder and clearer.
The driving test seemed on par with other headsets that I've tested. I'm not sure if it's just the K7 recording service, or what, but all three of these recordings seemed very flat sounding. However, whenever I've been talking to an actual person, I've not received any complaints regarding the sound quality.
I've been using this headset exclusively with my Treo 650 for the past few weeks and have found it to perform reasonably well. Like all the other headsets that I've reviewed thus far, they work
best when within very close proximity to the Treo. This can be annoying if you want to get up and walk around without also carrying the phone. This is no fault of this headset though. All blame goes to the Treo and its crummy Bluetooth implementation. I've also noticed that when a call comes in, it will sometimes take the headset several rings before it wakes up and plays the tone
(theme to the Twilight Show) to let you know you need to answer the call. Again, I would be more apt to blame the Treo here… Disregarding those small complaints, the scala-500 has been super
easy to use. Sound quality on both sides of conversations have been good, battery life equally good, comfort great and the price is nice. Right now I'm going to say that the Cardo scala-500 Bluetooth headset is my favorite headset. We'll see how long that statement continues to be true.
Product Information
Price:
79.95
Manufacturer:
Cardo Systems
Retailer:
Cardo Systems
Requirements:

Bluetooth enabled mobile phone or computer

Pros:

Comfortable
Easy to use
Multiple wearing options

Cons:

Multi-function wheel a little awkward to access