We use affiliate links. If you buy something through the links on this page, we may earn a commission at no cost to you. Learn more.
I have been on a quest to find the most comfortable Bluetooth headset on the market. After reviewing a handful of contenders, my current favorite has been Tekkeon's ezTalker Mini. I was told by one of our readers that I needed to definitely check out CellPoint's Flamingo headset. I took that person's advise and obtained a sample, which I've been testing for the past week or so. Has it turned out to be more comfy than the Tekkeon? Keep reading to find out.
Hardware Specs
Weight: 0.3 oz (11g)

Dimensions: approximately 2.75 x 1.0 inches
Up to 8 hours talk time
Minimum of 180 hours standby time
Rechargeable battery
2 hours charging time (typical)
Supports both headset and handsfree profile of Bluetooth v1.2
Up to 30 feet range (10 meters)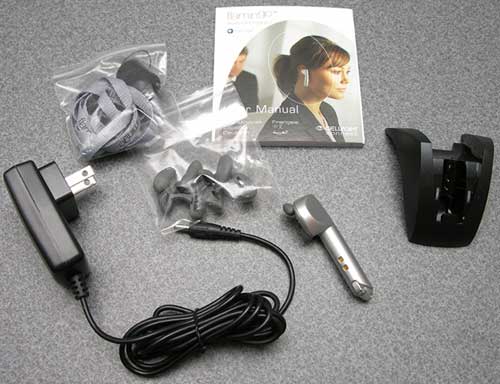 Package Contents
Flamingo headset
6 ear clicks
Desktop charger
AC Adapter
Neck strap
User guide
Storage box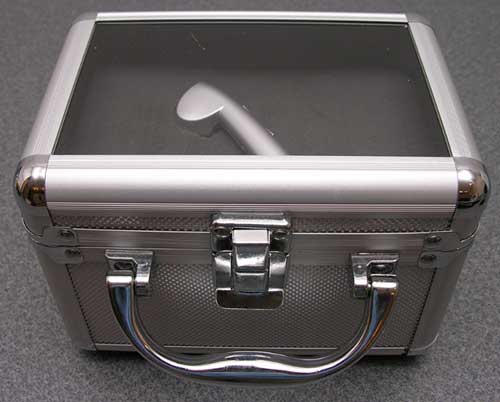 The Flamingo arrived in a cool little suitcase which gave the impression that this product was going to blow away anything that I'd tried thus far.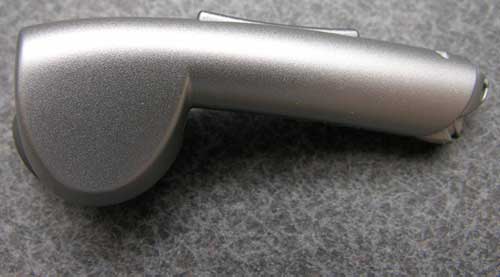 Opening the box revealed a headset with a design unlike any other headset that I'd seen before. With a name like Flamingo, I half expected it to be Pink. Available in Black or Silver, I was sent the Silver version. The headset case is made of plastic, which is light weight while still feeling like a solid quality product.
The outside of the headset is devoid of any tacky LEDs or logos, which is a real plus. On the top edge, there is a long slender rocker button that is used to adjust volume levels.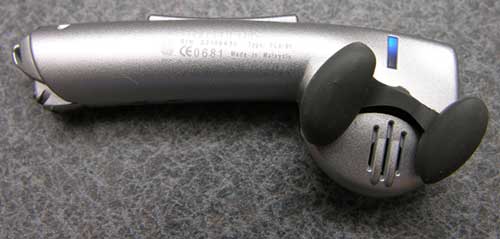 The inside (the side that faces your face), has 1 LED that blinks Blue when the headset is powered on. The same LED will blink Blue and Red when in pairing mode.
Also on the inside, you will find the EarClick. This is an odd name for the interchangeable earpads, which do not move or make a clicking noise.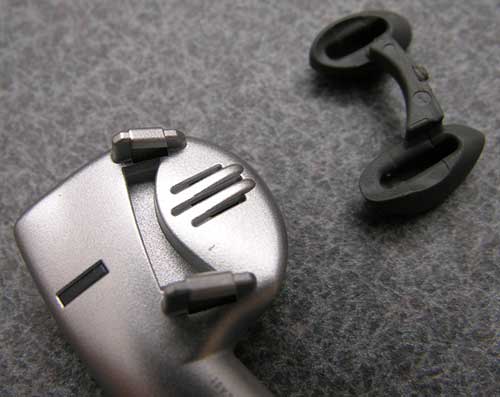 6 pairs of EarClicks are included with the Flamingo, that vary according to size. I had to use the smallest set. Installing them is a snap (maybe they should be called EarSnaps?). Just pull a set off and press another set back on to the pegs. The pads are made of hard rubber and once in place, are not adjustable.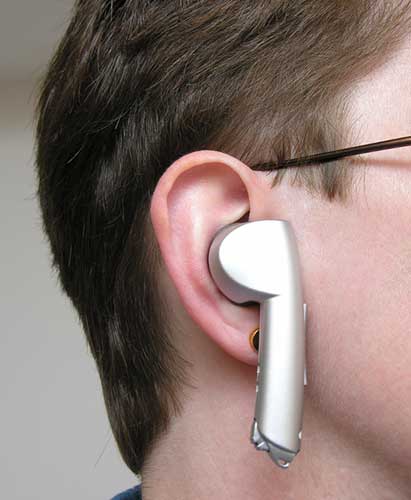 One issue with this headset that immediately presented itself to me, was the fact that you can only wear the Flamingo in your right ear. As luck would have it, I almost always use my left ear for headsets. Not that this is a really big deal for me, but it might be for some of you…
The design of this headset is supposed to be more comfortable for people that wear glasses (like me), since is doesn't require an earhook. Did I find the Flamingo to be comfortable? Ummmm, no. Not for my ear. I think I may need an even smaller set of EarClicks than the smallest set included. I found that I could wear the headset for 30 minutes or so and have no discomfort at all. But once I removed the headset and then reinserted it later, my ear (primarily the cartilage part that people sometimes pierce) would be pretty tender.
I haven't made up my mind if I like the style of the Flamingo. It's radically different than other headsets. So far I've not worn it anywhere other than the inside of my car and office. Not that I've actually worn any other headset out in public though ;o) But I'm sure I'd get some goofy stares if I were to wear this one.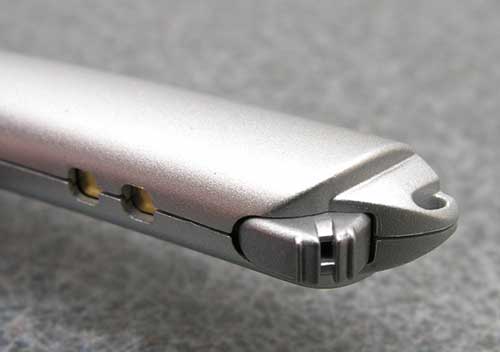 The microphone and control button are located at the tip of the Flamingo. There is also a lanyard attachment on the tip as well. You can connect the Flamingo to the included neck lanyard, so that you can wear it when you're not talking through it. The wacky thing is that when you want to talk, you can unclip it from the lanyard, but the little plastic clip thingy will still be left dangling from the end of the headset while it's stuck in your ear. That would give new meaning to looking like a uber geek!
The control button is spring loaded and is used to answer calls, power the headset on and off, initiate pairing, reject calls, and initiate voice dialing. That is a lot of tasks for one little button. ;o) You just have to remember how long to hold the button in order to do each task. The volume up / down buttons have other functions too. They can initiate a last number redial, mute and transfer a call. I found it a little difficult to push the control button while wearing the headset. The pressing motion has to be sort of up and in. Not exactly easy to do when it's stuck in your ear. It would quite often take me one or two tries in order to answer a call.
When your phone rings, the headset will start playing Wagner's "Flight of the Valkyries" as a headsup that you need to answer the call by pressing the control button.
A nifty desktop charger is included with the headset. It's magnetic and kind of grabs and pulls the headset in place when you insert it. A Red LED on the left side, glows while charging, and an LED on the right side glows Green when charging is complete.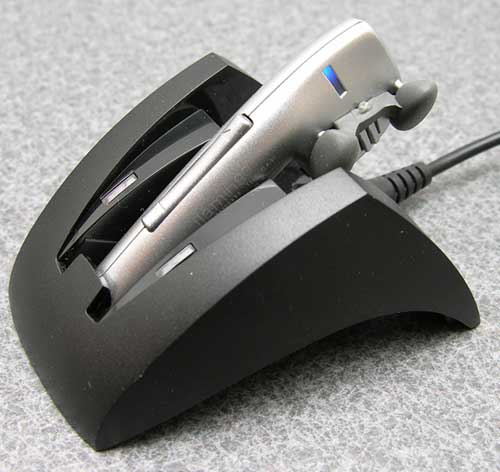 I like this charger, because it looks cool. But, I wouldn't want to have to pack it in my gear bag while traveling. It's too bad that some type of minimal charging method (USB cable?) isn't also included…
Time for the sound tests! Below are three audio clips of the Flamingo headset in action. This will give you an idea of what it sounds like to receive a call from someone using this headset. I used the free voicemail / fax service from K7.net for these tests. I signed up for a free account, got a phone number and called it with a Sony Ericsson Z520, using the headset. The resulting voicemails are then emailed to you. Pretty nifty! These tests had the Flamingo paired with my Cingular Branded GSM Sony Ericsson Z520. At test time had full signal strength. The phone was in my hand at my side during the outside test and beside me on the car seat for the driving test. Click to listen.
Inside Test
(385k .WAV file)
Outside Test (248k
.WAV file)
Driving Test
(187k .WAV file)
The inside test was much better than the same test I've conducted with the other Bluetooth headsets and my Treo 650. I've learned that the Treo 650 sucks when it comes to Bluetooth performance. As such, I didn't include sound tests with that phone. I will say that the inside test with a Treo 650, had much more static and crackling. The other tests with the Treo were about the same as the tests with the Z520. Moving 15ft or so away from the handset resulted in some voice warbling. I was also able to leave the Sony handset upstairs and walk downstairs to my basement with the headset on. Voice quality degraded somewhat when I was at the far end of the basement, but not really all that bad.
The outside test showed that this headset doesn't have that great of noise cancellation, when it comes to wind noises. Just for clarification, it wasn't extremely windy when I conducted that test. It was just a nice breezy day.
The driving test sounded even worse than the outside test. I had the A/C on in my car but didn't realize that it was blowing into my face and the microphone. I only had the A/C fan set to the lowest speed, so once again, we find that the noise cancellation feature is sorely lacking.
I really wanted to love the Flamingo Bluetooth headset, but in the end, it just didn't work out for me. More than any other reason, this was due to a lack of comfort. I think if there was an even smaller (or better yet, softer) ear pad, this headset might have been a keeper for me. I could personally overlook the wind noise issue, if only because I typically do not walk around with a headset. I just use one in my car. That said, I know that this is a big issue for most people… Here's hoping CellPoint comes out with an improved Flamingo v2.
Product Information
Price:
79.95
Manufacturer:
CellPoint
Retailer:
CellPoint
Requirements:

Bluetooth enabled mobile phone or computer

Pros:

Interesting design
Comes with 6 sets of ear pads
Nifty desktop charger

Cons:

Noise cancellation feature doesn't work well with wind
No travel optimized travel charger included