The Gadgeteer is supported by readers like you! If you buy something through links on our site, we may earn an affiliate commission at no cost to you. Thank you! Learn more.
Last month I purchased a 2006 Mazda 3 5 door, which I'm totally enjoying. It is my first new vehicle in 15yrs. Yes it's true that I've been driving the same little Red pickup truck (1991 GMC Sonoma) for the last decade and a half. There's something to be said for no car payments :o)
So anyway, I was really looking forward to this new car having a much better radio than the junko Delco in the Sonoma. Unfortunately, the stock head unit in the Mazda turned out to be a little disappointing. It lacks an Auxiliary Audio Input, so that means no optimal way to play an iPod through the speakers. I tried several iPod powered FM transmitters, but struck out there too. Unlike in my truck, the sound quality using one was horrible. Also, the location of the cigarette lighter adapter ruled out using the TransPod, which worked wonderfully in the truck.
A little research turned up a third party add-on for my radio from Sylfex that would equip it with an Aux Audio Input. Once that was installed, I was able to plug a 3.5mm stereo jack into the headphone jack of the iPod and route music through the car stereo. Yay! Only problem was that I wasn't completely happy with the sound AND I had to turn the volume high on both the iPod and the stereo in order to get the adequate volume from the car speakers. Boo! Luckily for me, I googled around for another solution and found one… Sometimes it is the littlest things that can make me the happiest. My latest nugget of gadgety goodness is the PocketDock from SendStation. Available in 4 versions, this module plugs into the bottom of any Apple iPod with a dock connector, to give it a Line-Level Output.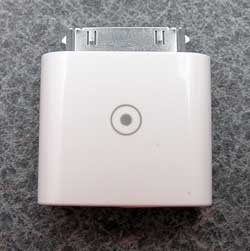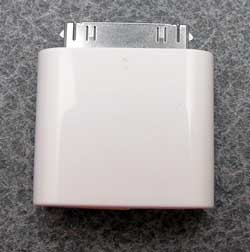 The PocketDock is 1.375 x 1.031 inches in size and weighs a scant .4oz./10g.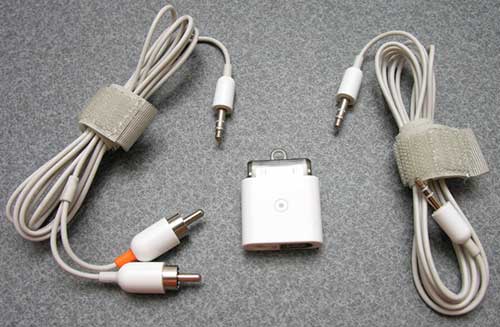 Included with the purchase are 2 cables. One 6ft 3.5mm – stereo RCA cable and one 6ft 3.5mm – 3.5mm cable. A small little cap for the dock connector is also included, if you care to put the PocketDock on your keychain.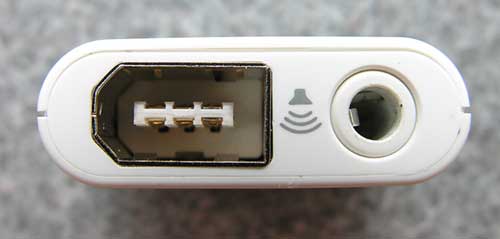 I purchased the LineOut Firewire PocketDock ($29.95). Also available are:

LineOut USB PocketDock ($29.95)
USB / Firewire PocketDock ($22.95)
Firewire PocketDock ($14.95)
I didn't really care about the USB or Firewire connector, I just wanted the Line Out. For those of you that are interested in connectivity / charging with a computer, you'll need either a 6 pin Firewire cable, or a standard full sized USB cable. Personally, I don't understand why the USB version doesn't use a mini USB connector instead of the full size. I know I have a Blue million mini cables crowding my junk drawers, but I would be hard pressed to find a full size cable.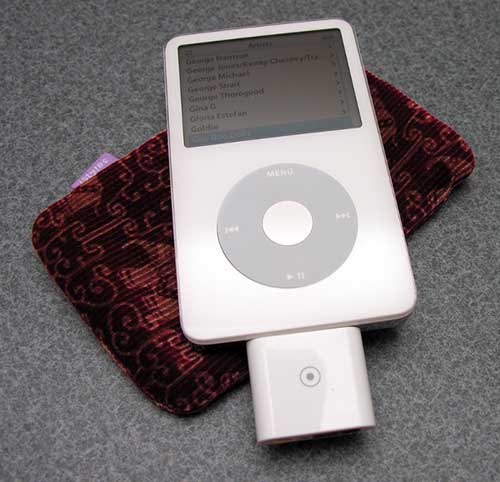 To use the PocketDock, you just plug it into the bottom of your iPod. I use mine with my 5th generation 60gb Video iPod. Then I plug in the 3.5mm stereo cable running from the Aux input of my car stereo, and I'm ready to play my tunes. Using this adapter, I no longer have to adjust the volume on the iPod itself. Actually, doing so has no effect at all on the sound from the stereo. Only changing the volume on the car stereo will effect the sound. And speaking of the sound, it is EXCELLENT. Much much much better than using the iPod's headphone jack.
The PocketDock from SendStation has made every ride in my car a more enjoyable experience. If you've been using an FM transmitter, or your vehicle's audio input by way of the headphone jack, you really owe it to yourself and your ears to try this little module. Good things do come in small packages.
Product Information
Price:
29.95
Manufacturer:
SendStation
Retailer:
SendStation
Requirements:

Apple iPod with dock connector

Pros:

Simple to use
Excellent line out sound

Cons: