We use affiliate links. If you buy something through the links on this page, we may earn a commission at no cost to you. Learn more.
FM Transmitters for digital music players are nothing new, but today I am
going to take a look at one of the smallest and least obtrusive models I
have seen thus far – the XtremeMac
AirPlay².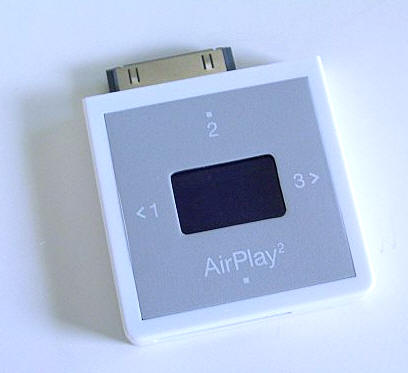 Available in black or white, the AirPlay² was created to fit on all 4th
generation and later Dock connector enabled iPods. Not counting the small
protruding connector on its top, the AirPlay² measures just 1.6′ tall x 1.6"
wide x 0.3" thick, and it weighs only 0.4 ounces. This makes for one itty-bitty
FM transmitter that will look good, even with the near skeletal iPod nano.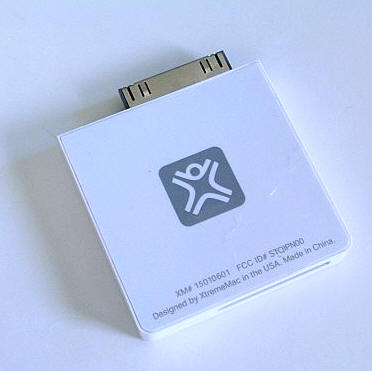 Features:
High quality, wireless FM transmission
Brilliant blue LCD with easy-to-read white characters
Three programmable station presets for convenient recall of clearest frequencies

iPod powered, uses minimal amount of energy
Pass-through Dock Connector functionality
Compatible with all 30-pin car chargers
Stereo/mono control
Includes Dash mount
Tuning range: 88.1 – 107.9
As one might have guessed, the AirPlay² does not rely on cables to connect to
the iPod; instead it plugs directly into the iPod's sync / charge port.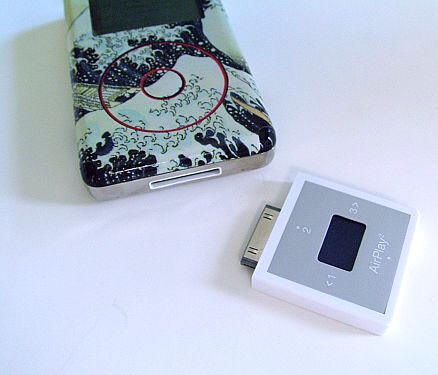 And here it is – a self sufficient FM transmitting package. All the needed
power for transmission is drawn directly from the iPod's battery reserve.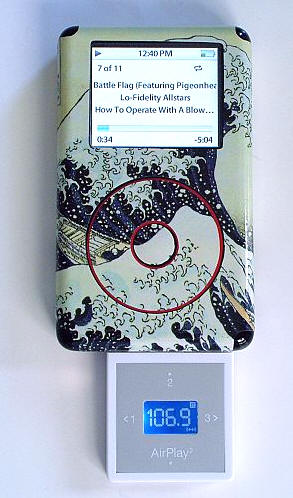 My first concern when I saw this doo-dad was that it was a great idea,
but I like being able to charge my iPod while it is transmitting. Well, that's
no problem due the addition of a female port on the bottom of the AirPlay² which
enables the attachment of a power cable when using the device. Clever!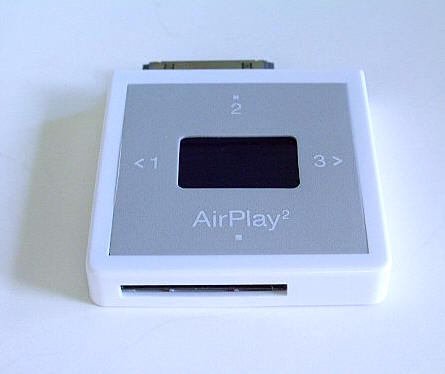 The AirPlay² has an easy to read blue and white LCD which glows for six
seconds any time it is plugged in and one of the four areas on its faced is
pressed.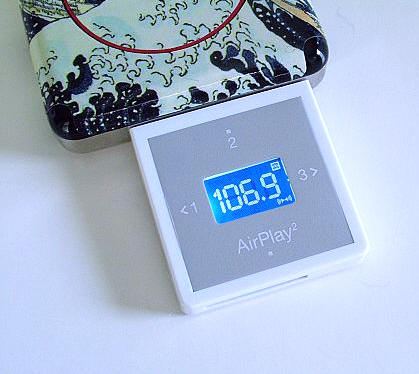 To manually tune the device, the AirPlay² printed section at the bottom front
should be pressed. This will call up the "Tune" icon and allow stations to be
chosen by pressing the 1 or 3 portions of the device's front.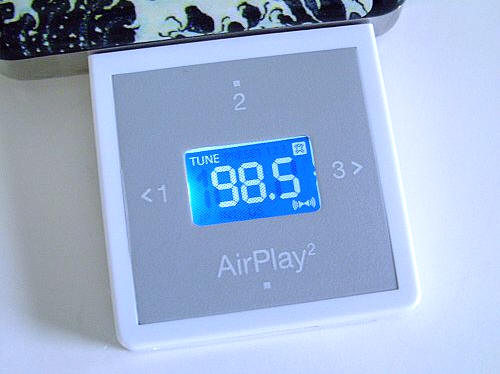 The numbers one, two and three represent the three available preset stations.
Setting them is accomplished by pressing and holding the appropriate button for
a couple of seconds once the desired station has been chosen and it is showing
on the LCD.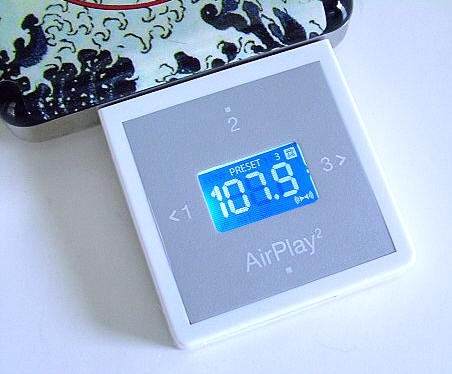 According to the AirPlay² site, the device "also has a mono mode for better
reception in crowded radio markets."
I tested the AirPlay² both in my vehicle and over a home stereo. Over our
home stereo, the device transmitted reliably within 10 feet. More than that
produced static and breaks in the transmission.
In the vehicle, I noticed a small bit of static interference when the iPod
was held in my hand, but I also found that inserting the iPod upside down in a
cup holder – with the AirPlay² pointing out – provided near perfect transmission
and a convenient way to hold the device.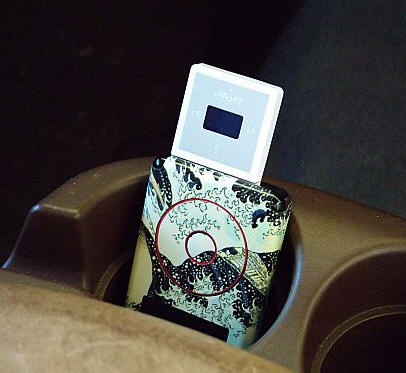 When transmitting in the vehicle, I found the resulting music's quality to be
similar to that from other quality FM transmitters I have tested in the past.
There is no doubt that there is a bit of sound degradation and loss of volume,
but it is no more noticeable with this device than it has been with others I
have favorable reviewed.
Also included in the package is a red adhesive pad and a plastic dash mount.
This mounting system may be used one of two ways; either to hold an iPod nano in
place as it is being used, or to store the AirPlay² when it is not in use. This
dash mount will not support a full size iPod.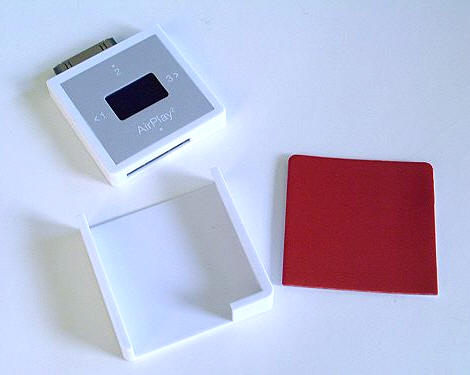 Here is a picture of the AirPlay² housed inside the dash  mount.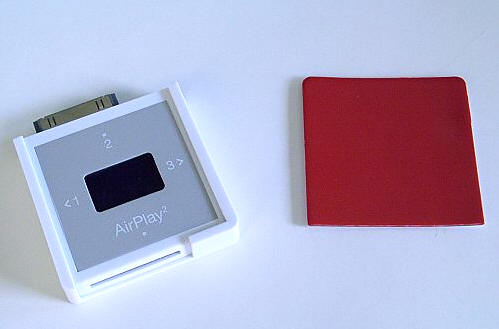 Overall I am very impressed with the AirPlay². For such a tiny device, it
offers the user a surprising number of options for a quality iPod broadcast,
whether in the vehicle or in the home.