We use affiliate links. If you buy something through the links on this page, we may earn a commission at no cost to you. Learn more.
DualCor just released this
cPC FAQ on their site.
I have had a rough copy since May 18, but I didn't post it because
I was asked not to. The one thing that has stopped bothering me
about the cPC is that it doesn't come with an out-of-the-box
wireless network solution. After ordering and then cancelling the

Sony UX 180P MicroPC because being locked in to Cingular was a
personal deal-breaker, I can actually understand the benefit of
being able to choose. But I do still wish that BT and WiFi
could have been included – at least as an option. If I actually get
a DualCor, I will probably use a modem like this one by
Enfora – unless someone knows of an even more compact model
*****
I'm trying out the new PDA
Mill game called Xplodus. According to
their site, "Xplodus is a classic action title
for those who yearn for solid arcade gaming and like
mindlessly blowing things up! Aliens are attacking, you know the
drill, and the only available soldier left is Private Pete
from the reserves. Take control of Private Pete and help him
eliminate the aliens with the power of massive explosives… before
he accidentally blows himself up!"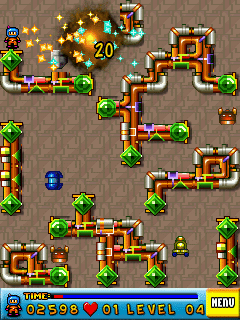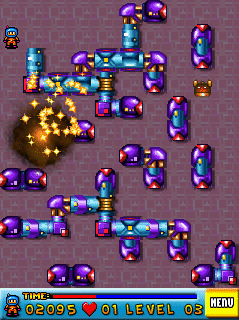 It looks like this game takes the character Pete from Plumbing
Frenzy and cranks things up a notch or ten. I'm
game!
*****
In other news…
This weekend we head to Houston for another 6-month's checkup at
MD Anderson. Keep your fingers crossed – Steve is at 'almost four years
and counting' cancer-free.
*****
On July 5, I'll be traveling to Arlington to attend Sigma Kappa Sorority's National
Convention and to accept the
Colby Award. I've known that I was going to be the recipient
for several months, but in all honesty it is still only sinking in.
This award is a really big deal to me, as it's "the
highest honor bestowed upon alumnae members by the national
organization." Previous recipients include scientists,
educators, athletes, authors, volunteers, artists,
politicians…even an astronaut, and now…me…an online
consumer product reviewer. I bet you can just imagine my big cheesy
grin.
I confess that I keep thinking that I'll get an email or a phone
call saying "errrr….there has been a bit of a mistake." I've even
had a bad dream about it; parts of which involved the scary
"professional" headshot I submitted (sporting the previously
mentioned big cheesy grin) sprouting devil horns and fangs. Kinda
like this…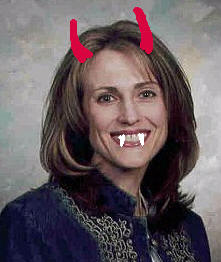 Yah, looks just like me, right?
Don't answer that!
Anyway…
We have also booked a late July trip to the San Francisco area. We'll enjoy
a couple of days touring the city, and then we'll rent a car to hit
the coastal towns – including whatever sites and parks strike our
fancy on the way to San Simeon and Hearst Castle.
I sure hope that I'll have a new ultraportable PC by then…but
which one?