We use affiliate links. If you buy something through the links on this page, we may earn a commission at no cost to you. Learn more.
Are you one of those types of people that obsesses about your weight? Are you always counting calories and reading the nutritional content on the foods you eat, before you take a bite? I'll admit that I share some of those traits. I don't obsess about my weight, but I religiously check labels before buying food. I was diagnosed as being pre-diabetic over a year ago. As a result, I'm very conscience about the carb / sugar content in my food.
I also try to keep active with exercise. These days that amounts to taking a brisk walk twice a day for around 20 minutes each time. I've often wondered just how much benefit I'm getting from these walks. Does walking burn a lot of calories? Some of you may remember when Judie and I reviewed the SportBrain step counter. The idea behind that product was that walking 10,000 steps a day, would keep you healthy. Today I'm going to tell you about another product. The BioTrainer weight loss system.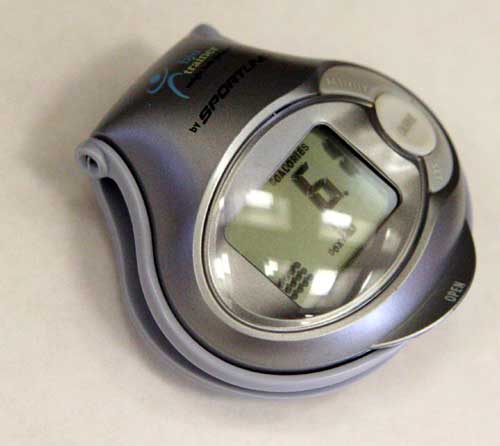 The BioTrainer isn't a pedometer. It doesn't count your steps or how far you've walked. Instead, it counts the calories you've burned and your activity level for the day. Used in conjunction with a web based application, this system claims to be able to tell you if you've gained or lost weight each day.
The module itself is basically a plastic clip with an LCD and 3 buttons located on the face. It is powered by a 3 Volt Lithium battery. These types of batteries are found in watches and calculators and can be purchased from stores such as Walmart and CVS.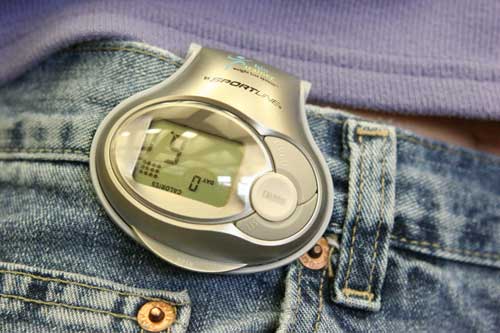 Very little setup is required to start using the BioTrainer. Unlike most pedometers, you don't have to measure your stride by pacing a specific distance. All that you have to do is to input the correct time and your weight. That's it. Doesn't seem like enough info to enable this device to accurately track burned calories does it…
Once you input your weight into the device, you just clip the module on your waistband or belt and forget about it. It will then silently accumulate data while you perform your daily activities. It does this by measuring horizontal and vertical body acceleration. When positioned to the front part of a person's waist, this acceleration is correlated to exercise calories during walking, jogging or running activities. Additionally, the BioTrainer adjusts exercise calories accumulated in proportion to a person's body weight.
It's important to note that the BioTrainer will not be able to accurately calculate calories burned for activities such as weight training.
The module can record data for 9 days. On the 10th day, the first day of data will roll off. The LCD will display calories burned by default. You can also view activity units. Activity units were pretty much useless to me though, so I just monitored the calories.
The face of the module can unsnap from the clip and pivot up so you can view it while it is attached to your waist. Also, when the display is flipped up, the data on the LCD also flips so that you don't have to read it upside down.
I was pretty surprised at how few calories I burned (according to the BioTrainer) during a typical day. The first day I used it, I took two 20 minute walks, several flights of stairs, a half hour or so of grocery shopping and typical walking around at work. After the end of the day, the device said I had only burned 207 calories. On another day, I took 1 walk, several flights of stairs and other typical activities and the device said I had only burned 11 calories for the day… Of course, these were just calories from moving. They didn't include the calories that we expend from breathing, eating, thinking, digesting, and just living. That's where the other half of this system comes into play…
When you buy the BioTrainer, you also receive a free 30 day trial of the BioTrainer Monitoring System and The BioTrainer Nutritional Program (after the 30 day trial, this service is $9.95/mo.). These are accessed via a web application.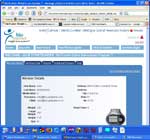 Click on thumbnail to view full size screen shot
The first step to using the web application is creating a user profile that includes your current weight, target weight, height, body frame size and age.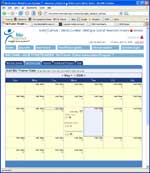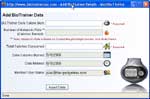 Click on thumbnail to view full size screen shot
At the end of each day, you can login to your profile and enter the calorie totals that the module said you had burned for that day. The application then calculates your BMR (Base Metabolic Rate) to show how many over all calories you've burned:
"The BioTrainer accurately measures caloric burn. In tandem, caloric burn is directly associated with the body's physical activity, not metabolic burn. However, our Monitoring Program will utilize the Harris Benedict Formula to calculate a person's BMR. *The Harris Benedict Equation is a prevalent formula that uses your BMR and then applies an activity factor to determine your total daily energy expenditure (calories)."
…from the BioTrainer website.
Once I plugged in my numbers, the total computed calories burned was more on par with what I thought it should be. I mean if I was only burning 207 calories a day, I'd be big as a barn! As is, I could stand to gain a few pounds ;o)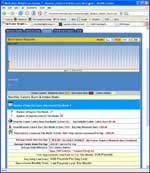 Click on thumbnail to view full size screen shot
The Reports page gives a good summary that includes how many calories that you've burned in a month, consumed per month and average weight gain/loss per month.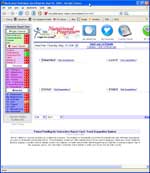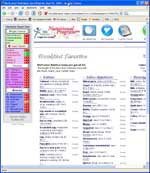 Click on thumbnail to view full size screen shot
You will also need to input the calories you've consumed for each day. The BioTrainer site makes a point of saying that the biggest difference with all of the other programs on the market is that the others are simply a calorie/carb/protein food journal which allows the user to record only their food consumption, whereas the BioTrainer Nutritional Program is a micro-nutrient based program (Vitamin B1, B2, B3, B5, B12, etc.) and is far beyond just journaling. That might be true if their food database was much much larger. The web site has a rudimentary search engine that gives some generic food choices. The problem is that their online database doesn't have name brand foods or restaurant foods listed. So, if you want to be as accurate as possible, it will require you to read the labels on the foods you eat or look up the nutritional info for the restaurants you visit. This is where the BioTrainer system becomes a little too fiddly for me. I'm basically a lazy person. I don't have time or the desire to look up all that calorie info for the meals I eat. It's too much of a hassle. And if it's a hassle, I probably won't do it for very long.
The BioTrainer looks really cool and it's easy to use. But in order to realize the full benefit of this device, you must use it with the web based application. The problem with that is the monthly fee and the fact that the food database is limited to generic entries. That said, if this product can motivate a person to get up off their butt and move, it's a good thing. I just don't think most people will continue to use it as is. It's just too much of a hassle to enter data manually once a day. Here's hoping there will be an update to this product with more robust features.
Product Information
Price:
49.95
Manufacturer:
SportsLine
Retailer:
BioTrainer USA
Pros:

Easy to use
Flip up display
Web companion application

Cons:

Web application food database is limited
Monthly fee to access web application