We use affiliate links. If you buy something through the links on this page, we may earn a commission at no cost to you. Learn more.
I have always loved pockets. At six, I swore off jeans as their pockets couldn't hold the quantity of stuff that I wanted. Although I have since taken jeans back up, albeit after a decade long protest, I continue to be fascinated with ever better means of storage.
Not long ago I stumbled upon the bags made by Civilian Lab. Although I quickly realized that, from a fashion stand point, I was not nearly cutting edge enough keep from looking like a complete fool wearing one, they none the less became stuck in my mind. I found myself sitting in class doodling pictures of the under-arm sling they pictured on their site. And suddenly, wonder of wonders, miracle of miracles, Julie posted that she had just received one such bag for someone to review. Knowing that this must have been some sort of divine intervention (thanks F!) I leapt to respond, and was highly rewarded.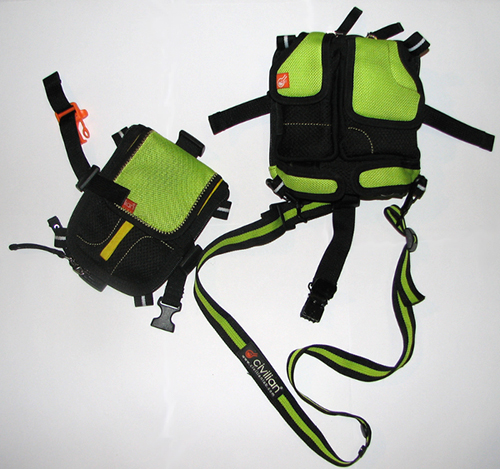 Boarding module on left, Business module on right
The bag I received was their Business Class LT Harness System bag combination in lime green. This setup was made up of two modules. They call the larger of the two the Business module and the smaller is the Boarding module. Along with both of these comes a variety of straps and harnesses for attaching the pair of bags in any of the six different configurations shown on their website. There were in fact such a number of straps included that any attempt to add all of them into the photo simply made it impossible to see the bags, and so there are actually doubles of each of the straps shown.
My first clue as to how ridiculous I was going to look wearing this contraption was the website. So far as I have found, nowhere on the site do they actually show anyone wearing the backpacks. Sure they have silhouettes sporting the bag in each of the configurations, but none of actual humans. This was a substantial clue, because if even they couldn�t get models to look cool sporting this thing, what chance would I have?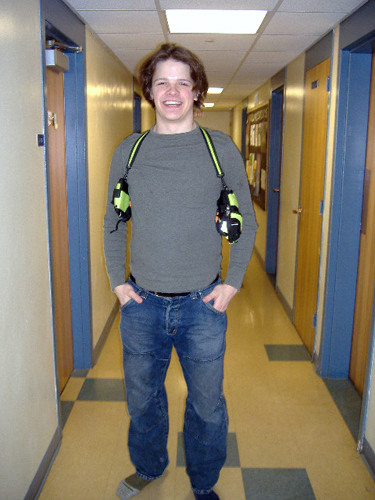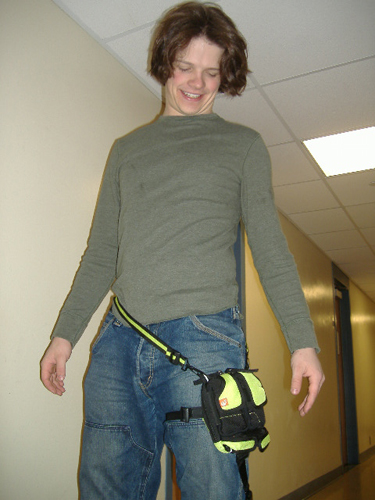 My worst fears were realized upon trying on the harness. The two methods which seemed to have the most promise of making this not appear to be a man purse fell short, although much of the blame can be laid on the garish green of my bag. The first of these two methods is the shoulder sling, in which the bags are held much like the armpit holsters you often see in the movies. The second also draws from a more military standpoint, which is once again why I thought it might hold promise, and is the thigh holster, in which the bag is strapped both around the waist as well as around the thigh.
Aesthetics aside, each of these carrying methods had both strengths and weaknesses. Both kept the bags in place very well, the shoulder harness can even utilize the smaller straps to lock the bags to your chest, even further increasing the geek factor. The major flaw in the entire system was constantly the smaller of the two, the Boarding module. In shoulder harness mode the difference in weight felt awkward, and my thighs proved too large for it to fit in thigh mode.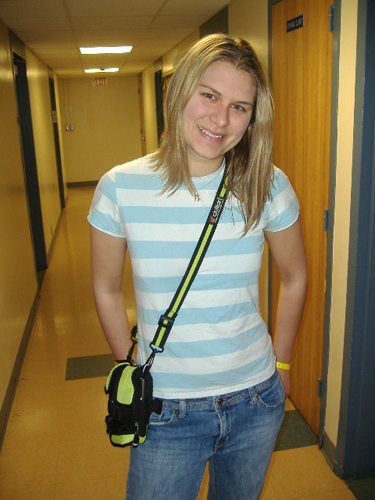 Never miss one of our posts again. Sent MON, WED, and FRI with the latest gadget reviews and news!
Of the six ways of attaching the bag illustrated on the website, the only which appeared to be workable was the �side bag� method. I took a photo of my friend Leah sporting it in this fashion, as the �man purse� look just doesn't fit me well.
It must be noted that after trying it the bag, Leah said that she loved it and was going to steal it from me (fat chance). As to the actual design, I must say that I am extremely impressed. The large front pockets of the Business module also fit my flashlight, phone, and camera with ease. The flaps on these pockets were fastened with Velcro, which although not my favorite material, had enough strength to it that I felt safe that it would not inadvertently open.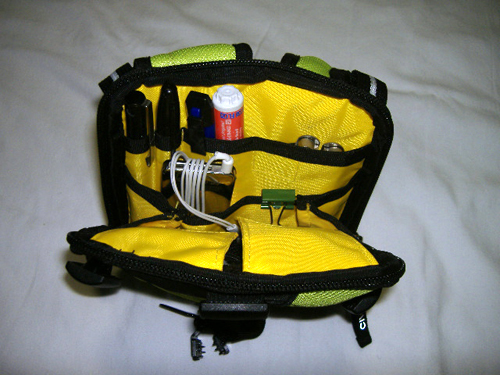 The interior of the Business half was equally impressive, housing an extensive collection of pockets in which to store all sorts of goodies. As the bag could be opened from three sides, the mouth of the bag could expand quite a bit to allow for easy access to the contents. The larger, open pockets nicely fit pens as well as my multi tool (along with a box cutter and Tide To-Go Pen). The mesh pockets opposite the open ones were nice for tucking away everything from band-aids to a portable sewing kit. The interior design has proved quite nice at allowing me to organize all the little pieces of gear that previously would just get thrown into a big pocket in my backpack.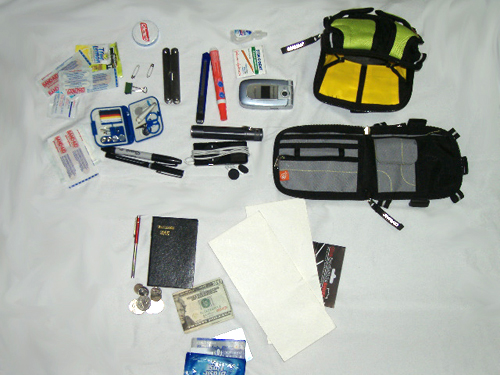 I lay out everything that was stuffed into the two, and the pile it created was fairly impressive. It must also be noted that with the amount of stuff I put in there was still room to jam a few more things in there, including my camera into the larger front pouch.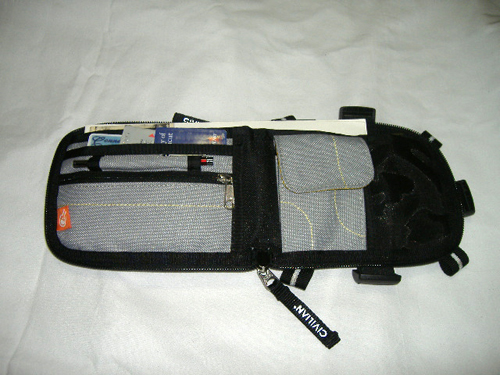 I found the Boarding module to be by far the weak link in this bag system. As an in-state college student I don�t get to fly on planes very often, and as I already have a nice wallet, the only two real uses for this section are not incredibly helpful for me. That being said, as boarding pass carriers go, this one does have many options. With one smaller, address book sized, pocket on the outside, and a multitude of little pockets on the inside, finding a place to store means of identification is not a problem. Although I personally did not find much use in this module, it should also be noted that Civilian Lab offers many different configurations, allowing for the purchase of a different module in place of the Boarding module.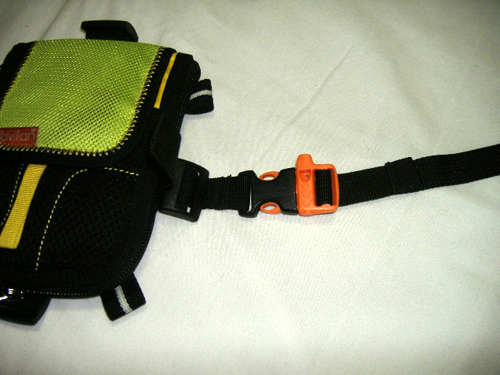 I must compliment Civilian Lab on their little touches. They included tons of straps to give many ways of anchoring the bags. The material used had a rugged feel to it, and they even offer a heavier duty version should additional strength be required. One of the additions which I thought was ingenious was turning half of every buckle into a rescue whistle. One of the other attachment methods was a very unique clamp which let the bag easily grab onto clothing or another backpack. Sadly my camera decided it did not feel up to the task of focusing on that clamp, so its picture is somewhat blurry. As far as construction details are concerned, the only real flaw I found was that for some reason, the straps for the buckles had a smaller width then the points to which they were supposed to attach. This meant that they slid around a little more then the other straps, but not so much that I really noticed it.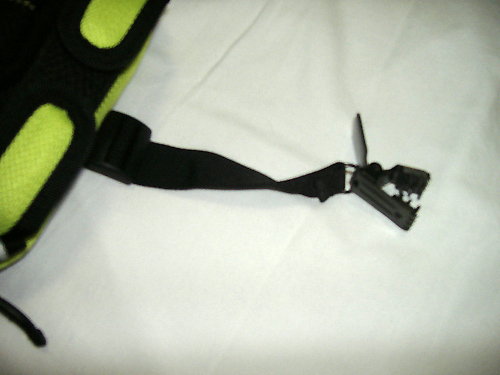 I am also not a fan of the size and number of logo bearing pull tabs on the zippers. Of course if you find this problem too bothering, it could be very easily solved with a pair of scissors. I myself find them a bit over the top, but somewhat handy when opening the bag in the dark. Along the same vein, the attachment points for the variety of straps are fairly large and ugly. Given that none of the carrying methods utilize all of the harness points at once, you are always left with a few of these loops and buckles just hanging strangely.
In all, for a guy this bag seems to serve best as an organizer of gear, to be quickly hidden away in some larger bag. For girls, the larger Business module could make a nice utilitarian purse, but the Boarding module would serve little if any use except to those constantly traveling by plane. I hope that one day Civilian Lab will release a backpack or messenger bag, because with their attention to detail, such a bag would be quite desirable.
Available from Semsons & Co. Inc