We use affiliate links. If you buy something through the links on this page, we may earn a commission at no cost to you. Learn more.
If I were looking for a casual backpack or messenger-style laptop bag, the
selection would seem endless. With a budget of $100 I could have my pick of
fabrics, sizes, pocket types; a near endless sea of options. But if I
needed a laptop bag that would look good when I was wearing high heels and a
dress, the more casual styles would not fit the bill. When given the task of
finding a professionally styled laptop bag that can also serve as a business
handbag the pickings become pretty slim, especially in the "under $100" price
bracket.
So what's a tech-savvy fashionista that's trying to stick to her budget
supposed to do? She might take a look at the
Geneva Tote,
a black on black microfiber and faux leather trimmed tote offered by
Mobile Edge.
Just as a higher end designer bag would, the Geneva comes with its own
sleeper to keep dust from the bag's finish while being stored. Opening the bag's
fitted sleeper for the first time actually adds to the impression that the
contents will be better than average. Hey, I am the first to admit that the
little details impress me. But would the Geneva live up to my building
expectations?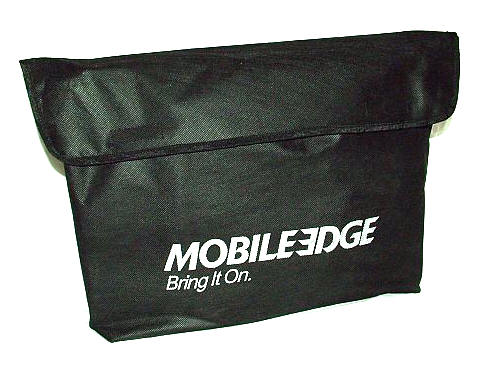 Measuring 16.75" wide x 12.75" tall x 4.25" deep, this business-minded tote
offers so many pockets and sections that it might actually appeal to any
woman – laptop toting or otherwise – that needs a dressier everyday carryall.
The generous 11.5" drop on the two handles assures that the tote may be
comfortably carried in hand, on the arm, or worn on the shoulder – even when its
owner is wearing an overcoat or a top with dolman sleeves.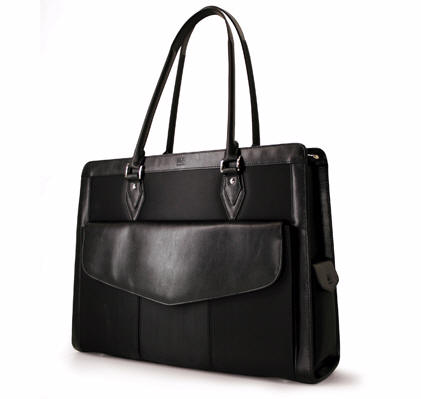 (photo courtesy of the Mobile Edge site)
The rigid body of the Geneva is composed of reinforced smooth black nylon
microfiber. A one inch border of smooth black faux leather trims all of the
bag's outer edges; it also anchors the bag's straps and protects the bottom.
Honestly, if I hadn't read that the trim was faux, I would have thought it was a
smooth-grained Napa leather. The embossing seen at the center top of the bag
says "ME" and in smaller letters underneath, "Bring it On".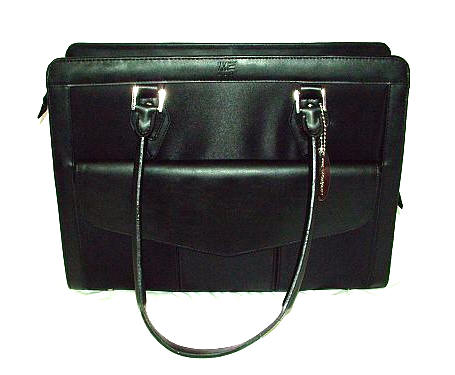 The black faux leather straps are stylishly rolled, until reaching the 8"
curve at their tops. That area is left flat so that it will be comfortable on
the wearer's shoulder; the 1" wide surface will also help keep the straps from
slipping.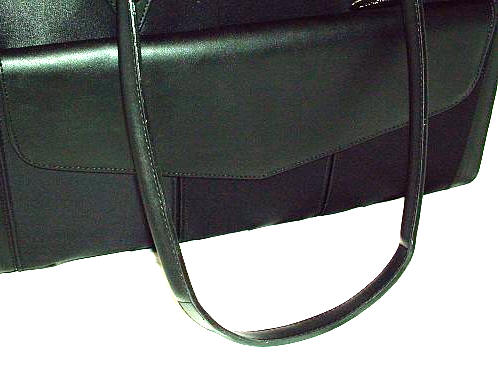 On the front side of the bag is a 13.5" long x 4.5" faux leather flap that
covers three 7.5" x 4.5" gusseted pockets. The flap is held in place with
magnets that are situated on either end, that react with the reciprocal magnets
in the centers of the outer pockets.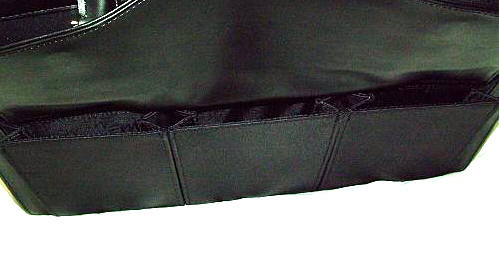 These three pockets are sized to easily accommodate many popular personal
electronics; the gusseting allows them to contract or expand depending upon the
size of the stowed object. While these pockets aren't particularly secure from
pickpockets, they are extremely convenient for keeping handy frequently needed
items such as larger PDA phones, digital music players and other similarly sized
items.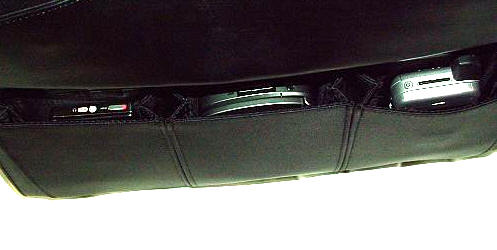 The right side of the bag has a gusseted 5.5" long x 2.5" wide phone pocket.
It is probably better suited for thinner candy bar phones, as it is too deep and
tight for my 4" long x 2"

Samsung A900. That does not make the pocket wasted space however, as it is
perfectly sized to carry a tube each of clear and colored
Lip Fusion. The faux leather flap on the
pocket features an embossed Mobile Edge logo, and it is held in place with a
small patch of Velcro.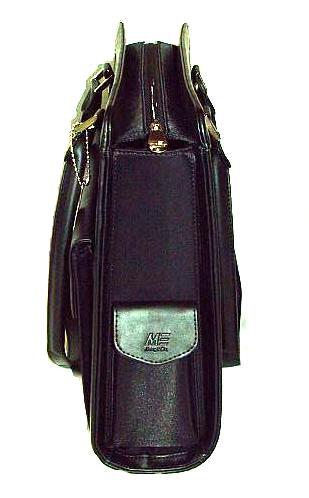 The back of the bag has a 14" wide x 7.5" deep slash pocket which is sized to
hold a magazine or folded newspaper. A 2" strip of Velcro keeps it from gaping
when not in use.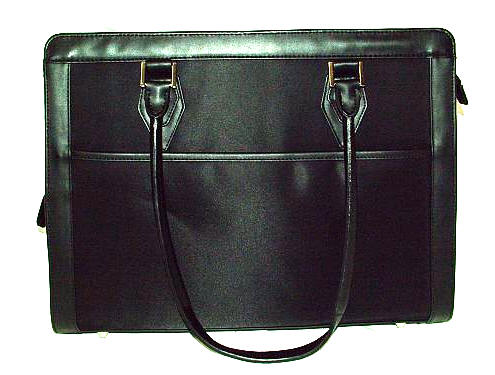 The left side of the bag is plain, but in this picture the zippered top of
the bag is shown, which allows the tote's contents to be securely kept when the
bag is stored in an overhead compartment or under a plane's seat.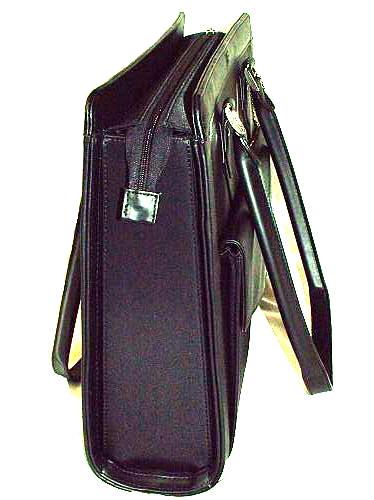 The bottom of the bag is protected by four 0.25" silver colored metal feet
and a 3.25" wide strip of faux leather. The bottom and sides of the bag are
reinforced, so that even when loaded the bag will stand rigidly upright on its
feet. This reinforcement will help the bag keep its formal style, without
becoming too supple or floppy with use.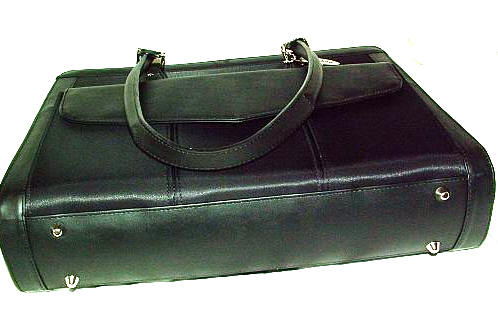 Unzipping the 17" long zipper reveals an interior lined in ME logo nylon and
three main storage compartments with pockets galore…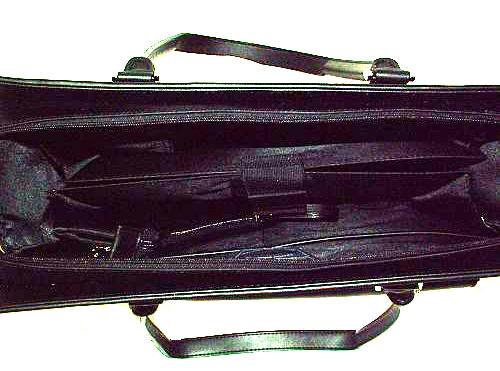 Located in the center is an open-topped pocket measuring approximately 15.5"
inched wide x 2" deep. A two inch wide Velcro-tipped elastic strap secures
laptops that measure up to 14.5" long x 11.2" deep x 1.8" thick, or that have up
to a 15.4" diagonal screen. The rigid sides of the tote protect the laptop's
sides, and the bottom of the bag is lined in Mobile Edge's SafetyCell™ material,
which is a thick padding that looks similar to a row of black fabric bubble
wrap, if you can imagine such a thing. This material offers almost 1/3" of cushy
padding, and while it probably wouldn't keep a laptop from breaking as the
result of a long drop, it will certainly protect the computer from hard
set-downs and daily knocks.
Here is a shot of my daughter Sarah's new Dell, which measures 14" wide and
1.5" thick. Unlike some computer bags that seem to lose all inner-space once the
laptop is inserted, the Geneva gives the impression that there is still plenty
of room on either side for storage.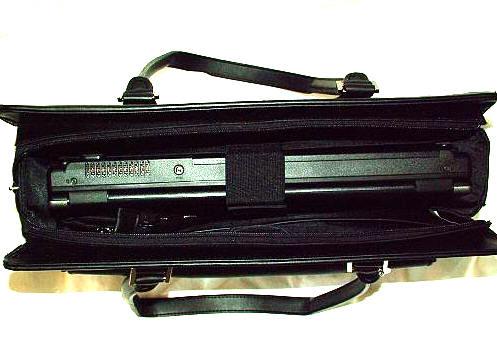 On either side of the middle laptop compartment are two open pockets
measuring approximately 14′ wide x 1.5" deep. Because of the clever way in which
the laptop compartment is sewn in, the laptop area is allowed maximum length
expansion, but the contents of the side pockets are kept completely
self-contained. For those that aren't carrying a laptop, the middle section is
also perfectly sized for a slim hardback book, multiple legal files, up to a
1.5" binder, or other similarly sized items.
Speaking of storage, the back wall of the tote has an organizational wall
which on the left features what the Mobile Edge site describes as their
"Exclusive Wireless Security Shield Pocket™ that protects wireless devices from
data theft, spam and viruses." Hmmmm…okay?!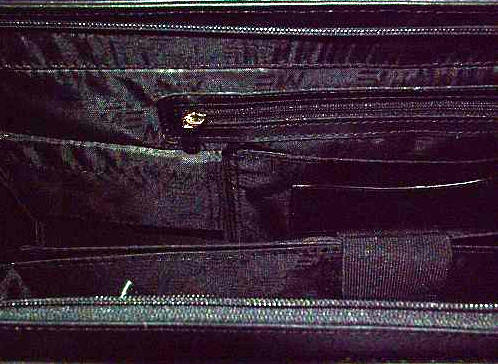 I didn't see anything on the Mobile Edge site or in the tote's included
paperwork that explained how exactly that was supposed to work, and I was
very skeptical; so I decided to conduct a couple of experiments. I stuck my
mobile phone in the pocket and asked Sarah to call it with hers. Would you
believe that my phone never rang?! I told her to let it go until she got
my voice mail and to then leave a message. Not once did my phone ring in the
bag, evidently it was not receiving any signal at all!
When I pulled it from the Velcro flap secured pocket, it took a moment for
the phone to enter the Sprint Service Area. When no message was left, my phone
did not show that a call had been received. When a message was left, after the
service area was established I received notification of a waiting voicemail.
What the heck?! It was as if my phone had entered the twilight zone or
something.
No, it's not lead-lined, but I am willing to bet that the silvery soft nylon
lining of the 5.5" x 4.5" was woven with signal blocking aluminum thread.
Needless to say, this pocket is not the place to keep a mobile phone
unless the intention is to keep it completely signal free.
Added 05/05/06: I received an email from Matthew with Mobile Edge, and he
had this to say about the pocket:
"I meant to send you more information about the Wireless Security Shield
accessories pocket. It is a Zinc lined pocket with conductive fibers woven into
the fabric which as you mentioned blocks out electromagnetic waves and radio
frequencies. It is designed to shield your Bluetooth enabled PDA or phone from
hackers. It is also nice when popping into a meeting; you don't have to worry
about your phone ringing."
So that explains the pocket for those that were wondering. :0)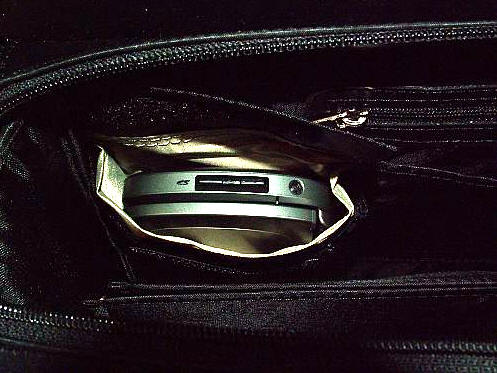 The center of the organizational wall has a three-tiered section which begins
with a business card pocket, followed by a 7" x 5" open slash pocket. At the top
is a 7" wide x 7.5" deep zippered pocket.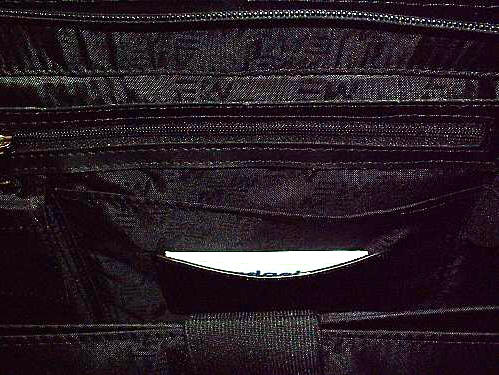 Next on the wall are three elastic pen loops which will hold pens ranging in
size from a BIC to a fatter Mont Blanc. The last fat elastic loop is a clever
2.5" tall lipstick holder.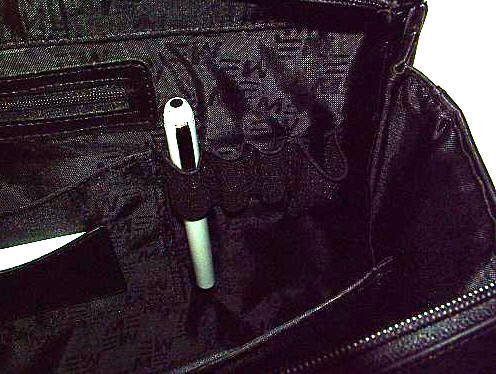 The opposite wall has two side-by-side 8" tall x 7.5" wide open pockets.
These pockets are perfect for holding cables, power converters and other slim
items that need organization.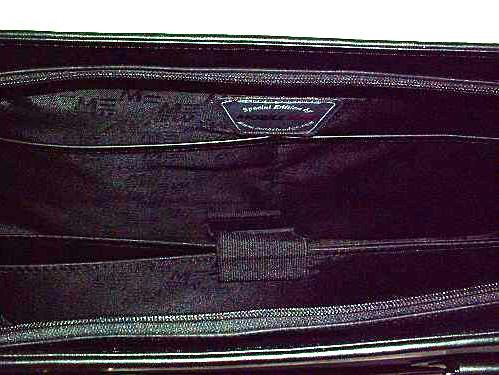 On what would be the left side of the front wall (when looking at the bag
from head-on) is a metal spring clip which can be used to hold the user's
keychain, or…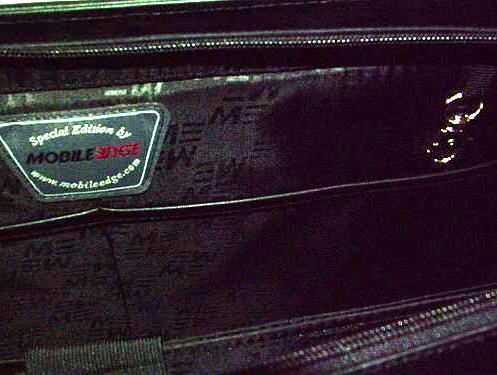 …the included removable 8" wide x 5" deep microfiber accessory bag.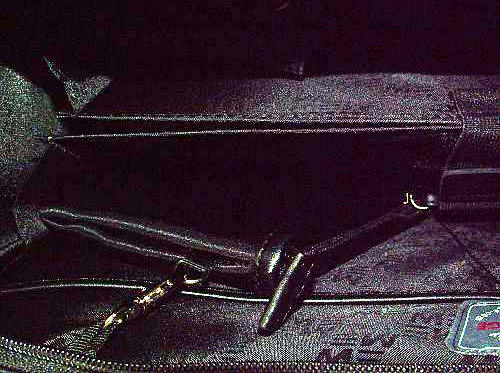 This accessory bag's zipper has an attached faux leather 6" loop so that the
bag may be worn as a wristlet.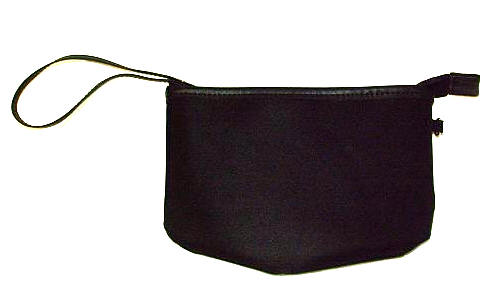 Here are a couple of pictures of the Geneva Tote as modeled by my friend and
sorority sister Stacey. For reference, she is 5'3".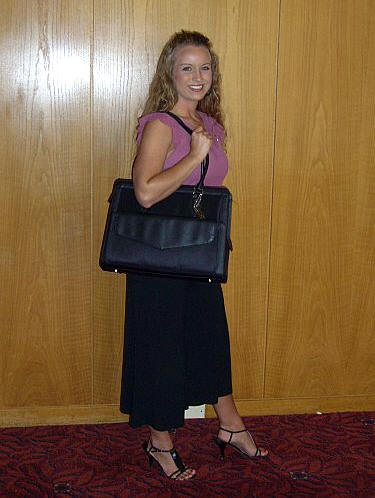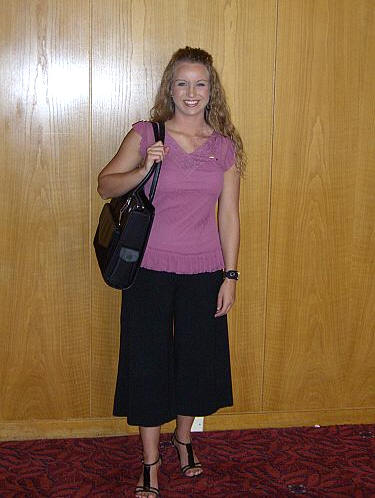 Amazingly enough, this bag has more features than I would have expected in a
bag costing twice the price. The Geneva's versatility allows it to be carried
with or without a laptop, and its style will never clash with professional
dress. If you are woman that has been looking for a laptop bag that won't
compromise your professional style or the safety of your daily cargo, then the
Mobile Edge Geneva Tote deserves a long hard look.
Product Information
Price:
99.99
Manufacturer:
Mobile Edge
Pros:

Reasonably priced
Extremely well made
Tons of pockets
Great looking bag
Can be carried with or without a laptop

Cons: