We use affiliate links. If you buy something through the links on this page, we may earn a commission at no cost to you. Learn more.
I'm lucky in the fact that I don't have a problem with back pain (I'm knocking on wood as I say that…). However, I happen to know four people close to me that do: my Dad, my roommate Jeanne, her brother, and Judie's husband Steve. For them, anything that might help alleviate their pain, would be very welcome. That's why I had to check out the HoMedics QUAD-Roller Massaging Cushion (QRM-400) when I saw it at a local Bed, Bath and Beyond store. The price wasn't cheap at $149.99, but I figured that if it didn't work, I'd just return it. So far it looks like a return will not be necessary.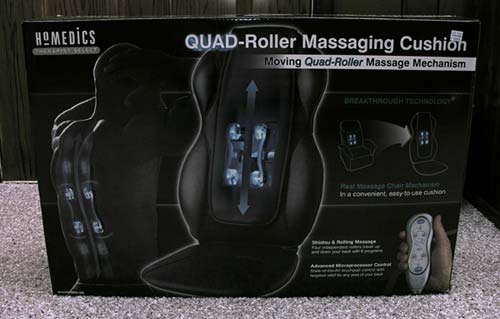 The cushion comes in a large box along with a largish AC power brick and an instruction booklet. There really isn't any setup necessary before using the cushion, there is just a small screw that has to be removed (an Allen wrench is included for that purpose) first and then a connection to power.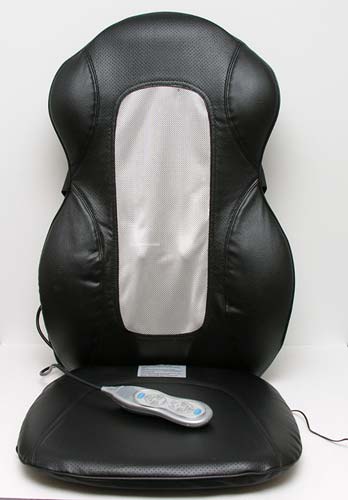 The cushion itself is somewhat bulky / heavy. If it had legs, it would be a chair all by itself. You'll need to sit it in a chair in order to use it. The cushion is about 16-17 inches wide and the back is 26 inches tall. Straps on the back of the cushion allow you to strap it to the back of an existing chair if desired.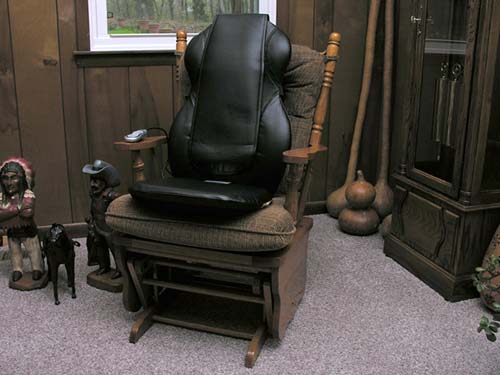 Here you see the cushion sitting on a glider rocker chair. I also tried it on a couch, recliner and computer chair, with no problems.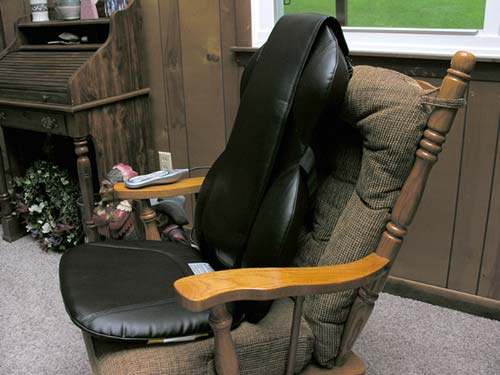 The main part of QUAD-Roller is covered in black pleather (vinyl that looks like leather) and the white area is made of a see-thru mesh fabric. A large rectangular strip of the pleather material is included to drape over the mesh area. It is held in place via a Velcro strip on the back of the cushion.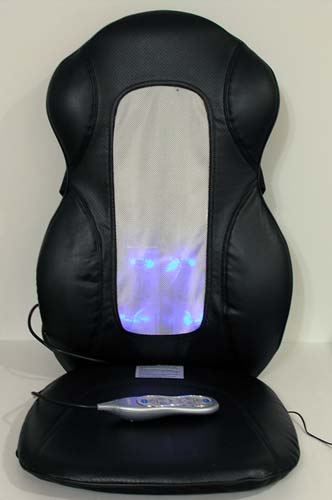 As soon as you plug the AC adapter into the wall, you will notice that the 4 rollers light up beneath the mesh material. It's an interesting effect, but I'm not quite sure what the benefit is since the pleather fabric will cover it.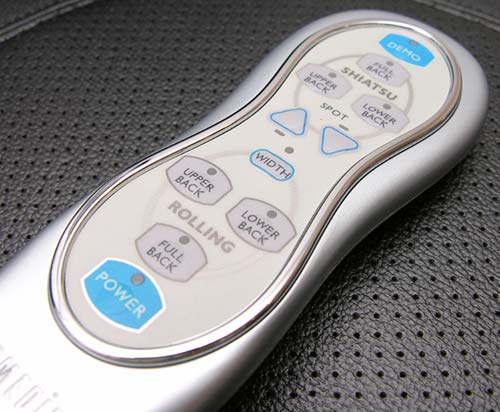 A hand held remote control is attached to the cushion via a cable. This remote gives you access to 6 different massage programs and other features. You have a choice of a Rolling massage or a Shiatsu massage. For those of you that might not know, Shiatsu massage originated in Japan and comes from shi, meaning finger, and atsu, meaning pressure. If you watch the video below, you'll get an idea of the difference between the Rolling and Shiatsu massage types.
One odd thing I found with this remote, is the fact that you have to press the Power button before any of the other button presses have any effect. The cushion is already powered on, because as soon as you plug it in, the rollers light up… Oh well…
The first thing you will want to do is to press the Width button. This will allow you to move the rollers in or out according to what is most comfortable to you. After you have done that, press one of the 6 different programs and enjoy!
See it in action…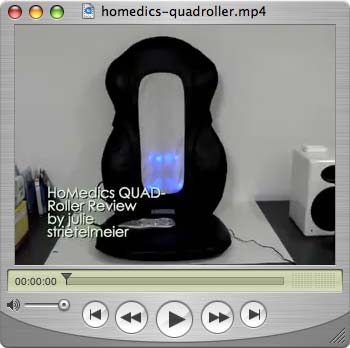 Click on image to play the QuickTime video (3:06sec,
6.6mb). The video is encoded in the H.264 codec. You will need the latest version of Quicktime to view it. VLC is another free viewer..
As I had mentioned at the beginning of this review, I'm lucky enough that I don't have back problems. I should also mention that I don't enjoy back rubs. My muscles are pretty sensitive, and it actually hurts when someone rubs my back. Even so, I had to test the cushion, just to see what it felt like… I found the Rolling massage to be pretty gentle. It didn't bother me much at all. The Shiatsu massage on the other hand, had me jumping every so often when it would hit a tender spot. I guess I'm just a weeny! That said, Jeanne really likes this thing. She's the type of person that gets 'real' massages about once a month. How does she think the $150 QUAD-Roller compares to a $50/hr massage by a human? She says there is no comparison. A professional massage wins hands down in her opinion. She said a regular massage works the muscles differently then just digging like the QUAD-Roller. But, for her this massaging cushion has been beneficial at helping to alleviate daily tension and is great for hitting pressure points and sore spots. The main thing she didn't like about the QUAD-Roller was the fact that it couldn't easily massage her shoulders and neck (She's 5ft. 5in. tall). To help with that, she'd slump down so the rollers would press those areas. Not the best solution, but better than nothing. The cushion gets another thumbs up from Jeanne's brother. Now to get one for my Dad and have Judie get one for Steve to try out. :o)
Product Information
Price:
150.0
Manufacturer:
HoMedics
Pros:

Helps work out sore spots and tight muscles
6 different massage programs
Rollers can be adjusted

Cons:

Can't easily massage shoulders and neck