We use affiliate links. If you buy something through the links on this page, we may earn a commission at no cost to you. Learn more.
I've said it before and I'll say it again… I don't carry a purse. I do carry a gear bag to work every day, but when I go out for lunch or go shopping, I don't take it along with me. In the winter time, this isn't a problem because I tend to load my jacket pockets with all of my necessities. But more often than not, I forget one important piece of gear. An ink-pen. This results in scenarios such as: I'm in the checkout lane. I pull out my checkbook. I scrounge around in my pockets only to realize I forgot to bring a pen. I have to ask the checkout person to borrow theirs. Ugh. They usually give me an annoyed look, and I then wonder who else has handled that pen today. I'm not a germaphobe, but I don't want to push my luck either.
So what's a non-purse carrying girl to do? We find a solution like the Inka Pen from Inka Corporation of Boulder, Colorado. Available in stainless steel or Titanium ($89.95) versions. I was sent the stainless steel
version to review.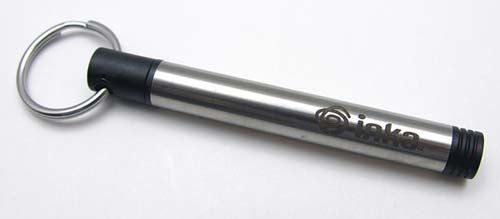 The Inka Pen has a barrel and key-ring that are fabricated from 304 stainless steel and the pen components that are cast from carbon fiber composite.

Doesn't look much like an ink pen does it? It will once you pull out the end that is opposite the key-ring.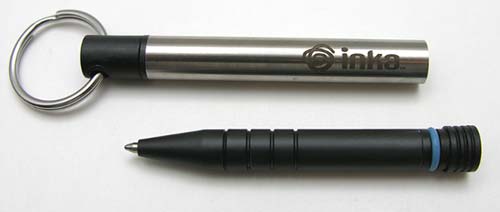 The pen has a pressurized Blank ink cartridge that will allow the pen to write wet or dry at any angle, temperature or altitude. Some of you might be thinking of the Fisher Space Pen. It too has a pressurized cartridge. I had one years ago. It was ok, but the finish wore off, and it didn't have a keychain attached to it.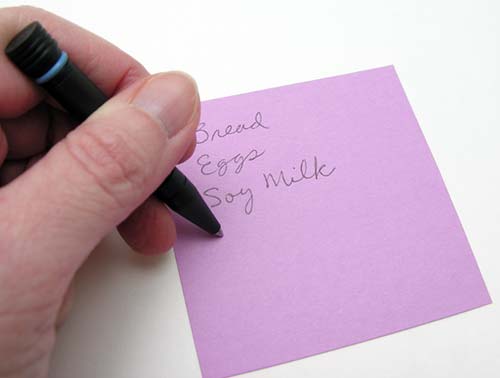 The Inka Pen is immediately ready to start writing as soon as you pull it out of the barrel. Yes, it's short (2.875″), but it's fine for jotting down a quick list, signing a check, etc.

For those times when you want a full size pen, the Inka pen can semi-quickly convert into a 5 inch long writing instrument that has a nice balance and heft to it.
See it in action…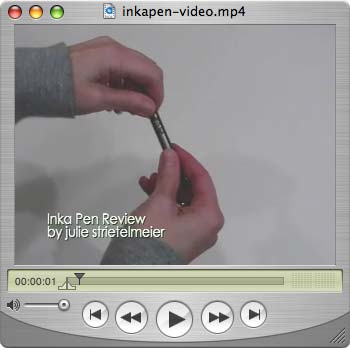 Click on image to play the QuickTime video (30sec, 1mb). The video is encoded in the H.264 codec. You will need the latest version of Quicktime to view it. VLC is another free viewer.
But wait, there's more!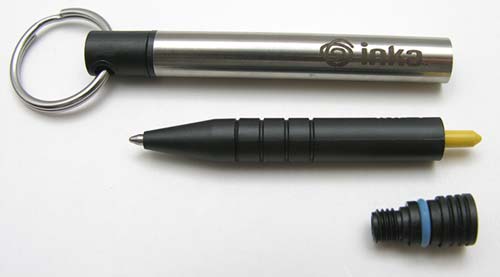 Unscrew the end from the ink cartridge and you'll see a bright Yellow Delrin stylus tip. Unfortunately, there is no way to convert the Inka Pen into a full sized stylus.
The Inka Pen has earned a permanent spot on my keychain. I'll never have to ask "can I borrow a pen?" again.
Product Information
Price:
25.0
Manufacturer:
Inka Corporation
Pros:

Easy way to carry a pen
Built in stylus

Cons:

Easy to misplace the keychain end